POV Holder:
Victoria
Next POV
July 19th
POV Used
?
POV Ceremony
July 26th
HOH Winner 1:
Frankie
HOH Winner 2:
 Cody
Battle of the Block Winner
Jocasta/Amber
Next HOH/ Next BOB
July 24/July 25
Original Nominations:
Brittany/Victoria(Cody) Jocasta/Amber (Frankie)
Final Nominations:
?
Have Nots
?
POV Players
Cody, Brittany, Victoria, Caleb, Nicole, Zach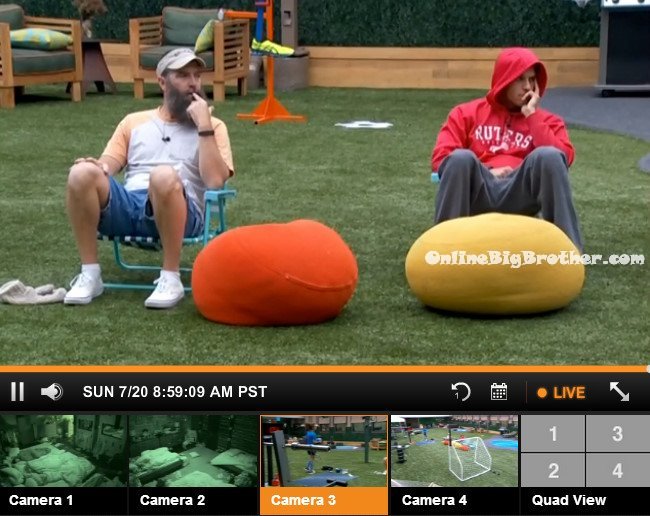 TEST out the Big Brother 16 Live Feeds for FREE with the 2 Day Trial!
8:15am – 9:50am Big Brother tells Brittany 12 hours to go! Brittany wakes up. Donny joins her and she asks him to get her boots. He can't find them but gives her his shoes to wear. She starts kicking the ball again. She's at 1010. She is kicking and missing lots. The whistle blows and Cody comes down to kick is butt. Donny tells Brittany that she shouldn't be drop kicking the ball. Brittany says it's the only way it feels okay, without it feeling like every bone is going to break. Cody asks if shes tried kicking with the bottom of her foot? Brittany says that she has tried every possible way and she only misses when she does that. Brittany kicks the ball and misses. Brittany says this is so F**king pointless for me to be doing this, I'm just so f**king stubborn! Cody asks did you hurt your ankle? Brittany says Dude, everything hurts! Everything from my hip to my ankle. Donny asks I know you said you tried everything but did you… Brittany says YUP! Donny asks kick it backwards? Brittany says Yup, backward tires me out because I miss. Brittany says can you believe my daughter is just as stubborn as me!? Cody heads back to bed. Donny says well now you can't hold it against her. You are a competitor! Brittany says well that didn't get me too far! Brittany is now at 1111. Donny says you did 100 in an hour. (Last night she was doing 100 in 20 minutes) Brittany says at this rate I'm not going to make it. I need to start running. Brittany says if I ever come back I am going to sleep and do nothing. Brittany says I can't believe I'm not even half way. I'm not going to make it. Every time she misses she says F**k, God Damnit!, Oh my god! She says she wishes she had woken up earlier. She reaches 1200 and says half way! I just don't understand the point of why I'm doing this!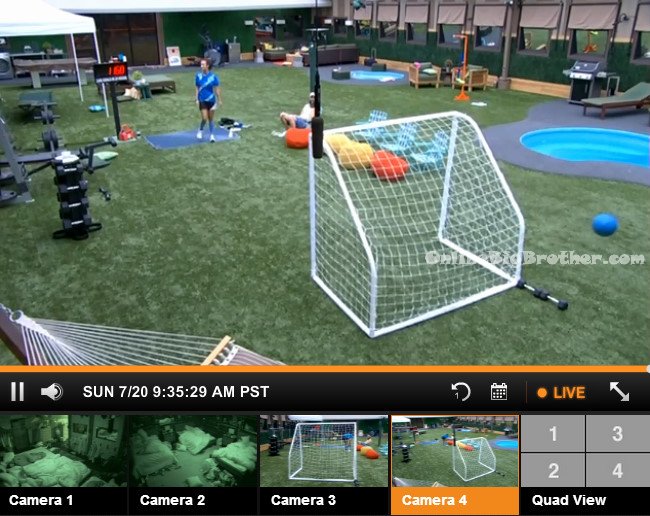 9:50am Brittany asks what do you think Donny should I just stop?! Donny says well.. Brittany says I am going home any ways. Donny says its pride. Brittany says but I'm not going to be able to walk out the door. Brittany says if they planned to get rid of me next to Victoria..then there's nobody else there that they would send home.
10am – 10:10am Brittany misses again and says that's it I give up! Donny says take a little break and think about it. Brittany says If I go any more I am probably not going to make it and then come Thursday I am not going to be able to walk out in heels. Donny tells her that he can't tell her what could help her stay but I can tell you quitting could hurt you. If people see you quit people will see you give up and they might send you home because of it. Your feet might hurt now but come Christmas none of this will matter. Just take a little rest and then try again. Pace yourself and maybe if you get the most you can in the time allotted maybe they will take that into consideration.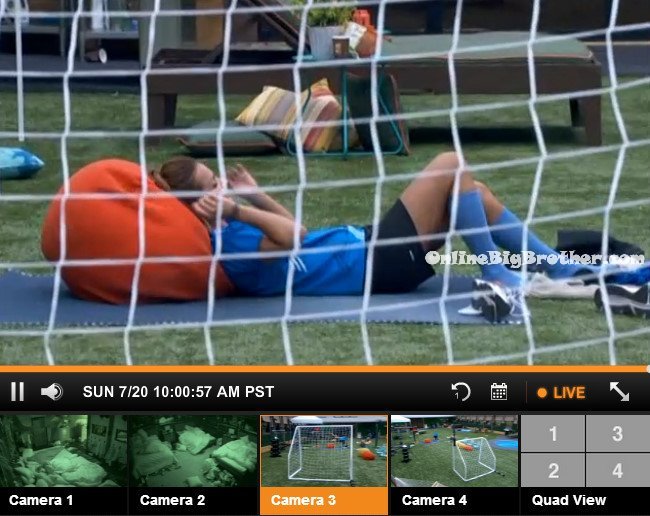 10:15am – 11:30am Big Brother wakes up the house guests. When the live feeds return – Donny, Frankie and Amber are sitting out watching Brittany kick her goals. Christine joins them. Cody comes down and wonders if the whistle went off. He isn't sure if he is just hearing things or what.. He does it anyway just to make sure. After he goes up to the HOH room and the whistle goes off. Cody says I don't think it even went off before. He goes back down to do it again. Brittany says it would be different if I was doing this for money instead of for pride. She says I'm keeping the damn soccer ball, I don't care what they say! I would take the net too if I could. Big Brother says Brittany 9 hours to go. She's up to 1433 now.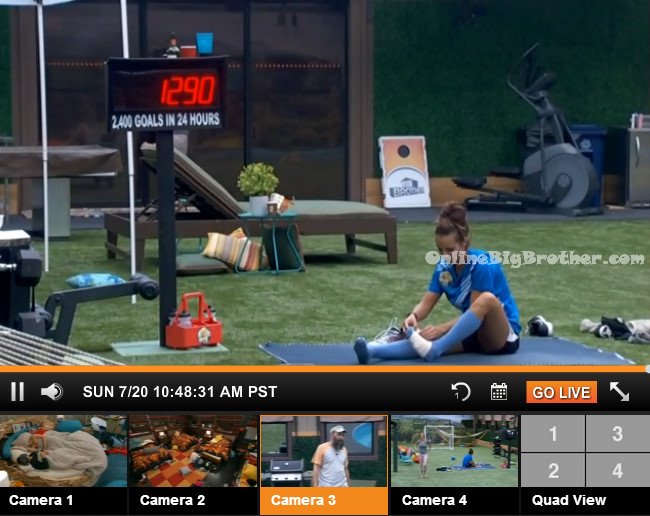 11:35am – 12:35pm The whistle sounds and Cody heads down to kick his butt. He heads back up stairs and it happens again. And then one more time. Brittany laughs and then says sorry. Cody says No, I'm glad you're laughing and smiling. At 1500 she stops to take a break. Donny asks which would you prefer your challenge or the Cody's? Brittany says the butt kicking one would be easier but I enjoy the challenge of this one. Brittany says I have been up on the block 3 times now. Donny says well after tomorrow it might be 3 for me too. Brittany says she thinks they'll put up one of their friends as a pawn to throw off suspicion because they know they have the votes. The whistle sounds again and Cody comes down again. Brittany laughs. He says he can't believe she already at 1500. Donny tells her she can get the next 100 in less than 45 minutes. Cody says she got 250 in an hour last night. Donny says she was a lot younger last night. Cody says a day younger. Cody heads back to bed. Christine, Nicole and Victoria are now up for the day.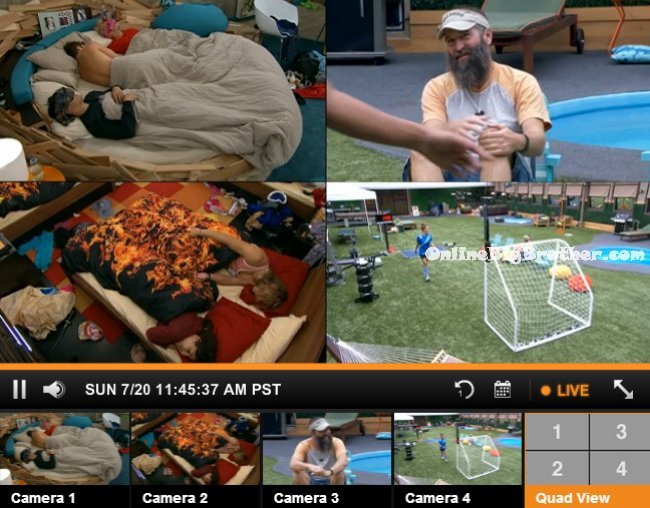 12:40pm – 1pm Victoria and Christine are in the kitchen making breakfast. Victoria says this kitchen is disgusting! I am done cleaning up after everyone! Christine agrees. Christine says especially the toilet seat in the bathroom! You have to wipe it down every time you use it. Victoria says Oh my god I know! Christine says Its disgusting. Tim would never do that! It's repulsive! Victoria asks if Brittany is complaining. Christine says she is constantly complaining almost awkwardly so.
1:05pm – 1:15pm Out in the backyard – Jocasta comments on how she's always been in the in crowd and its weird to not be. Brittany says me too. Brittany says but in here there are a lot of followers. Brittany says I would love to be safe this week after getting 2400 goals. America gets to choose who goes home this week. Or America chooses you to be safe this week Brittany.
Alliances (Some Of these are dead)
Zankie = Frankie/Zach
Bomb squad = Caleb, Amber, Frankie, Derrick, Cody, Christine, Zach, Hayden
Team America = Donny, Derrick, Frankie
Nicotine = Christine/Nicole
Not a showmance= Hayden/Nicole
Los Tres Amigos = Derrick, Cody, Zach
The bottom Feeders = Derrick/Nicole
We hate Devin = Christine and Zach
Outsiders = Brittany, Victoria, Jocasta, Donny
Old timers = Jocasta/Donny
Stalker = Caleb/Amber
Quad Kings = Derrick, Zach, Cody and Hayden (still being built)
Trilogy = Nicole, Christine & Hayden
The Detonators = Derrick, Frankie, Zach, Christine, Cody
Final 2 Deal "The HITMEN" – Cody & Derrick
[polldaddy poll=8194643]
[polldaddy poll=8192326]