POV Holder:
Chrsitne
Next POV
Aug 2nd
POV Used
NO
POV Ceremony
Aug 4th
HOH Winner 1:
Donny
HOH Winner 2:
Nicole
Battle of the Block Winner
 Caleb/Victoria
Next HOH/ Next BOB
Aug 7/Aug 8
Original Nominations:
Donny's Noms (Victoria & Caleb) Nicole's Noms (Zach & Jocasta)
Final Nominations:
Zach & Jocasta
Have Nots
Frankie, Cody and Hayden
POV Players
Nicole, Christine, Jocasta, ZachAttack, Caleb, Victoria,
See what they can't show you on TV! -Try the Big Brother 16 live feeds for FREE!
10am Big Brother wakes up the house guests. When the live feeds return – Frankie and Nicole are out in the backyard. Nicole says that she's going to lay out in the sun. Frankie says he wishes they would let him sleep out here. Nicole tells him you just put sunglasses on Frankie! They'll still call you out though. Frankie heads back to bed in the havenot room. Nicole goes to the HOH room to change. Donny comes out into the backyard and gets on the elliptical. Nicole comes out and lays out on the lounger to suntan. Donny says we're going to get the muscle train going again to day. Nicole says sounds like a plan.


11am – 11:35am Nicole asks Donny you're voting out Zach is that right? Donny says yes. Is that what you want? Nicole says yes, he's not good for my or a lot of peoples game, including yours. I heard he tried to start an alliance and none of us were in it so… Donny says he's entertaining but he's a liability. Nicole says I enjoy his presence but its a game move, he has to go. He's too smart for his own good. Donny says he can win competitions.. Nicole says he's too smart for his own good. Donny says I wish there was some way I could talk to Caleb. Nicole says I think someone is going to today. He is someone I can't trust. Donny says I don't really either but it would ease our minds if he won HOH. Nicole says Caleb keeps stressing he wants the 4 outsiders gone.. if he won they I am definitely going up. Donny says I would too and that wouldn't be good beside each other. I am hoping he would be weak from all the slop but I am just hoping for anything. I don't want him to win. Donny says he did amazing in that memory challenge. Nicole agrees. Donny says but he doesn't have very much garbage in his brain to mix with stuff, so when he takes in new stuff he retains it. Nicole says yeah he does have a lot of garbage in his brain .. I don't even know how he takes in new stuff. I can't believe he did that well in that memory thing. You, me, Zach and Hayden I expected. And somebody could have stayed up there a lot longer ..they just felt too safe. Donny asks oh you reckon. Nicole says yes they just don't want blood on their hands. Donny says well they shouldn't feel safe this week. Nicole says they're going for it this week, they just wanted the Battle of the Block to be over. Donny comments on how Frankie, Derrick and Christine barely ever talk to me and walk the other way when they see me. Nicole says that Christine took my trust and rubbed it in the dirt and then spit on it. She ruined her trust with me. It doesn't add up why she would do what she did to me. She tries to put targets on everyone else but herself. Donny gets to hot and moves to the shade.

11:40am – 11:50am In the bathroom – Frankie tells Jocasta if there is any justice in the world you'll still be here. Jocasta says thank you. Hayden heads out to the backyard and lays on the ground. Hayden joins Donny on the couch. Donny asks Hayden how he would do on the wall? Hayden says he would do good. Hayden says I don't know what is going on but Christine and Frankie were telling me last night that they don't trust Zach now and want him out. I don't know why they are saying this now. I'm not sure if they caught wind he is already going or what. They might be trying to get people to vote him out so they can vote the other way and then they throw a couple votes the other way … and blame it on someone else. Hayden says do they think I am this dumb?! Hayden says I am voting Zach out 100% that's not changing. Donny says Jocasta staying will always be a vote for us. We can't count on her to win HOH but.. Donny says if I win HOH and its just 1 HOH .. I will put Caleb up against Christine. Donny notices that Christine comes out and goes back inside. He says she just inventoried the yard. Jocasta joins them. Donny comments on how Zach carved "Zach-Attack" in the bathroom (on the bathroom stall door).
Take Advantage of the FREE 2 day Trial to watch all the drama!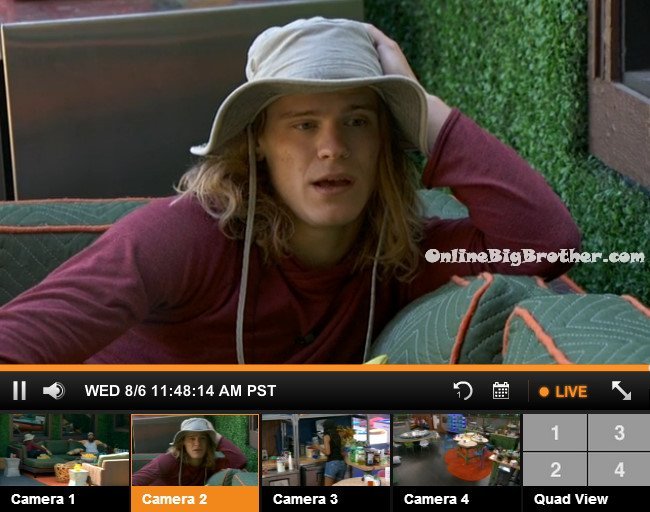 12:15pm Out on the backyard – Hayden, Jocasta, Victoria and Donny are on the backyard couch. Hayden talks about how he never ever gets mad or shows anger. He tells a story about the last time he got angry and how he felt so bad after. The cameras switch to Nicole up in the HOH room.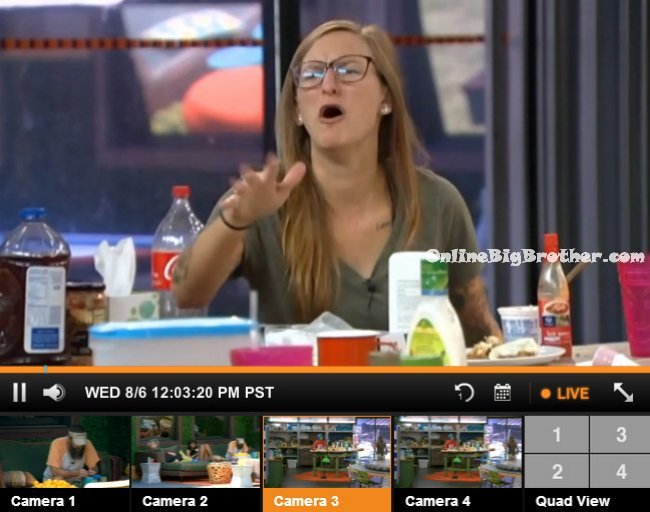 12pm – 12:40pm In the kitchen – Christine says I'm not even scared what he (Zach) might say after that talk last night. Frankie agrees. Christine says what if someone gets a letter in their basket like please just give up and come home. No one likes you. Frankie says yeah .. That's like when I got my letter I was looking for them to tell me to come home. Frankie says the minute Brittany walked into the house she rubbed me the wrong way. I was like I love you, I hate you. They head to the bathroom. Frankie tells Christine how they talked to Caleb last night and told him it was so hard to talk to him because Zach was literally up is a$$ all day. Christine agrees that Zach was all over Caleb. Christine says I am nervous about getting out Nicole. I don't want to be the one to do it. If I wasn't in an alliance I would backdoor Caleb this week. Frankie says the thing with Caleb is that he doesn't have the ability to lie. I have more control over Caleb than Cody. Christine says and I have more control over Cody than Caleb. Nicole joins them and complains about how she just found her cover up in Victoria's basket. Its just frustrating because I don't have much and and she has like 12 cover ups. They talk about how Amber didn't care if people borrowed her make up so she just took other people's without asking. Frankie comments that he wants to got sleep but doesn't want to be sleeping with the other guys are up.

Alliances 
The Rationale = Nicole, Derrick, Hayden and Cody
Zankie = Frankie/Zach
The Detonators = Derrick, Frankie, Zach, Christine, Cody
"The HITMEN" – Cody & Derrick
Trilogy = Nicole, Christine & Hayden
Team America = Donny, Derrick, Frankie
Old timers = Jocasta/Donny
Nicotine = Christine/Nicole
bottomfeeders = Derrick and Nicole
More polls here https://www.onlinebigbrother.com/big-brother-compendium/big-brother-16-polls/