POV Holder:
Chrsitne
Next POV
Aug 2nd
POV Used
NO
POV Ceremony
Aug 4th
HOH Winner 1:
Donny
HOH Winner 2:
Nicole
Battle of the Block Winner
 Caleb/Victoria
Next HOH/ Next BOB
Aug 7/Aug 8
Original Nominations:
Donny's Noms (Victoria & Caleb) Nicole's Noms (Zach & Jocasta)
Final Nominations:
Zach & Jocasta
Have Nots
Frankie, Cody and Hayden
POV Players
Nicole, Christine, Jocasta, ZachAttack, Caleb, Victoria,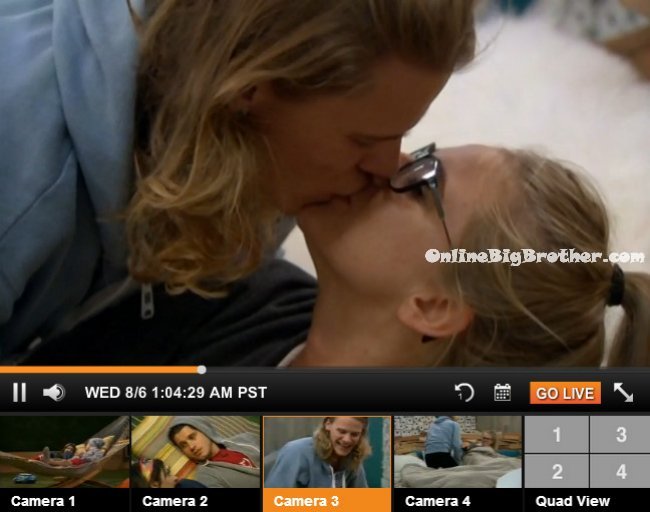 See what they can't show you on TV! -Try the Big Brother 16 live feeds for FREE!
12:40am Up in the HOH room Hayden tells Nicole that he has a present for her. Hayden then leans in to kiss her . Nicole tells him No, Hayden!! Hayden then kisses Nicole's forehead and then tries to kiss her again. Nicole denies him again. Hayden says she acts like it never will happen again. Nicole says it won't! She tells him it shouldn't have happened. Nicole tells him that she liked kissing him. Hayden says I love the 2 minutes of cuddling I sneak in with you. Nicole says I'm a good cuddler! Hayden says I'm also a good kisser. Nicole tell him that he stresses her out. Nicole asks Hayden if they (production) asked about their kiss? Hayden says yes. Nicole says they hadn't asked me so I hoped there was a chance that it wasn't caught on camera. Nicole says that Hayden, Derrick, and Cody are the only people I can stand talking to for extended periods of time. Hayden agrees. Hayden and Nicole talk about cuddling. Hayden says my things fit into your areas. Nicole asks if she hurt his feelings when she said she wouldn't date him. Hayden says no because he knows she wasn't serious. Nicole says I was serious. Hayden says that she promised him that they would kiss. He says that he's been very patient. Nicole denies him. Nicole says she's freaked out that the camera is on them. Hayden says everyone is rooting for us to kiss. Hayden says he needs a kiss now. Hayden starts kissing Nicole. Hayden tells Nicole that she is an adorable little dingus. Nicole talks abotu how nervous she is. Hayden jokes that he is clocking out. Nicole and Hayden say they're glad this happened.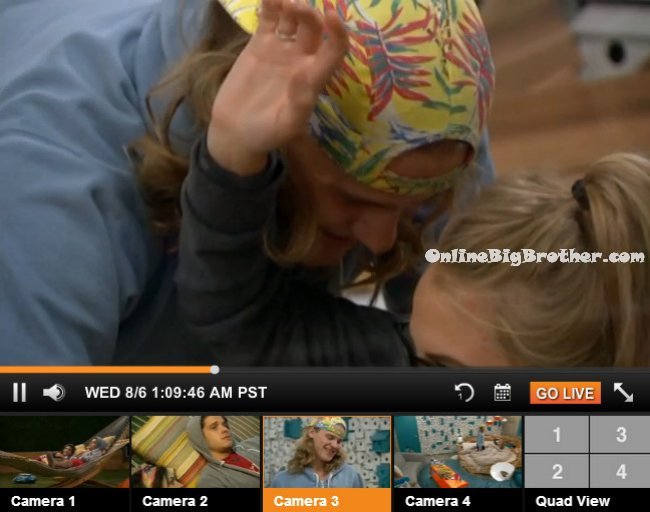 12:55am – 1:30am On the backyard hammock – Cody asks Victoria who she would want to get out if she won HOH. Victoira says that Frankie is a good competitor and Christine is a manipulator. Victoria says that soon people will have to put up their own allies. Cody says that Frankie was trying to play everyone in the house. Victoria says that Christine is lying to everyone. Victoria asks if he trusts Nicole? Cody asks does she want me to trust her? Cody says that trust is a big word. He says that he trusted Christine before but says that he doesn't any more. Victoria says that Christine told her there was an all guy alliance and mentioned Cody's name. They talk about how they're going to vote out Jocasta. Cody says that Christine is becoming like Amber. He says he is voting out Zach. Cody says Christine is clearly lying and doesn't know what she's talking about. Cody says that he knows Christine is with Frankie and he doesn't trust Frankie either. Victoria asks him to come talk to her if he hears I mentioned your name. Cody says he will. Cody says Christine mentioned that Hayden/Nicole were a power couple back in week two. He says that he told that to Nicole today because he didn't appreciate that his name is being thrown around. They talk about Christine saying that Hayden & Victoria made out. Victoria says that Nicole & Hayden don't talk much game to her. Victoria says that Derrick reminds her of her sister's husband. Cody says that Derrick is the man. I love him.
2am In the kitchen Caleb talks about getting a tattoo of the Big Brother key. It might not have say my name but it'll say BMC BB16. Caleb says from here on out I am only know as BMC, Beast Mode Cowboy.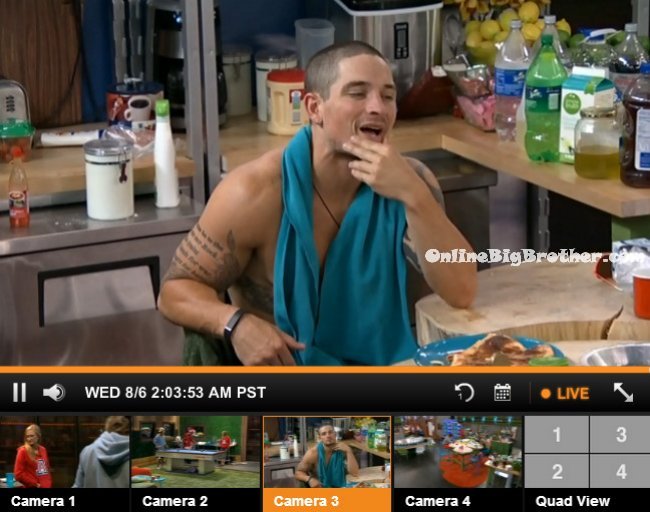 In the earth room – Cody tells Derrick that Frankie and Christine are pissing him off. I literally want to send home Christine. I want to send her home before Donny. Derrick says you need to be certain. Cody comments on how this morning Hayden, Nicole and Donny were outside talking. Derrick says they do that every morning or once a day they meet up. Cody says and they were talking about the same thing the numbers and days of things. Cody and Zach head into the storage room. Cody tells Zach that obviously he can't tell him that he's staying because he doesn't know what everyone else is doing. Zach says he knows. And tells Cody that he has his back more than anyone.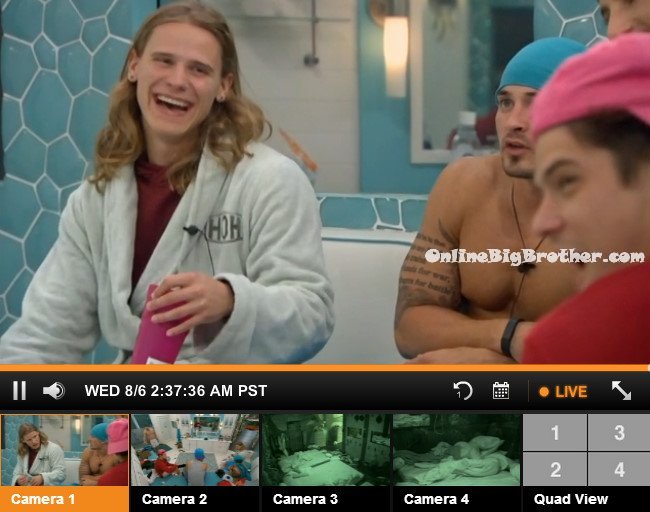 In the bathroom – Hayden, Zach, Frankie, Caleb and Derrick are talking about animals having both male and female genitalia. Hayden says if I could I would suck my own d**k. Zach asks doesn't that mean you're gay? Hayden says no when you jerk yourself off you have a d**k in your hand does that mean you're gay. Zach says no. Hayden says I am just saying I would suck my own d**k if I could. I don't want to suck other peoples d**ks. Zach asks so you would C*m in you own mouth? Hayden says no, maybe a bit of pre but then spit it out. They head to the bedrooms. Frankie mounts Zach and lays on him. Frankie then heads into the havenot room. Zach says Frankie had his nuts on his head. Christine says Frankie better be gay. If he isn't I am going to be in a lot of trouble!
Take Advantage of the FREE 2 day Trial to watch all the drama!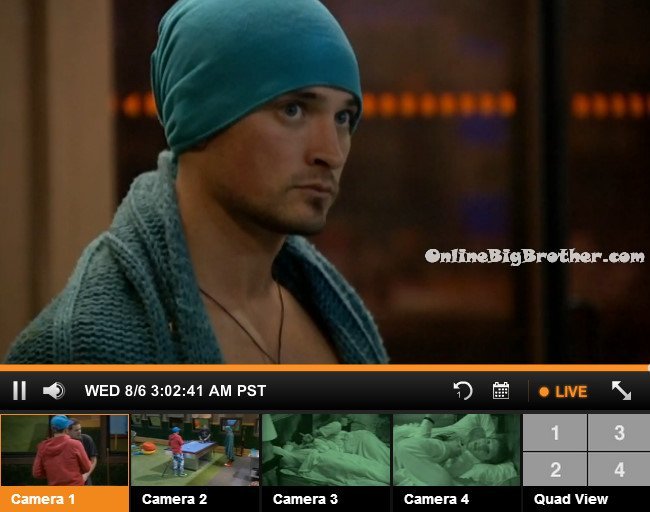 3am – 4am Derrick asks Caleb to come outside with Frankie. Derrick asks what's your oppinion about Zach? Caleb says at any given moment I think he would throw us under then bus. If we were between him and the money he would take us out. Derrick says okay, we are voting Zach out this week. We wanted to tell you all day but he's been right by your side all day. Caleb says hey I'm down with it. Derrick says I knew you were down with it last week. Derrick says we could vote Jocasta out at any time. Caleb says if the crew is down, I am down. Caleb asks so everyone knows but me? Derrick says he's been on you all day. Derrick says its funny you're on slop all week right?! Derrick says it has nothing to do with that, its that he is trying to start smaller groups. Caleb brings up how Zach said he and Donny were good. Derrick says Zach might go out and throw us all under the bus and if he does then we do like we did with the bomb squad. Caleb says that Hayden and I have a bond where he would vote out Nicole over me. Caleb says I am done. I am down with whatever the squad wants. Derrick brings up how he doesn't like how Zach talks about Victoria. Derrick says I would knocked his teeth out! I'll take the arrest! Take me in! Derrick says he has literally made 3 of the 5 girls cry. Its not that we're scared of him, we're here to win the money. Derrick says we have to do like with Amber and not let him know. Caleb says if Zack says anything I will get right up in his grill and talk about my hair and being on slop. I won't let him get any words out. Derrick says unfortunately loose lips sink ships. Derrick says Zach is going to lose it. Caleb agrees but that's when I get in his face. I don't think he would be dumb enough to put his hands on me but. Caleb asks so Hayden knows too? Frankie says yes. Frankie and Caleb finish up their pool games. They head inside.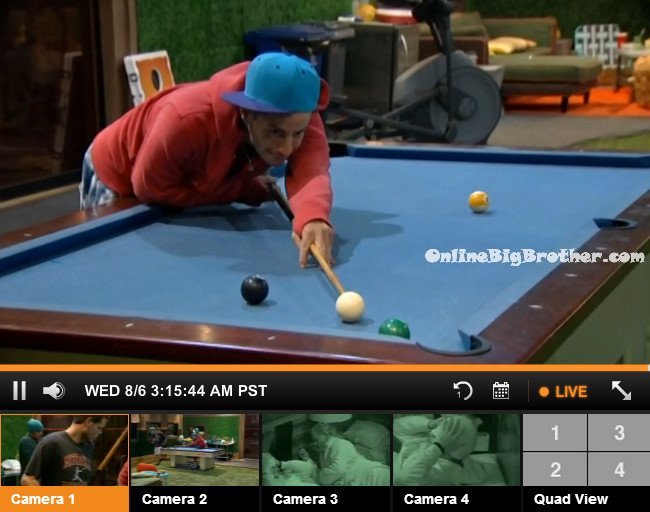 4:10am – 4:20am In the bathroom – Derrick heads to bed. Caleb and Frankie are talking in the bathroom about the possibility of the Battle of the Block continuing one more week. Frankie doesn't think its possible and thinks its over. Caleb says to create more blood and animosity I think they would do it one more time. Frankie tells Caleb I think we're sitting pretty good. But Zach he.. he scared me when he was HOH. He had so many scenarios. Ultimately I think this game was consuming him. How much did he talk about wanting to be home. Caleb says yeah. Frankie says he keeps saying he's bored and wants to go home. Frankie says Zach is trying to f**k us all. Caleb says well I'm down. If Zach starts running his mouth on Thursday either we let him do it and say Zachs running his mouth or one of us gets up and starts yelling. Frankie says I don't think he is actually trying to f**k us. I think he is playing that way and will say you caught me. You caught me with my hand in the cookie jar. Caleb says I hope he doesn't hit me because it will be really hard to stand there and not do anything about it. Frankie says you have to or you will get evicted from the game. Frankie says I could get in between you two to make sure nothing happens. Caleb asks I wonder if Amber is watching right now. I can't wait to see her when we get out. Walk up behind her and put my hands over her eyes guess who?! She already gonna know. Caleb says Amber love you as a person, not as a game player. Shout out to Amber Miss you girl! Goodnight! Frankie says goodnight Amber.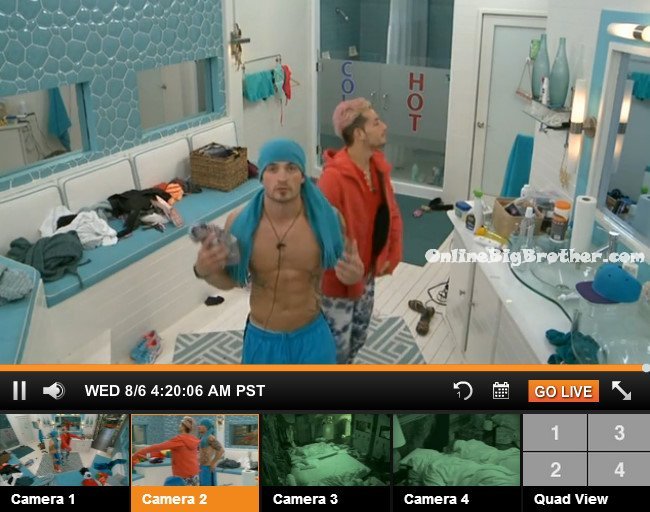 4:25am- 4:30am All the house guests are now sleeping.. except Frankie who is sitting at the kitchen table looking at the memory wall. He tells his family he loves them and then goes to bed.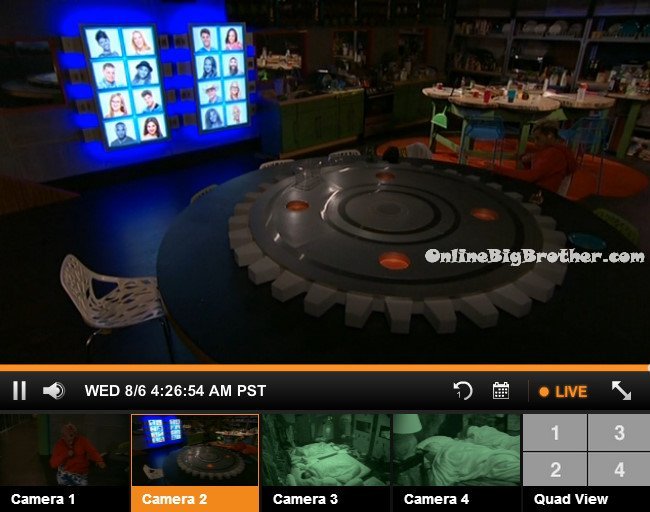 10am Big Brother wakes up the house guests.
Alliances 
The Rationale = Nicole, Derrick, Hayden and Cody
Zankie = Frankie/Zach
The Detonators = Derrick, Frankie, Zach, Christine, Cody
"The HITMEN" – Cody & Derrick
Trilogy = Nicole, Christine & Hayden
Team America = Donny, Derrick, Frankie
Old timers = Jocasta/Donny
Nicotine = Christine/Nicole
bottomfeeders = Derrick and Nicole
More polls here https://www.onlinebigbrother.com/big-brother-compendium/big-brother-16-polls/