POV Holder:
Chrsitne
Next POV
Aug 2nd
POV Used
NO
POV Ceremony
Aug 4th
HOH Winner 1:
Donny
HOH Winner 2:
Nicole
Battle of the Block Winner
 Caleb/Victoria
Next HOH/ Next BOB
Aug 7/Aug 8
Original Nominations:
Donny's Noms (Victoria & Caleb) Nicole's Noms (Zach & Jocasta)
Final Nominations:
Zach & Jocasta
Have Nots
Frankie, Cody and Hayden
POV Players
Nicole, Christine, Jocasta, ZachAttack, Caleb, Victoria,
See what they can't show you on TV! -Try the Big Brother 16 live feeds for FREE!
12:55pm – 1:30pm Hayden, Jocasta, Victoria, Donny, Nicole and Christine are out on the backyard couches. They're talking about random things. Hayden talks about the tattoo suicide girls. Christine says that he husband Tim wants a tattoo of Bill Cosby. Hayden says I was thinking of getting a tattoo of my face somewhere on my body. Nicole says I could see you doing that and I wouldn't even think twice about it. They continue to talk about tattoos. Hayden says I have 7 tattoos and 3 of them aren't jokes. Hayden says that his Instagram and Twitter accounts have been reported and suspended a number of times. He says they were suspended for the photos he posted that people reported and because he followed too many people. He says that he had to write a note to Twitter explaining why they should give it back to him. I realized that the subject and messaged didn't matter because they were going to give it back any ways. He says that his subject was "Suck my black c**k" and the message was like Barack Obama is sabotaging me give my twitter account back. Nicole says oh my god you're horrible. Hayden talks about a video he made that got complaints. Christine says that internet people are the worst. Nicole says she wouldn't complain about anything unless it was really serious.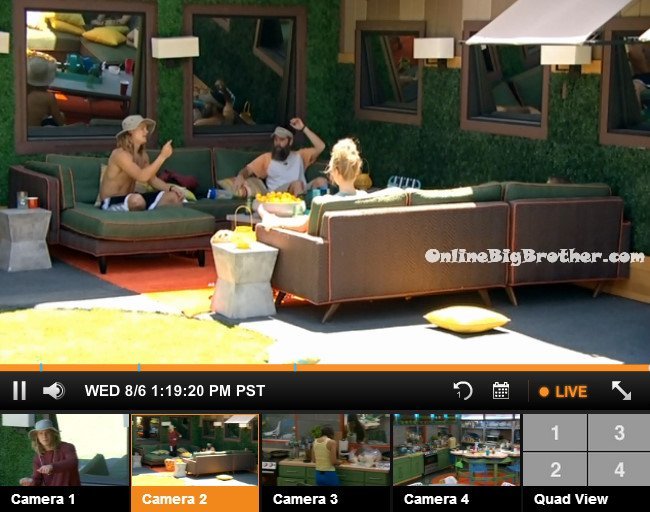 1:40pm – 2:10pm Donny tells Jocasta that he thinks everyone is so paranoid they want to find out how people are voting so that they won't be the ones left out of the majority. Unless they want to throw a couple votes the other way to blame it on other people. Hayden joins them and the conversation ends. Nicole and Christine are tanning by the pool. Nicole talks about her friends / life outside the house. They talk about this Thursday possibly being a double eviction and how the second HOH could be an endurance. Christine brings up how Zach told her that they better not be backdooring him. Nicole says he better not wear Cody's steve madden's (shoes) and if he does maybe they're not really voting him out. Christine says I'm so scared of Caleb to get HOH. Nicole says me too. Christine says that Frankie told Caleb and he's on board to get out Zach. Nicole asks he's on board .. wow. Oh that's awesome. Christine says that Frankie worked some kind of magic. At first I was worried he was going to go blow it up to Zach but I guess not.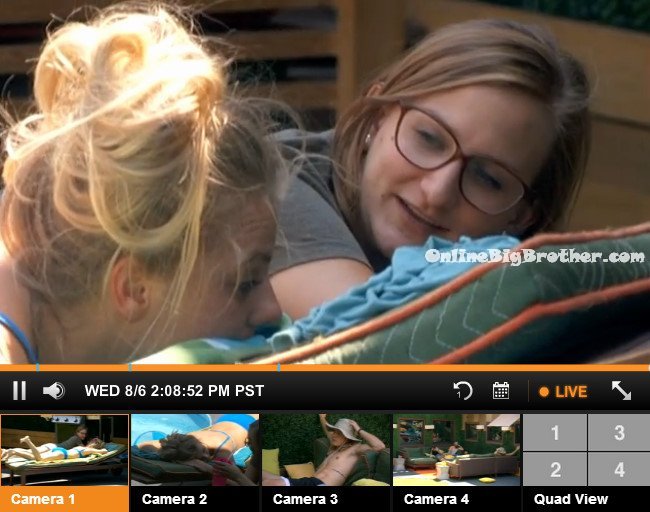 2:15pm – 2:50pm Over on the backyard couch – Hayden, Jocasta, Donny and Christine are talking. Hayden asks Donny of the 3 POV's you played in which was your favorite? Donny says well if I hadn't won the splitters one I would be watching the rest from home. Hayden wonders if Donny hadn't won the dice one, if Caleb would have beat Devin. Donny says no, Caleb had no clue what he was doing. Donny says the good thing was when Devin came across and shook my hand. Hayden gets up and shows how Devin was doing it. Donny said that Devin made that one look so easy. Nicole brings Donny a yogurt from the HOH room. After Donny finishes it he says that was the very first yogurt I ever had. Everyone is surprised and asks him how it was? Donny says it was alright.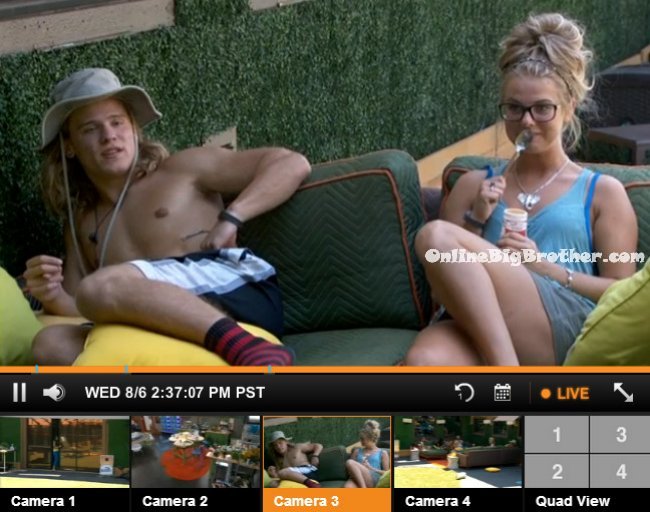 2:50pm – 3:05pm Cody joins them outside. Hayden starts talking about his tattoos again. He says that guy that did the astronaut on his butt and the calf on his calf. Hayden asks what does your Chinese symbols mean. Cody says family but the actual meaning is tight, together or something like that.. Cody says my biggest fear was getting something that I didn't know what it meant ..and I legitimately don't know if that's what mine means. Hayden says yeah I want to get Chinese symbols that don't mean anything like "The pear farted on the couch." Cody asks why would you want to do that .. then when your 60 and your grandkids ask you what it means. Hayden says then I'll tell them the pear farted on the couch. Hayden talks about wanting "Last" on one are and "Name" on the other. He then says maybe "First name" and Last name".
WATCH the next 48 hours for FREE – Big Brother 16 Live Feed TRIAL!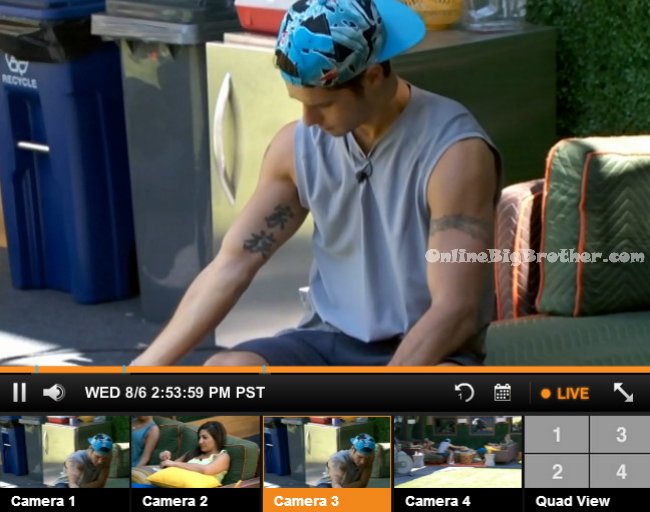 Alliances 
The Rationale = Nicole, Derrick, Hayden and Cody
Zankie = Frankie/Zach
The Detonators = Derrick, Frankie, Zach, Christine, Cody
"The HITMEN" – Cody & Derrick
Trilogy = Nicole, Christine & Hayden
Team America = Donny, Derrick, Frankie
Old timers = Jocasta/Donny
Nicotine = Christine/Nicole
bottomfeeders = Derrick and Nicole
More polls here https://www.onlinebigbrother.com/big-brother-compendium/big-brother-16-polls/