Head of Household Winner – Tommy
Have note are: No Have nots this week, Jack, Tommy, and Jackson were given punishments as part of the veto.
Nominations are: Cliff, Kat & Christie
Power of Veto Players are – Christie, Cliff, Kat, Tommy, Nick, Michie
Power of Veto holder – Tommy
Power of Veto Ceremony – Tommy used the Power Of Veto on Christie the season continues to rule
Grab your live feeds —-> BB21 Live Feeds Subscription Link
Rank your houseguests —-> Big Brother 21 Ranking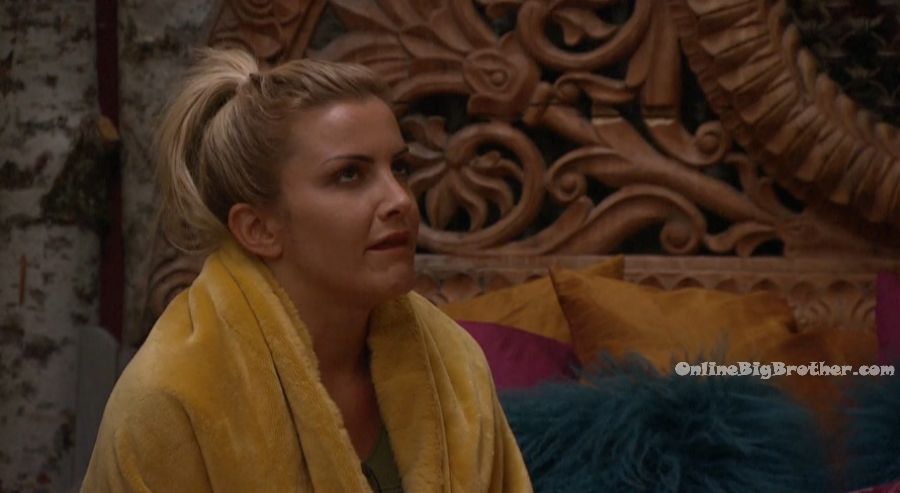 8pm HOH room. Sis and Kat.
Kat – Man today's been exhausting! Sis – I know, I'm really sorry. Kat – no, it's okay. Don't be sorry. Sis – it sucks, I feel so bad for both of you. Kat – for the first time I do feel discouraged. I do feel like .. F**K! And I don't know if its just me getting in my head or I just feel weird. But I do appreciate everyone taking the time to hear me out and talk and ask questions or whatever. I guess the main thing.. and we talked the other day.. I want to reiterate like how much I respect you as a game player and how much it really did mean to me that day.. On day 44 when you stopped the momentum of the vote flip. That showed that you are an independent thinker. You are a leader in this game. And that you have the .. strength .. you are very strong willed. I think that is why you are in this game and we you have gotten so far. My game play is I think simple.. I am being trustworthy to everyone. I am always telling my truth and I am loyal to people that are loyal to me. Even though it might not have been a big deal to you at the time ..like that's your personality to question things that you are uneasy about .. and you are strong in your will .. like that really meant so much. Because if it wasn't for you I don't know how fast things would have gone and if I would have been evicted. And for that reason I do not foresee any reason why I would target you. You are not my target. I love seeing you in this game and even day 1 before we even … not that we .. we don't necessarily talk game but before I even knew you as a friend I always stood up for you as a friend. Like even to where like .. I remember like .. this is a long long time ago but I remember like that Bella was saying stuff about you. Which I am sure you already know about but at the time I was like why would she say anything. And at the time I mentioned to you, why would she say anything about Sis. Sis is really nice to everybody. She is nothing but a pleasure to be around. And I hope you know that I always saw the best in you. I was always quick to defend you. And I still feel that why. Sis – thank you. Kat – and I am sorry about Jack. Sis – I personally have no idea what I am going to do yet. I would like to figure it out tonight. I am just so confused and I am talking to other people and seeing what they're doing and stuff ..but this vote I want off of what I feel. One .. whether you stay or go I want you to know that I am never going to hold the Jack thing against you or anything like that. Sis – I wish I knew what I was doing because that way I would tell you so that way you would have a heads up. I really have no idea. Two .. I don't know if this is true or not but I've been hearing that Holly's been saying stuff about me.. like to you. I don't know specifically what she is saying.. one time I was annoyed … and I don't know if people are thinking that I would be catty to vote you out over that.. that would never happen. Kat – wait, what do you mean? Sis – I don't know if this is made up or not .. I heard that Holly was telling you like I was saying stuff like I can't believe Kat she is like flirting with Jack.. or something weird like that. Did she ever say something like that? Kat – she .. I want to be careful about what I say because that is something that I feel is super irrelevant. It was more me joking around. I hope you noticed that I did stop. I didn't mean for it to be taken that way. I wasn't being catty. Sis – no, not her being catty. I hope you don't think I am going to be catty and vote you out because of that. Kat – vote me out because over Jack? Sis – I don't know why its a situation .. we can just throw it out now..




Kat – I'm confused. Sis – I'm confused now too. If I thought it was an issue I could have just gone with whatever. Kat – I want to be respectful of people and their relationships. I want you to know that I am not gunning after you and I can't think of a reason to gun after you. Unless you completely f**k me over. I do want you in the game because I think you're a bada$$ and I would rather you are for me, than against me. Or like when you were like I don't get mad, I get even. I was like scared. I don't want to be on your bad side. I will pinky swear that I am not coming after you and I know that you're close with Christie, Tommy and Nick.. and I am not coming after them. That being said I want to win HOH. Sis – I totally believe that you will not come after me. I am just so confused. I feel like I have gotten to know you the past few days and I love you as a person. I feel like we get along so well. Just the things that scare me .. we don't talk HOH .. and say you win HOH .. I just don't want you to put me up because of that or because you don't know where my head is at.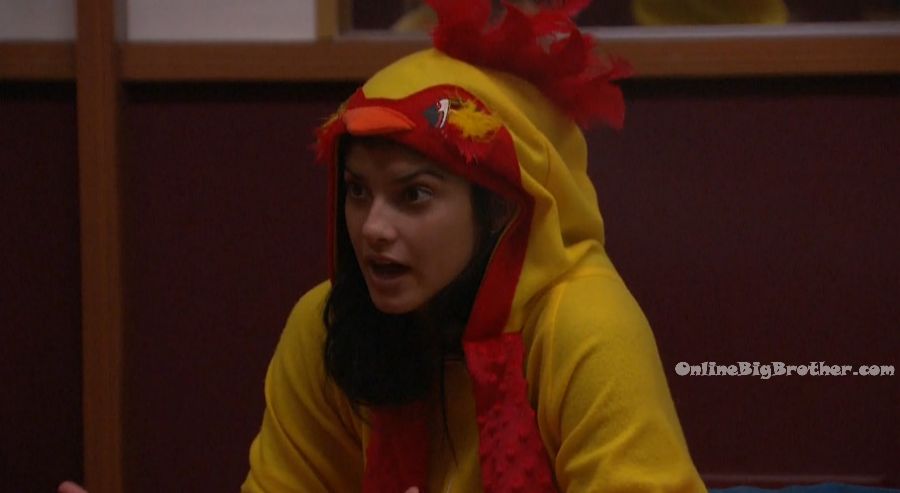 8pm Boat room.
Jess – I don't think that she is the smartest game player but I don't think she needs to be. What she needs to be is at least more in control of her emotions. I think that regardless of if she stays Michie and Holly are still going to be targets. Nicole – and if its a mental comp.. they both have a good shot. If its a physical comp ..they both have a good shot. If it is more likely physically demanding ..she is more likely to win it for us. Christie and Cliff come into the room. Jess and Nicole leave.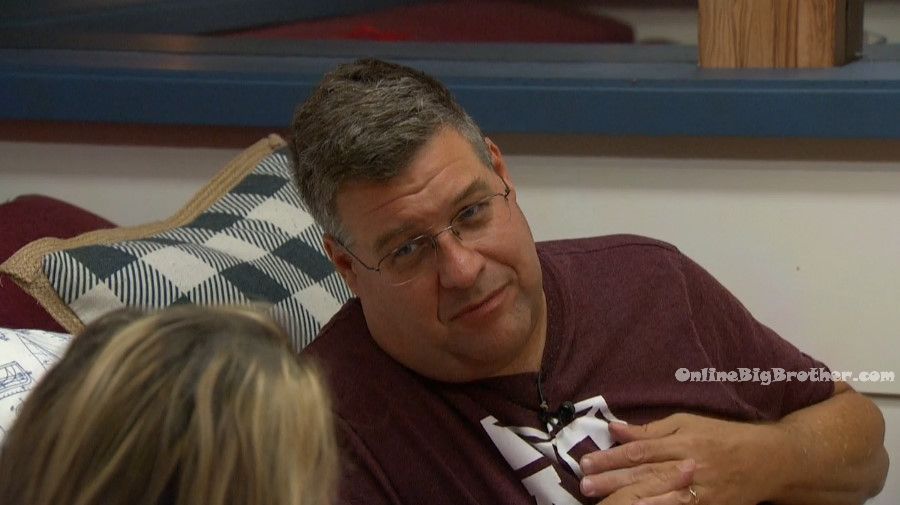 Christie – Its been a tough day.. Kat was crying and just felt like helpless. Cliff – I don't think that it helped that we were joking around. What she doesn't understand is that even if I was for sure going home.. I would still be joking around. Christie – She commented on how you were joking around.. I said you (Kat) crack under pressure. And to be honest I think he is just making the best of it. I feel bad, I didn't mean to be insensitive. Cliff – its just a tough time. Its just a bad situation. Christie – I think she assumed that I would have a tougher time making up my mind. She was like do you think that Cliff would put you up. And I was like I don't know.. Obviously I am not going to say no because we're making a deal. She was saying that other people see me as a target. She said that she wouldn't put me up. Cliff – obviously if we make a deal and I give my word it is what happened last week .. I am on a different team. There are a whole lot of people talking about You, Tommy and Sis. There were three people that we're talking about the three of y'all as targets and it was y'all. Christie – I know I would have gone home if I didn't get safety. Cliff – we're not just talking about safety with each other … we're talking about having each other's backs. Doing that and getting to the final 6 is what I've wanted this entire season. Christie – I want to get in a room after this double and really solidify it. Cliff – and I have no problem putting up Michie and Holly. There is no love lost. Christie – I am scared if one of then wins it. Cliff – If I was to win HOH to voto… I would not put you up. Christie and Cliff both agree that they like Nicole in the game.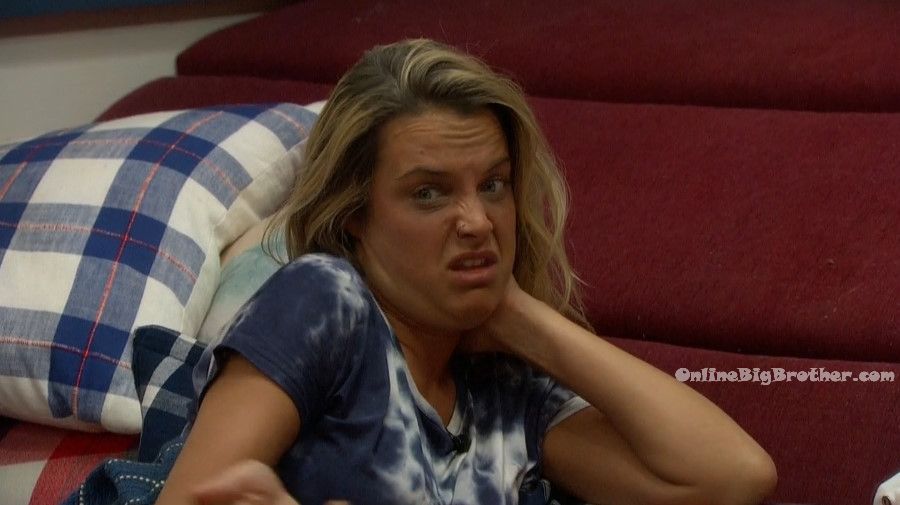 9:10pm Bedroom. Sis and Christie.
Sis – that was the most game we've ever talked. She was telling me a lot of stuff. She was telling me a lot about her and Jackson and how he played her in the beginning and that really sucks because I didn't know that. And I really see from her point of view how she couldn't come up and talk with us. That was an uncomfortable position after he says that he can't work with her. If I didn't make a deal with Cliff, I would keep her I think. Like I feel comfortable with her and I think she would keep me safe but the thing is, I don't know how far. Whereas with Cliff I know we're safe until six. Christie – if any guy told me to hush, hush. I would tell him to go scratch his a$$. Kat joins them and tells them again that they are not her target.
9:40pm The house guest are eating dinner.
10pm Bedroom. Cliff and Kat.
Kat is crying. Cliff – nothing about tomorrow is going to be easy because no matter what we're going different directions. Have you heard anything? Kat – I haven't heard anything for sure but I personally don't think its looking good for me. Cliff – really? No one will say anything to me one way or another. Kat – but the thing is they already did goodbye messages. By the time I do goodbye messages I already know how its going to be. I just don't want to go home. But if I leave that at least means that you can stay. Cliff – and I am the same way. And Jess was just crying over the whole idea of you and I. I told her that she isn't hurting my feelings if she votes for you. There are 16 of us in here .. we take our shot, we got Jack out, there might still be a battle back. Kat – you're the king of battle backs. Cliff – I told Jess you're not voting to evict one of us, you're voting to keep one of us. I am happy that we've gotten to work together and be on the same side.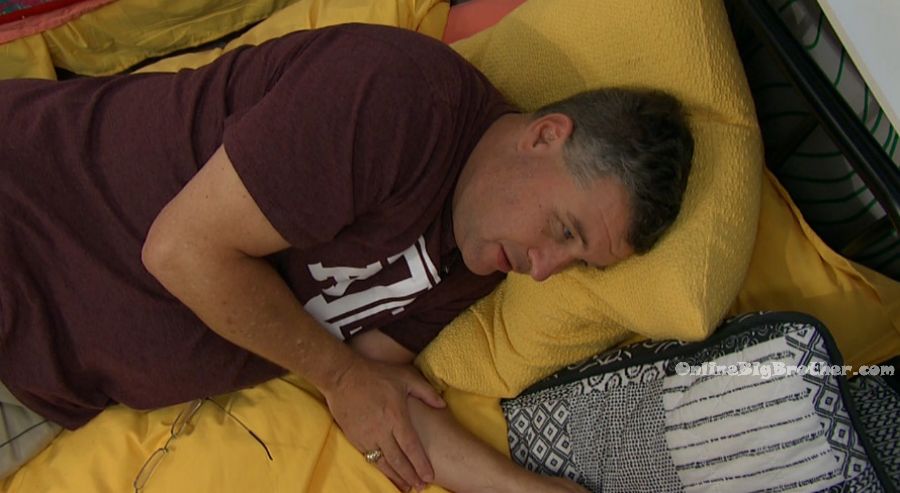 10:32pm Kat and Jackson.
Kat – are you ready for your campaign? Jackson -are you ready to give it? Kat -yeah. My entire campaign has been about you because everyone is questioning me, you and Holly. Everyone thinks that we have a final 3. I've been denying it and saying that you're my target. And I have been doing that to protect you and Holly. To protect myself going forward. I honestly have no idea how it looks. It doesn't look good. Jackson – I don't know either. All I continue to hear from people is that I'm torn, I'm torn. This is hands down the hardest week. Kat – but you … I hope I have your vote. You know I love you and Holly. I want you in this game. Jackson – I want you in this game. Kat – if anyone asks you how you're voting just don't say me. It sucks, I feel defeated. Jackson – no more than ever you have to keep pushing. You can't let off the gas now. Kat – pinky swear you won't tell anyone this. Nick just pretty much told me that he is going to vote to evict me over Cliff. And that sucks but if I stay, I have a new target. It just made me think that he is close with Sis, Nicole, Tommy. I think Jess is going to vote to evict Cliff no matter what. Jackson – I hate this whole.. just wait and vote with the house. I don't want you to go anywhere. I am trying to think of how to get Nick to change his mind. Nick sounds like a lost cause. Kat – you could play up the card that I am easily manipulated. Or give reasons how you don't think I could win.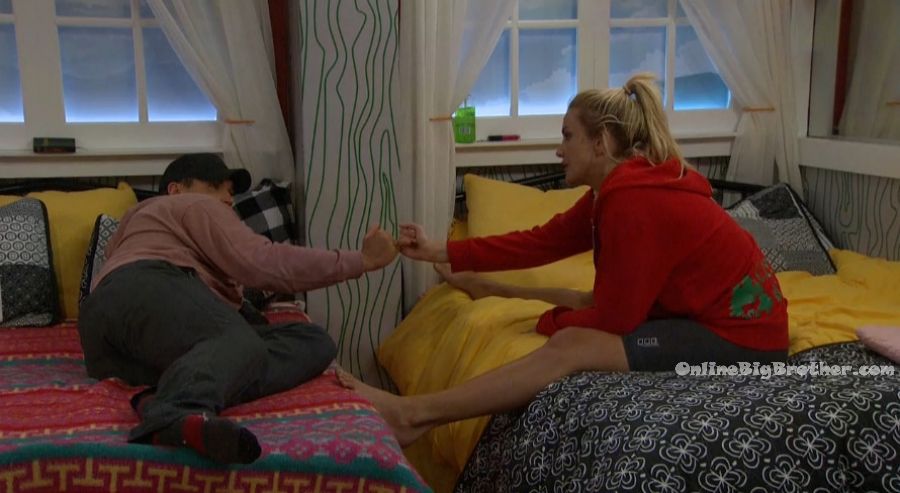 10:45pm Kat and Tommy.
Tommy – no one has come to me about what they're doing. Nick is the only one that has maybe leaning towards voting for Cliff to stay. Kat – but he also said that he wants to vote with the house. Who dictates who the house is!? I am stressed and anxious.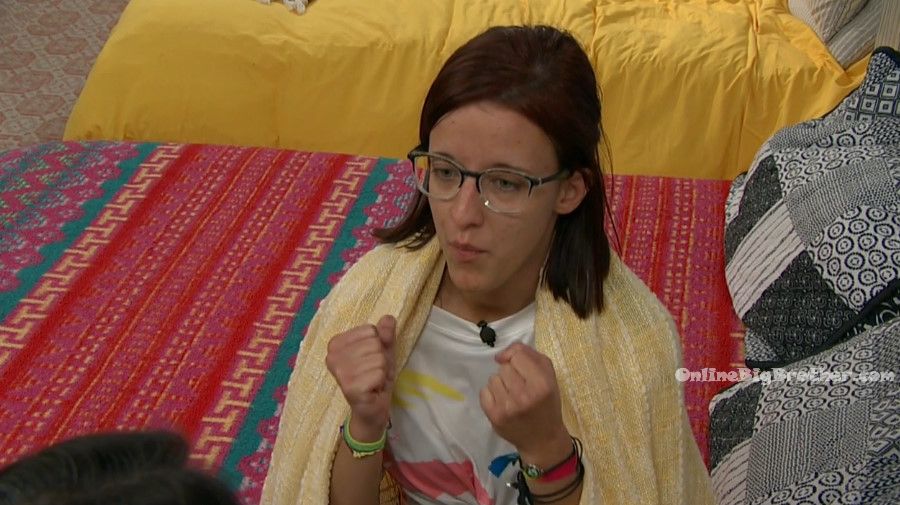 10:55pm – 11:15pm Bedroom. Nicole and Jess.
Nicole – I need to tell you something.. this could potentially blow up my game horribly. I need you to know because I can't leave you out on a limb. I realize that you're the only person I trust in this game. Nick approached me about this and Cliff approached me about this. The plan is to have a final six with Christie, Tommy, Sis, Nick, Cliff and Me. So they want Kat gone. They want to get rid of Holly, they want to get rid of Michie, and they want to get rid of you. Which I don't like! I am panicking.. I do not like it. Cliff's whole explanation is .. it is what it is for Jess but at least we will get to final 6 but it is not sitting well with me. I don't know why I am telling you this because I know it puts me in a good position and I would like to get to six. But I know you were left out of the final 8 and so was I. But I just want you to know that they're trying to form this six and it doesn't include you and I don't like it. So I am trying to figure out how to move forward. Nick already approached me about it. Cliff teetered around it. And they said that Tommy and Sis are going to come talk to me about it. Even if Kat goes and Cliff is still here .. and Michie goes .. if I won..I would never, ever, ever put you up. And that's why I am telling you .. I don't want to blow up my game but I can't vote in this game or leave this game without telling you .. because its not sitting well with me. I don't know what our plan is but that's why I had to break it to you. Jess – thank you for telling me and I love you. I don't want you to freak out about any of this. This can all change if you become HOH or if I become HOH. Nicole – I want you to gun for it. If Cliff stays, that's their plan. If Kat stays ..I don't know what the f**k their plan is. You know what I am trying to say. We have an opportunity to keep Kat .. You, me, Michie and Holly. I can't leave you hung out to dry. I can't leave you out on a limb. Even if Kat goes and its final 7 and I win HOH.. I am going after my alliance. I am not f**king putting you up! Are they f**king crazy! Do we go balls to the wall and pull Michie and Holly in a room and be this is what's f**king happening? Or do we let Kat go home and see what happens. I could just be double shooting myself in the foot by telling you. If they had said top 7 and Jess is included.. but its not even though they know I'm close to you. Its all their alliance included but everyone I am close to gets sent home. What the f**k is that!? Jess – I don't trust Michie as far as I can throw him. Cliff joins them and Jess leaves.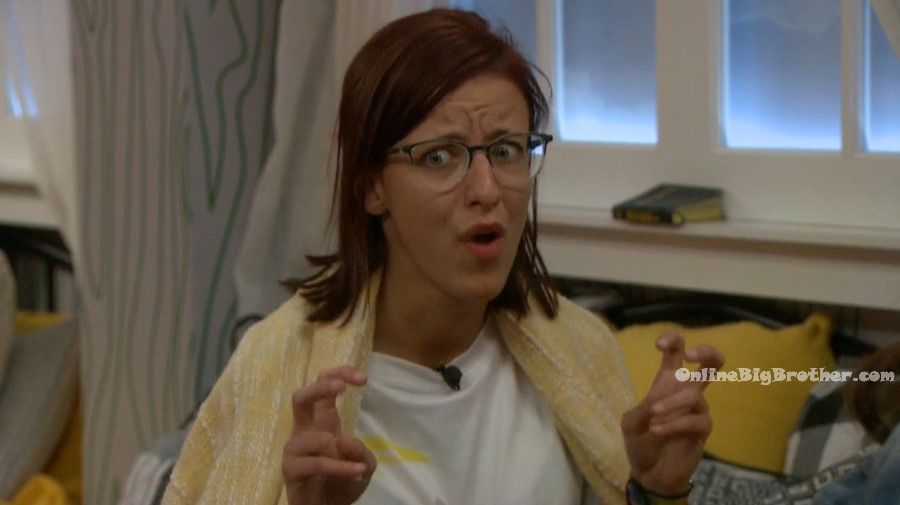 11:22pm Boat room. Jess and Holly.
Jess – I don't think its a secret that I am going to vote for Kat. Holly – to stay? Jess – yeah. Holly – you're her best friend in the house. Jess – there is a big back and forth .. and who's on the outskirts and inskirts. And there is a lot of talk about them forming a new six.. potentially seven. Holly – with who? Jess – it does not include me, you or Jackson. Holly – perfect! Would that be Christie, Sis, Tommy, Cliff, Nick and Nicole? Jess – yeah, I would assume that. I think Kat is saying things to appease a lot of people. Holly – She thinks that Jackson is peoples biggest target. Like her saying that she is targeting Jackson should be a big red flag but I feel like I am the least phased of anybody. I think that its just an easy target of who to say. Why do people have to say who their target is? Holly – I don't want her to leave and I do feel like I can trust her in a certain way.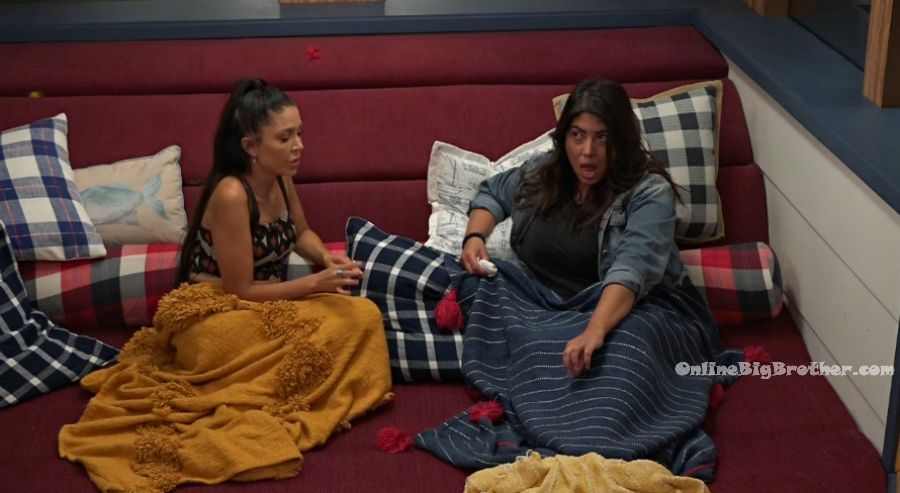 12:07pm Boat room. Tommy, Jackson and Holly.
Tommy – are you good. Jess – No I am not. Jackson – I love you Jess. Jess – I don't know what is true and what's not but I heard it.. so YUP I HEARD IT!! Jess storms out. Tommy and Jackson are like what the f**k was that?!!?!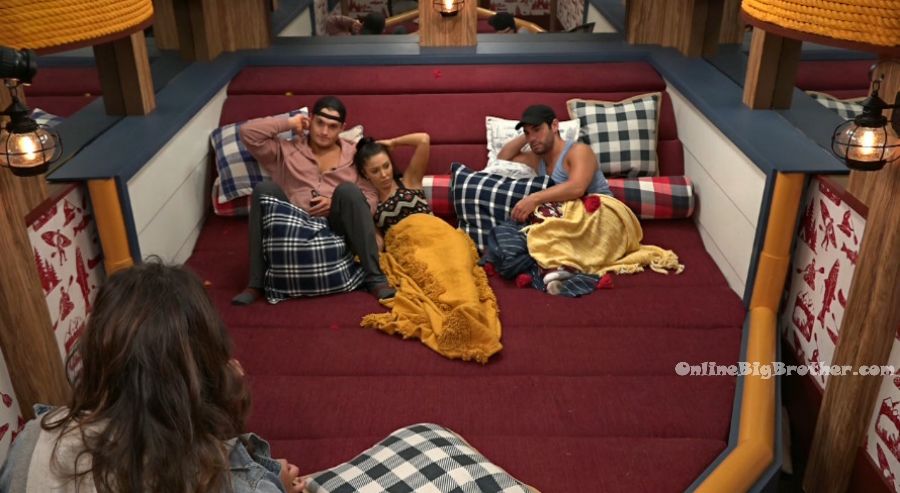 12:11am Bedroom. Sis and Jess.
Sis – what you heard in the RV.. Jess – what did I hear in the RV? Sis – you said you heard something, what did you hear? Jess – I heard what I heard! Sis – what did you hear? Jess – I heard it. Sis – what? That's what I'm asking. Jess – a plan. An understanding. Sis – I never shook on any alliance. Jess – I know people are in conversations, I heard. I know. Sis – I am asking what you heard. I will literally tell you yes or no if you tell me what you heard. I am not going to lie to you. Jess – there is an understanding and I know that Cliff is a part of it and I know that I am not. That's what I heard. Cliff is a part of something with you, Christie, and Nick.. Sis – but what he said to me is what made me keep him. Jess – you don't have to explain why you're keeping him over her. Sis – I don't want you to think there is an alliance when there is no alliance made. I don't need to lie. I haven't lied once in this game. Jess – I can only take you for your word. Sis – I am not in an alliance and haven't been in one since day 44. Jess – I am thankful that you told me that you're leaning towards Cliff staying. I know that Kat is probably going. Whether you guys started a new six or didn't it doesn't matter. Sis – Tommy said that he doesn't want any alliances formed during his HOH .. so literally nothing has started. Jess – then someone else has and I will get to the bottom of it. Sis – if you have any questions I will answer them truthfully. Jess – did you ever tell Sam that you wanted Nick and Nicole to go home? Sis – I swear on my life I have never said I want Nick and Nicole to go home. Jess – or you would put them up together? Or that they would be your targets? Sis – never. Jess – something is up and I don't know what to think anymore. Sis – there is someone that I thought we were close but this person has been making up things about me. There are things that this person has been saying that don't just don't add up. I don't know if you're catching on the the person I am talking about. This person (Holly) when they were campaigning for their person to stay said a lot of things about me apparently that I never said about them.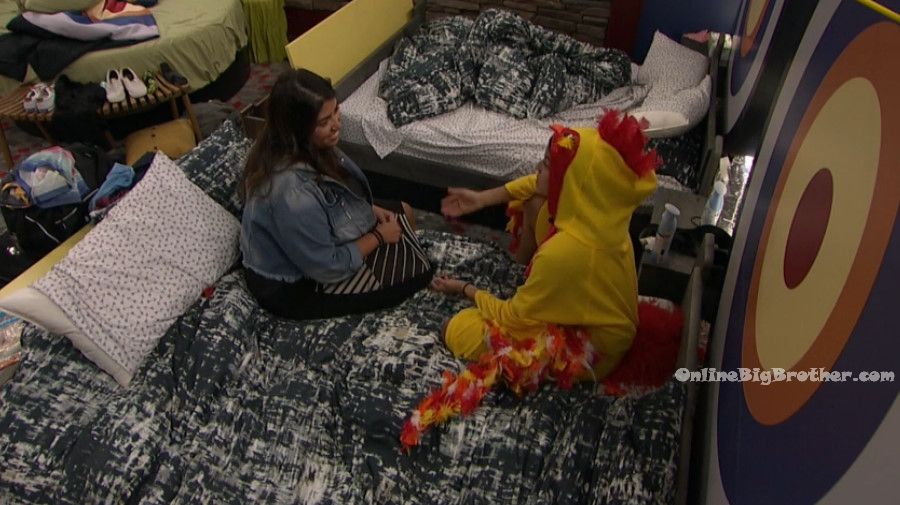 1:17am Bedroom. Jess and Sis.
Jess – I just know that things are happening and these alliances .. and the back
handedness are making me more confused so when I see something like America's field trip and I see two women that I f**king adore next to a guy like Michie.. makes me sick and makes me wonder what the f**k is going on. And you have Holly being like that shows what's happening. And other people being like .. that other people are making fun of Cliff and then Cliff making deals. I am so confused. Sis – I am f**king confused now too. Jess – so apparently during tossed in space (comp) you and Christie were laughing at Cliff while he was running. And you guys were making fun of him along with Kat. Sis – WHAT?!!! Jess – yeah, and that was the thing .. I can't believe I'm so disgusted they would laugh at an old man .. at someone like Cliff. Sis – I would never ever ever laugh at someone running. We ere laughing because we thought he was so cute running to go get it. I am not a mean girl and I've never been pictured as a mean girl and I will not be pictured as a mean girl. Sis starts crying. Sis – because that is not me! I would never ever ever laugh or make fun of anyone. Or talk bad about anyone. I am not a mean girl. I have never been a mean girl my whole life. I don't need to. So it really upsets me and hurts me that someone would be saying that about me because little kids watch this and I would never want them or that conversation to be seen .. that I am laughing at someone that is a little older than me running. Really!? I would never. I think it is the cutest thing in the world. Has Cliff made me mad before… yes but I still have never once been mean about it or to him because I am not a mean girl. I would never want anyone to degrade my character to make me out to be a mean girl. Jess – yeah I know. Sis – I don't want people to see me as a mean girl. That is not in me. Its not. Jess – I am telling you these things because this is how I feel every day in this house. I've tried to let things go .. Holly is dropping those things to me and Nicole, and Kat.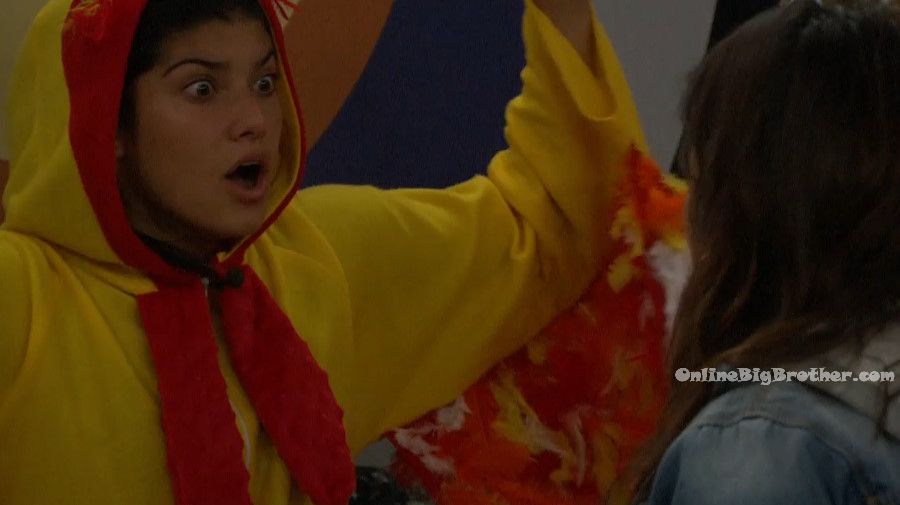 2:05am Boat room. Sis and Christie.
Sis tells Christie about the conversation she just had with Jess about the six that formed and Holly making her out to be a mean girl. Sis – she said that we were laughing at how Cliff was running. I said that we were laugh about how cute he looked running. And she was like I know, I know but she (Holly) is making it out to be like you guys were laughing at him. Christie – I am done with her! Sis – I am about to go off on her! I am not kidding! I am that pissed and I don't give a f**k because I am going to f**king gun for this HOH. Christie – she is a f**kng fake.. Sis – I am going to gun for this sh*t because literally none of us are safe. Christie – with who? Sis – apparently Nicole is telling Jess about the six and its not sitting right with her. Christie – does no one understand what an alliance is apparently?! Sis – its not sitting right with her because she know that Cliff is making deals. Christie – so everyone is just lying. Sis – she also said that f**king Holly said that I was flirting with Jackson. WTF?! I was with Jack. If I wanted Jackson .. I could have f**king had Jackson. They're f**king playing games and they scared because every single person in this house is gunning for them. But I don't know how to back track. Christie – we will just be honest about the six. Sis – I don't want to keep Kat. Christie – no Kat is not staying. Kat has to go. Holly joins them. Sis – I am not a f**king happy camper with you! Holly – with me?! Why the f**k not with me? Sis – because apparently you're talking sh*t about me behind my back. And saying all this sh*t and dropping all this sh*t about me. Holly – WAIT!? What sh*t!? Sis – apparently me and Christie were laughing at Cliff during tossed in space for running. Holly – Nicole cried about that the other day. So ask Nicole about it. Sis – its being brought up by people saying we're disgusting for making fun of a little elderly man for running or something. Holly – Nicole brought this up the other day and was crying about it. Sis – but she was hosting and so far away. How could she think we were laughing at him for running. We literally thought it was the cutest thing. Holly – how the f**k did I get dragged into this? Sis – for a few days I've been hearing that you've been dropping little seeds that I've been saying sh*t. I don't say anything to anybody. Holly – what have I said that you said? Sis – that I was in your ear about putting up Nicole when that never happened.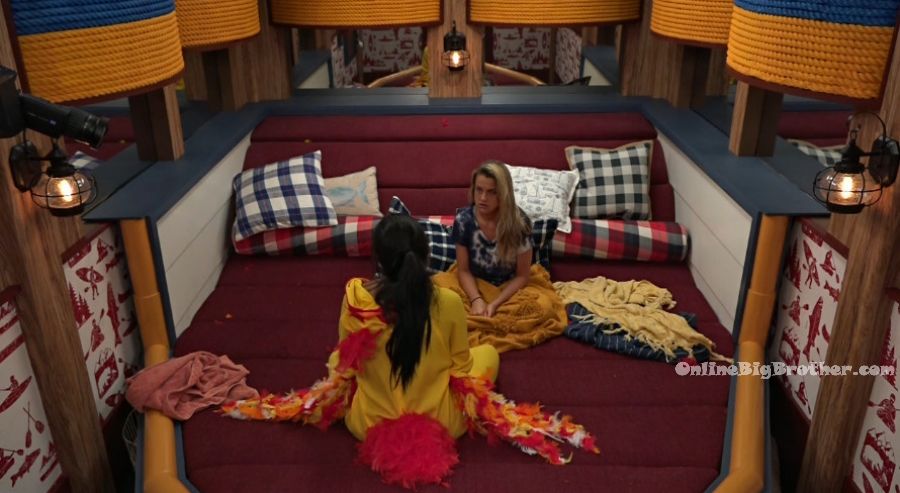 2:30am Havenot room. Jess, Sis and Christie.
Jess tells Christie about how she knows there is a new six alliance that they're starting. Christie – so there is definitely not an alliance. Cliff and Nick are close and part of Cliff wanting to stay was lets make a deal. I also have Michie and Holly wanting to me back together and I don't want any part of it. I am not making an alliance this week. This HOH was for everyone to become friends on an even playing field. And leaving the campaigners to the voters. Make any protection deals and leave it to them.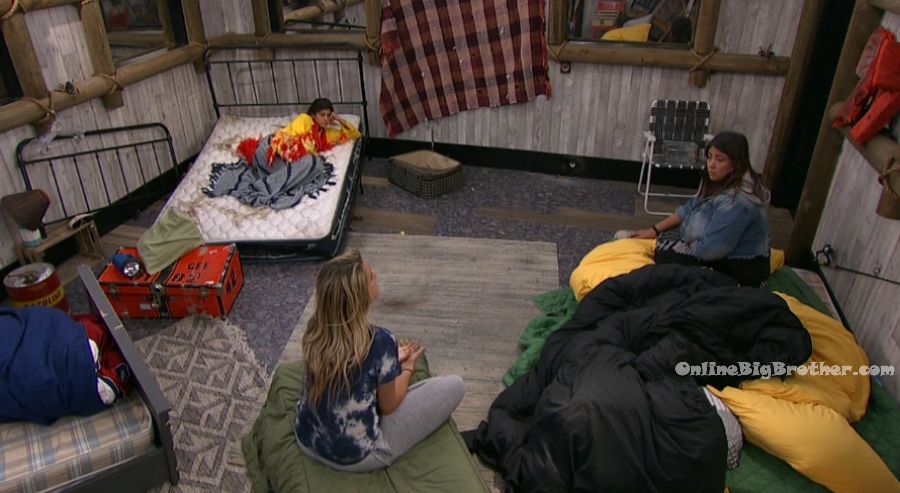 3:33am Jess, Cliff and Nicole.
Cliff – the agreement was that if I did get HOH, Michie and Holly would go up. Michie told me tonight in order to get his vote I had to promise not to go after them and I didn't make that promise. Jess – damn.. I feel like I am the only one that like does anything on loyalty. Jess walks out of the room. Nicole – its a game. Cliff – I'm surviving. We can't reach a deal that involves 3 of us.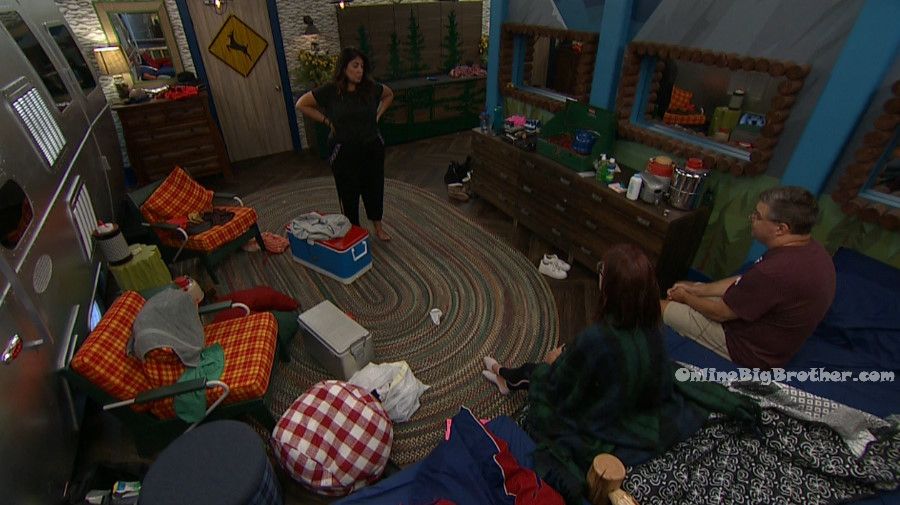 3:45am Tommy, Sis, Christie and Holly.
Tommy – apparently Cliff told Kat about the alliance and that is why she is pissed. I believe Kat. I trust Cliff as far as I can throw him.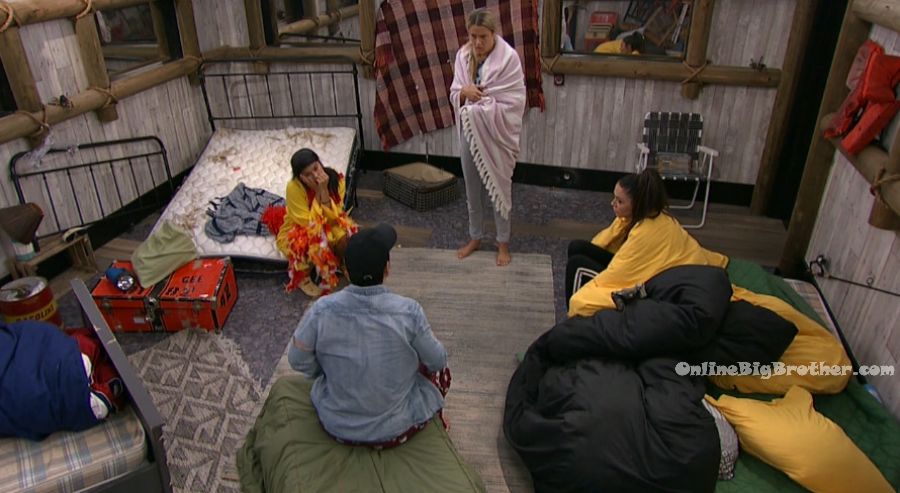 OBB wouldn't be possible with our your support!
If you are one of the generous people that donate to help keep the updates coming, we're giving out a bit more this year. Check out this page for more details: OBB Members
Next and Previous posts
Shortcut to Comments
Share it YO!
Tweet