Head of Household Winner – Tommy
Have note are: No Have nots this week, Jack, Tommy, and Jackson were given punishments as part of the veto.
Nominations are: Cliff, Kat & Christie
Power of Veto Players are – Christie, Cliff, Kat, Tommy, Nick, Michie
Power of Veto holder – Tommy
Power of Veto Ceremony – Tommy used the Power Of Veto on Christie the season continues to rule
Grab your live feeds —-> BB21 Live Feeds Subscription Link
Rank your houseguests —-> Big Brother 21 Ranking
Feeds are showing the Head of Household tonight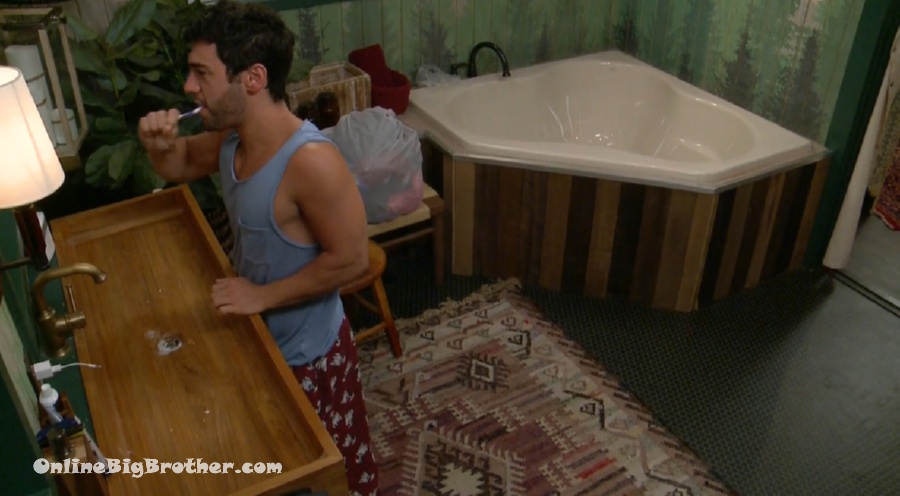 10:01 am Tommy and Nick
Tommy brushing his teeth and farts.
Nick is surprised at how loud it is
Tommy – I shave my BUTT so it's extra soundy
Nick laughs.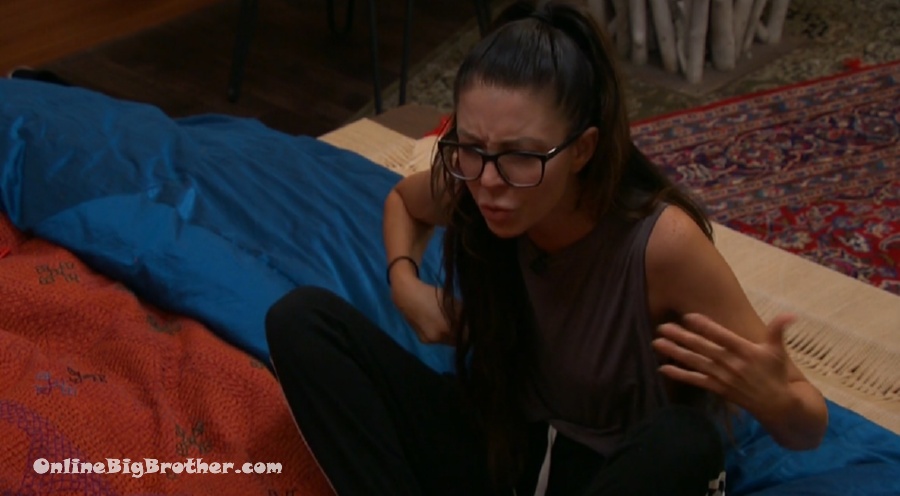 10:18 am Tommy and Holly
Tommy going on about how much he "Vouches" for Holly when He's won a room with Sis and Christie. Say s they will confirm this
Holly – how are they SO quick to turn on people
T – they're not they're not
H – they are. Christie is they will turn on somebody and throw them under the bus in the same freaking breath if she does it to me she'll do it to any of us
T – I know that I know that I see that too
H – Sis has expressed how disappointed she is in Christie she told me I f*ing hate her she used the word HATE
T – I know
H – Okay so are we just… faking it like what the f* how am I the one that takes the fall. Christie has said mean sh1t about Sis.
T – Yeah you are right
H – Sis found out and said she hates Christie but ok I'm the bad guys that's cool
T – it's not three people you were working with plotting against you it's F* now what do we do. I guess we have to save ourselves.
T – I would love if you or Jackson won I would love that I mean that. the deal was made for one week
H – Nicole is Gung Ho in an alliance. I knew something was forming and now I feel like an idiot and saying I think Nick is playing both sides, BECAUSE HE WAS
Holly says Nick has been "burying you guys to me and being so genuine about it and so heartfelt and making me start to like him a lot "
Nicole comes in "can I talk"
Tommy says he'll go find her after this "Love you so much"
Nicole – Love you guys more (shoot me)
Nicole leaves
Holly says Nick played her "he acted like he really cared and made me feel like I was getting played by you guys"
Holly says Cliff was trying to make deals with Jackson yesterday "why is he trying to make deals"
T – I dunno.. Apparently, Jackson told Cliff the only people he trusted were Holly and kat.
T – I have your f*ing back.
Holly – Christie doesn't see us as humans she is running this game and we're all her little pawns. it's harsh and it sucks because I love her but I am so f*ing frustrated whatever she says go with everyone in the whole house everyone is scared of her. I want to work with her but I want mutual respect and I want her to see me as a human, not a f*ing pawn
H- when someone calls her out on her sh1t she starts crying to get out of it
T – I know.. I don't think you are alone
Holly says Nick has been planting seeds in her head for the last two weeks to drive them apart.
T – I wonder if it's on purpose or just happening (LOL)
H – it's on purpose he was really weighing his options.
Tommy goes on about how Nick really loves Michie and Holly "he really does'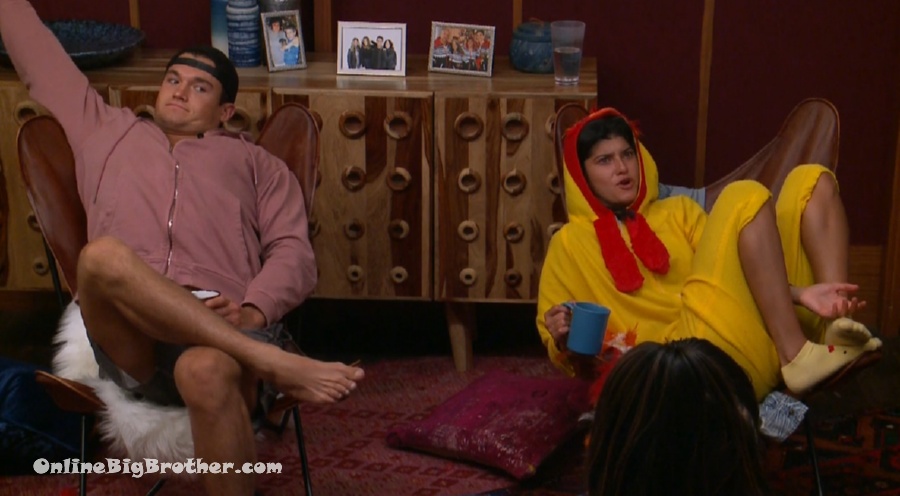 10:45 am Jackson, Tommy, Holly and Sis
Sis and Tommy 'It wasn't an alliance it was just something to think about"
They go on to justify why Kat was the target.
H – so everyone is terrified that Kat. One person might be working with or good with or friends with me and Jackson
T – it's not just you. it's everybody it's Jess
H – we have maybe one ally that's suspicious but everyone is now forming a 6 person alliance against us
T – it's not a 6 person alliance
H – why are you so worried about me and kat having a relationship
M – they wanted to disarm us
H – yeah cause you (sis) and Christie were telling Jess last night that we need to get rid of Kat to disarm us and because we have nobody.
H – you told Jess last night unless she's completely full of sh1t
Michie and Holly say the conversation Sis had last night was them saying to Jess we don't have Sis, Tommy, Christie and they don't have Nick.
M – the only person we might have is kat
Sis – I did say to Jess yeah that relationship scares me they were all getting together
H – to disarm us
Sis says she never uses the word "disarm"
H – Christie would
Tommy says kat was put on the block because she's working with everyone but Tommy.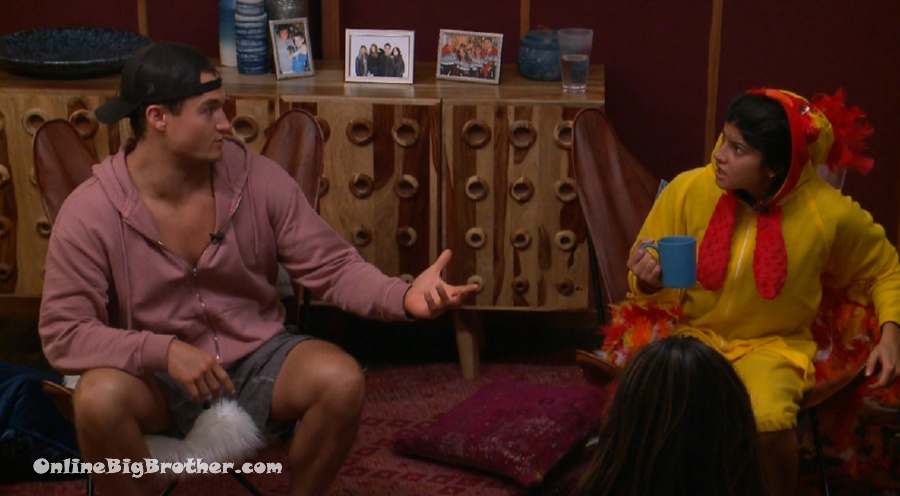 J – what I heard last night "who do they have.. it's 2 vs what 6, 2 vs 7. They don't win HOH's they don't win vetos they don't have me"
Sis – who said that
J – you did
Sis – I ever said that
Jackson – it was you, Christie and Jess
Sis – I never said that
Jackson – then it was Christie that said that because I heard that
Sis – that never came out both of our mouths you can call Christie right now. I never f*ing said that
Jackson says from what he heard from Jess it was clearly communicated that it was Jackson and Holly against the house "we don't have you, we don't have Jess, we don't have Tommy, we don't have Nick, they don't have Nicole, they don't have cliff all they have is Kat"
Sis says she's always had their back last night she was just upset
Jackson – this is not me coming at you right now this is me telling you what I heard. I just don't want you to think I am charging at you right now.
Sis – this was before me and Holy were up here talking so yeah I was pissed off at you guys.. I was like F* you guys I don't have your back anymore after you said all this shit about me
H – it seems a bit premediated
Tommy goes on about how he had to save the three of them. "I gave you my word I wasn't putting you up this week regardless of what the house was saying"
At 11 Christie has joined them Jackson is denying saying that Sis flirted with him. (this was week 2or 3 stuff .. I can't remember if it was Jackson or Holly that brought it up but I've heard it before)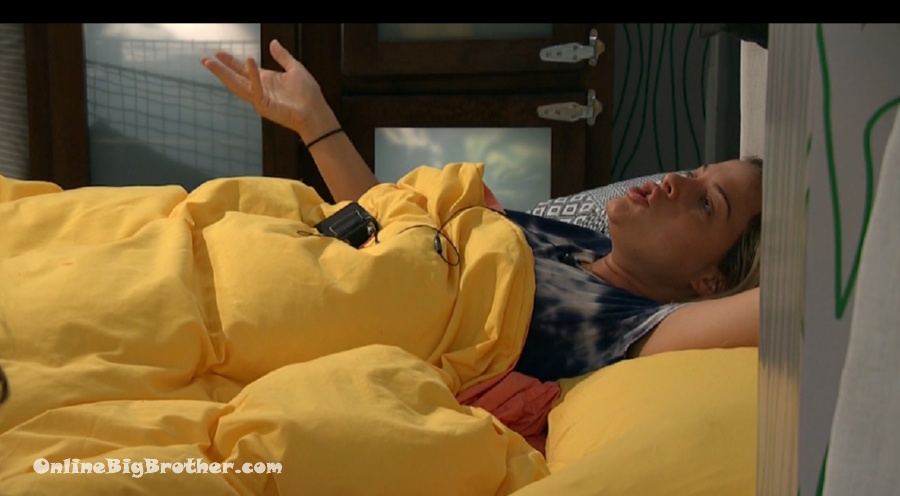 11:10 am Christie and Jess with Kat sleeping in a bed.
Christie talking about people saying that with Tommy gone she would be a basket case and an easy target.
Christie – I literally don't care I don't give a sh1t. Like I'm flattered thanks.
Christie- I literally think I literally don't believe anybody (wow just started the feeds and already 2 literallys in.. gonna be a fun day ;0 )
Christie – everyone is playing an individual game at this point and I'm fine with that.
Christie – I never know who is saying things outta truth or saying things out of feeling a loss of control
Christie – I'm over it everyone has to GUN for this HOH now. No one feels safe at all. At all at all. Nobody trusts anybody at this point. It sucks it really sucks
Christie – this is just a game and it sucks. I'm afraid to be in rooms with people
Tommy joins them.
Jess – I said goodnight to Michie and Holly and I said well it looks like us three are on the outside looking in because IT'S TRUE
Christie – there's' no alliance though Jess
Jess – people in your not so-called alliance are calling it an alliance and calling it a final 6. Whoever is saying that
Christie mentions she's asked everyone if they are in an alliance and they are denying it.
Tommy says he promised there's no alliance.
Jess – I know you promised which is why when I heard it I was upset.
Jess – When I heard and it was confirmed I could not sit and what just sit another f*ing week on something I was not a part of again
Christie – everyone in the room agreed this wasn't an alliance.
Christie – it was literally nothing close to an alliance (drink)
Christie – it was an isolated deal that was made to keep people that were named as targets safe for another week through a very scary potential double that's how I took it. It's soo annoying
Tommy – when the idea of an alliance came up I shot it down. I stood my ground I gave my word.
Jess – coming from a person looking in and knowing that there was someone who at allied to me and was making deals specifically without me in them like
Christie understands why jess would be upset at Cliff
Jess – I am not in a happy place
Christie – I don't blame you
Jess – I've been playing the most part my own game based on me being an outsider.
Christie sticks to the no alliance story. on and on ..
Jess – Whether you said alliance or no alliance. there's was a lot of people in the room a deal was made and someone confirmed it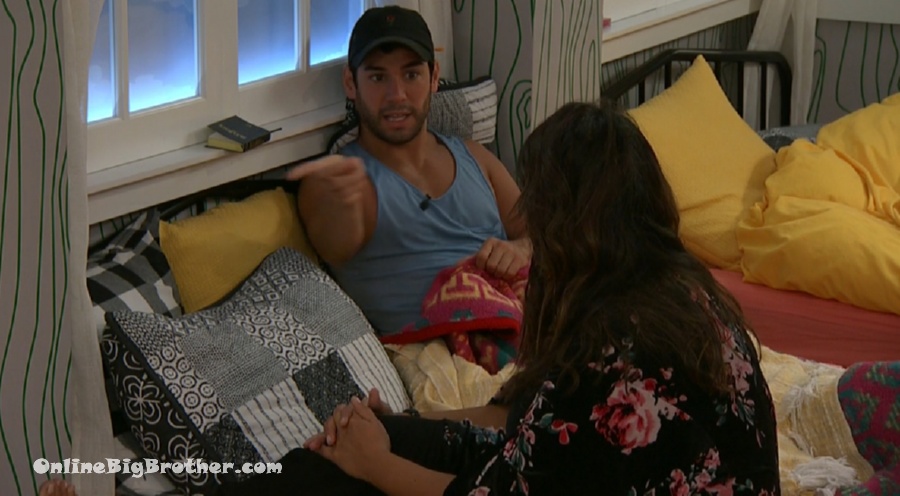 Tommy – how did this come out? The six of use was never in a room never.
Christie goes on about it not being a 6 person alliance.
Jess – people are calling it a final 6
Tommy – I don't want a 6 person alliance I don't want that
Christie – I don't know where the word alliance came from or final 6 (it came from you for christ sake)
Tommy says "the god's honest truth" is he never wanted a 6 person alliance. (this is the truth)
Christie says they just wanted to be safe going into the double
Christie says it was delivered like let's all have each other's back going into the double
Christie – what words did you hear that makes you think it's an alliance.. you didn't hear alliance there's no way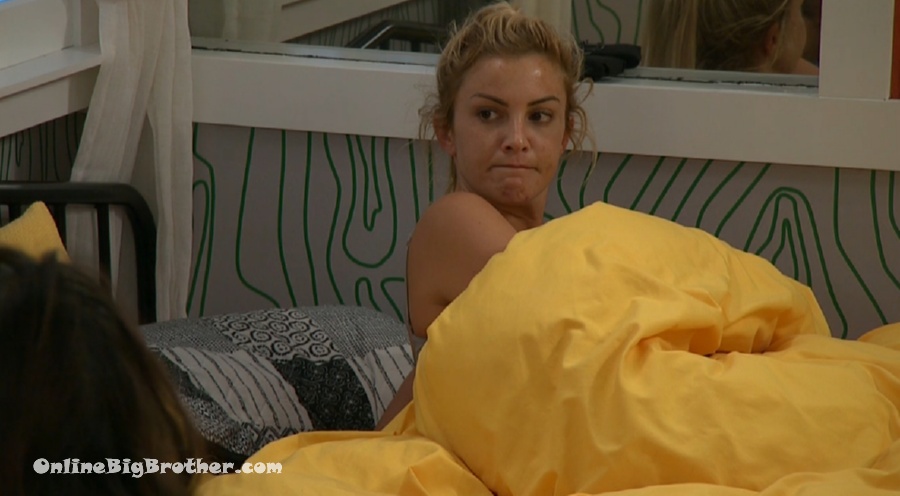 Kat – because I have nothing to lose at this point Cliff told me there's an alliance.
Christie says that was not the case.
Kat mentions that Cliff is in alot of alliances. She says she knows she's been disposable to all of them in this game.
Kat says she knows she's getting evicted and going to the Jury house.
Tommy and Christie claim that Kat was never a disposable piece to them.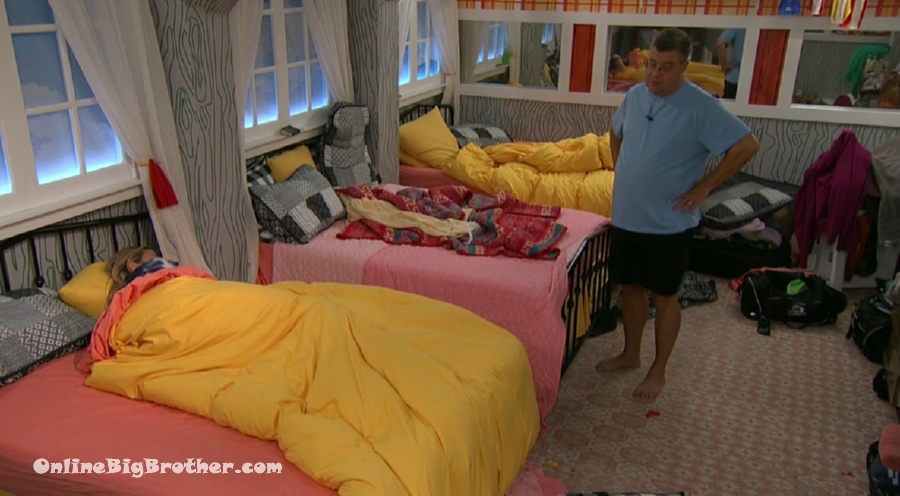 Cliff comes in. Kat pulled into the Dairy room. Tommy and Jess leave.
Cliff and Christie alone
Christie – it's just a mess. Don't worry about it I'm not changing.
Cliff – I do appreciate that I am trying to keep game and emotions separate it kills me that I'm being accused of Betrayals
Christie – I understand why people feel hurt but it is a game.
Cliff says he never thought being in an alliance would mean to commit big brother suicide by keeping one of his allies in the game.
Cliff – I love Kat so much and to hear I am disappointed in the way I play (Dude we all are disappointed in the way you play)
Cliff – All I got in this game is my word.
Sis joins them
Cliff says it hurts him that he feels like he's lost a couple of friends.
Christie – I'm sorry
Cliff – I've made my decision I've given you my word.
Cliff – it could have been so simple. Jess wasn't the target. Jess could have had three weeks if she never did something. I thought the whole house was in agreeance. (F* you guys and your boot order)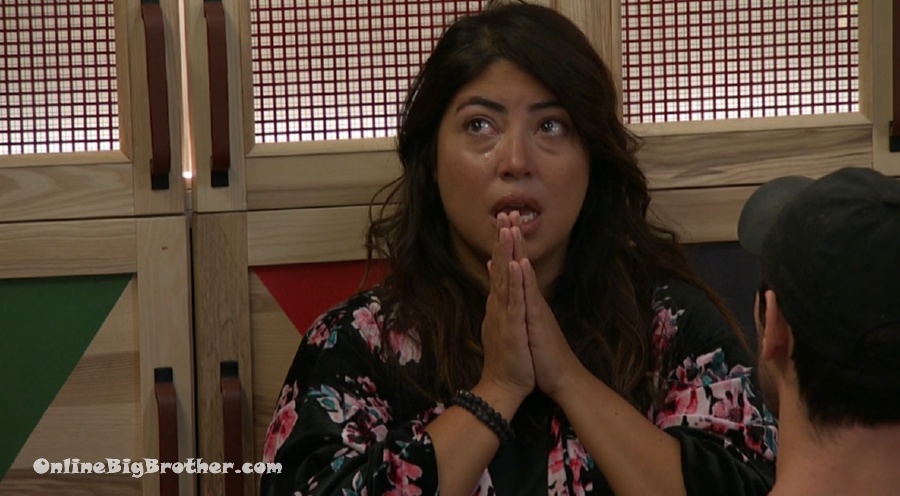 11:30 am Jess and Tommy
Jess is crying.
Jess – I was really meant to believe it was a final 6
Tommy – can see why that person would feel that way it was being pushed to be that but I shot it down. I promise you that
Tommy says he told, "that person" the final 6 was shot down. He thinks it was the timing of the conversations Jess had with "that person" (cliff)
Jess – I'm not going to sit here. I'm tired, Tommy. I don't have those close connections to other people in the house
Jess says she gets fed information from people left and right she's "going f*ing bonkers"
Jess – I don't want to work with people I don't want to work with. People are making random alliance since the beginning of the game. Where people are turning their backs on their own alliances and getting into arguments and starting sh1t
Tommy says he tried so hard for this not to happen on his HOH.
Jess – I don't understand these relationships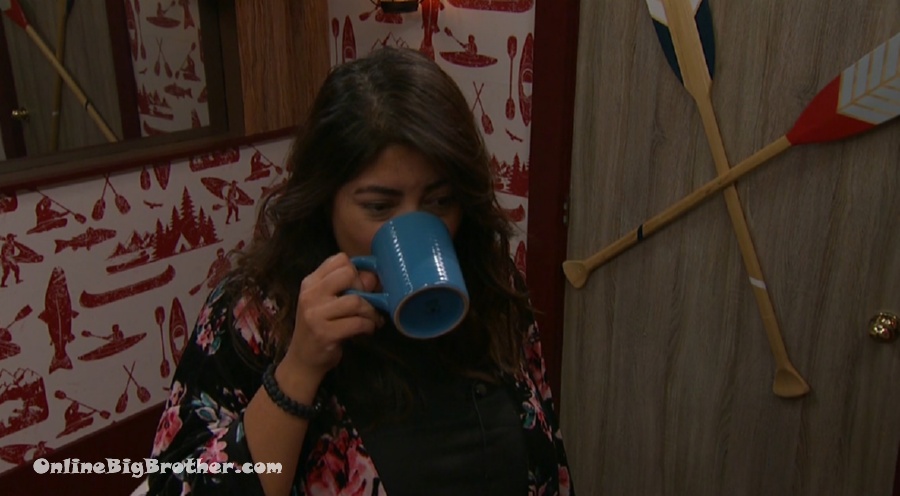 11:49
Tommy says multiple people have told him if he hadn't won the HOH he was going up this week.
Tommy – I heard from a few people that me, Christie and Sis were a strong trio and we needed to go (few people are correct)
Tommy says he was shocked to hear that.
They head into the bathroom Jess says she feels there are people that are causing fear and uncertainty
Jess – I do trust you. Is this coming from Nick or Nicole's mouth
Tomm y- Nicks's mouth. Nick and CLiff
jess – ok
Tommy – Nick and Cliff were telling me that.
Tommy says Nick told him he was the top of everyone's list.
Tommy clears up that Cliff and Nick never gave him names.
Tommy – the deal was Cliff gets to stay and I am safe next week he keeps me safe for a week.
Tommy called into the Diary room but still goes on and on that, there was no final 6 alliance he shot jit down.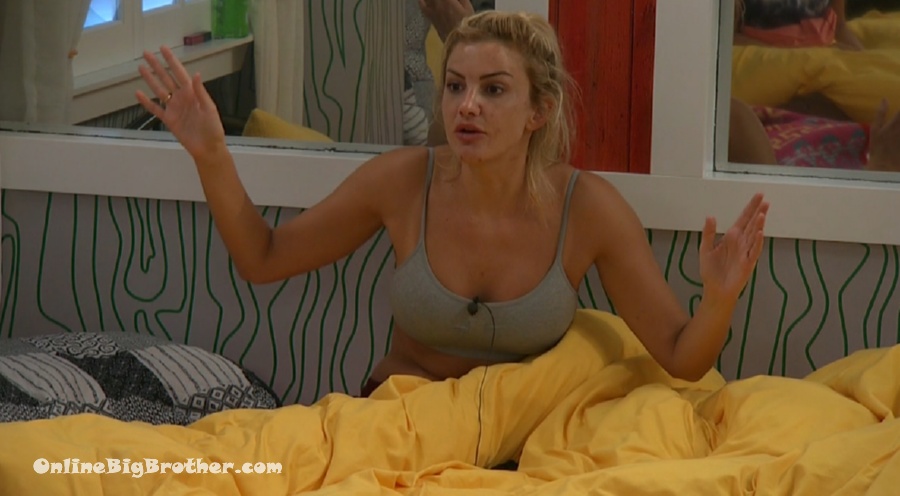 11:39 am Kat and Christie
Feeds come on partway through a sentence. Kat said she wanted "those two" to get as far as they could. (Nicole/Jess)
Kat – I would listen to how they didn't feel included and I related to that.
Kat – it crushes me that Cliff literally like (sobs can't hear) I trusted him so much and I thought that he was going to have their backs (Cliff has his own back y'all should have figured that out a month ago)
Christie – I know he said that to you and I don't know why I hate that you are worried about Jess and Nicole.
Christie claims that every single word she said to Kat, Jes, and Nicole she meant
Kat – why are you keeping someone based on a deal that doesn't mean sh1t to him
kat – I have your back, Nicole has your back jess has your back
Christie – it makes zero sense
Kat – our 3rd fight was so bad we had to get DR 2 involved there's something bigger than this game going on
Christie says Cliff shook her hand that he wouldn't put her up.
Kat points out that Cliff gives her one week but kat gives her lasting loyalty. Christie doesn't trust the Kat, Michie, Holly dynamic.
Noon feeds down for HOH lockdown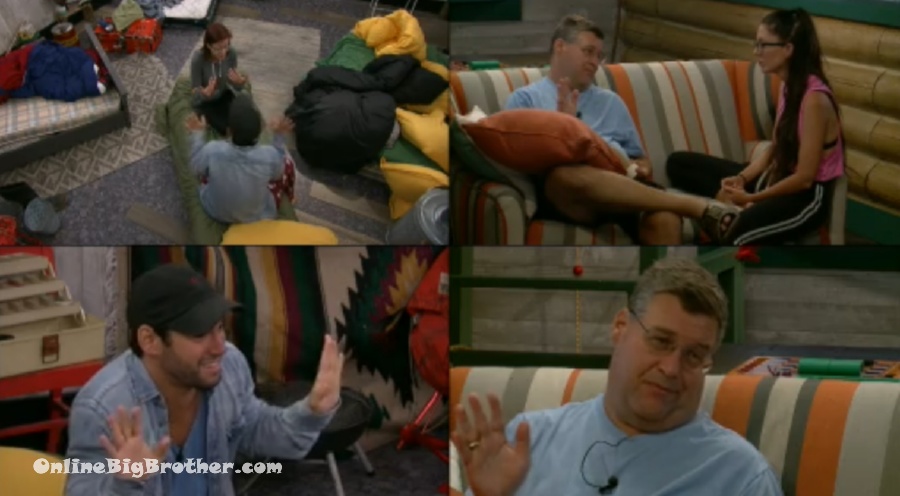 1:40 pm feeds back …
Tommy tells Nicole that Nick is amazing he loves Cliff but fears him..
At the end of this conversation, Nicole is still voting out Kat and good with the 6 people non-allaince.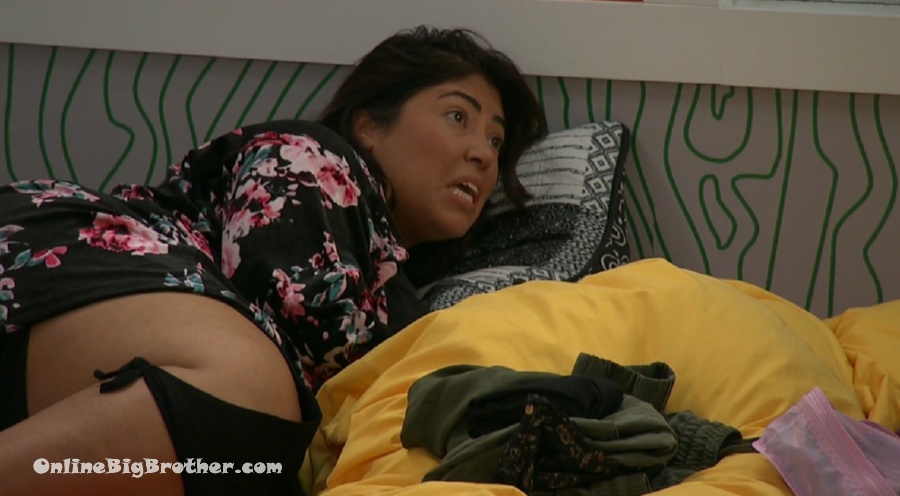 2:00 pm Jess and Kat
Kat about Nicole "I'm so disappointed in her"
Jess – she's the one that told me about the alliance
Kat – I know, she told me at the beginning of the week that they were trying to form something
Jess – Nicole knows way more than she lets on. Nicole since day one has talked about how much of a Bully Nick is and she's still there
Kat – it's a me and Michie situation but with her
Kat – Nick thinks he's the puppet master of this whole thing.
Jess says Nick will 10000 percent put her up and Nicole will watch it happen.
Jess – Nicole made me believe that we could keep you and that's what pisses me off all she had to do was vote. I don't care if it was with Michie and Holly all we had to do was vote for you
OBB wouldn't be possible with our your support!
OBB Members