Head of Household Winner – Tommy
Have note are: No Have nots this week, Jack, Tommy, and Jackson were given punishments as part of the veto.
Nominations are: Cliff, Kat & Christie
Power of Veto Players are – Christie, Cliff, Kat, Tommy, Nick, Michie
Power of Veto holder – Tommy
Power of Veto Ceremony – Tommy used the Power Of Veto on Christie the season continues to rule
Grab your live feeds —-> BB21 Live Feeds Subscription Link
Rank your houseguests —-> Big Brother 21 Ranking
4:20 pm Christie and Jess
Christie says Jackson is not pushing to keep Kat.
Christie – all I know is if someone was gunning for me I would make it known that I want them gone
Jess says Holly has personally told her "sh1t" about people she was supposedly Allied to.
Jess – to be honest, Christie nobody was surprised.. as much as I love you.. I refuse to believe because I love you so much when you three got chosen for America's field trip it through all of us for a loop and was like.
Jess – well what Holly and Jackson are saying is that true
Christie – really honestly if she's still saying things about me currently that's pathetic she is literally up in the HOH begging..
Christie – we're still good we're still good?
Christie says she won't have a conversation about game with Michie and Holly because she doesn't want to lie to their faces.
Jess says she hasn't talked to Holly or Jackson recently.
Jess – it's just a game at the end of this we will all love each other. What I can't get down with is Mean girl sh1t and like.
Jess goes on about Holly telling her stuff about Sis being a mean girl. "I was like that doesn't sound like SIS" (awww this is cute Jess is back to normal)
Christie – Sis doesn't care about anything she's so secure. I don't see that at all I would sense that
Jess – I don't know much about Sis
Jess says Kat and Holly are very different than Kat and Michie. it's two totally different relationships "it's really weird"
Christie says when the 6 was a thing they all loved kat. Holly and Jackson claimed Kat "as their own. they were going to bring her into the 6 with Cliff down the line only when they felt it was necessary"
Christie – Michie was always like let's keep her
Christie says Jess and Kat mean "SO much to me in this game I don't want you to feel like you're on an island if she goes"
Jess says she sees the numbers and she doesn't feel comfortable with Holly and Michie.
Christie says Holly and Michie are her number one targets because of the things they said.
Jess is mumbling through something about Holly/Jackson treating Kat a certain way.
Christie – you're like me you're big on JUSTICE so it's really hard to watch
Jess tells her not to tell anyone these personal conversations Chrfsitie says she never speaks about personal conversations "It's the one thing I value in this game"
Jess – she wanted to make it look very diplomatic that she put Sam and Nick on the block when Nick took himself down and she put kat.
Jess – the way Holly told me, I'm putting kat on the block I love her she has the votes to stay yadda yadda yadda. But it was a backhanded remark. Everyone feels this way because they (Holly/Michie) wanted to put Nicole up
Christie shakes her head
Jess – she just has to deal with it
Christie says Holly had them all in the room it was a unanimous decision (to put Kat up)
Christie says it was Holly that wanted to put Nicole up
Jess – she told everyone that Sis wanted Nicole up
Christie – why would Sis
Christie says the person the most pissed from the vote flip was SIS she really wanted Sam to stay.
Jess says Kat places trust in Holly but now she realizes Holly talks shit about everybody.
Christie – if cliff? (not 100% sure) comes in here right now I'm going to lose it he's so annoying.
Christie – I trust Kat, I f*ing love Kat .. I haven't even spoken to Cliff.
Christie says because she's a libra she's big on justice and fairness and making sure everyone knows the full story. Jess is also a libra.
Jess starts to cry "Sorry"
Jess – I'm always on the outside looking in .. I just see the 6 being 6 that's all I see. If Tommy really wanted to take a shot at anybody else.
Christie – no that's not the case. When I win HOH they are going up that's not even a question
Jess says she thinks there are other people that have formed back up with Michie and Holly. Christie denies there's an alliance.
Christie – he (Tommy) has a personal relationship with Holly. Why is he so worried about protecting her
Jess – I think Tommy has no power next week and he wants to make sure he's not a target.
Christie – I don't know why Holly wasn't put up . he thinks somewhere in the back of his mind he thought it could be salvaged.
Christie says Jack and Tommy were closer than Christie and JAck and jack told Tommy to bring the 6 back together.
Christie – as far as I do know there are no talks about it (forming a 6 person alliance)
Christie – I would put my hand on the blade .. there's not a f*ing five I am not in that at all on my sister's life .. nothing about the five being back together has been spoken.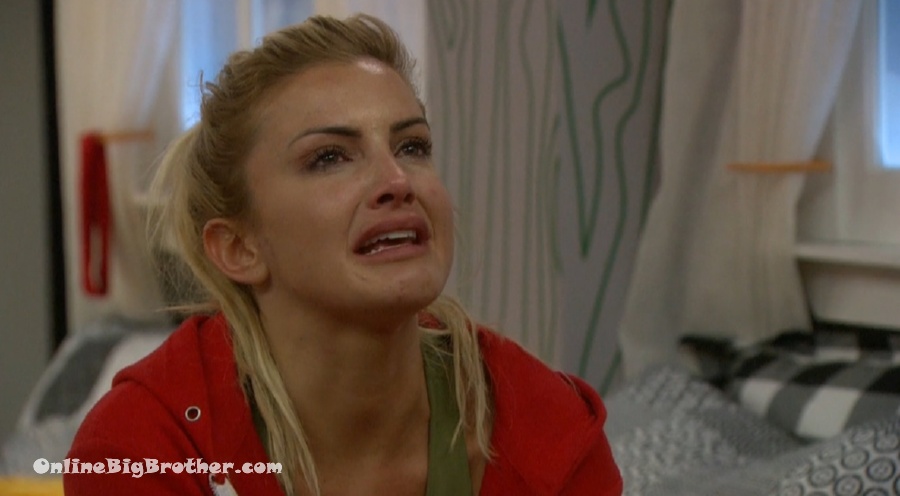 4:39 pm Kat joins them crying
Kat – I haven't even won an HOH yet and I'm getting evicted.
Jess and Christie say it's part of the game that they can't tell her there votes. (ZOMG?) They all go on about how hard this week is and how much they love kat.
Kat – I am being so truthful I will not put you up I will tattoo it on my whole body. I'm, trying so hard I'm fighting a losing battle
Christie – Cliff hasn't campaigned to anyone yet not me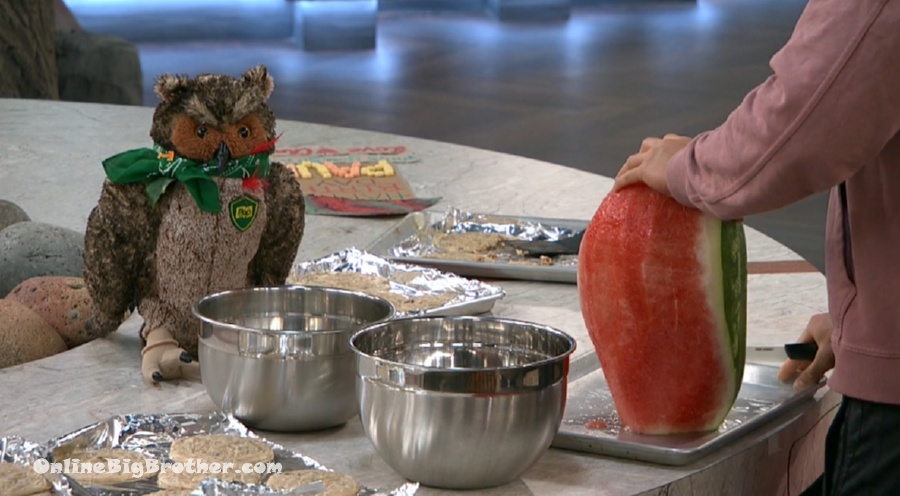 4:40 pm Jackson and his watermelon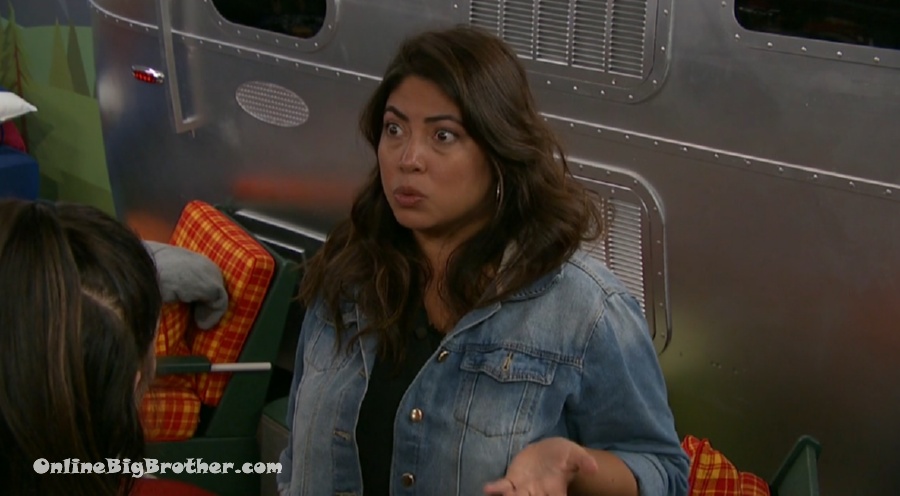 5:08 pm Jess tells Holly she's voting to keep Kat.
Jess – she f*ing used the veto on me.
5:33 pm Nicole, Kat
Nicole says she doesn't have a lot of friends in the house. Kat and Cliff are her two friends to see them on the block make her sad
Nicole Cries says she doesn't know what to do.
Nick says if Kat stays they could pull Nick in
Nicole – Nick is close to Tommy and Sis.. Tommy can't vote. Christie is very conflicted
Nicole – I do trust you I do believe you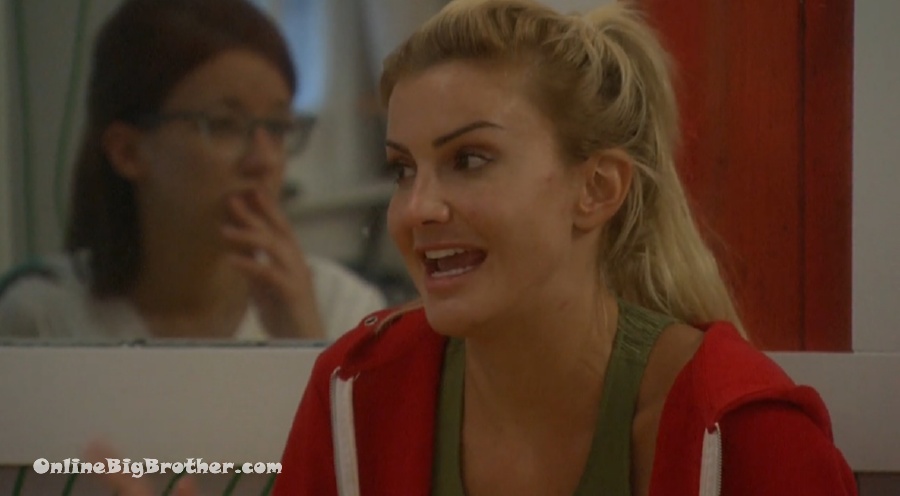 5:51 pm Kat says Cliff is a deal maker she wonders what type of deal did he make with Christie, Sis, Tommy, and Nick. Kat goes on about how Cliff doesn't care about the relationships "He's a savage player". Kat says her and Cliff will be "Freinds forever" but he's a "ruthless player but a good guy"
Kat – I wouldn't want him against me in this game.
Nicole doesn't think Cliff will turn against them he will cut a deal for himself and let the other side take them out.
Kat – if it's us in the final 3 I wouldn't care if I made final 2 as long as it was you and Jess.
Kat – I want to prove a point we were underestimated in this game and I don't want any of the others winning
Kat – I just think back to way I felt the first week and second week. Like why is the social hierarchy created why am I not at the top of it. why aren't you at the top of this
Nicole – I don't know the way your life has gone but I had this conversation with Jess. It's social norms and it's society but at the same time, I'm not shocked Its been like that my entire life.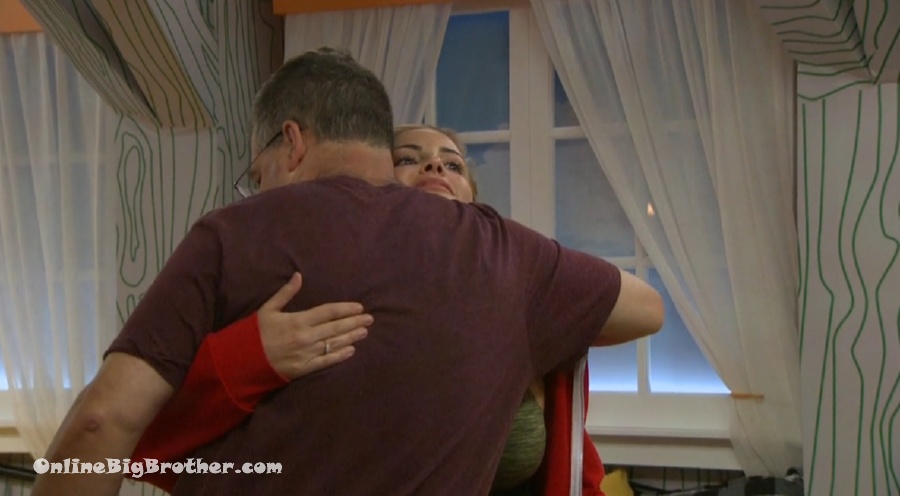 6:00 pm
Cliff comes in and gives her a hug says the way people are talking around the house "makes me know how loved you are"
Cliff – people like both of us
Cliff – makes me feel better people aren't walking around saying it's the easiest thing in the world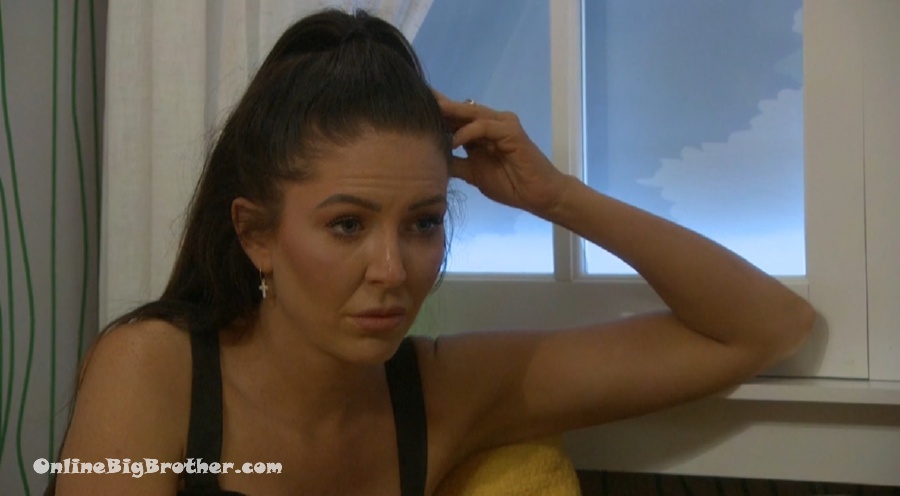 6:07 pm Kat and Holly
Kat says she's heard that Michie was campaigning to Sis for her to stay. jess heard from CHrsitie. Kat heard from Jess. Now Tommy and Chrisite are freaked.
Holly – I can't campaign for you
Kat – don't
Kat – according to Jess he was having one on ones with people
Holly – no .. no, he hasn't
Holly says they've exiled themselves a little too much they were laying low and now it's backfired.
Kat says that Nick is good with Tommy, Sis, and Nicole and he's getting warmer with Christie
Holly – he said the same thing to me and Michie.
Kat says she's good with Jess.
Holly says she's felt Jess has been really weird to her really distant.
Kat tells her she's fine with Jess.
Kat – I heard that Sis is leaning to keeping Cliff.
6:32 pm
Holly – Jess is under Christie's spell
Kat – she is, she's not coming after her. She'll stand up for me to Christie and is "working wonders" with Christie for Kat.
Holly – I've said a lot of negative things about Christie to jess
Kat – she's a vault she's good
Holly – I just don't want Jess to think Poorly of me like I talk sh1t about fellow women.
kat – she won't (she does)
Holly – Christie, She sucks. It drives me crazy all Christie does is lie to everybody and I can't stand it
Kat – America see it
Holl y- I hope so
Kat – she was also voted on America's field trip
Holly – Sis has 500K Instagram followers I don't think they would vote against her
Holly – or maybe the demographic that watches this show doesn't like that .. She might have a youtube makeup channel
Holly if I lose you and Jackson
Kat – if I leave you and Jackson are behind me then Jess and Nicole
Holly – yup
Kat – then Nick ..
kat – can you imagine Sis in the final two like what the f* did she do this whole time
Holly – I would cry
Kat – It would be the worst season of Big Brother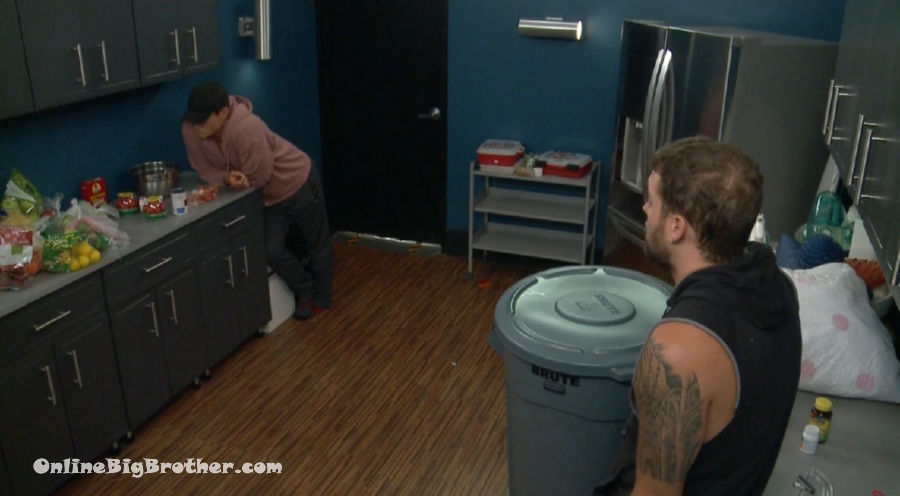 6:15 pm Nick and Jackson
Nick says the heat on Christie has died down. He's thinking as the numbers dwindle she may become a target again.
Nick says he takes some of the blame for gr8tful imploding
Nick – I am assuming that everyone thinks that Christie would go after you guys. which is good for you because if they throw it.
Nick – I gave you and holly my f*ing work not going up no backdoor this week and I'm 100% down for that.
Nick – I trust her a lot. I literally love her bro Literally love her I just don't know .. I don't' think I could keep her which I should tell her later. her campaign was the BOMB bro she killed it..
Nick brings up Kat telling him she would put up Jackson and Holly. He doesn't believe her.
Nick doesn't think Kat is going to try and win the next HOH. He explains how he tried to tell her he's low on her totem pole. there are 3 or 4 people that Kat trusts more than him. With Cliff, it's not the case.
They agree that the two of them with Tommy are shielding themselves now that Jack is gone.
Nick – regardless of how we compete in comps we'll be seen as physical threats.
Nick says he trusts Tommy, Sis, and Nicole a lot they've had his back. If we came together that would be cool. one two three four five and six, then duke it out.
Nick – I'm not even saying I would target you then (at six)
Jackson says he would be keen on that group. (Sis, Jackson, Holly, Nick, Nicole, Tommy)
Nick says, to be honest, he's closer to Tommy, Sis, and Nicole than Jackson and Holly. Points out that it's 3 weeks away a lot can change.
Nick says he feels that the two of them would have the same targets.
Jackson – Chris .. Jess
Nick – I'm not saying names.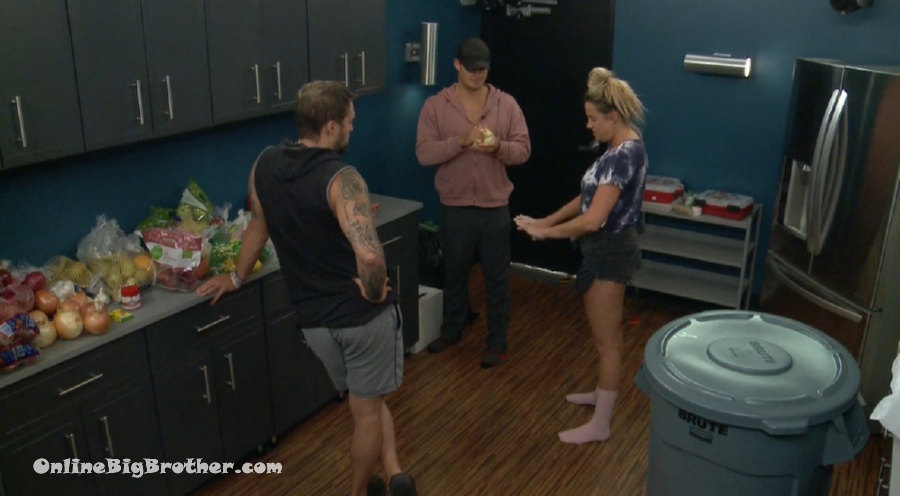 Christie comes in. they talk about Kat and Cliff's campaigning. She shows them the playdough they are making. It takes a lot of flour she says.
Christie says it's lemon playdough. Puts her hands near his nose. He jokes that he was going to take a lick.
Christie – of the flower or this flower. I'm kidding, I'm kidding
Nick – I have a girlfriend so I can't
Christie – we're going to play a game
Nick – it's called GS cook. Whos the GS cook it's you?
Nick – we're going to eat Girl Scout cookies (When Nick says GS or Girl Scout cookies he's meaning v@g1nas)
Jackson – ewww
Christie – no we're going to make shapes
Jackson – could you imagine like Geuss this foot.
Nick – guess this girl scout
feeds cut ..
6:30 pm cam 3-4 playing with the playdough (of course you all know what everyone makes)
7:30 pm Cliff campaings to Sis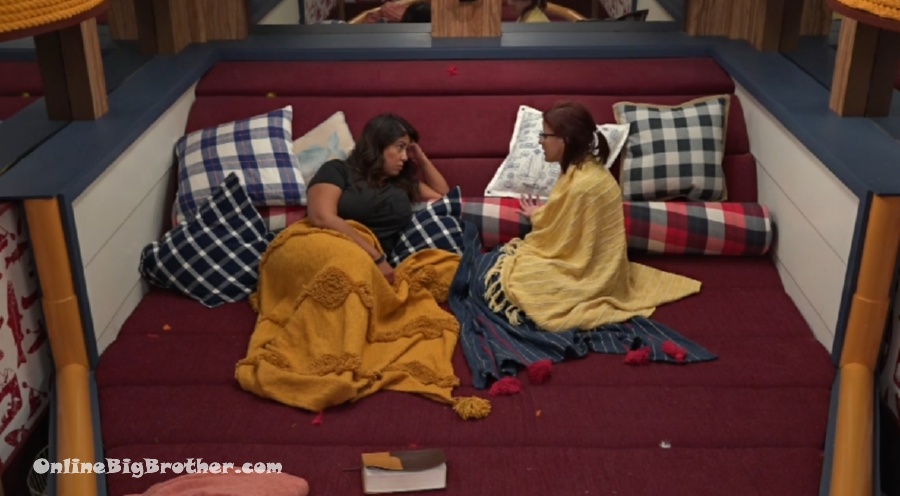 7:45 pm Nicole and Jess
Nicole – I heard kat's campaign and I heard her out.
Nicole says they're working with both Kat and Cliff but one of them is leaving. "We need to figure out which path is better for us moving forward"
Nicole – I thought I knew what that was but having spoken to kat and gone through things in my brain and worked a lot of things through now I'm like I don't freakin know
Jess – welcome to the club
Nicole says there are a few people that are teetering