POV Holder:
?
Next POV
Aug 30th
POV Used
?
POV Ceremony
Sept 1st
HOH Winner
Caleb
Next HOH
Sept 4th
Nominations:
?
Have Nots
?
POV Players
?
Take Advantage of the FREE 2 day Trial to watch all the drama!
1:10am In the bathroom – Derrick, Cody, Frankie and Christine. Derrick says I think we're all going to be hurting tomorrow except Cody. Frankie says you're going to need to be the one to win veto. You're the only one not going to be hurting. Derrick says I think that was the longest one ever. It was the length of almost the entire backyard. It was 6ft in from each side. They talk about how they don't think the ramp for that one has been that steep. Christine says I want to see the fall where I got the shaving cream up my butt. Big Brother: "Derrick, HOLLA GIRL!" Frankie says I can't wait to see me. I think my form was pretty. I liked the swimming! It helped a lot, like a lot! Propel my body forward. Frankie says I hope they show us Caleb's sports illustrated photo! I want it. I'm going to take it into the bathroom.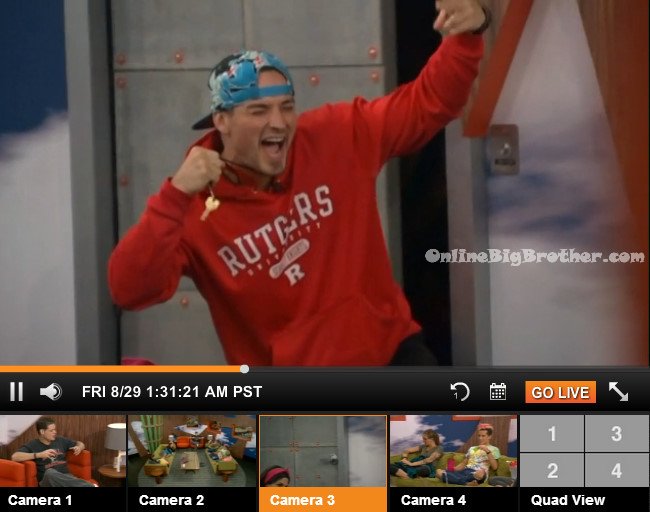 1:30am – 2:30am
Caleb comes out of the diary room and asks who wants to see my HOH room??! Caleb says now I'm just going to hobble on up! Caleb puts his arm around Caleb and they hobble up to the HOH room. They all pile into the HOH room. Caleb's HOH CD is Florida Georgia Line. Caleb got his Army hat and American Flag and blue cord. He says that not everyone get this its for the infantry that walk the front lines.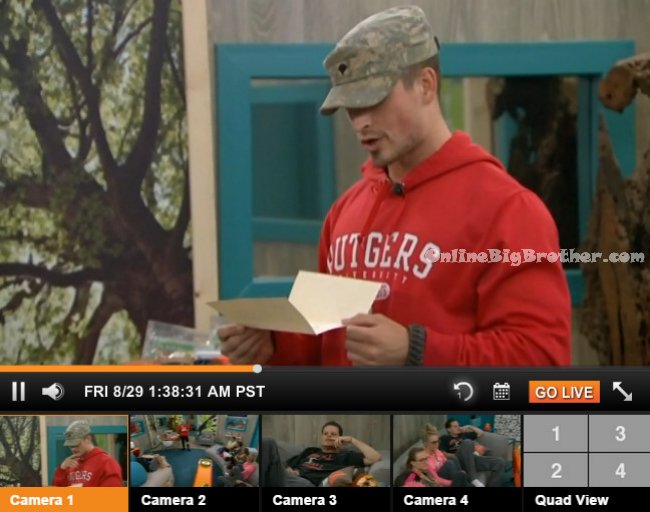 Caleb reads his letter from his brother:
Dear Caleb,
For starters just know we love you bro! We are proud of you for everything that you've accomplished! If there was going to be a Reynolds on tv first for something good it was going to be you. Keep your head in this game and don't get side tracked by ANYTHING! (Amber?) At the end of these days you will either be 500K richer or you will leave with a few new friends. Either one is great but you have plenty of friends so focus on your mission to win. Keep your eye on the prize BRO! We love you and want you to hang in there. Put your man pants on and keep tough!
Blake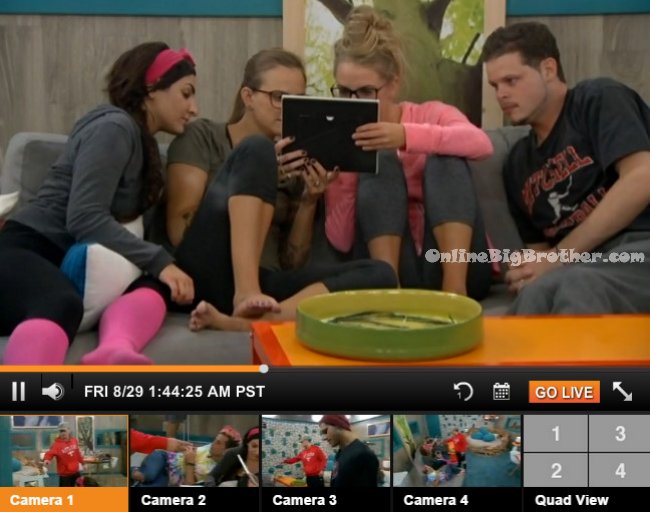 Caleb says I got to see my brother in a video and a letter from him. Caleb looks at his basket and says many they hooked me up! Derrick says probably to make up for last time (When he won HOH during the double eviction but didn't get the HOH basket.) Caleb got Calvin Klein underwear, socks and a slim fit shirt. Frankie says you should wear just the underwear and the hat. Caleb says I got hooked up like a girl. Caleb says I tell you one thing, you talk about a beautiful mother! I've got one! Frankie says we can officially say we made the final 7! And its day 77, lots of 7's! Caleb says that Blake was going to do Amazing Race with me. Derrick asks what are we doing for sleeping arrangements? Derrick says I'll sleep in the rock room so I don't wake anyone. (from the the Holla's) Derrick says Frankie will sleep up here, I'm assuming. Derrick starts talking about the HOH competition. "My transmitter literally went up my a$$!" Nicole asks why did you keep falling? Derrick says my shoes.. I fell like 30 times before I switched them and 5 times after. Derrick says he'll now sleep in the fire room. Cody asks I guess I'll sleep alone in the rock room. Derrick says no you'll be there with Christine. Caleb comments on how he is going to be hurting tomorrow. Victoria says you motivated me Caleb.
Big Brother 16 Live Feed FREE TRIAL – Use the FLASHBACK feature to watch everything you've missed!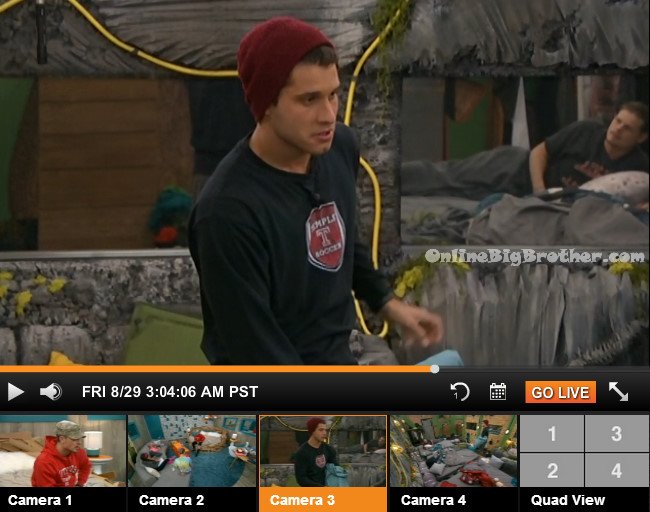 One way to support this site that doesn't cost you anything extra is making your
Amazon purchases through the links Below
For in Canada use the following link:
Amazon.ca
3am Derrick and Cody talk in the earth room. Cody says dude Frankie is such a f**king snake! Derrick asks what did he do now? He went to Christine and told her that everything was Caleb's fault. I am not, not telling him (Caleb) that. I want to tell him tonight so he doesn't think its… Derrick ask the whole what thing? Cody says flipping. Derrick asks leaving the 2 girls in the dark? Cody says I don't even know if that's what he said. Frankie initiated it all. He went to Christine and made Caleb the scape goat. And I don't know what he told Nicole. Cody and Derrick comment on how they never get time to cross reference their stories without Victoria interrupting them. Derrick says that Nicole or Christine will go home this week. Christine joins them and interrupts their conversation. Derrick comments on how Donny said his brother's IQ was 143 and his was 127 which is still very smart. Derricks says Einstein was 160 and that's not that far off. They talk about how worried Donny was about not having his job when he gets home. Derrick and Cody say he will definitely have his job back. He's a home town hero. Christine says she just didn't like Donny for the comments he made. Victoria joins them and starts stroking Derrick's leg from his foot all the way up his pants to his knee.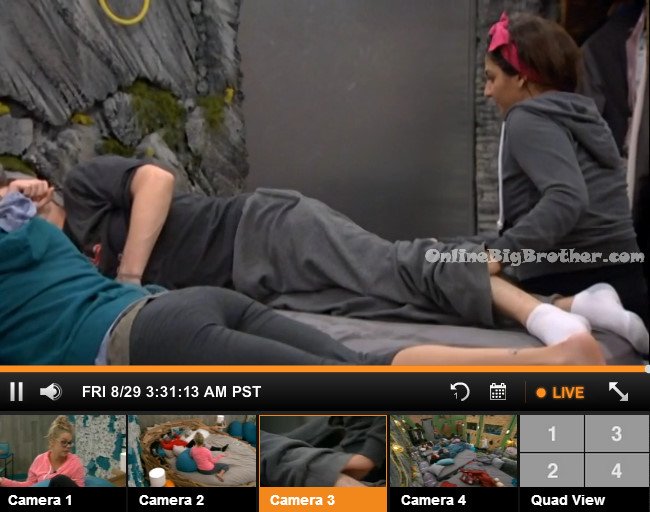 3:20am – 3:30am Up in the HOH room –
Nicole talks to Caleb. Nicole says I want to honestly talk to you. Me coming back into the house I see a lot more. You've never done anything to me and I've never done anything to you. Do I threaten you in this game? Caleb says yeah you're definitely a competition beast. Nicole says everyone has someone in this game but I don't. If I had won tonight there was no way in heck I was putting you up. If you think about pairs… if certain people win you know certain people aren't going to put other people up. I could be as loyal to you as I was to Hayden. I don't have anyone and me going up doesn't benefit you. I could promise you that if you don't put me up I wouldn't put you up as a nom or as a replacement nom. I would swear on anything, my family, the bible! I would love to sit next to you in the finals. I respect you as a person and in this game. I have a lot that I can offer you. Caleb says there are definitely 2 people that wouldn't promise me that. Nicole says we are both very trustworthy people and I think that would benefit you tremendously. Caleb says I will keep that in mind. Nicole says if you want to move forward with Frankie, I will promise him something too. Caleb says tomorrow is a tough decision.