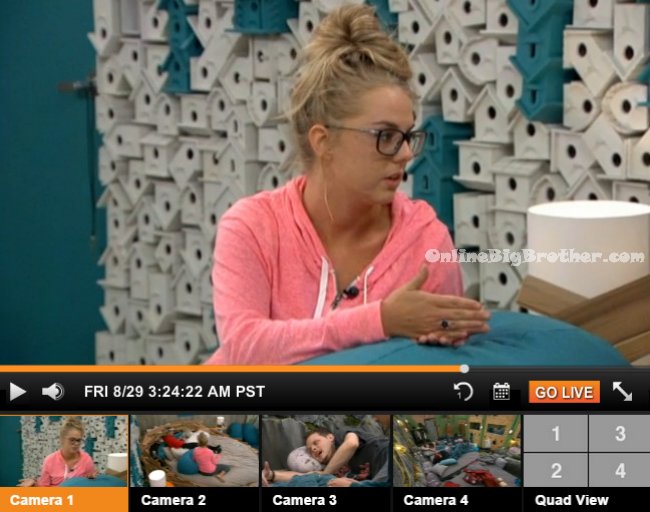 Big Brother blocks the feeds. When the live feeds return, Caleb says if you didn't win you would go up. Nicole says I have a lot of confidence that it will be the before / after comp. I've been studying. Caleb says couldn't remember, I tried but one you threw in the 4 extra people for the battle of the block I couldn't remember. Nicole says I just want you to think about your game and not to take out someone who will work with you. I've studied and watched this game since I was 8 years old and this is when you need to make big moves. I trust you and you're a man of your word. Caleb says I am. Nicole says I will fight for you 100%! I hope you seriously consider it because its big for me to not ever put you up on the block. Caleb says no yeah that is big. I will consider it. Nicole says all I am asking for is 1 week of safety and I will never put you up as a nom or as a replacement. Caleb says I think you're a big target and you'll need to win HOH, POV back to back to stay. Nicole says the buy back shouldn't be used against me. I think I was thrown back in to help someone's game. Caleb says you're still here because you're not Donny. He wouldn't make deals and today he tried to but wouldn't look us in the eyes. Caleb says that people are worried that you would work with Christine. During the HOH comp you tired to get Christine to hurry up. Nicole says that's because Cody looked at me to do it but he couldn't say it because he was HOH and wasn't allowed to help us.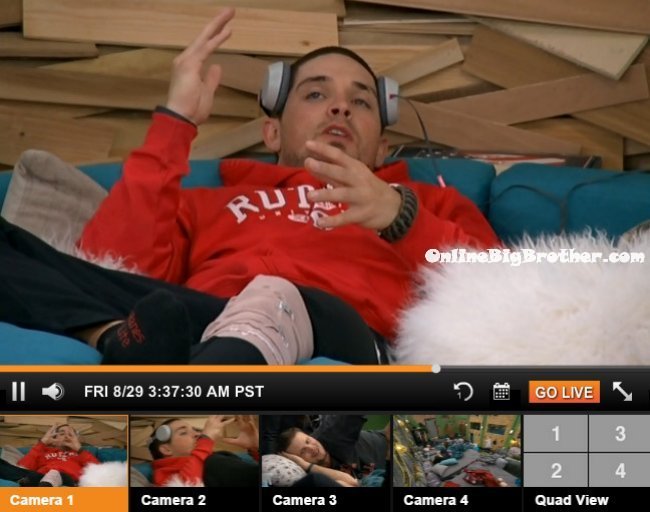 3:55am – 4:15am Derrick comes up to the HOH room to talk to Caleb. Caleb says Nicole was bugging me. Like throwing me everything she could throw. Like the slush thing, with Christine I said I just want to know. She said that Christine since I came back into the house she has been wanting to work with me and not work against me. Derrick says thats good that she's telling you that, that just confirms everything we already know. She kept promising she would never put me up if she won HOH. Frankie joins them. Caleb says literally death to my ears. She said if I win I won't put you and Frankie up. Frankie says so literally she's going to put everyone else up. Caleb says she basically said she would put the rest of my squad up. Frankie says in his talk with her earlier in the day she said she couldn't promise not to put me up. Caleb tells them about how Nicole said she I would be like her Hayden and never put me up. She said I am the only one in this house that wants you to be here. Derrick says I thought everyone knew we were working together but I guess not. Caleb says I asked her about the slush thing and she said Cody told her what to say. Derrick says I don't believe her for a second. Derrick says this is so much easier of a decision than last week (Putting up Nicole & Christine). Frankie agrees and says you put up Christine and tell her she's only going up as a pawn and she just needs to win the veto. Derrick says yeah tell her we just want a backdo*r option with Victoria. Cody joins them. They watch on the spy camera and comment on how Christine was following Cody. Caleb says here comes the entourage. Victoria and Christine join them in the HOH room.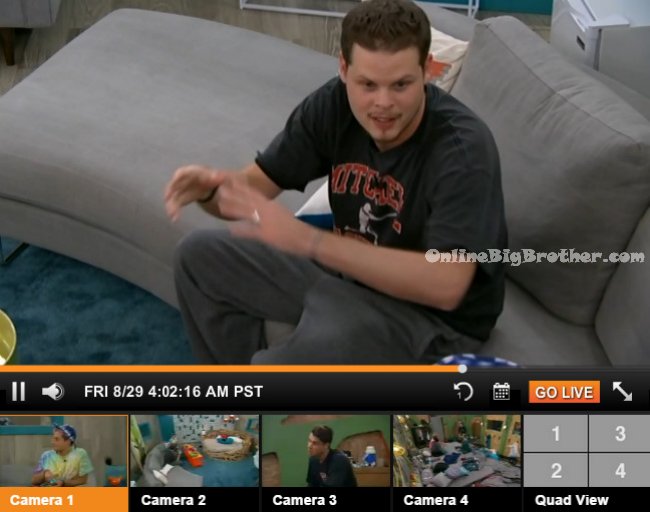 4:15am – 5:50am Cody, Derrick, Frankie, Christine, Victoria and Caleb are in the HOH room. Caleb jokes that Derrick already volunteered to go up.. you guys are really going to make me pick some to go up? Frankie says I have a suggestion for the other person. Do I need to give you a clue. Christine says for a second I thought you pointed at me. Frankie says no! She's not in this room and she's been in the jury house for a week. Christine says I'm still lost .. just kidding. Everyone leaves the HOH room but Frankie and Caleb. Caleb says I will ask if someone will volunteer to be a havenot but if not I may pick Victoria. But if I do she will be caught up with me. Frankie says she will beat you with 3 times. Frankie says I would volunteer but I don't want to. Frankie and Caleb talk about putting Nicole up with Christine. Caleb says I will just keep it at needing a backdo*r option (Victoria) because if she wins it I am not putting up one of my boys. She already knows she's (Christine) at the bottom of the totem pole. Frankie says but not with Cody. Caleb and Frankie shut off the lights and climb into bed. Caleb comments on how Derrick was worried about taking the 5K but look at me I did and I'm still here. Frankie tells Caleb he is so proud of him. You kicked a$$. Caleb asks I wonder if at the end they will show me asking for a medic. Like how when Donny was hurt and they called his family to tell them he was okay. Caleb says we're the kings up in this castle. Frankie says king and queen. Caleb and Frankie talk about random things and then go to sleep..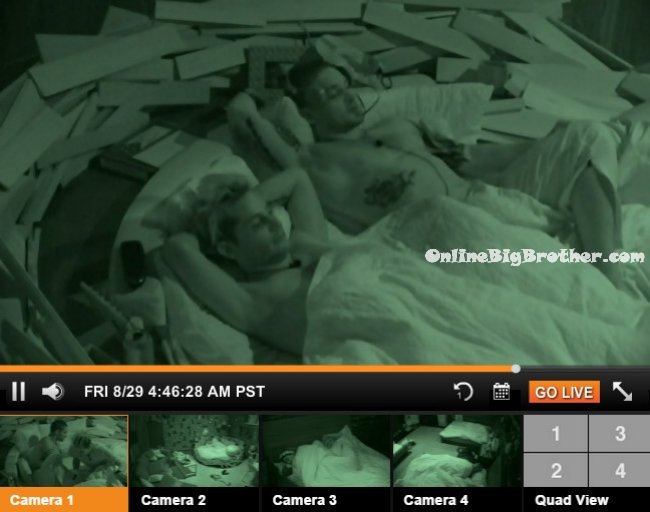 9:45am – 10:50am Big Brother blocks the live feeds to wake up the house guests. When the live feeds return all the house guests are still sleeping. Big Brother blocks the feeds again and when they return Derrick goes to the bathroom and then back to bed.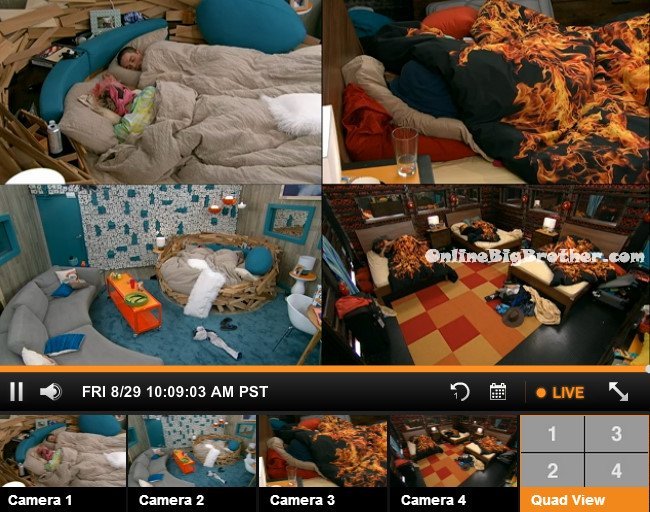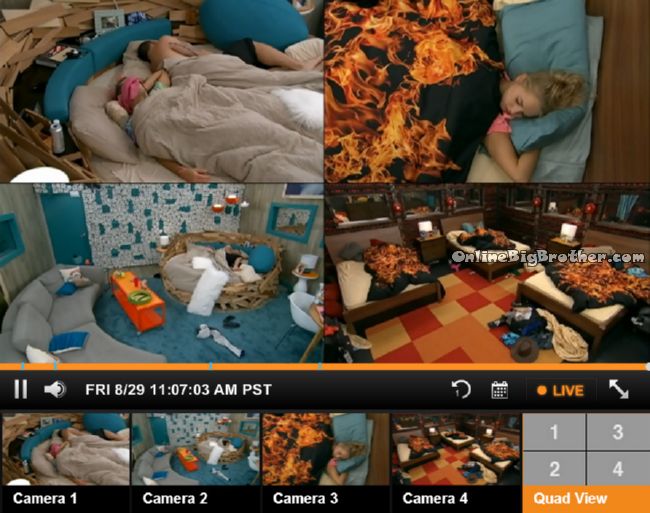 11:10AM ZZZZZZzzzzzz
11:20am Victoria up and hobbling around her legs must be sore from the competition.
She goes back to bed then gets called into the Diary room. At 11:32am she comes out goes back to bed all four cams everyone sleeping
If you're enjoying the live feed updates this season, please consider donating. Simon and I work 24/7 all season long to keep you updated on everything that happens inside the BBCAN house. Any amount is greatly appreciated! Your donations go directly to paying the server and bandwidth fees required to run this site.
[polldaddy poll=8274218]
Share it YO!
Tweet