POV Holder:
?
Next POV
Aug 30th
POV Used
?
POV Ceremony
Sept 1st
HOH Winner
Caleb
Next HOH
Sept 4th
Nominations:
?
Have Nots
Derrick and Nicole
POV Players
?
11:40AM HOH Frankie and Caleb wake up
Frankie is sore from the competition.
Caleb "My ilio is so jacked up.. You got me limping but we still winners.. we just look like we got outta world war 2" walking down the HOH stairs is particularly painful.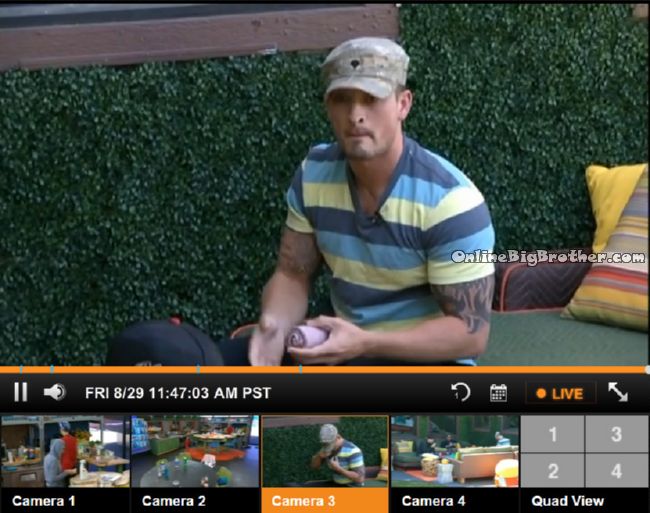 11:43AM Backyard CAleb, Derick and Cody
Caleb walking around saying his hip, lower back and Knee are all tweaked up.
Caleb – So i'm putting up CHristine and Nicole..
The target is Nicole he's going to tell Christine she's being put up for a Backdoor option on Victoria
Cody is going to tell Christine that Nicole threw her under the bus hard last night it threw them all off they trust Christine but they are worried how close her and Nicole have gotten.
Cody will tell her this after she goes up.
Derrick says he should tell CHristine he wasn't going to put her up but after what Nicole said to him wanted to make sure Nicole goes home and to do that CHristine had to go up.
Derrick adds he should tell her this after the nomination ceremony for Damage control. Caleb us unsure about when he should talk to Christne and what he should say to her next. He wants to make sure Cody and him are coordinated with what they plan to say.
Christine joins them
Cody brings up Frankie asking for Apple PIe
Nicole joins them
Frankie joins
everyone talking about their aches and pains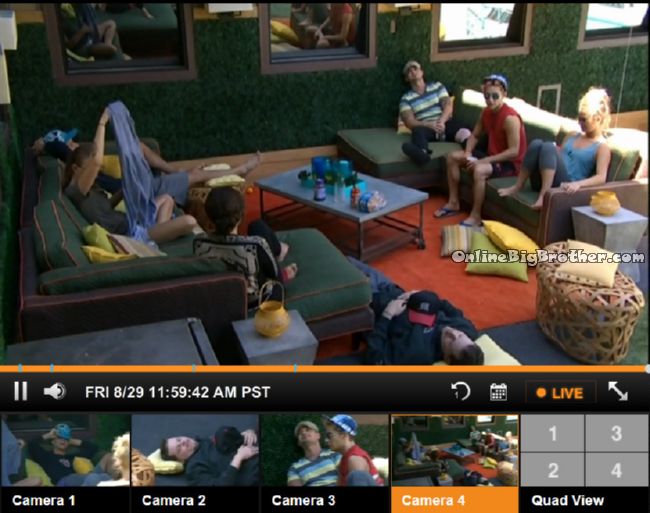 11:58AM ourside lockdown Everyone in the backyard waking up talking about their family messages and how much it meant to them.
Frankie is glad the water was warm in the competition points out how everything is cold themed this year. The have nots room last nights winter comp.
Frankie says dancing is really hard on your body especially joints. A lot of dancing veterans get hip replacements.
They start talking about Julie CHen asking Frankie the have nots food. "Apple Pie"
Christine says it sounded like she was offended by Frankie's Answer. Frankie thinks it was all staged says he would have normally said Tofu but thought maybe they would give them the apple pie.
Victoria says she sprains her ankle they gave her "something" and told her to ice it.. Feeds cut
THey start talking about how many unanimous votes they've had all but two, Nicole says this is never the case usually by now they are much closer.. (Yeah boring season)
Frankie blames it on the BOB twist.
Frankie – what's the most physical veto
A bunch of people answer OTEV
COdy – that honey one will be tough.. I highly doubt they would throw that in this late that is always done early.
Frankie tells production he's got to use the porta-potty.. he's got to take a massive sh1t. Feeds cut..
12:34pm Still in the backyard
Derrick – Hey how you doing…
Christine what's that
Derrick – People just looked over at us i'm not sure if it's a tour..
feeds cut.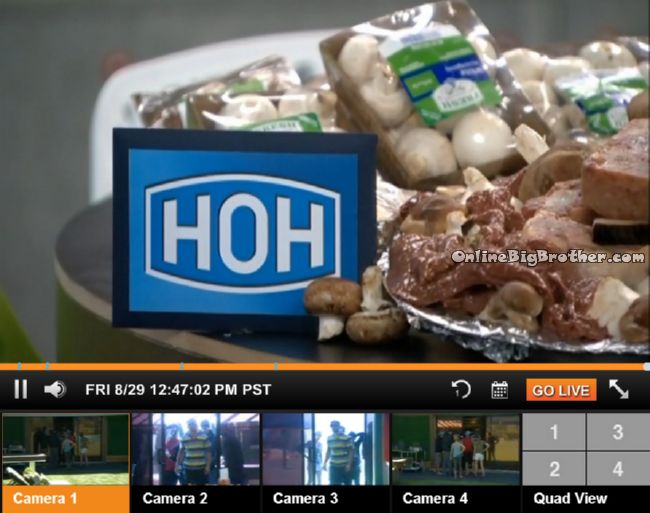 12:46pm Lockdown over have nots food on the table
"Snot roast" – Mushrooms meat products and garlic
Derrick – Caleb I would like to volunteer
Caleb – anyone else..
Silence.. nobody will volunteer
Caleb – You guys are going to make me do it..
Caleb is going to pick a number and everyone can guess..
Caleb – we've all done it the same amount.. we've all done it twice right…
Caleb – Will someone just volunteer with Frankie
Derrick – with Frankie
Caleb – With Derrick
Frankie – we do look a like.,
Frankie – you are HOH whatever you decide we'll respect it.
Caleb – golly boy I don't want anyone to be mad at me..
6 minutes in Caleb still trying to decide.
Caleb picks Nicole as a have nots
Frankie – Good choice
Nicole – OK.. I just didn't want to be have nots two week in a row (Frankie's )
12:55pm FIREROOM Derrick Frankie and Caleb
Frankie tells Caleb he would have picked Nicole as a have nots. .
Caleb thought he heard Nicole say she was going to volunteer.
Caleb – One person pointed out Frankie.. Christine..
Cody comes in,,
Frankie – CHristine just threw me under the bus
THey tell Cody after Caleb asked who hasn't done it twice CHristine pointed at Frankie,.
CHristine comes in. Frankie start spewing hate about Nicole she was in the jury house kissing Hayden and watching movies he doesn't feel sorry for her .
Frankie – I don't give a sh1t SHUTUP.. and for the record I can't do it it's too cold this is not best friend this is big brother i'm not doing it I don't need to apologize..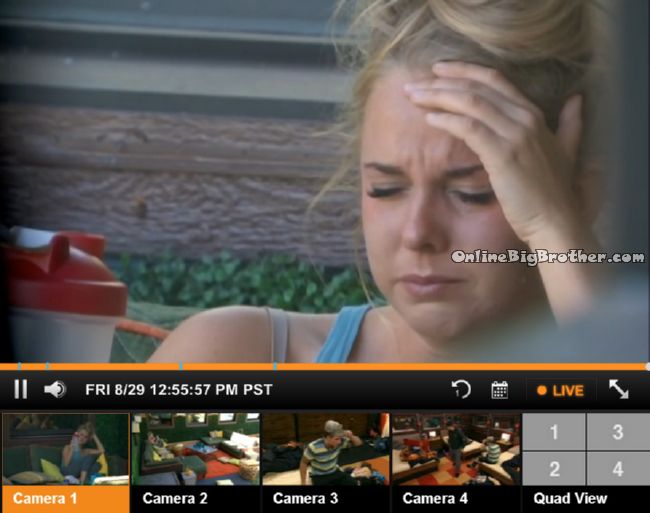 12:55pm Nicole crying she's on slop again and going on the block.
Victoria asked her if she wants to talk. Nicole is fine tell her not to tell them she's crying
Nicole talking to the camera "I want to go home this freaking sucks I'm going to be nominated"
Nicole – "I hate Frankie he's a manipulator.. I just have to fight in a veto.. I'm praying it's a punishment i'll take all the punishments but if it's the ball thing I'm freaking weak from the slop
Derrick joins her.. "we'll be alright.." he tells her he's going to cook some great mushroom "We got Garlic too.. is it going to be amazing no.. I made a thousand bbq pizza's last time"
Nicole – Derrick this is freaking ridiculous I'm so sick of being picked on.. I just got off..
Nicole points out that Frankie was only a have nots once
Derick points out that Caleb did ask if anyone didn't go twice and nobody said anything.
Nicole asks him not to tell anyone she's been upset. and crying.
Victoria wants to talk to Derrick he goes over to her whispers to her that she's not going to be nominated.
Nicole – I have to man up and do whatever I can to stay in this house.. I'm embarrassed I cried..
Derrick says he tried to throw everyone out a bone by suggesting they pick numbers.
Derrick gives her a motivational speech tells her she's gotta fight, if she goes on the block hold her head up high smile and win the veto. If she doesn't win the veto she's always up with someone else that could go home
The Live Feeds are archived. You can go back and watch everything that happens
Try It Free! Subscribe now to the official BB16 Live Feeds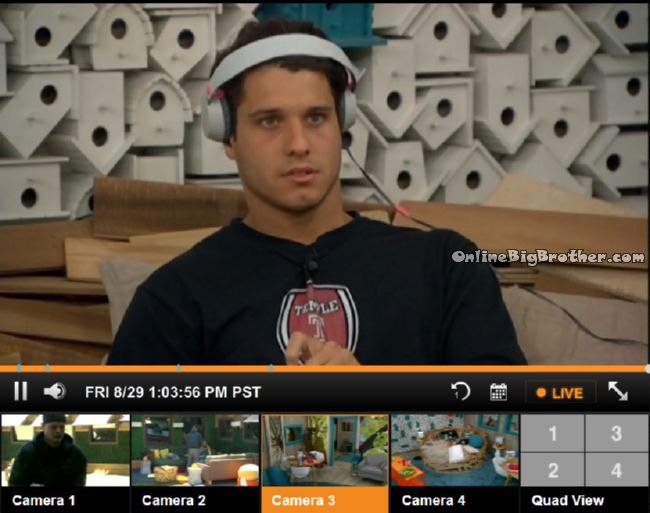 1:02pm HOH Frankie, caleb and Cody
Frankie is pissed at Christine for pointing him out as the only person that's been a have nots once. Frankie goes into the shower.
THey start talking about telling Nicole she's being nominated.
Victoria joins them they tease her that she was almost slop and she's going on the block.
1:13pm Derrick joins them says Nicole is crying a bit but she's not complaining, "I told her she'll be fine I'll make portabella mushrooms"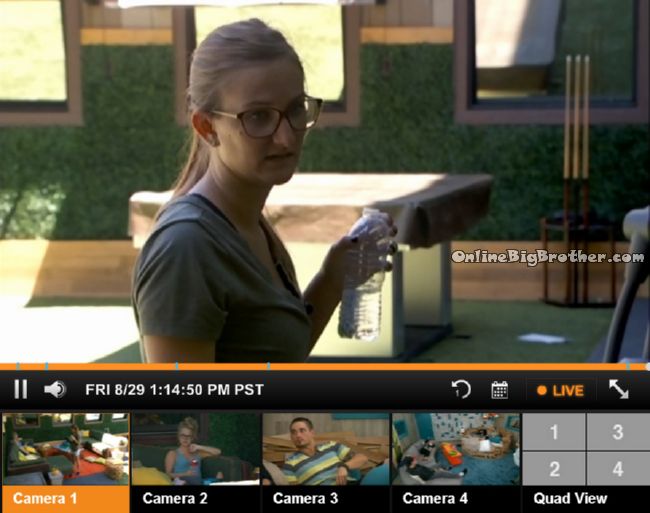 1:15pm Backyard
CHristine says there are people in this house that are legitimately heartless and she's disgusted in them.. Nicole never thought Caleb would do that. Christine says it wasn't Caleb he was told to.
Christine leaves.
Nicole – I freaking don't like Frankie he ruins my life in here.. Obviously Frankie told him..
Nicole – I have to win the Veto and the next HOH it's my only option and I can do it..
Nicole – Please let this be the punishment Veto I will take all the punishments.. I'll dye my hair, I'll donated all my clothes, I'll be on slop for the summer.. but if it's physical a puzzle I won't be good at Frankie will be .
Nicole – We need a upset in this house
Nicole – Derrick I love him he's such a nice guy he's playing a great game… but besides him..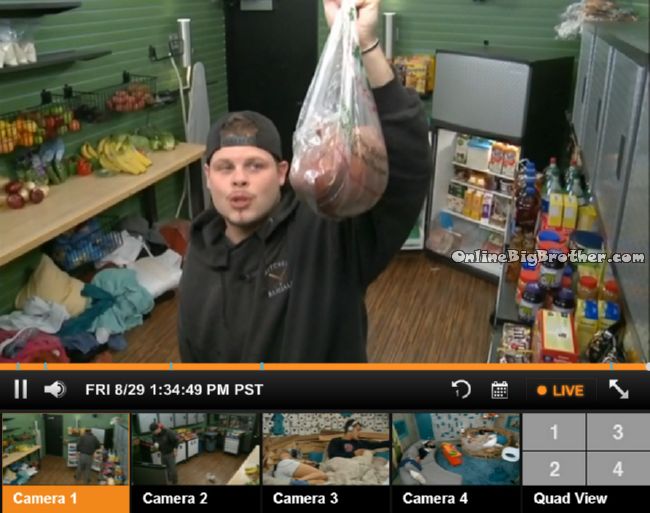 1:35pm Derrick says nobody is eating the giant chunk of Beef liver
Minutes before thie he was telling Caleb how Victoria and Christine were the first two people that ran off to see Nicole in the backyard.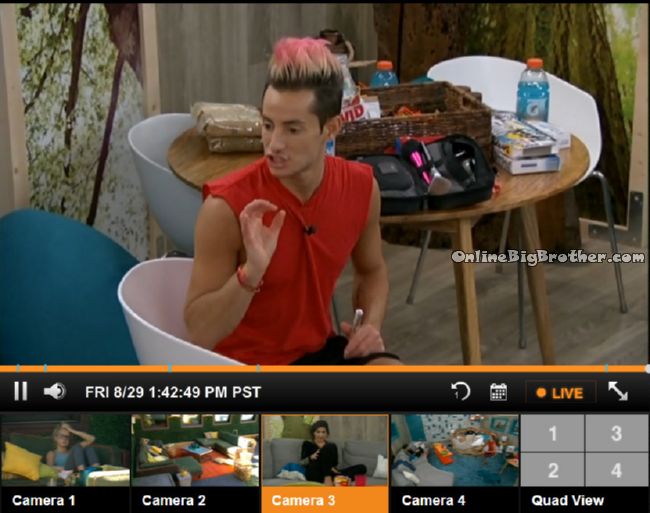 1:40pm HOH Frankie, Victoria, Christine and Cody
Frankie telling them he's not the healthiest person he goes to the Doctor twice a month. Frankie lists off all the Specialists he see's.
Christine says before she started paying for Doctor visits she would go all the time but now that she has to pay for it herself she cannot afford to see the Doctor
He tells them his father is a Doctor and has lots of Doctor friends that he see's. Frankie says when he got the spider bite he was medevac in a private ambulance to his fathers hospital in New Jersey "I had no Idea I was that sick"
Frankie – I don't take chances I see a pot on my arm I go to the dermatologist.. If I find a ingrown hair i'm at the Doctors.
(Nominations are today sometime.. Nicole and Christine are going up)
One way to support this site that doesn't cost you anything extra is making your Amazon purchases through the links Below
For in Canada use the following link: Amazon.ca
[polldaddy poll=8274218]