Head of Household Winner – Memphis
Have nots – Kaysar, NicoleF, Christmas, David
Nominations – David & NicoleA
Power of Veto Players are – Memphis, David, NicoleA, NicoleF, Ian, Tyler
POV Host: Enzo
Power of Veto holder – Memphis
Power of Veto Ceremony – Memphis did not use the veto David and NicA remain on the block.
Safety Suite – Christmas wins. Ian is her Plus One
Live feeds —-> Grab your Live feeds here. Try it free.
Rank the houseguests —-> Big Brother 22 Ranking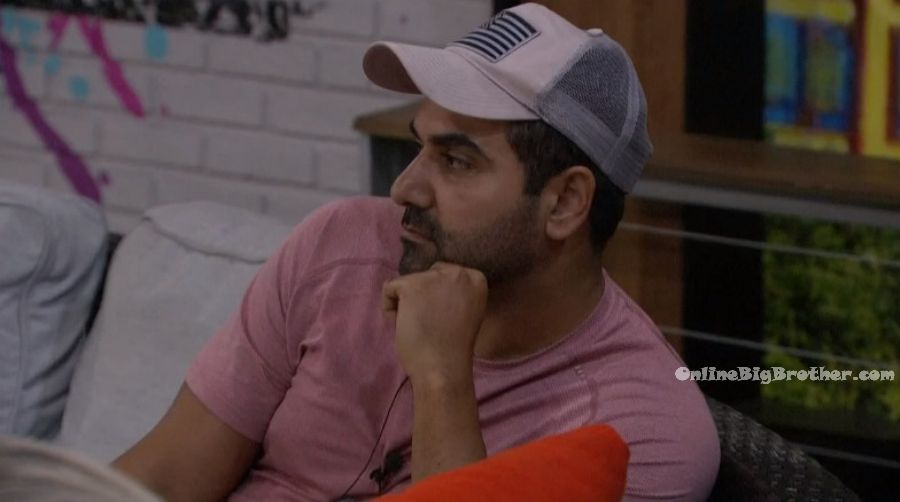 8pm Backyard. Janelle and Kaysar.
Kaysar – I don't care what he says ..we just need him to vote a certain way. Janelle – yeah. We need to get him to target someone else. Kaysar – we can but right now he is f**king fixated on us. Its like an obsession. Janelle – it is freaking weird. How do you know she admitted to the alliance? Kaysar – I am good at reading body language. I'm good with these things.. too good. I am going to try and talk to Ian. It seems like he wants to talk about something but he wants to do it in secret. He doesn't want anyone to know. I still don't know where DaVonne is at. Janelle – have you talked to her? Kaysar – no, I want Bay to talk to her. Honestly, these people need some damn courage to do the right thing. Its the same thing that happens every season. Janelle – today David was doing the dishes and I came up and he told me he needed a moment. Kaysar – a moment for what? Janelle – to do the dishes alone. Isn't that weird? Kaysar – its very passive aggressive.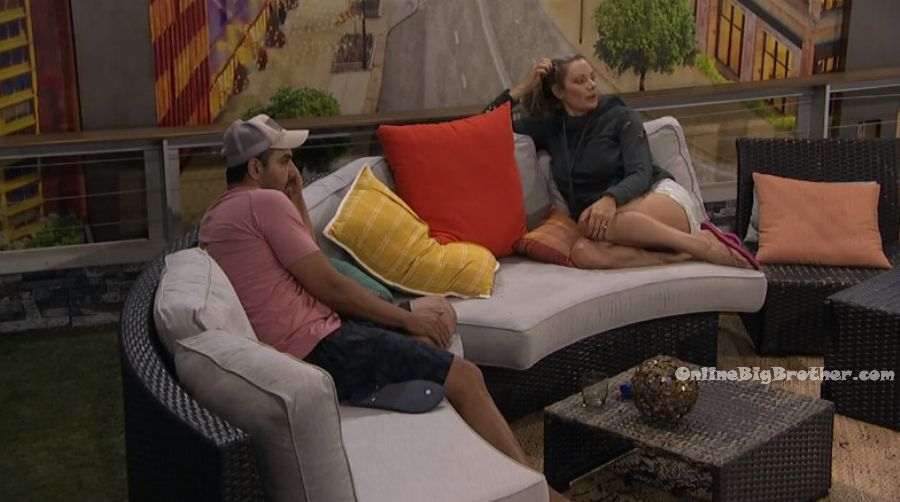 Hammock. Cody and NicoleF.
Nicole – who the hell are you going to go after? You're best friends with everyone after the two (Janelle & Kaysar) are gone. I'm going to have to do all the dirty work. Cody – Its okay with me .. I had to do if for Derrick. Nicole – laughs. Cody – no we'll find people to do that dirty work. I've been sprinkling stuff to Memphis so he can do it when the time is right. Nicole – do what? Cody – what do you f**king think!? You know what our name is on the other one? What to know it? Nicole – its dumb! Eight for what!? Nicole – how many alliances do you have .. 15?! I only have 3. Cody – same. This is the season of a million alliances. Nicole – yeah Enzo said he has 15. I was literally dying laughing. Cody – but honestly the people I trust the most are you and Dani. How are we going to get through this!? Nicole – you know only one person is gone. Cody – we need to get rid of the people who are constantly saying we're together.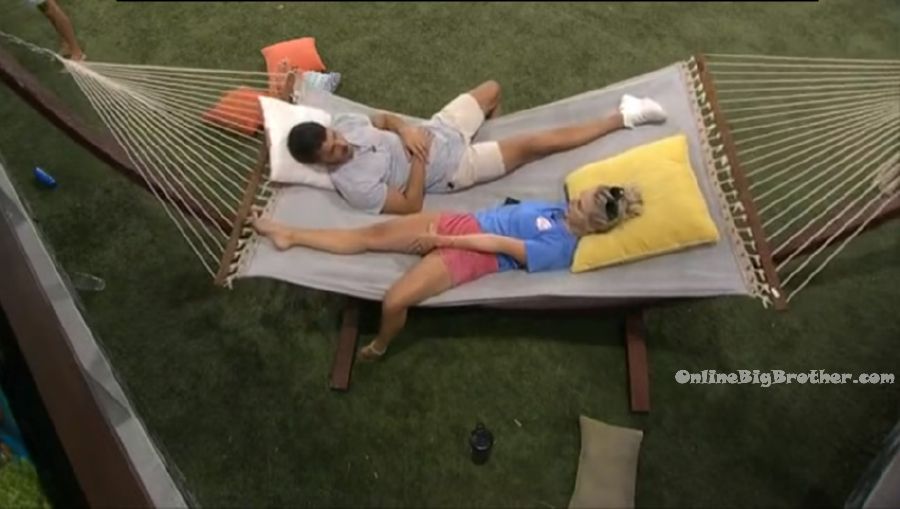 8:35pm Bedroom. Janelle and Bay.
Bay – feel like there will be a middle alliance too. Janelle – with who? Bay – NicoleF. Janelle – NicoleF is with those people. Bay – she is but Ian is not. So there is going to be a middle alliance. It would be other kind of loaner, floaters together. Janelle – so if NicoleF is going to be in multiple alliances .. wouldn't that make her a huge target? Bay – that would make her covered on both sides. Janelle – she should go. Bay – but no one else in the house is going to put her up. Janelle – I'll put her up. Bay – yeah. This is hard to navigate because this is a very clicky game. Bay – the more Kaysar keeps pushing the envelope .. the more he pisses people off. Janelle – if we just chill we're going to lose another person. We could have gotten it together and saved Keesha last week and we didn't. Bay – and that was partially Keesha's fault. The good thing is that NicoleA is actually campaigning. Janelle – what are your views on David? Bay – I have the same views as Day .. and I know him outside the house… I am not just going to vote him out for no reason. For game-wise if it can work … perfect. But what I am not going to do is get caught on the wrong side of the vote like last year. They're locked in .. so it can't even be pinned on someone else. Janelle – so we lock it in and Memphis will vote him out.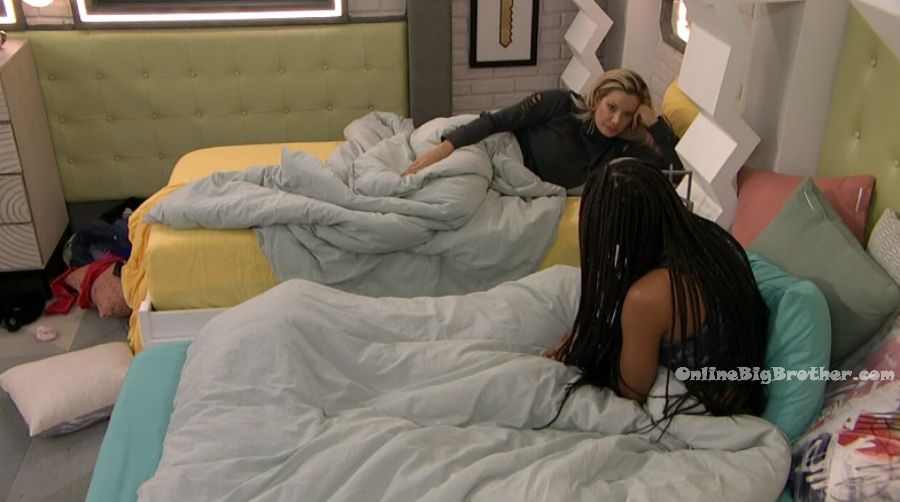 8:37pm – 8:45pm Storage room. David and Kevin.
David – do you think personal things aside .. do you think I would be better for your game? Kevin – I do. I would just feel terrible. Kevin – I know. David – I have a fire so deep inside. I want to take them down so bad! Kevin – I have been hearing that you're having the situation.. David – only you Bay and Day know how bad I want to come back in and light that side on fire. Kevin – there are only 3 people that can't get it. Unless this vote get wonky. I just know that it would be damn near immoral and back out on my word to keeping Nicole here when she was committed on day two to keep me here. There is a high indication that there will be a battle back.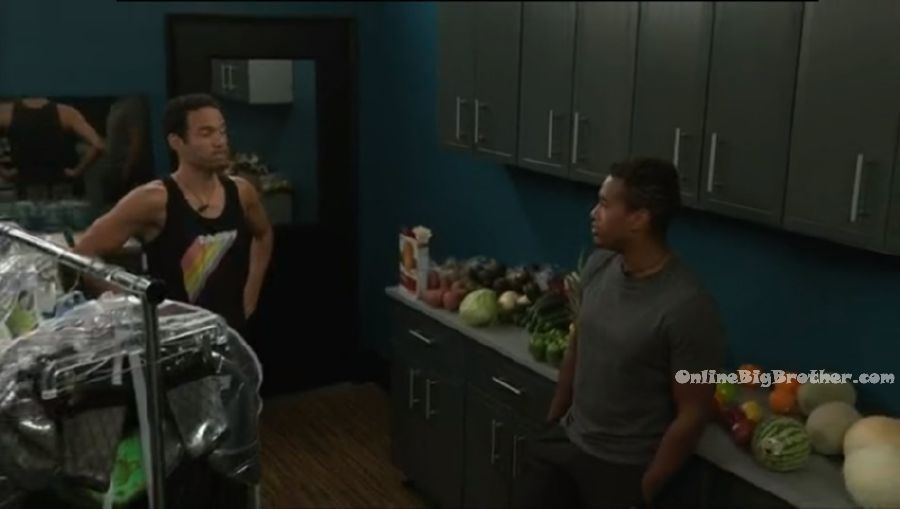 9:10pm Bedroom. Janelle, Bay and Kaysar.
Janelle – I am not interested in being in this game just to make jury. Bay and Kaysar – neither am I. Kaysar – I am not going to just float to the jury and then just sit there. If we want to make a move .. lets make it now. If I'm not able to position myself well in the first half so that we secure our second half game… then I don't want to be here. Janelle – if we're not together .. then I am out! Kaysar – I agree. Bay – ya'll are over here just stirring the whole damn house up. Kaysar – what did I do.. I'm just trying to hang out. I was trying to be friends and they tried to take me out the first week. Janelle – because they can manipulate me. Kaysar – yeah its your fault. Janelle – its my fault that I'm here in this house and so are you. Kaysar leaves.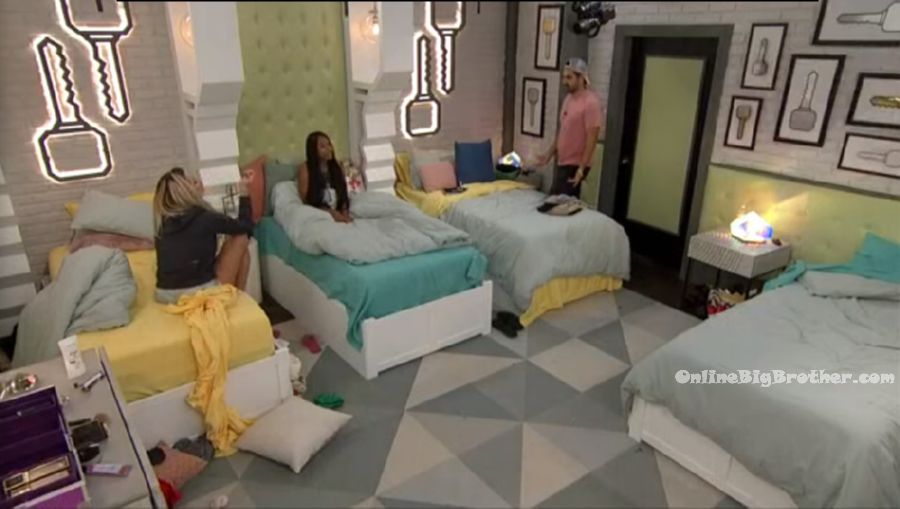 9:35pm – 9:50pm Bedroom. Enzo and Cody.
Cody – what did she (NicoleA) say? Enzo – I just said I want you to stay.. because yo its good for our game if she stays. I was like yo I don't know.. Everyone is scared of that safety sh*t .. just tell people that you're not going to use it. Like I like Dave too but he might be shook. Cody – I don't think so. Enzo – how did NicoleF find out about the alliance with Bay and Day? Cody – how do you think? Enzo – Dani. Cody – yeah. Cody – we're in a core four.. why would Dani go and tell her that? Cody – because us three are in it and Nicole is out of it. They were saying a bunch of stuff to Dani about me. Enzo – who was? Cody – Bay. They're f**king out of control. If I win HOH I am going to be pushing hard for Kaysars head. Enzo – We've got NicoleF that they can go after .. And Bay and Day. We just need someone to go after Dani for us. Whatever it takes to get to the end of the game.. I don't give a f**K. We're going to have to be fake as f**k to get to the end of this game.. FAKE AS F**K! Cody – its going to be hard for me. Cody – She keeps saying Janelle hates you, Janelle hates you. Janelle calls me charismatic… that's a f**king compliment! What?! In what way does that mean she hates me?! She tries to plant it so that you stay separated. So you can't connect. Why do you think someone does that?! Enzo – because they're with them.. Cody – and they don't want sh*t getting back on them.
Its too f**Kin obvious. I want Christmas to win (HOH).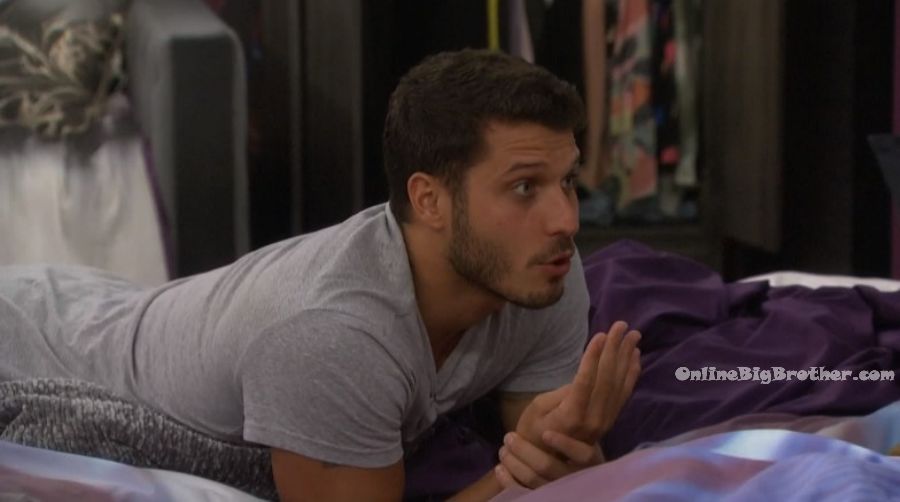 10:20pm HOH room. Janelle and Memphis.
Janelle – you're good with NicoleA, you're not good with David. Memphis – I am not going to make the decision. The house is going to make the decision but I am trying to get a read because I need to know. Janelle – I am obviously pushing for NicoleA to stay because she wouldn't put us up and she would be gunning for the HOH and would be after everyone on the other side. But DaVonne is having issues with voting David out because.. Memphis – well she didn't say sh*t to me. Janelle – what did she? Memphis – she was like a steel trap. Janelle – its DaVonne's decision ..she doesn't want to vote David out because of.. Memphis – got it. Janelle – I didn't leave my family for .. I am here to play a game.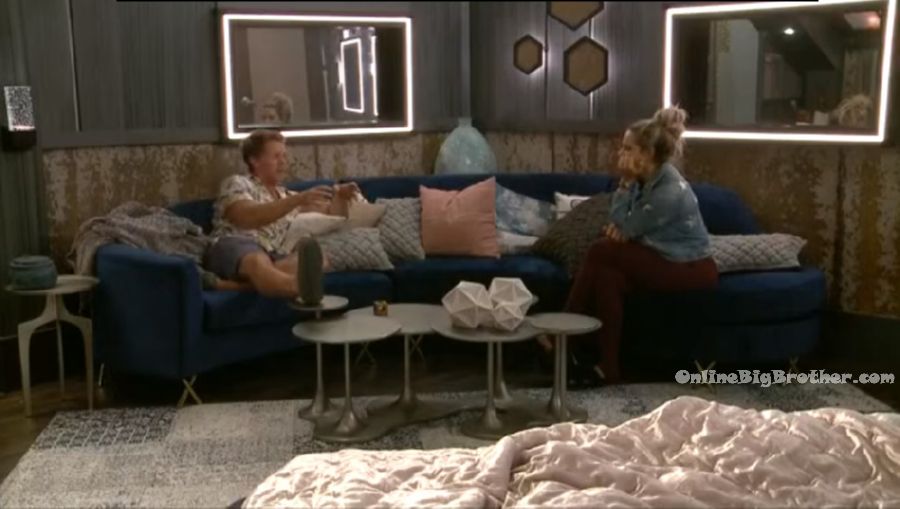 Lounge room. Kaysar and David.
Kaysar – you know I'm not a stupid guy. I am trying to find away to work with you. You've already sided with other people who want to get me out of this house. Kaysar – I'm not HOH. I didn't tell him who to put up. David talks about the comments Memphis has made. Kaysar – have you seen him (Memphis) a good relationship with anyone. Kaysar – how do we work together? Lets talk about it later in the week. David – its campaign week!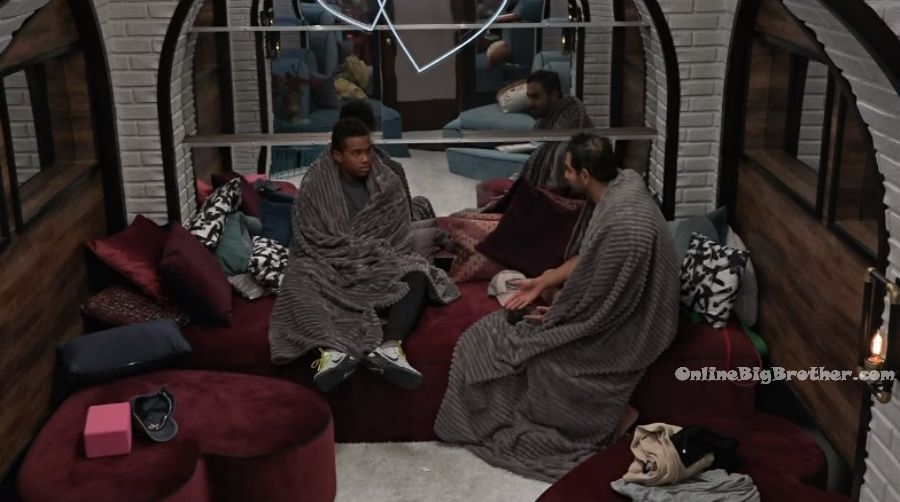 11:20pm – 11:40pm David and DaVonne.
David – I like Kaysar but I don't know if I can work with him. Day – okay. David – because he's working with Janelle and that is just bad! I don't know what she is doing. We talked but I don't know if we can come to the middle. I don't know if he will vote me out. He is not my number one target if I get HOH. Day – what are you issues with Janelle. David – its just awkward conversation. It always sounds like she is trying to get something. I told Bay that I am going to try and work the guys. Cody, Enzo, Tyler and Ian. Those are the guys I'm trying to work.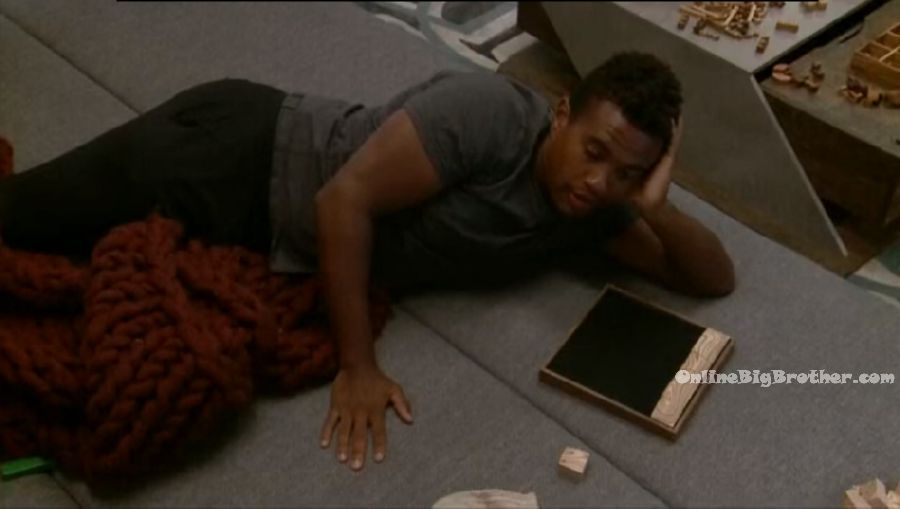 12:35pm Bedroom. DaVonne and Bay.
Day – he (David) is really starting to trigger me. Bay – he is a little annoying. Day – we were talking today and I was like what are we going to talk about? Big Brother alliances ..are you going to tell me who's in it? And he was like okay, we'll make an agreement I'll tell you .. if I stay I'll tell you. And I was like whatever if you want to play that. I said Keesha left week one, if NicoleA leaves this week.. that's two girls out the door. You've told me that you're in an all guys alliance.. can you give me the security of knowing that me and Bay won't be on that list. And he goes .. well when Kevin left it was you ..you wanted kevin to stay. When Keesha left it was you that wanted Kevin to stay right?! And I was like yeah .. so he was like I don't think you should be coming at me saying.. And I'm like MY GOD!!!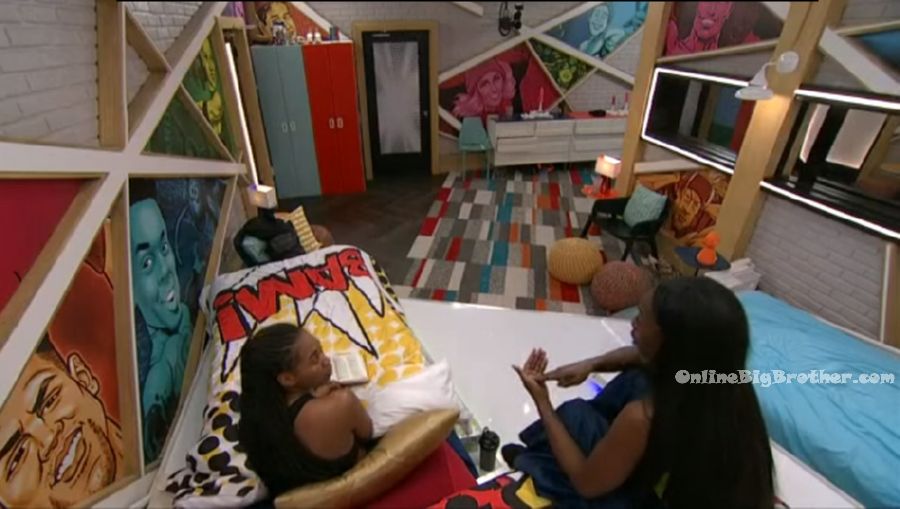 Show your support by making a donation.
If you're enjoying our live feed updates this season, please consider donating.
Any amount is greatly appreciated!
Your donations go directly to paying the fees required to run this site.