Quick Big Brother Spoilers
Head of Household: Turner
Nominees: Brittany and Michael Ameerah and Terrance
POV Players: Nicole, Taylor, Michael, Brittany, Turner, Jasmine, (Joe is host)
POV Winner: Michael/Brittany
Veto Ceremony: Brittany/Michael us the veto and Turner puts up Ameerah/Terrance
Havenots: Alyssa & Indy
Lock your ranks in before midnight
Festie Besties:
Turner & Jasmine (She's also safe)
Joe & Monte
Daniel & Kyle
Brittany & Michael
Alyssa & Indy
Ameerah & Terrance
Nicole & Taylor
How Nominations will work: One pair will be nominated
How the Veto Player Pick will work: Turner/Jasmine, nominated pair, and drawn pair
– If one of the pair wins the veto, the other is also safe.
– If the nominated pair comes off the block, Turner would nominate another pair.
– Eviction: One of the pair on the block will be evicted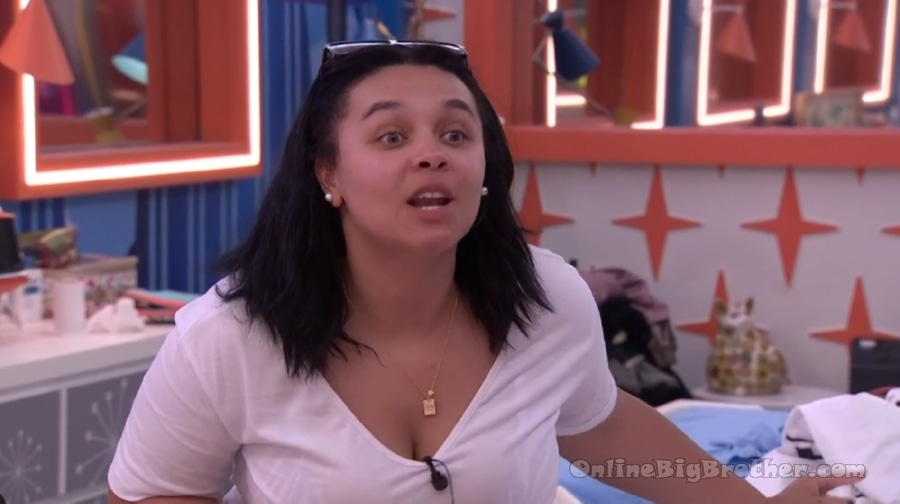 1:34 pm Jasmine, Brittany and Ameerah
Jasmine – I'm so upset right now . I f***ing want Indy gone
Ameerah – that was Indy wasn't it
Jasmine – She is the reason he couldn't target her because it would put Alyssa on the block (LOL)
jasmine – so Indy went up there called her a b1tch basically bullying her. talking about ohh I want to throw soup in her face all this shit. He came from domestic violence and bullying why the fuck do you think it's okay to come vent on him about that.
Jasmine – she went up there.. because she's with Alyssa he's not putting her up because he likes Alyssa. He went to the next best. He said you are a good competitor and you could win this game with your hands tied behind you back.
Indy joins them.
Jasmine now tries to explain that Turner not putting Taylor on the block was mean to her.
J – I'm going to start moving and grooving.
J – It makes Taylor feel weird how does it feel to not get on the block and you know everybody is kinda intense with you it makes her feel like it's her fault.. You know what I mean? (WOW)
J – Either way you are really hurting her .. you know what I mean? Lets say you had a bad week and you thought you were going on the block. You don't go on the block and now everybody hates you because random people got up on the block (OMFG classic)
Brittany – yeah
Jasmine – she feels more uncomfortable now.
Brittany – the whole plan was for us to win the veto then they would put them up. I feel like I should have been in on what is happening.
Jasmine says Turner went rogue.
Indy – What Taylor is doing she's doing it right. She got a third chance.
Indy – Daniel told me he didn't even know
Jasmine is shocked and starts chuckling
Indy – you think he knew it?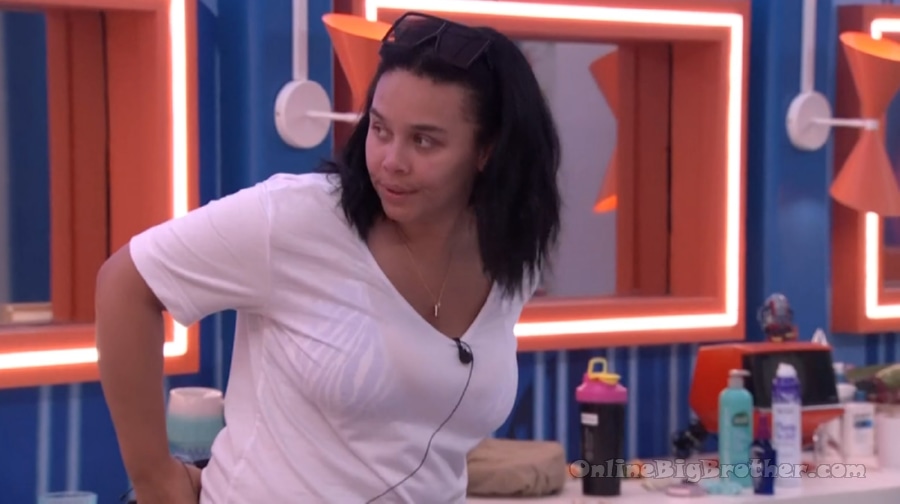 Jasmine – I know he knew .. see you can't trust anyone in this f***ing game. I'm too real for this sh1t .. honest.. I like to call people teh f*** out.. this is everything against what I am
Indy – you know he knew? he just told me he had no idea
Jasmine – he's a f***er liar that's why.. that's it for me.
Indy – That counts for us now we know and we cannot trust
Indy – he told me literally it was a BIG surprise to him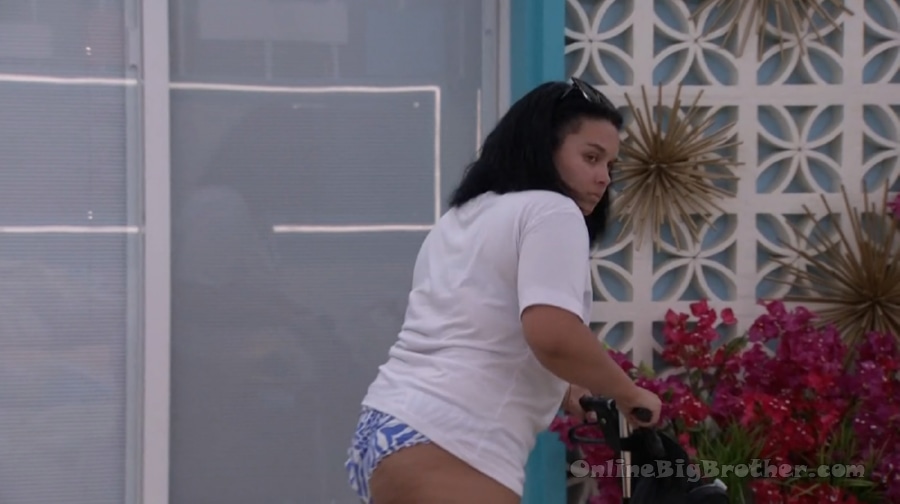 Jasmine wheels away.. 'This f***ing game I tell you)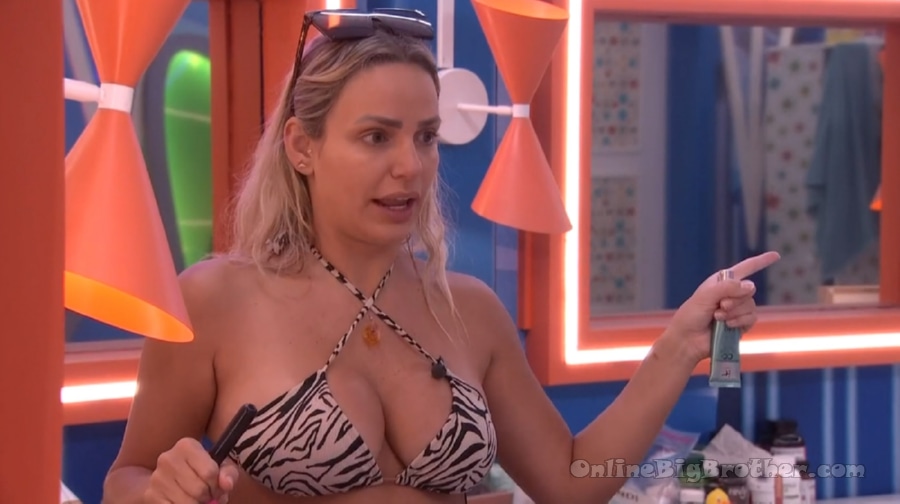 Indy says she sees Nicole talking to Joe twice.
Indy – if he's defending POOCH he should throw up the guys not you
Ameerah – from the speech do you think I am the target?
Brittany – I think so. He only said one thing to Terrance.
They count the votes for Ameerah to stay. 'Do we have joe? .. Michael Michael? '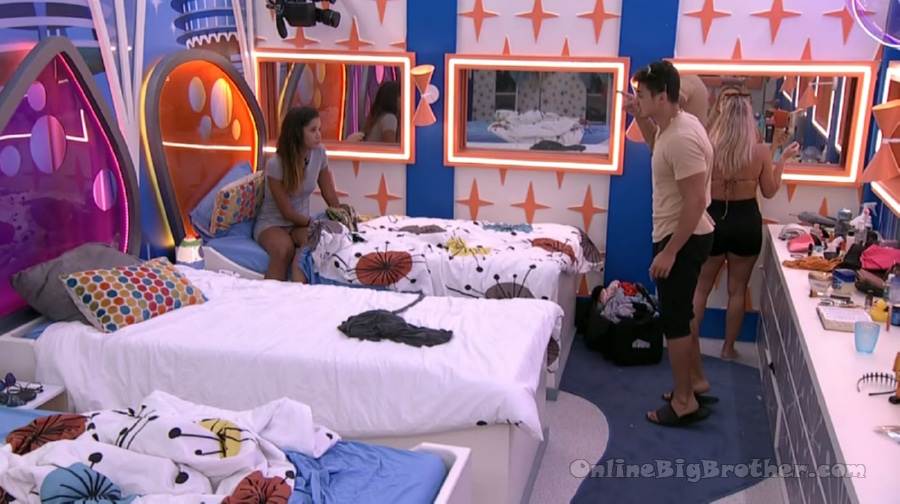 Joe comes in.
Ameerah – did you know
Joe – get out of here.
Ameerah – I'm just sad.
Brittany leaves.
Ameerah – I never did anything to Turner.
Joe – He's after Terrance
Ameerah – no he's targeting me
Joe goes on about Taylor winning HOH next week and he's going up with Monte "She is a shark she will do that she doesn't give a f***"
Joe – I'm going for HOH.. F** me dude..
Indy – she probably can get the veto
Joe – If I won HOH Turner goes up with Jasmine and her fate is sealed she's not losing to Nicole
Indy – NO Nicole is staying
Joe – Turner is a wild card
Ameerah – you promise you didn't know.. do you swear to Allah
They laugh..
Joe says Turner is not close to Terrance at all.
2:15 pm Daniel, Terrance, Joe
(Talking about Nicole)
Joe – She didn't know that was happening.
Daniel – something else just happened. I started sensing since last night some shit was happening
Joe – I felt weird.. I was waiting for Taylor to go up.. Last week her vendetta was she wants Monte and guess who became Monte's festie bestie.. I told you this last week when people were saying I'm going to vote for POOCH out.. I was like that's going to f*** me up
Joe – she wants Monte
jasmine joins them.
Daniel – what is happening you know something
Jasmine Says the only people sitting back there "Good" is Alyssa and Indy
Daniel – it must be Indy talking sh1t on somebody..
Daniel – Monte is crying.. he had tears in his eyes..
Turner joins them.
Daniel – what just happened.. something happened in that back f***ing room.. it's no longer about noms something happened.
Everyone is talking about "something happening"
Daniel – Nicole won't talk to me.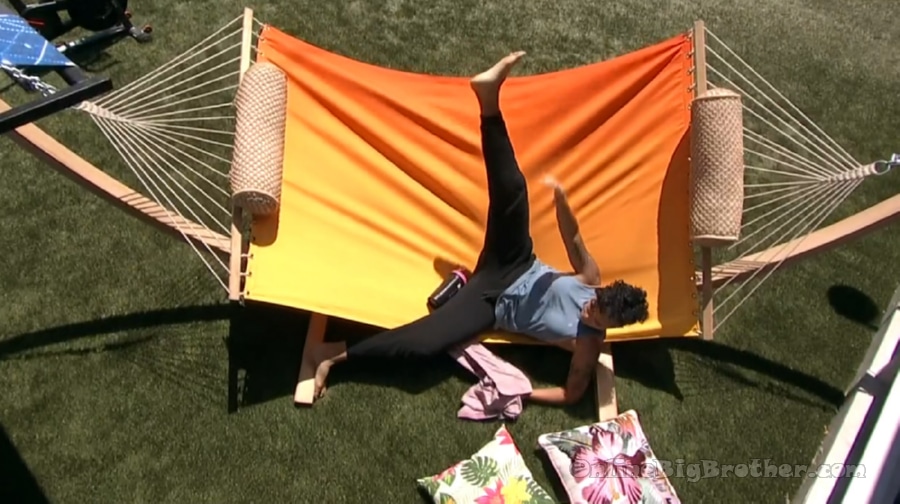 2:15 pm Nicole alone
"I hate everybody. this is ridiculous what's the point of an alliance you just get thrown under the bus. Seriously. How is this.. Jesus Christ. I'm so sick of this shit. Ameerah joins her.
Ameerah – Did Alyssa know?
Nicole – I don't know .. but the thing I'm f***ing pissed about is we're in an alliance and Indy is in the room and talking shit.
Nicole – she's throwing me under the bus.. to be clear I never said that was Turner's plan I was assuming he would put up INdy.
Monte joins them "Now I'm getting paranoid she slipped up"
Nicole – I'm not crazy right..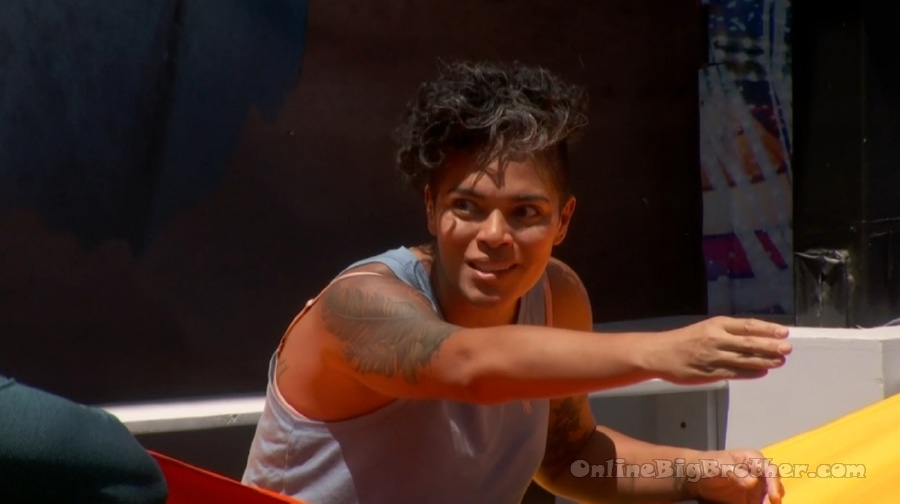 Nicole goes on about Indy throwing her under the bus "She did it twice last week.. we can't tell her anything"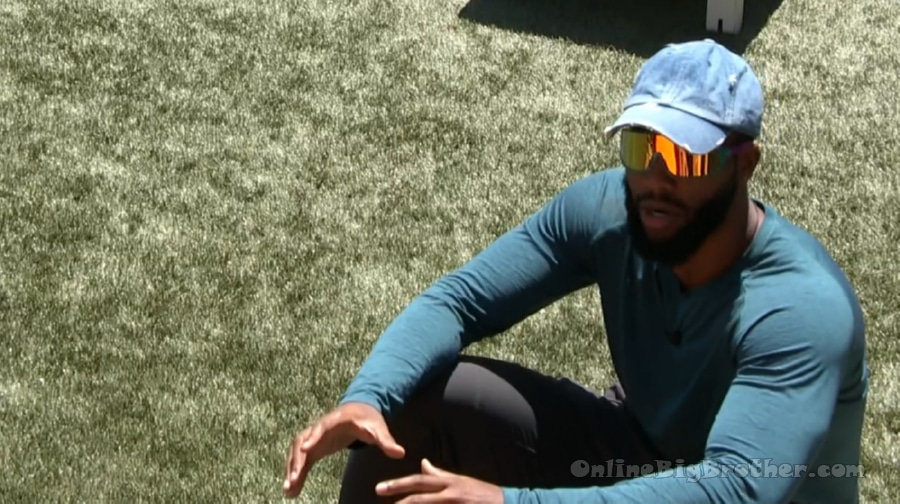 Monte – we can't have an alliance if somebody is bound to spill the beans.
Nicole – if Alyssa tells Indy it was me.. you guys this whole house is going to be blown up. the lines will be drawn very clear.
Monte – I'm not that close to Alyssa. Do you all feel?
Ameerah – what is Brittany dong?
Nicole – I don't f***ing care she's the least of my worries.
Ameerah – we can't talk game around her anymore.. *Alyssa)
Alyssa joins them.. Says that Everyone is talking in the kitchen "What just happened.. what just happened. .Monte had tears in his eye"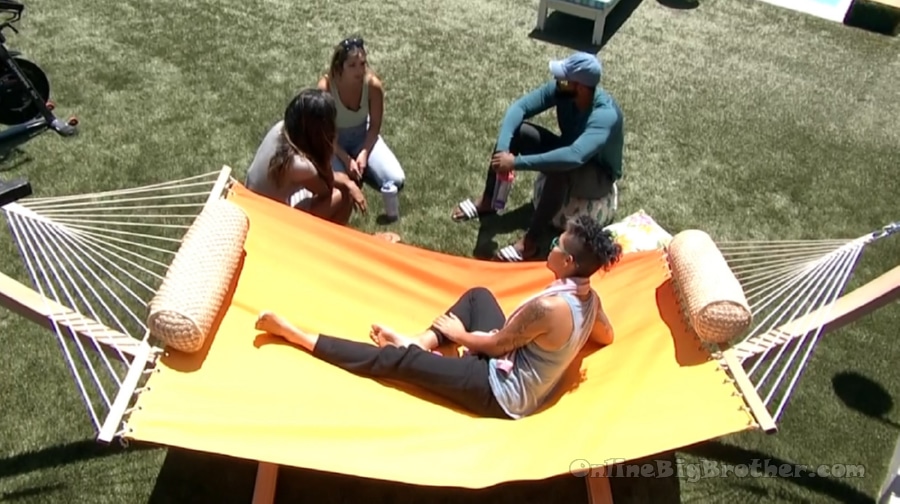 2:23 pm Ameerah, Monte, Nicole, Alyssa
Nicole – Alyssa you threw me under the bus.. those were my words.
Alyssa – I'm so so sorry I had no idea.. I'm so sorry I will not make that mistake again.
Ameerah – you have to watch what you say to everybody. Especially Turner
Alyssa – me and Turner never talk game
Nicole- I'm going to have a talk with Taylor tomorrow it'll be a purely strategic game talk. We're labelled as besties but we're not besties.. I want you guys to know when it comes to who and if I win HOH. Our six is solid.
Nicole – if you guys want her out you'll have to win HOH
Monte tells them they should have Taylor feel somewhat included. "It'll play to our benefit cause at least we'll have a little more input"
Nicole – that is what we are doing.. I'm agreeing with you 100%. I told her I'm fighting for us this fight is ours not hers by herself. We had a conversation yesterday we're a clean slate.. we're good.
Nicole goes on about how welcoming the women have been to Taylor "This last week was all about comfort zone and so was last week"
Nicole – please don't ask me to throw another position.
Nicole about Taylor "Homegirl has been included the last few weeks.. we don't have a problem."
Mont e- the optics for me.. I'm not in the girls group
Nicole – she's the type of person that isolated herself.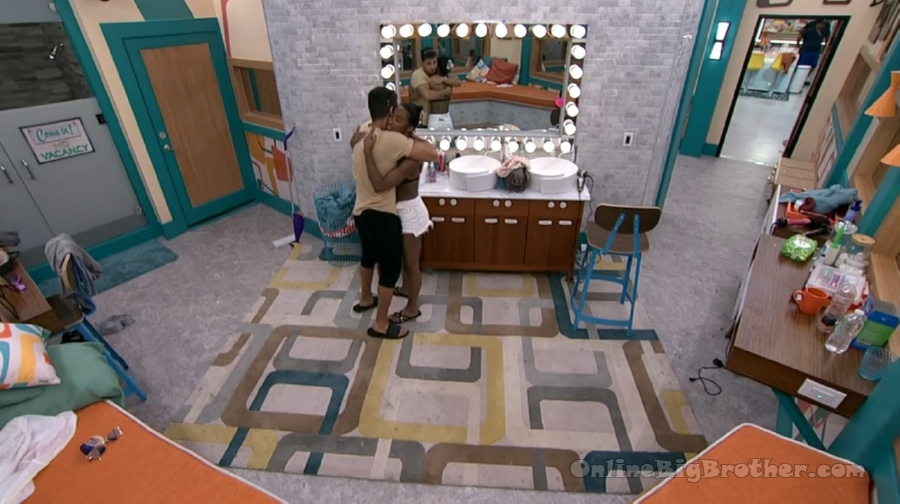 2:32 pm Joe and Taylor
Joe congratulating her on handling the day well.
Joe – that speech he gave was how we all felt he just vocalized it.
Joe says the bond of their team is they are all leftovers "Not that we're girls or guys it was because we were left to the side"
2:32 pm the struggle Jasmine goes through every day. AFP candidate right there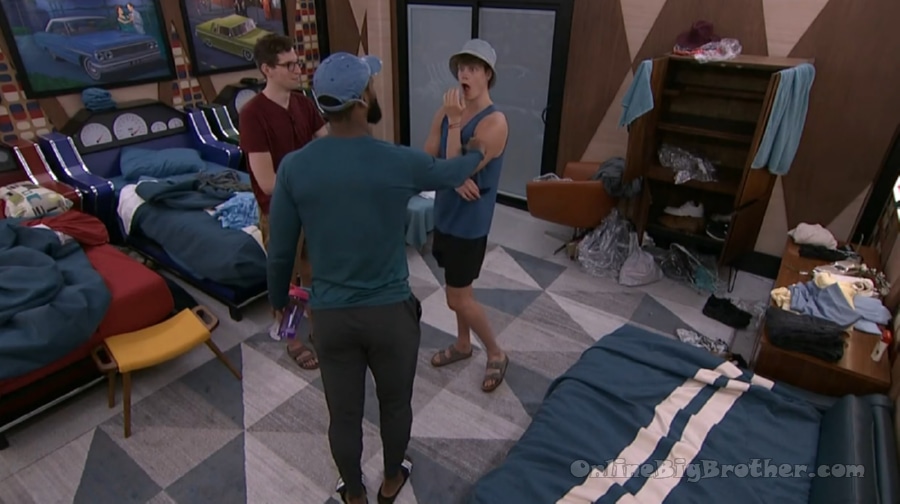 2:35 pm Kyle, Michael, Joe, Monte
Monte – now Ameerah thinks that Alyssa slipped up and told Turner.. I'm trying no to laugh it's too good..
Mont e- Nicole thinks that Alyssa slipped up and told Turner something about how POOCH got evicted last week. Now they are super suspicious about Alyssa
2:47 pm Indy, Alyssa and Ameerah
Ameerah says the person that was talking the most shit about Taylor was Daniel.
Alyssa says she doesn't know who to trust
Indy – You can trust me. we have each other.. we are still four they are two.
Ameerah says Nicole knew she wasn't going up.
Alyssa – she said she had a feeling she wasn't going up based on her conversation with him
Ameerah says three people knew.
Indy leaves..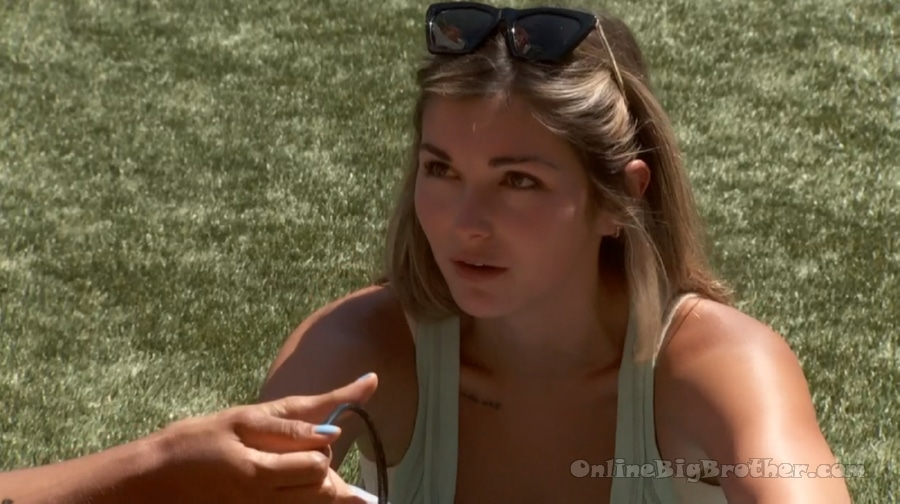 Alyssa – now everyone is talking about me. Now I am the new Taylor
Ameerah – listen, me and you are aligned with every single person in this house except for Joe, Turner and Taylor. Daniel can't be trusted.
Alyssa – Nicole is very emotional
Ameerah – Monte wasn't crying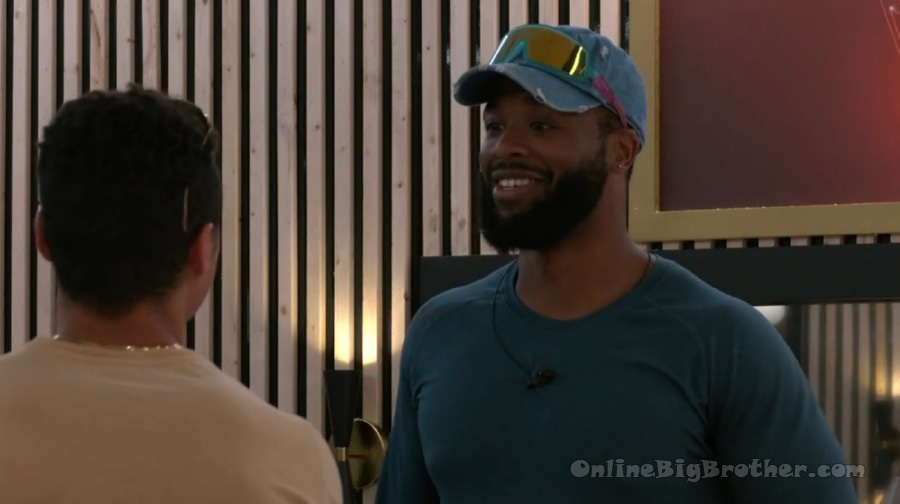 2:53 pm Monte, Turner and Joe
Joe says he's pushing the "he's unpredictable he's got ta go" Angle with everyone
joe – everyone is starting to respect the whole changing narrative about Taylor. This is what the group wanted to do.
Turner asks Monte if he was crying. "Did you get in a fight"
Monte – no I was just like look it's not my place to explain what happened..
Monte – now Nicole and Daniel are going at it because Nicole blew him off.
Turner tells htem he gave Daniel a heads up and Daniel told Jasmine he had no idea.
Joe – all of them were crying before you said anything Daniel told them.
Turner says Jasmine is pissed at Daniel for lying.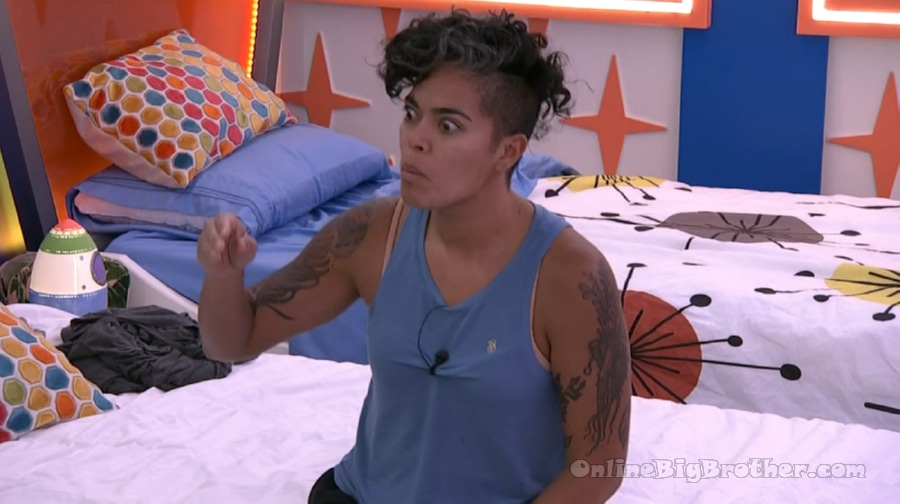 2:56 pm Nicole and Daniel
Nicole – Alyssa has the loosest f***Ing lips in the entire world.
Daniel – what did she say
Nicole – She's talking shit about turner saying people are saying it should have been me and Indy. Indy is the target. Alyssa, what are you doing?
Nicole – her exact words were me and Ameerah's exact words
Nicole keeps standing up to hammer her point across.
Daniel – please don't stand
Nicole – I'm sorry.. sorry..
Nicole says that Ameerah thinks Turner told other people what he was doing.
Daniel – who?
Nicole – I don't know
Daniel – who cares we're not on the block who give sa f**
Nicole – these are people we're working with. Terrance is not the target she is.
Nicole – you need to speak to Ameerah..
Daniel – I don't need to do shit with her.
Nicole – ok fine.. She just wants to hear your voice..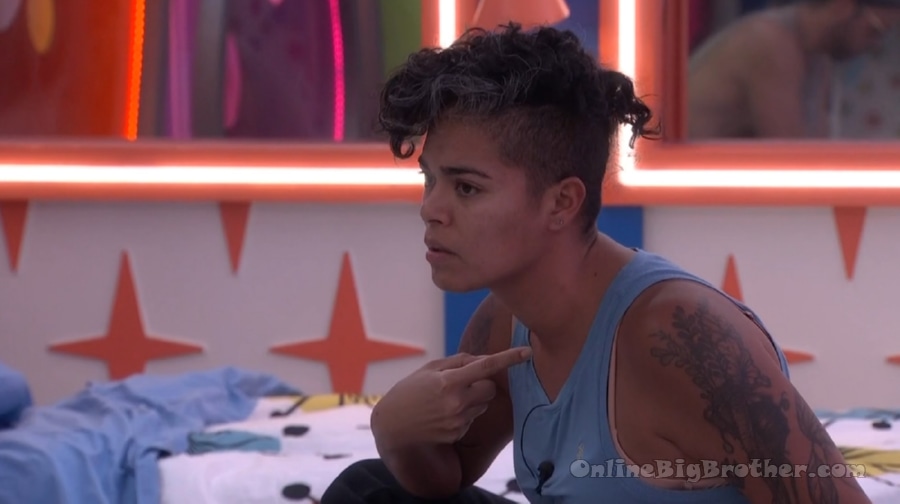 Nicole – My alliance is with you. My Final 2 is with you. I have not and will never betray you. Somebody put my game on the line and it needed to be addressed IMMEDIATELY
Nicole – SO THAT'S HOW I FEEL my F***ing game was questioned IN MY FACE
Daniel – don't yell at me.. go yell at Alyssa not me.
Nicole – it's not directed at you none of this is direct at you. I trust you so much.
Nicole – she can't be trusted. My alliance with them cannot be trusted. Monte has made it very clear Taylor is his target. he's also made it very clear that you are not one of his targets. It's going to be very hard to vote Ameerah out with that Alliance win place. So now I'm struggling with what do we do?
Nicole – How do we flip the house to keep Terrance here? (LOL ZOMFG)
Nicole – us going forward you and I are so safe.. We have nothing to worry about. \
Daniel – who are you voting out this week?
Nicole – I want to vote out Ameerah.. I want to keep Terrance.
Nicole – we don't have the numbers to keep him. The only way that will flip is if Joe, Monte adn Kyle decide to keep Terrance in the house.
Daniel – why would they?
Nicole – they are in an alliance with Ameerah
Daniel – I didn't' know that.
Nicole – it's Michael, Kyle, Monte, me, with Alyssa (And Ameerah) Turner doesn't know about that 6 alliance.
3:17 pm
Alyssa, Joe and Nicole
Nicole is apologizing For messing up. Crying..
Alyssa – I hope I can prove to both you guys I'm a value to you game and I won't mess up again.. I'm sorry sorry
Nicole – babe it was an accident.
Alyssa gives some hugs and leaves..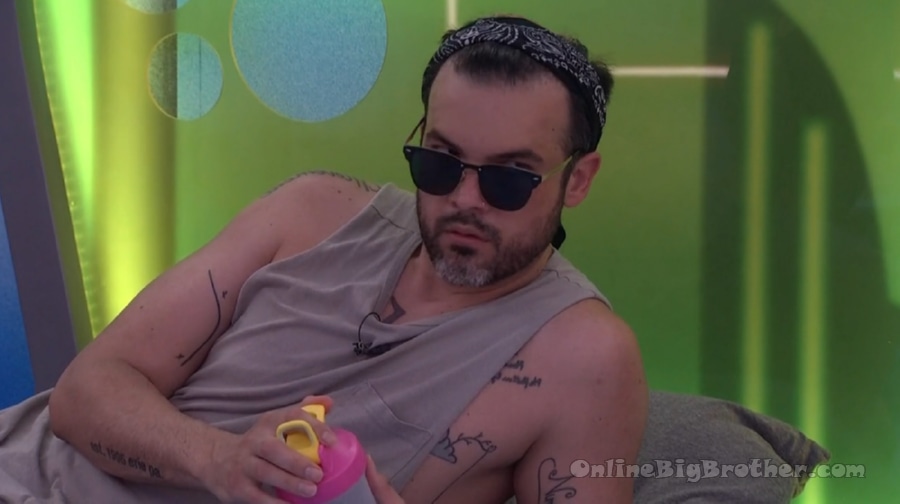 Daniel – I don't f***ing care
Nicole – I know you don't
Daniel – I think she's aligned with Indy and the guys I don't know..
Nicole – I don't believe anybody. Jas came in here.. Don't ask me if I knew. you all f*ing know I didn't know the nomination was going to change. Don't f***ing question my loyalty.. I hate that shit..
Nicole – did I know? of course I didn't f***ing know. I'm teamed up with the one girl that everyone wants out of the house. Guess what guys when you don't have control and things don't go your way everyone loses their shit
Nicole – now Monte and Ameerah are skeptical about Alyssa.. she has loose lips and told Turner a bunch of sh12t..
Daniel – everyone knows everything it's a new game.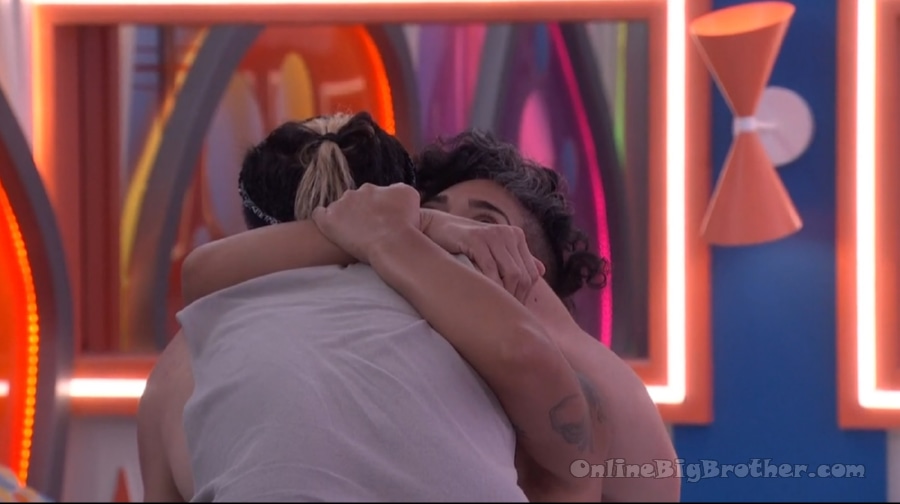 They hug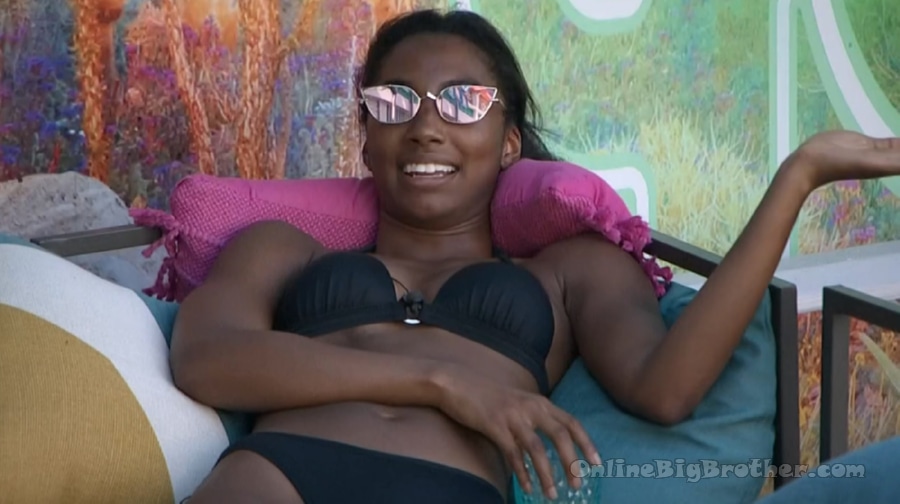 3:34 pm chit chat in the backyard.