Head of Household Winner – Cliff
Have note are: Tommy, Christie, Jackson, Kat
Nominations are: Jack and Jackson
Power of Veto Players are – Cliff, Jack, Jackson, Sis, Sam, Kat
Powers in the game
Christie – Panic
At any of the next four Power of Veto Ceremonies, Christie can turn the Golden Power of Veto into the Diamond Power of Veto and allow the current veto holder pull someone off the nomination block, but instead of the Head of Household naming the replacement nominee, the veto holder names the replacement.
Grab your live feeds —-> BB21 Live Feeds Subscription Link
Rank your houseguests —-> Big Brother 21 Ranking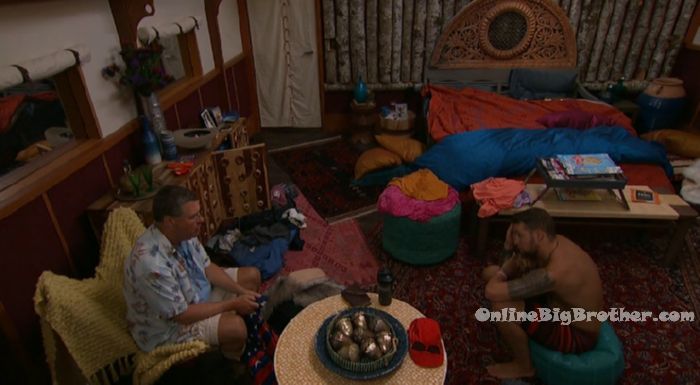 2:25pm HOH room. Nick and Cliff. Nick – are they campaigning to you? Cliff – oh yeah full court press. Nick – what are they saying? Cliff – that I was never their target. It was purely just to protect Nicole. Nick – that's bullsh*t. Cliff – your name hasn't come up. Nick – its Bella's. Cliff – its all Bella. Everyone wants Bella out. Nick – Tommy, Christie? Cliff – everyone. Nick – I think she is going to go up if she uses the power. Cliff – she is going to use the power. Nick – she said she is? Cliff – she said that she is very strongly considering it. Nick – I will f**king bury her next week if she uses it! If they keep jacking this game we're going to lose. Cliff – I know it. Nick – if he stays this week he is going to win the game. Look they're going to pick us off one by one .. he's in two showmances .. one with Christie and one with Sis. And he has a bromance with Jackson. Cliff – I tried to talk to Christie last night. Nick – yeah what was she saying .. she was up here for awhile with you. Cliff – the same thing.. that I'm not a target and she's always wanted to work with me. Trying to figure out where this all went wrong. Nick – that's all bullsh*t. They're bullsh*tting you. Cliff – there are two problems I'm worried about.. if she uses the power I think we are screwed. Kat, Jess and Nicole… Nick – Nicole is smart, we can get .. it can be me, Sam, Jess, Kat and Nicole and you break the tie. Cliff – I know but I don't know how much I trust Jess of Kat .. either one. Nick – Kat will do it with us .. she's knows we're f**ked anyway. Cliff – they've all said that then you would be a free agent and it gets you back in the game with them and me. Cliff – that's bullsh*t Cliff.. they're so scared of you. That's all they keep saying .. I don't don't regret getting Cliff out because this is exactly what we were scared of. Cliff – I know. Nick says that he's already been practicing a speech for him or Bella about how Jack is going to walk to the end if they don't get him out now. Nick – we have no chance with that motherf**ker in here because he is running the game. Cliff – I took the shot Nick. Nick – Christie's power is going to f**k us. Kat is a loyal b***h. Like she would never and she is a f**king beast. She really is good at f**king comps. I told her to keep her ears open… like I know they want Bella gone. I'm not stupid. They have to understand that if Christie uses her power and Bella goes out .. and I win next week I am putting her up. I know if Bella is gone .. I'm .. they're not going to bring me back .. come on!? I am on the bottom of the totem pole .. I would never put you up Cliff. I have to talk to Christie tonight. Jack keeps throwing jabs at me talking about how he's going to win HOHs. Cliff – you know where I'm at, I put him up in the first place. Nick – if Christie uses it, I am putting up her and Tommy next week. Cliff – well we have to get the votes this week. Nick leaves. Cliff to the cameras – two different options. Fail or succeed. I love big brother.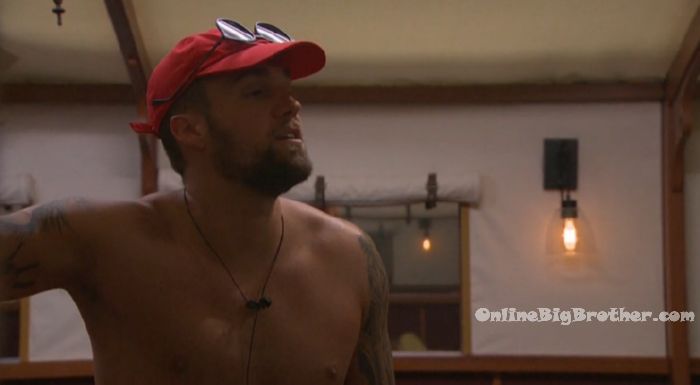 2:47pm -3:07pm Boat room. Cliff and Kat. kat – I don't trust her (Bella). I think she would be horrible in jury. She will mess things up. And I think she turns people against each other. Cliff – I am the same way.. if that power gets used it would be you, Nicole, Jess, Sam. Kat – this could also be our only chance to get Jack out but I do think its better to get Bella out this week before jury. I am afraid to vote against Jack because Jackson will turn against me and he is my connection to that whole six. Cliff – we both have the same fears. Kat – I think you putting Bella up shows somewhat of an alliance to those people and that you won't be messed with. You are probably the smartest player here.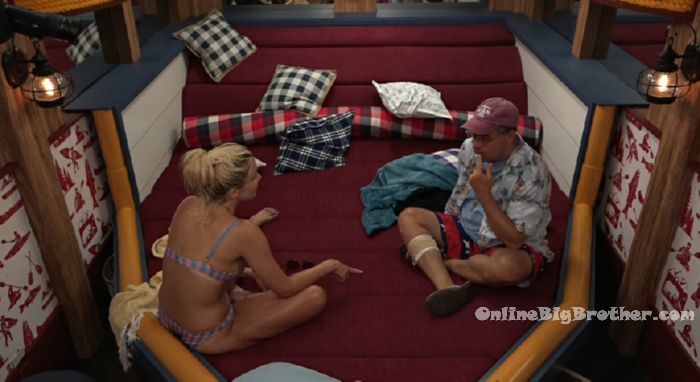 3:13pm – 3:25pm Hammock. Nick and Sis. Nick – if she uses it and puts up Bella .. where does that leave me? Soes that get me back in? Sis – yeah of course, that's what I want. Is that what you want? Nick – yeah, I made the alliance. Sis – everyone is on board with you coming back in .. its just no one trusts Bella. If she goes, you're good. Nick – I already told Jackson, I can't vote her out. And he said I would have less respect for you if you did vote her out. Sis – whatever happens its for the best. Nick – yeah, it will just f**king suck.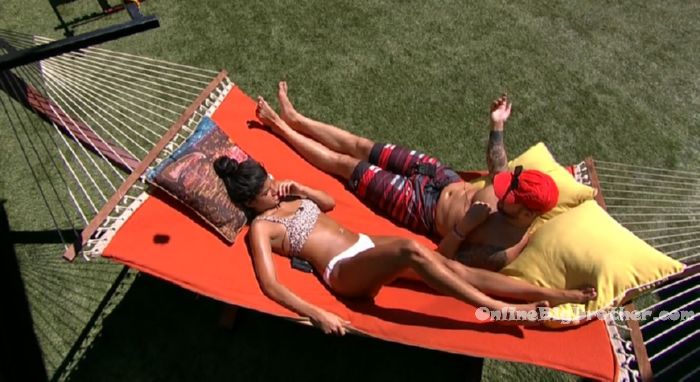 Nick to Sis – do think like if I came up there with you guys and told him that I was okay with it.. Sis – get Cliff to put up Bella? Nick – do you think he would do it? Because if one of them wins next week… Christie won't have a power any more. But if I go up there and tell him to do it do you think.. Sis – I think if you go up there with Christie.. Nick – and say I'm cool with it. Do you think he would? Sis – MMMMhhhmmmm. He wouldn't listen to me because I have no say in anything. All I can do is vote .. its not like I have a power or anything. Nick – do you think Christie and Jack too? Sis – I say just Christie. If we were to get him to put up Bella, then Christie wouldn't have to use her power and then if one of us won power next week .. that means she would have one more week of it. Nick – not next week but the week after Jury starts. If she uses it and the wrong person wins next week she is f**ked. Nick – we have to be confident that he would do it. How would we know? We would just have to trust him. Sis says that she will go talk to Christie about it. Tommy joins them.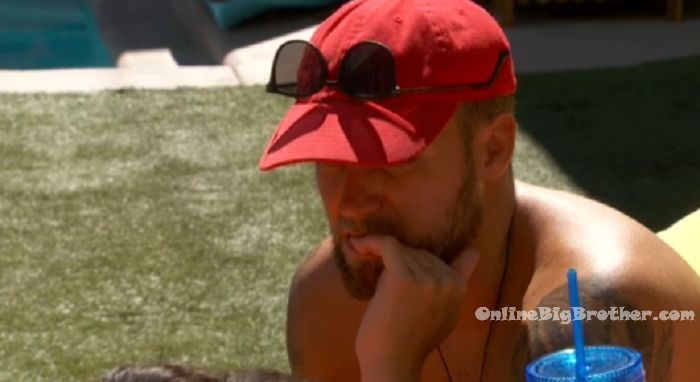 3:45pm Bedroom. Sis and Christie. Sis – he (Nick) was saying that he had a conversation with Cliff and said that he didn't really know what would happen. He might put me up. I am really not sure. He was saying like I really f**ked up with Bella and how he was gaming too hard in the beginning. And if Bella goes he is very nervous because he is on the outside. I said like if Bella goes he wants to restart and for us to trust him. He goes what if I go up to Cliff with Christie.. Kat joins them. When Kat leaves Sis tells Christie about how Nick wants to go to Cliff and tell him to put up Bella. Christie – this game is sucky! Sis – he wants to be back with us and he knows that the only way he can is if Bella is gone. Christie – what if Nick and Cliff are in on this and making me feel really safe not to use it. Sis – I said but Cliff would swear on his family .. he wouldn't do that if he wasn't going to. I really believe Nick though.. I don't think he is up to something. He said he really thinks Bella is going to go home this week. Christie – I don't want to be played by the both of them. Sis – you're a really good read of people. Tommy joins them. Christie explains what Nick wants to do. If he shakes my hand, looks me in the eye, puts his hand on the bible and gives me his word on his family.. then I don't think he is lying.. but I won't know if he is until tomorrow. Tommy – say that after Nick came out of your (Cliff's) room this idea came out. Christie – I don't want to do it now but I'll do it later.
4:22pm Nick to Kat. Nick – I told her (Sis) that I would go up there (HOH) with Christie and tell Cliff to put up Bella. I am actually going to do that but then Cliff is not actually going to do it. Kat – OHHHHH… Nick – Cliff is just going to lie and say yeah, I'll do it. I'll put up Bella, I'll put her up. And then Christie won't use her power and when Jackson uses the veto .. Cliff will just put up Tommy or someone and then Jack will go home. Kat – you're a scary motherf**ker. Sh*t! Nick – but Cliff has to be convincing that he would put her up. Nick – if Jack doesn't go home this week, he will win this game. If we did this, I wouldn't even care if I got kicked out next week.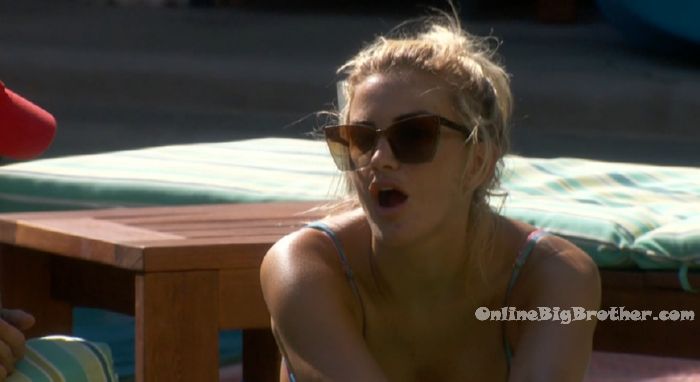 5pm Cliff, Sam, Nicole and Bella. Chatting about CLiffs job and other random things.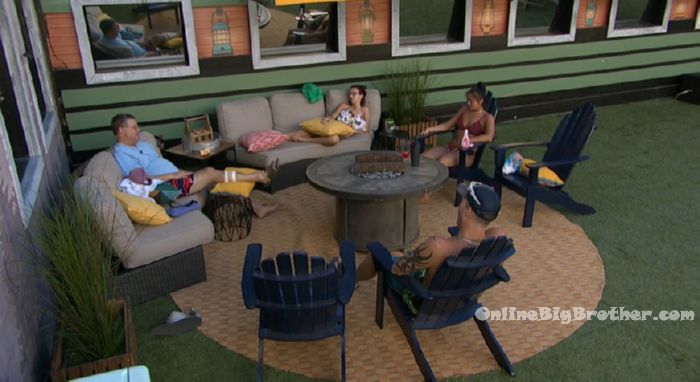 5:47pm Hammock Nicole – he (Cliff) wants to talk to you.. he talked to Christie and he is pretty sure that she is going to use it which means Bella would go up which he is assuming is a done. Jess – he said that he wants to talk to me.
6pm – 6:10pm Backyard. Sam and Nick. Nick – ..doesn't use the power and then Cliff can put up Tommy or something. I am going to go up there that way Christie can save the power for one of us next week. And I'll just tell Cliff personally to put up Bella… basically Cliff will know that I'm lying. That way they don't use the power and I'll get one of them up and that'll be f**king SICK! Sam – yeah but would we still have the votes to get out Jack? Nick – Bella won't go up. That's my whole thing. I am going to go to Cliff with Christie and tell him to put up Bella. Christie is then not going to activate her power and Cliff will put up Tommy and Jack will go. Sam tells Nick that Christie doesn't want to use her power. If they read right through it, you'll f**k everything up. When Christie talked to Cliff .. he said he would put up Sis and not Tommy. Its going to be a very interesting day tomorrow. I'm scared.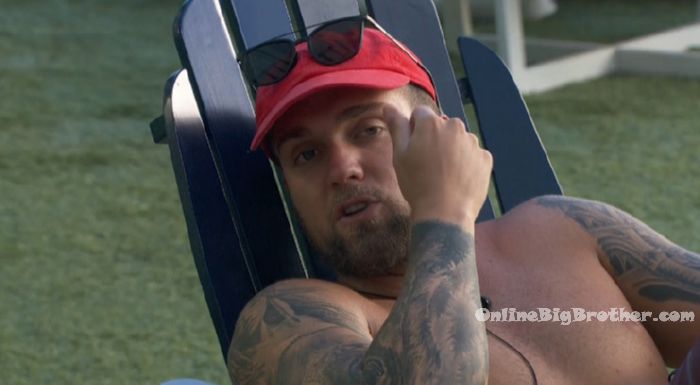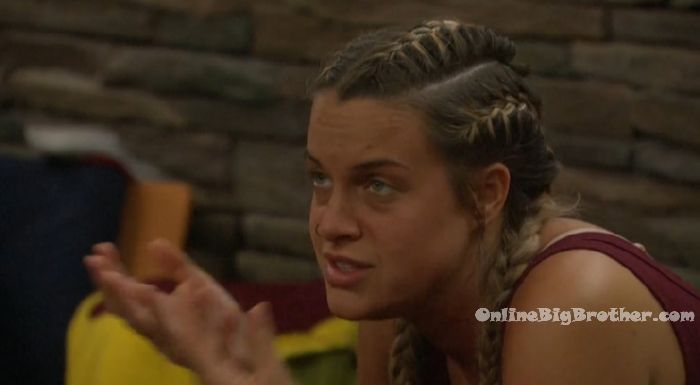 6:20pm Christie, Tommy and Sis. Christie – I heard my name came out of her mouth. I don't even know what context it was in. And someone that I swore on my whole life that I wouldn't say .. but someone said that Bella told this person that I'm her target. Tommy – Nick isn't as good at this game as we think he is. Sis – this b***h is going out! Christie – I love you. She knows too .. she was showering in the bathroom and it was a very awkward conversation. Sis – how is it that everything always works out.. well I don't want to say because it still hasn't happened. Christie – when you play clean the universe just works with you. And we are a very strong 6 like who wouldn't want to do favors for us. Who wouldn't want to work with us. Holly joins them. Christie – we went out and fought clean ..the universe rewards that. And like a 54 year old guy of course he wants to work with us and make a deal. We're solid and have proven to be loyal. Why wouldn't someone want to work with us. Its also the reason why Nick is willing to make peace with Bella going and still work with us. He can't be trusted at all but when you're loyal and play clean.. Sis – Also side note.. personally for me I would really like to get Nicole out. I don't trust her at all. Holly – agrees and says she does not trust her either. Sis – especially after she was not willing to give us a vote. Christie and Holly comment on how Sam needs to go and how he will need to be backdoored. Sis – I would love to get Nicole out after Sam. Christie – she owed us and she back peddled. Sis – that is really messed up .. we are in this because we saved her. I think she and Cliff are still working together. Kat joins them. Christie to Sis – do you like him (Jack) more? Sis – Yes, every day. I think I am starting to like him more because we are spending more time together. But I am getting nervous because I don't want to like him a lot because I know when we get out of here he will always go back to his ex. Christie – you can't go back if they're not there. Big Brother switches the feeds.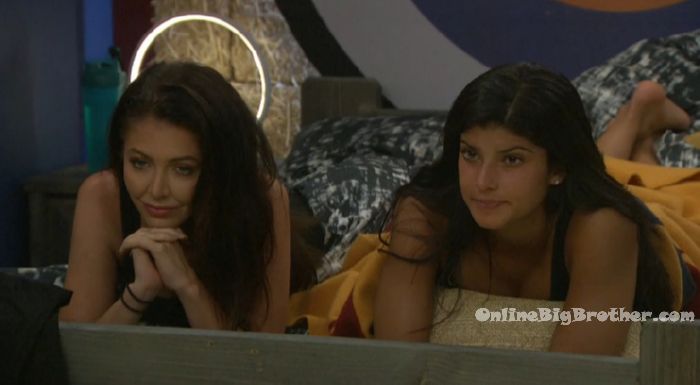 6:55pm – 7:12pm Bedroom. Tommy, Holly and Jack. Tommy – so you want to make it look like it was Nick's idea to put up Bella? I don't think we need to do that. To say like hey I heard you had the idea but we already had the idea.. so we're on the same page regardless. Jack – the delicate dance we play is that Cliff doesn't follow through with this deal. Tommy – if he doesn't follow through with it .. then he goes home next week. With this deal, he buys himself two more weeks with a bum leg .. and who knows what will happen in two weeks. Someone else might paint themselves a target and he buys himself more time. And no matter what Christie is either using her power and you're staying or she is not using her power and we do the backdoor on Cliff's terms.. so either way you're staying. He can either choose to work with it or go out next week. To me its a no brainer. Jack – yup. Tommy – Cliff might feel like the 7th but its better than the 12th. Tommy – Nick proved last week that he is not that good at this game or we would have been one of his targets. Jack – Sam's actions are pretty crazy today. Tommy – he talked to me and Christie to day .. he said that he was freaking about Christie using it. He said that he was worried about the ripple effect and where he stands on the totem pole.
7:16pm – 7:25pm
Boss Hogg is snap chattin'..
HOH room. Nicole and Cliff. Nicole – I was thinking regardless if she uses it or if you put up Bella .. I think you should talk to Nick first. Cliff agrees. Nicole – make it like this is what everyone wanted. You know my targets were other people. Cliff – no, I am going to make sure he understands especially if I put Bella up without her using it. I will have to say look it was a done deal she was going to use it. Otherwise I don't have a choice to it. Nicole – this way it kind of defuses it if he does win.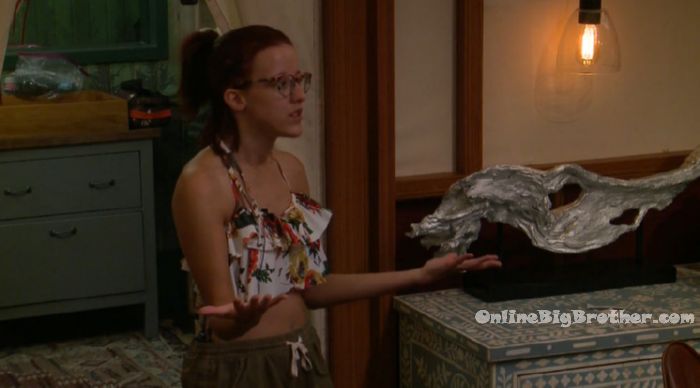 8:15pm Bathroom. Holly and Kat. Kat – after Bella leaves there are going to be so many more targets. I don't know why I just said that. I feel like when Bella leaves people are going to start targeting me again. Holly – they won't. Kat – I just don't see anyone else on anyone elses radar. Holly – I really don't think you will because you're part of the 7. And once we get to 7 we will have to develop a whole new game plan. Kat – well we have the three. Holly agrees. Holly – and he is number 3 in that 3. Kat – for damn sure. Holly – for damn sure.
8:37pm Nicole picks up Cliff's family photo. This is my message to Cliff's wonderful family. To his wife you have the most outstanding husband ever. To his kids you have the most amazing father. He deserves to make it to the end of this game. He is a fantastic human being. He is a fantastic player. And I don't know how you feel about me but he is my final 2 till the end. He is the one that I want to be sitting next to in the finals and he deserves to be there. Come on Cliff. To his family, I don't know your opinions of me but I love you.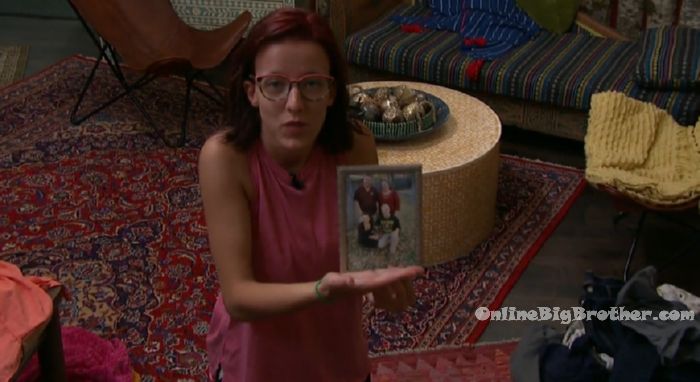 Become an OBB Member:
If you are one of the generous people that donate to help keep the updates coming, we're giving out a bit more this year. Check out this page for more details: OBB Members