Head of Household Winner – Cliff
Have note are: Tommy, Christie, Jackson, Kat
Nominations are: Jack and Jackson Bella
Power of Veto Players are – Cliff, Jack, Jackson, Sis, Sam, Kat
Power of Veto holder – Jackson
Power of Veto Ceremony – Jackson used the Veto on himself Cliff nominated Bella
Powers in the game
Christie – Panic
At any of the next four Power of Veto Ceremonies, Christie can turn the Golden Power of Veto into the Diamond Power of Veto and allow the current veto holder pull someone off the nomination block, but instead of the Head of Household naming the replacement nominee, the veto holder names the replacement.
Grab your live feeds —-> BB21 Live Feeds Subscription Link
Rank your houseguests —-> Big Brother 21 Ranking
Started the feeds to this. It's some fashion show. (hopefully, BB saves it for the None Thursday TV broadcast)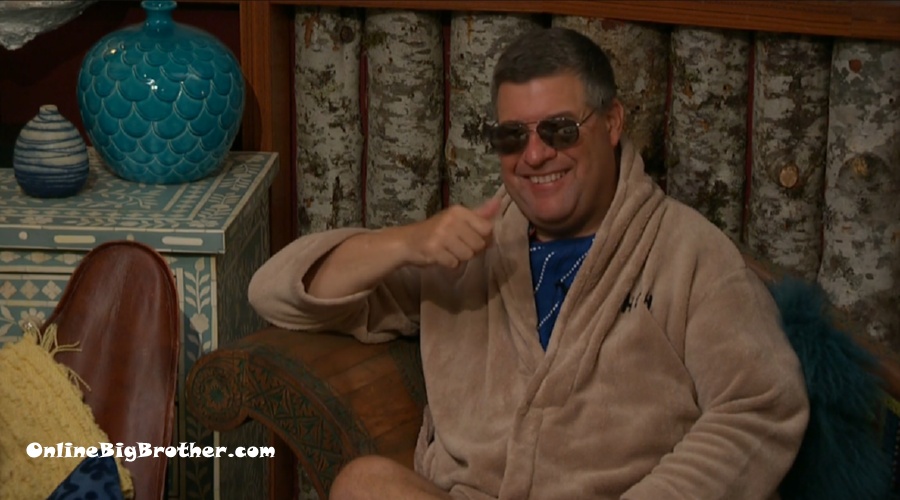 2:17 pm Cliff and Nick
Nick – I would put up Christie/Sis or Christie/Jack, I don't know if I want Jack to play
CLiff was thinking of not putting up Jack and backdooring him.
Nick – Christie is 100% going up if I win (NICK FOR HOH)
Nick – she's been cocky again, oh no one will ever put me up. She just said it again today. I'm going to have it (her power) for double eviction. I'd love her to eat her words.
Cliff – Bella was giddy talking about it and if she can make it work it would be HUGE
Nick – bro 5-5, I said if it goes 5-5 and Cliff goes Sorry Bella I'll f*ing walk out the door with you
Cliff – yeah, No. Here's the deal if it gets to that point and I didn't go ahead and pull the trigger and make it happen not only have I screwed you over, I've also screwed over Jess, and Nicole, and Michie and Holly to some respect. Everyone who stuck their neck out this plan suddenly is done.
Cliff – I don't see how I couldn't do it
Cliff says Christie promised him safety for 2 weeks
Nick – I don't blame you for taking it
Cliff – Yeah, if I didn't do it. If she worked her magic and got it to 5-5 and I didn't do it anyone watching out here what would they think of me
Nick – they would like WOW
Cliff – for taking my shot then backing off at the last minute (ZOMG)
Cliff says it's Michie and Holly that need to Flip to make it happen, "It depends on how they want to play the game"
Cliff – If they're smart enough to be thinking long term not these next couple weeks (ZOMG)
Nick – they could easily pin it on Kat and Jess
Cliff – ohh I know
Nick – Kat came up to me told me, You won't be my target if I win. She's like I got a plan (She wants Jackson out)
Nick – she's like you might have to go up as a pawn but you're not my target.. I was like OK
Nick – I expect to go up unless me, Sam or Nicole don't win and even if we do I expect the power to be used to put one of us up
Cliff – do you think her power extends two weeks or 2 more evictions
Nick – she'll have it two more evictions, she'll have it for the double
Nick – she said it downstairs I'm having it for the double
Nick – if Christie goes up she would have to go I would almost consider putting Tommy up next to her as a replacement nom
Nick – She literally said to Tommy downstairs "no one will ever vote you out .. imagine if she eats her words. I'll have it for double eviction and no one will vote you out. Could you imagine she goes up he's the replacement and she goes"
Cliff – It sounds outrageous but that needs to happen is one of us win the HOH (Man if only someone on Cliff's side had won the HOH)
Nick – and the veto because of that f*ing power
Cliff – and the veto
Nick – could you imagine if Christie and SIS who would Jack vote out
Nick points out that for the last 4 years the person that won the first HOH did well in the season.
Cliff – she worries me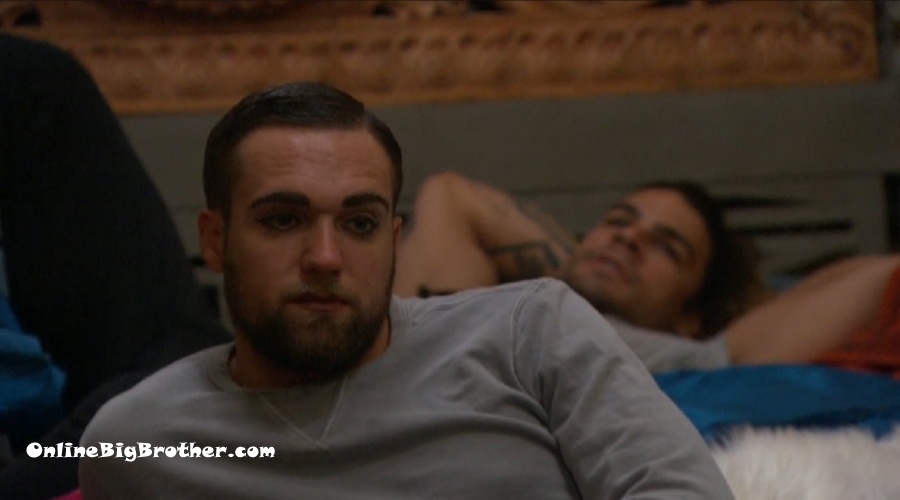 Jack joins them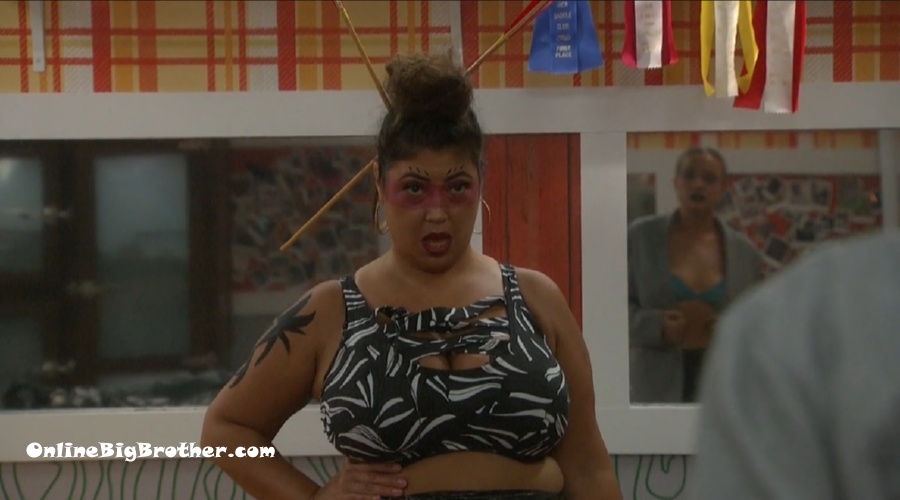 2:52 pm Everyone still getting ready for the fashion show.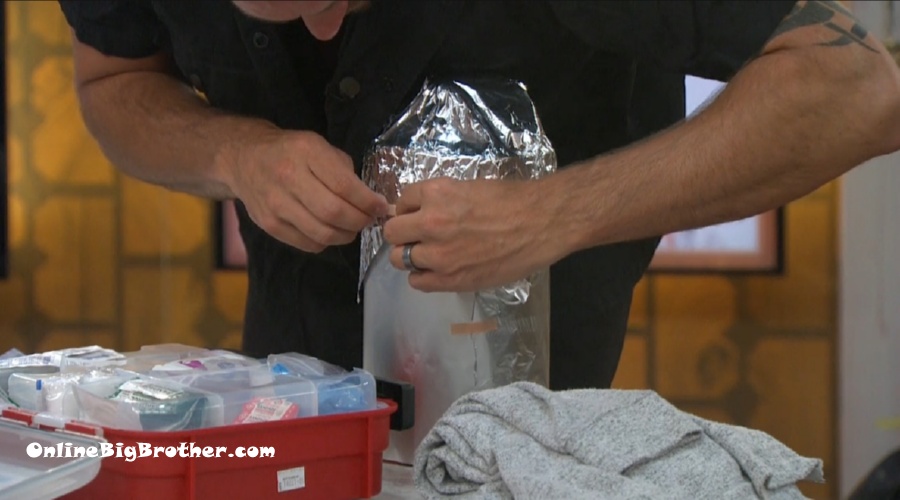 Sam is making a rocket to blast out
4:30 pm The fashion show is over (Jessica wins)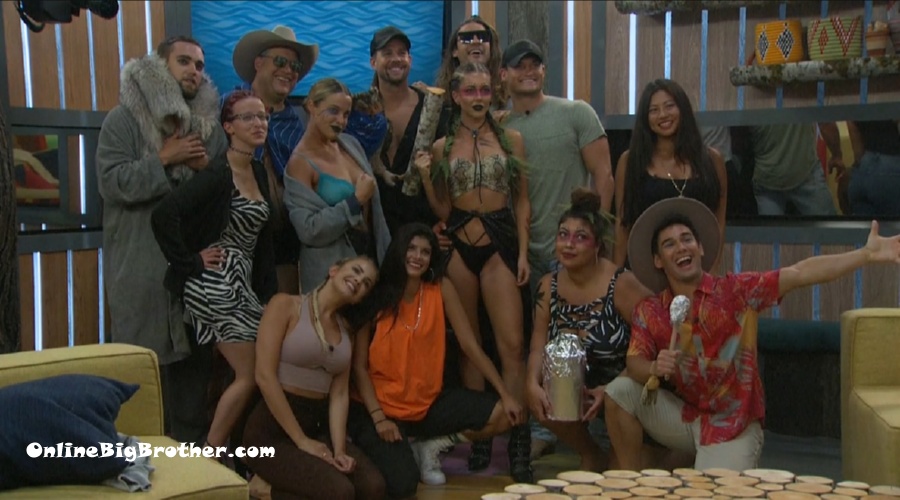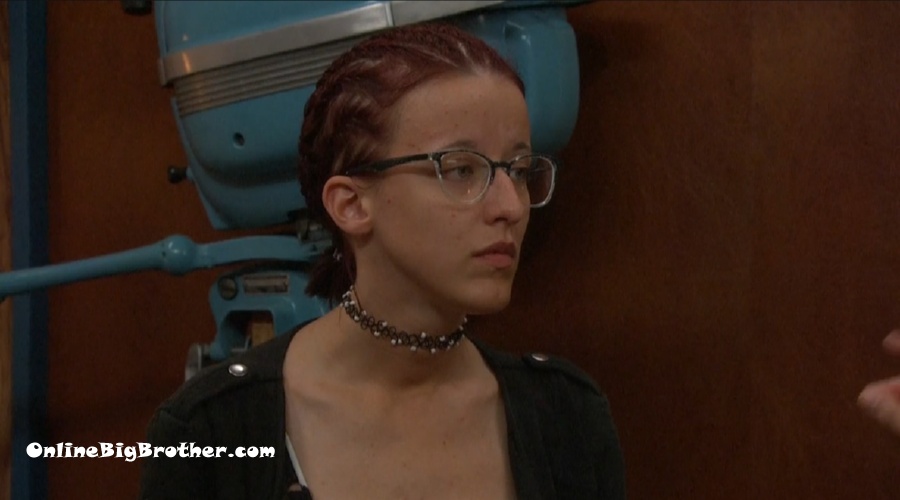 4:50 pm Christie, Nicole and Cliff
Nicole doesn't want everyone to pin a rogue vote on her. Christie tells her they won't every vote has a face this week.
Christie pours scorn over Nick Jackson says she now knows who her target is.
Christie goes on about how Classy JAck is being on the block.
Cliff – there's no way Bella will get the votes .. it's just her grasping a little bit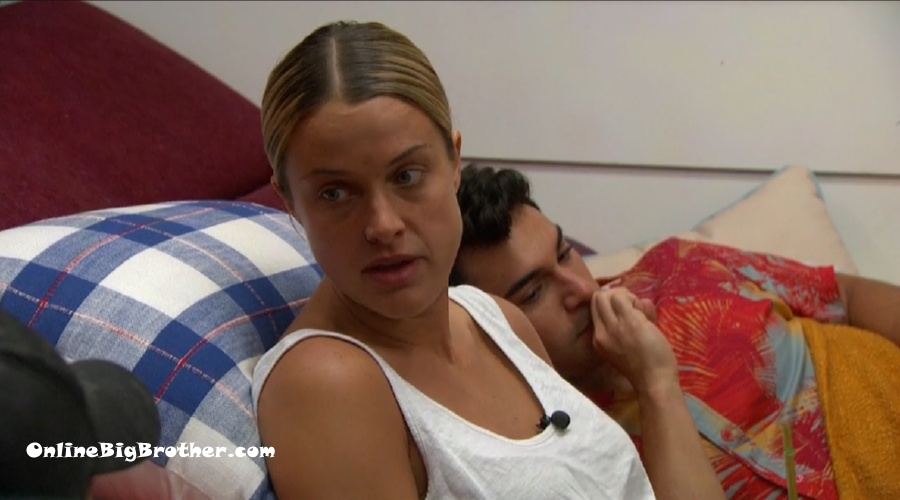 5:06 pm Tommy, Sis, Christie
Christie – she's a nervous wreck she is terrified that Bella seems very confident some of us will flip which makes sense because that's what Jackson told her. (Bella)
Christie – I promised, you have my word no one is flipping
Christie – you have my word if the vote is announced and the numbers are off I will personally stand up and I will say something (Ohh dear.. she will say something)
Holly joins them.
Sis says even if Nicole flips there are just 3 votes.
Holly – she's thinking that Jackson and I
JAck joins them..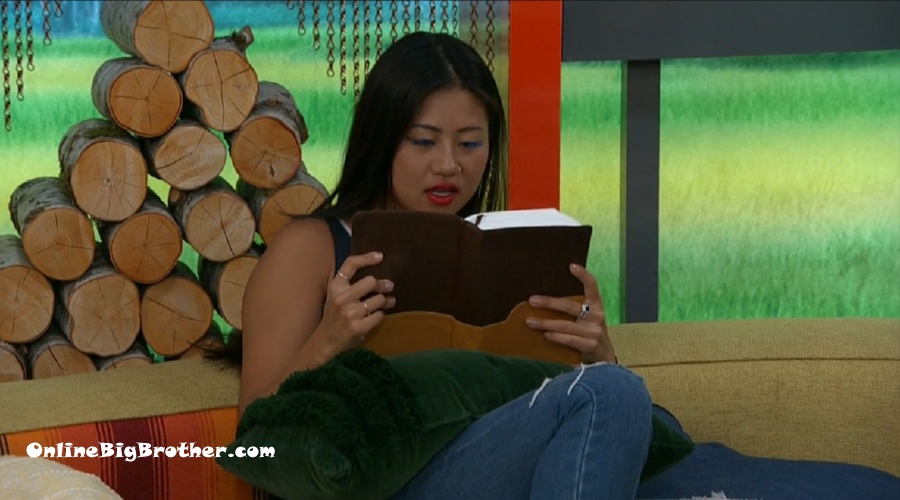 6:25 pm Bible reading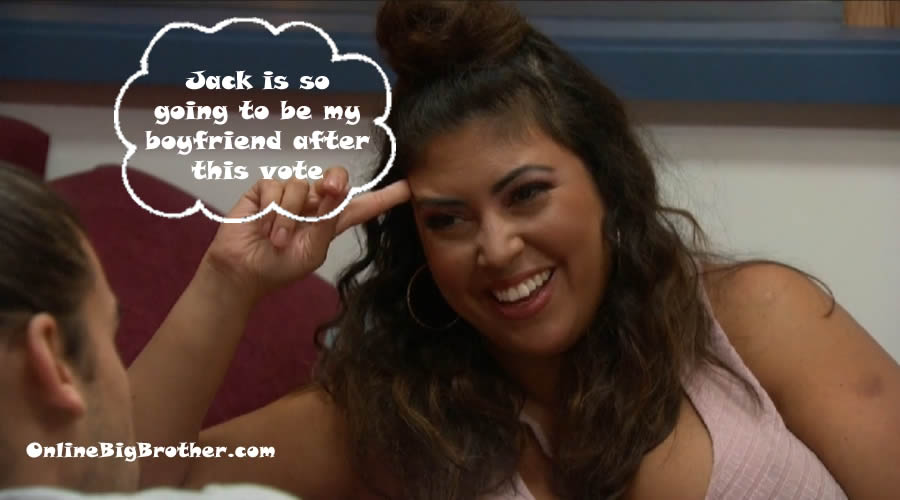 6:37 pm Jack and Jessica
Jack is campaigning saying he's honorable and he has integrity
Jack – to me I'm just a guy that wants to make it through the game and for you to be protected.
Jack – I respect you. you deserve my time to speak to you
Jack says there's no six it only got together to save Nicole last week
Jessica – Yeah
Jack – we walked away from that vote and were like OK how to we reestablish our game and make new relationships in this game
Jessica – yeah
Jessica admits she's not playing a great game.
Jessica – I just don't want to be deceitful
Jack – you are an incredible person I'm so glad I'm locked in here with you I'm so excited to spend the time I have left here
Jessica says she's voting to keep jack. They hug.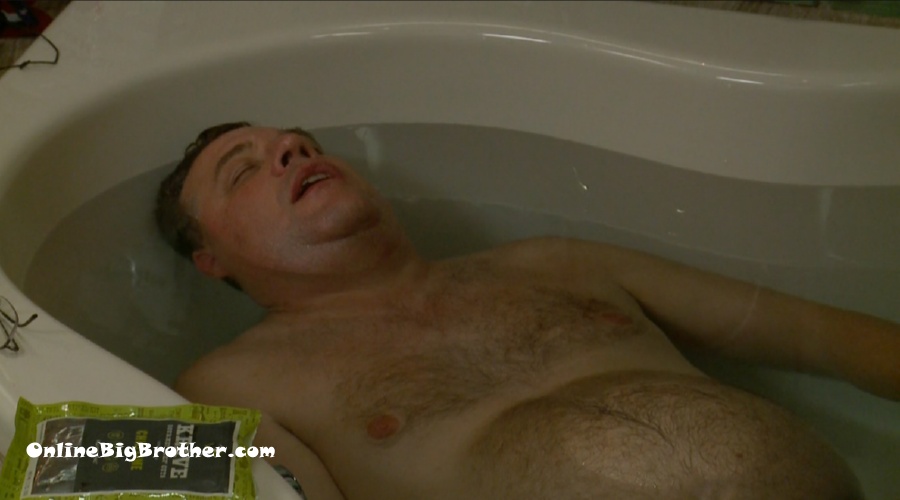 7:00 pm Feeds flash to this …
7:33 pm Eating and Chatting ….