POV Holder:
Kenny
Next POV
?
POV Used
?
POV Ceremony
April 7
HOH Winner:
Heather
Next HOH:
Apr 10
Original Nominations:
Kenny & Allison
Current Nominations:
Sarah & Allison
Have Nots
Sarah, Kenny, Rachelle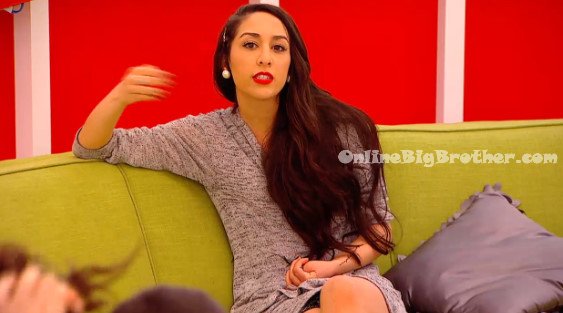 3:35pm Sabrina heads down to the living room – Sabrina tells Neda and JOn that she was not after Jon until two weeks ago. Sabrina calls over Arlie to clarify who the first five were after and Arlie tells her we were going to put up Jon. Neda and Sabrina start getting into it.. Sabrina then tells Rachelle that I can't believe I was threatened to vote against you. Neda brings up how Rachelle talked about how Sabrina manipulated her. Jon and Neda ask Sabrina straight up .. would you have put Jon up after you swore on you family that you wouldnt? If the first five told you to vote me out would you? Would you have put me up if you won HOH and the first five told you to put me up after you swore you wouldn't?? Sabrina dodges the question. The talk turn to s*x talk. Jon and Arlie compare their abilities in bed. Jon says he can go for like 6 minutes but then after a rest he can go like 12 minutes. Arlie says he can go for like 3 hours. Neda asks don't you take a break!? Arlie says yeah maybe for some ice cream. Heather says that her v@gin@ would hurt if she went that long..
3:45pm In the kitchen – Sabrina complains to Sarah again and Sarah snaps and yells at her to get over it you got played!! Sarah tells her to go somewhere else. I am the one going home! Just DROP IT! Sabrina sits in silence. Not long after Kenny joins them and tells him that he missed the show. Sarah leaves the room. Sabrina starts complaining to Kenny about Sarah freaking out on her. Kenny tells her that he is over it. Sabrina says apparently I know nothing.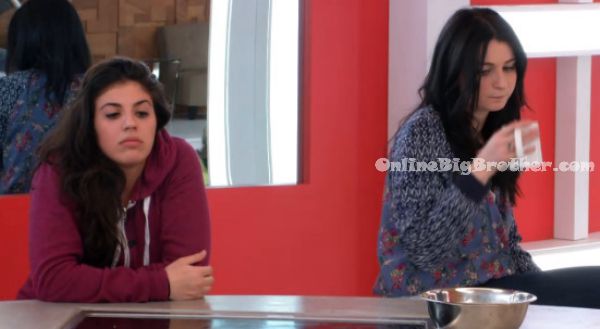 Up in the main bathroom – Jon talks to Sarah about how they tried to get her to come on their side but that she wouldn't leave Kenny's side. Jon says and Kenny was coming after us. They talk it out and then she jumps on him and hugs and kisses his neck.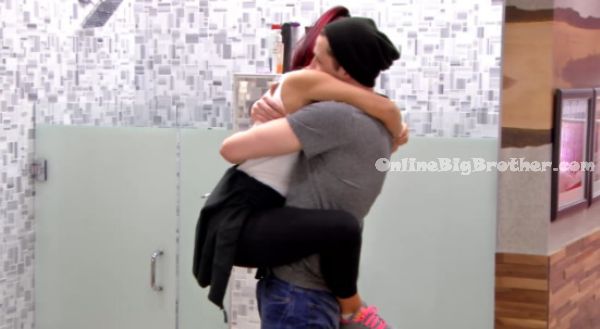 3:55pm – 4:10pm Sarah and Kenny head out to the backyard by the pool to talk about the drama that just happened inside while he was gone. Kenny and Sarah talk about how Sabrina can't just let it go. Sarah says that I just need her to stay away from me for a little while.
4:30pm Sabrina is all alone in the hot tub. She says what the hell was I supposed to do I was protecting my alliance. Rachelle joins her and Sabrina starts complaining about whats been happening. Rachelle pees in the hot tub. Sabrina asks did you just pee in the pool?? I see the yellow! Rachelle says yes. Rachelle and Sabrina get up and sit with their legs in the pool. Then Sabrina sits back in the pee pool. Rachelle says that she wishes her boyfriend was in here, he would win this sh*t. Sabrina tells Rachelle that if you want to join the other side that's fine with me. Rachelle asks what I don't want to join them I hate them all!
OMG RACHELLE just PEE'D in the HOT TUB! Sabrina asks did you just pee? I see all the yellow! @bigbspoilers #BBCAN2 pic.twitter.com/apr4RdVLGF

— Dawg (@DawgsBigBrother) April 8, 2014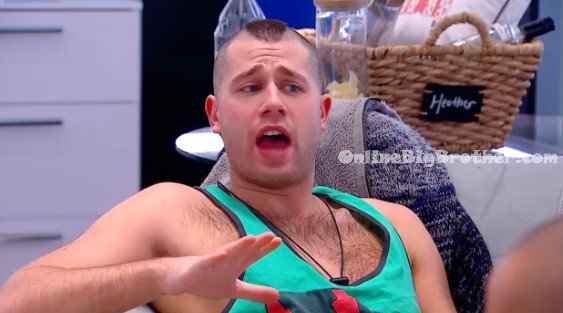 4:30pm – 5pm UP in the HOH room the sloppy seconds alliance talk about the drama that just happened in the living room between Neda/Jon and Sabrina. Neda calls Jon a loser and Jon says whoa you called me a loser you have to kiss Arlie's a$$ now! Arlie gets up and stand by the HOH door and pulls down his shorts exposing his butt. Jon points to Arlie's a$$ and tells Neda to kiss it. Neda then kisses his butt cheek.
NEDA KISSES ARLIE's BARE ASS @bigbspoilers #BBCAN2 pic.twitter.com/3M8esw0WO5

— Dawg (@DawgsBigBrother) April 8, 2014
5:15pm In the living room – Rachelle talks to Sarah and Kenny in the living room about her conversation with Sabrina. Rachelle tells them that Sabrina told her she should go join the other alliance. Sarah and Kenny laugh. Sarah says sorry but I don't think they're accepting applications.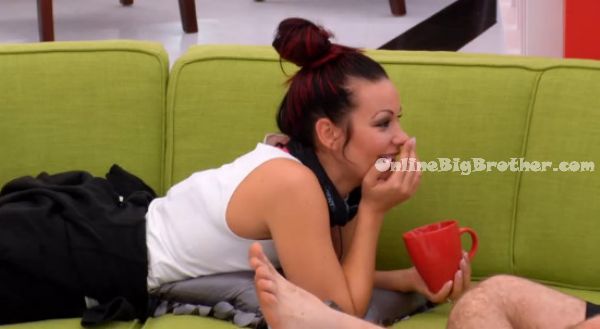 In the main bedroom – Allison tells Jon about her conversation with Sabrina earlier in the day. She says I initially thought the conversation was real but now I'm starting to think it wasn't. Allison talks about how it was about him talking bad about her. Jon says that he honestly woke up this morning and felt bad about what I had said. Allison tells Jon that she just wanted to tell him about the conversation just in case Sabrina tried to use it against her. Jon says if I called her a back-stabbing b***h then I am sorry .. but I really don't think that is something I would say. Did I say I couldn't trust her probably. Jon says and you can tell her I over reacted last night. Allison says oh I did my part by telling you when she wanted me to. Jon says yeah I'll mention it to her.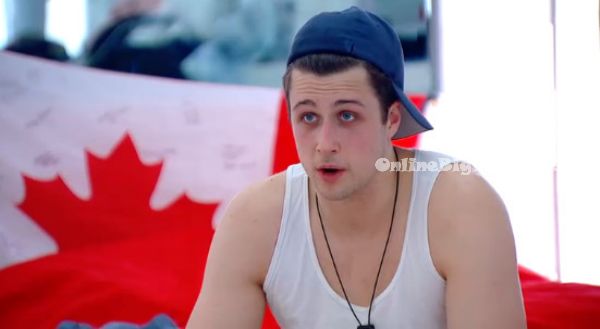 5:45pm – 6pm Jon, Heather, Allison, Arlie and Adel are sitting out in the hot tub room talking about random things. Adel says if he is in a havenot competition with Kenny and one of the Gremlins he will just drop to the ground and throw it. He says I'll just start doing the birdie! Meanwhile in the kitchen Rachelle notices that all of the coffee filters are gone. Sarah says maybe Allison really is America's Player and today's she's messing with us. Sabrina says there were fifty million of them and now there are now! They start talking about production. Big Brother says please stop talking about production. Sarah says please give us back our maple syrup.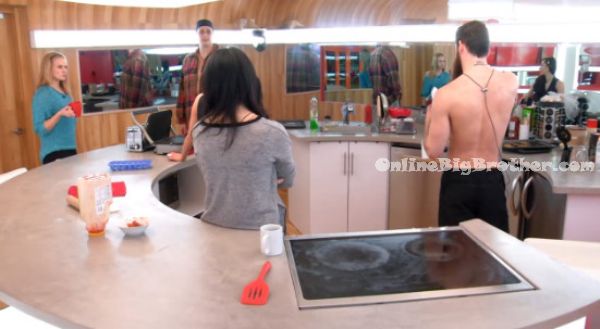 6:40pm In the living room – Kenny comments to Sabrina, Rachelle, Sarah that all we need to do is win two HOH's in a row and we will flip the whole house. Kenny says that pretty soon the ones on the bottom are going to start to realize they're on the bottom. Sabrina tells them that last night Jon got reprimanded for talking bad about me. She wanted to say something but couldn't because she would be on the bottom. Kenny says that's what I'm saying pretty soon when Sarah and I leave you two will have a chance align with people at the bottom.
Stay connected and interact with other Big Brother Fans on our Facebook page.
And Follow: @BigBspoilers and @Dawgsbigbrother on Twitter for the most up to date spoilers.