POV Holder:
Kenny
Next POV
?
POV Used
?
POV Ceremony
April 7
HOH Winner:
Heather
Next HOH:
Apr 10
Original Nominations:
Kenny & Allison
Current Nominations:
Sarah & Allison
Have Nots
Sarah, Kenny, Rachelle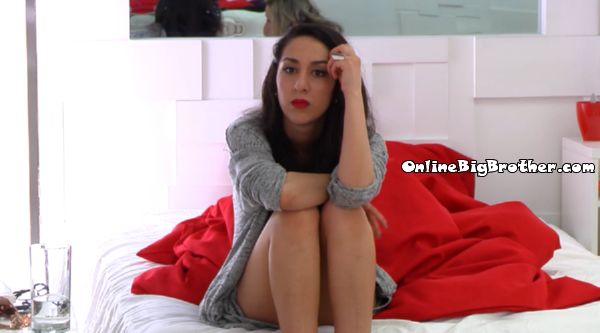 6:43pm Bedroom Allison, Jon and Neda
They agree Adel has tapered "things" down. Neda points out how ansi Adel was last week.
Neda says their alliance name "Sloppy Seconds" is hilarious. Jon laughs says it's perfect.
Jon leaves.
Allison – "Saturday night I was so defeated"
Neda wanted to tell her something but she couldn't.
Allison says she's very grateful to be with them but she wants to know where she fits, Allison hints that she's on the bottom of the group even though they've told her it;'s a level playing field. Neda says their group never formed until Allison joined.
Neda – It's not something that has been going on for awhile.. I really don't think there is anything for you to worry about it's just as fresh for everyone
Allison is worried about Kenny winning HOH and putting her up.
Neda says Jon and Arlie will be nominated and If POV is played Adel goes up.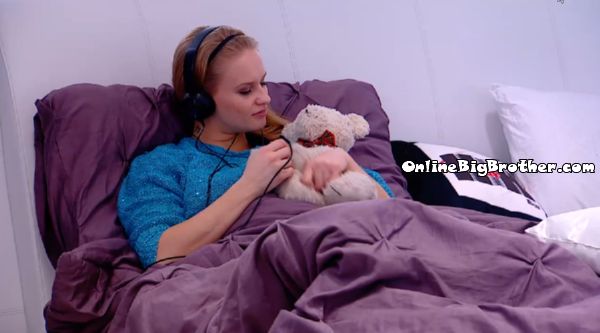 6:51pm Heather and Jon
Jon says they have to decided out of the six who should go, "Hopefully it's not me"
Jon saying she made a big move in the HOH, She split up a power couple. Heather says Jon's got a good Big Brother edit to. Jon agrees mentions that he had the two strongest players in the game coming after him. Jon – "It all depends on who got to who first" Heather really wants Arlie or Jon to win HOH so they can send Kenny home because she knows how much they want him gone.
Heather is nervous because they have just 4 weeks left yet so many people in the house. She thinks after this Thursday they will be busy every week.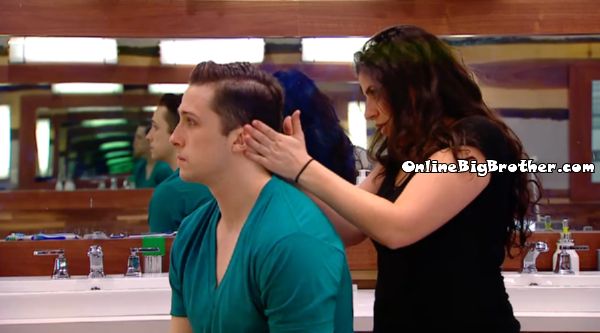 7:08pm Sabrina helps Jon with his hair.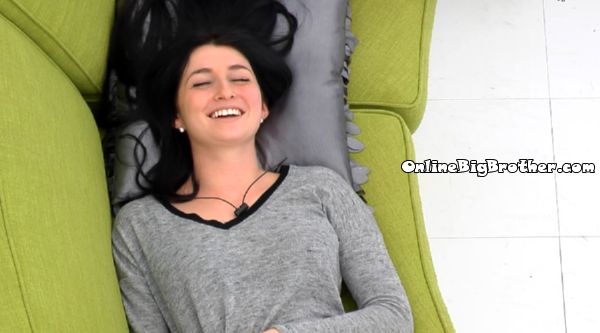 7:25pm
Living room Kenny, Rachelle, Sabrina and Sarah hanging out chit chat. At one points Rachelle says she cannot stand the people in the house. (The rest of the houseguests are in the kitchen eat and making cookies)
Sarah figures out a prank to do to Arlie, "I'm going to take the tabasco off and add it to Arlie's.. because he uses so many things"
They agree it will be so funny.
Sarah mentions if Canada doesn't have a "Spot" in the finale she is the last houseguest out before Jury.
As they overhear the conversation going on in the kitchen Sarah says.
"They think Big Brother a ninja to steal Tabasco.. cause it's a brand name.. it's going to be so funny when it's.. " (Can't hear the rest)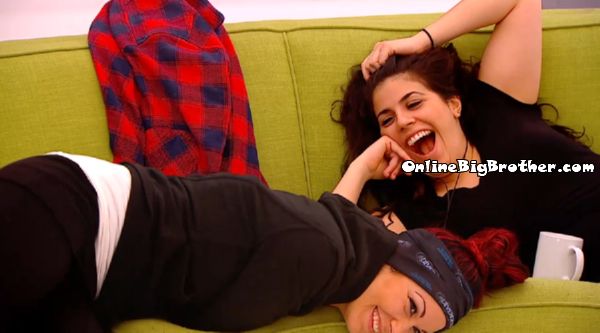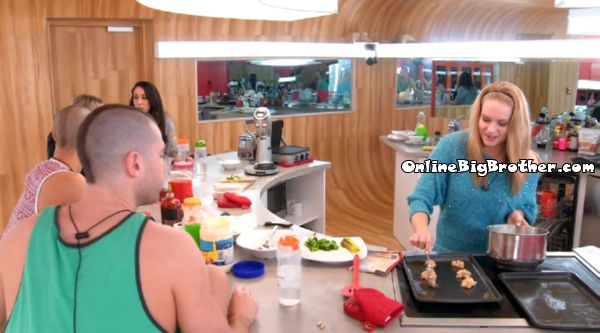 7:50pm Heather burns the cookies :( she says she was too busy doing other things in the kitchen. No Worries Heather made plenty of batter and puts another couple dozen in the oven. This time she sets the timer.
Heather – "I'm making my dinner, unloading the dishwasher, doing the dishes and baking cookies and still cleaning the kitchen at the same time"
Adel says the cookies taste great he keeps eating them, pours nutella on them and makes a cookie nutella sandwich.
Neda starts helping Heather by doing the dishes
Adel – "These cookies are f*** insane"
Heather – "they taste like sh!t…. Ohh with Nutella that's a great idea"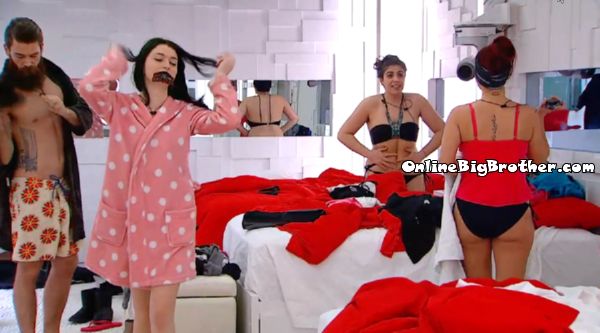 8:00pm Gremlins and Sarah walk by Jon and he Whistles.
Sarah says "Eww"
Jon – "WHAT!"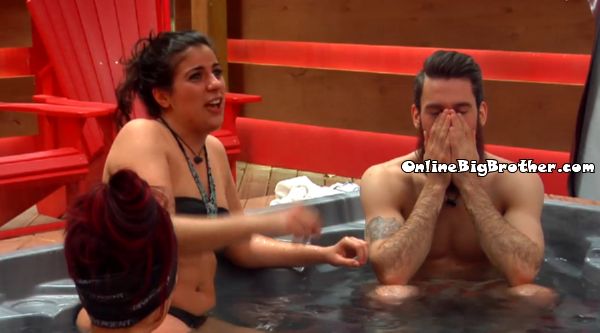 8:03pm Hot tub Kenny, Sabrina, Rachelle and Sarah
Sabrina says she's blocking everyone in the kitchen on facebook except for Adel because he's been really nice to her.
Sabrina – "I now understands Adel's power he really makes you feel better about yourself.. he's so nice"
They start studying..
8:11pm While Allison And Jon are in the kitchen we get audio from NEda and Heather in the storage room discussing pranks.
Heather says Rachelle hide the cookies and Raisins and Jon hid them again she is going to put the raisins back but hide the cookies.