POV Holder:
Kenny
Next POV
?
POV Used
YES
POV Ceremony
April 7
HOH Winner:
Heather
Next HOH:
Apr 10
Original Nominations:
Kenny & Allison
Current Nominations:
Sarah & Allison
Have Nots
Sarah, Kenny, Rachelle
9:20am – 10:30am
Big Brother wakes up the house guests. In the bathroom Rachelle that if she did go home today she would be excited. Sabrina says whatever happens, happens. Rachelle agrees. Sabrina starts doing Rachelle's hair. Up in the HOH room – Jon tells Neda that he really doesn't want to go home today. Neda says oh f**k that, you're good. IN the main bedroom Neda asks Kenny if the US version of Big Brother had instant evictions? Kenny says the only one he saw was the one with Topaz on the Canadian one.
Neda tells Sarah that what it came down to me. Your side is gunning for Jon and what it comes down to is keeping numbers on our side. Sarah says it's okay. Sarah says this is huge move that at the end you can say you did this, this and this to get there. I don't want to put any more pressure on you though.
Neda heads to the HOH room to do her makeup with Heather. They talk about how much Andrew picked his nose. Heather leaves and Jon comes into the HOH. Neda asks Jon have you considered keeping Sarah at all? It would be shit for our alliance but it would be good for us. She would be loyal to us for keeping her. If Kenny won HOH it would be you and I going up but if we did this it would be Arlie and Adel. Jon asks where did this even come from? Neda says she was just thinking and she had a talk with Sarah yesterday. I already decided no but just wanted to talk to you about it. Jon looks really and annoyed he silently thinks about it and eventually says No I can't do it. I don't see how we can better ourselves from it happening. Neda says it comes down to us trusting her and we don't. Neda says just win that HOH then. Jon says or any 5 of us. Neda asks do we go after the Gremlins first or Allison. Jon says RoRo first and then Allison. Jon says he can't vote to keep Sarah because he just can't trust her.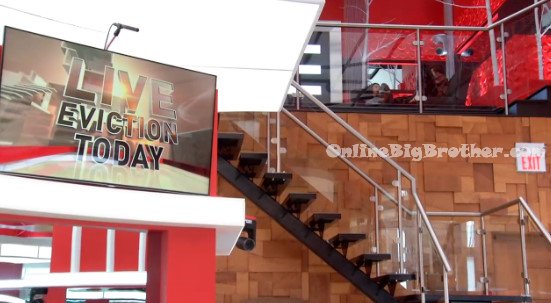 10:30am – 11am In the kitchen – The Gremlins, Sarah and Kenny are eating and talking. Sabrina says at least we will be friends after this unlike other people. Kenny and Sarah start crying and Kenny tells them to not come up to hug him when Sarah leaves because it will make him cry more. Rachelle and Sabrina leaves. Kenny says he hopes to god tonight's HOH is a physical competition. I hate them! Sarah says I know. Kenny asks if Neda talked to her. Sarah says that Neda said it came down to the small possibility of one of you winning HOH. The thing is that if they win she's good but if they don't she is screwed. Kenny tells Sarah that his goodbye message is not very coherent. Sarah says that Jason will be so happy I have someone to cry to. Kenny says I'm not the crying hotline. Up in the HOH room – Jon asks Heather if me an Arlie went up today how do you think Allison would vote to keep? Heather says I think she would vote to keep Arlie because he saved her. Heather says I don't know I wouldn't even think about it because it might not even happen.
11am – 11:50am Big Brother blocks the live feeds.. When the live feeds return – Kenny, Rachelle, Sarah and Sabrina are in the bathroom talking. The others join them in the bathroom to get ready for the live double eviction tonight. Kenny says I just want to listen to music .. my own thoughts suck!

12pm Big Brother tells the house guests that there are 4 hours until the live eviction. House guests nominated for eviction must move their bags to the storage room. Sarah and Sabrina comment that the eviction is happening earlier than usual. Rachelle says to her it doesn't seem earlier. Sabrina says oh yes it is ..its 100% earlier.. Rachelle thinks she needs to go study the flowers for the competition tonight. Sarah and Sabrina tell her it doesn't have anything to do with them. Rachelle leaves and then comes back a few seconds later saying never mind.
12:45pm Kenny comes into the bathroom and tells Sabrina, Sarah and Rachelle that the others keep coming out of the bedroom to study the flowers. He says just watch them. Kenny leaves. Sarah talks about how she won't regret doing what she's done in the game because the decision she made in the game were with the information she had at the time.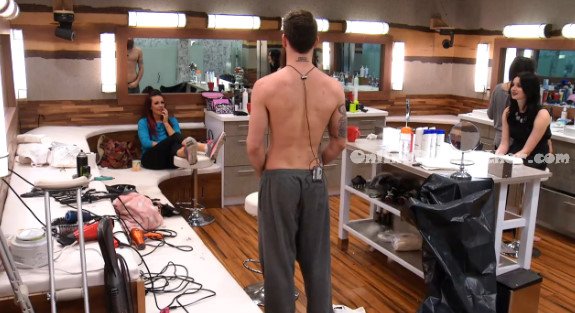 1pm Big Brother blocks the live feeds for a minute and when they return all of the house guests head into the living room and sit on the couch. Adel asks does what's her name come on now too? Neda says Arisa! How long has it been. Adel says Arisa.. whatever.. Big Brother blocks the feeds again..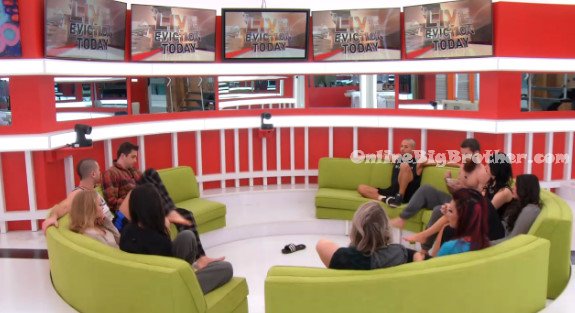 2:45pm The live feeds are still blocked..
*** TO OFFICIALLY CLARIFY ALLISON's Veto – After tonight Allison will have one final chance to use her Super POV, IF she doesn't use it tonight! Which means if its not used tonight during the double eviction POV ceremony, then her last chance to use it will be on Monday during the next POV ceremony.
[polldaddy poll=7958558]
Stay connected and interact with other Big Brother Fans on our Facebook page.
And Follow: @BigBspoilers and @Dawgsbigbrother on Twitter for the most up to date spoilers.