POV Holder:
Kenny
Next POV
?
POV Used
YES
POV Ceremony
April 7
HOH Winner:
Heather
Next HOH:
Apr 10
Original Nominations:
Kenny & Allison
Current Nominations:
Sarah & Allison
Have Nots
Sarah, Kenny, Rachelle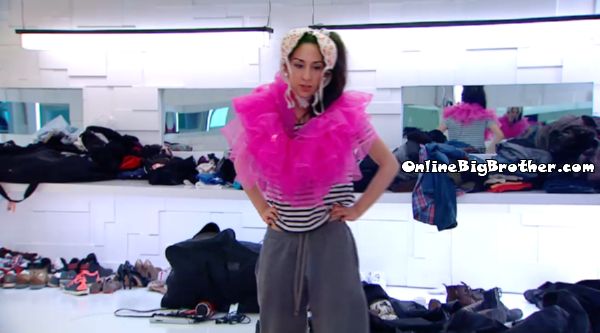 10:45pm Allison, Neda and Heather
Allison is packing her bag.
Neda puts on some some of Allison's clothes in random spots, "I know what i'm doing guys… I'm a stylist"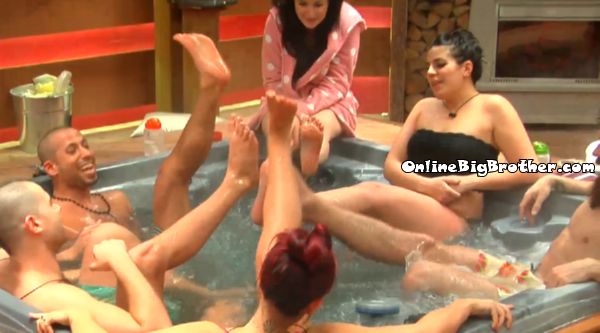 Hot Tub Party in the pee water…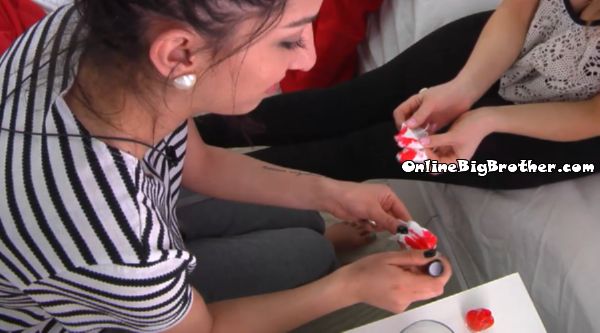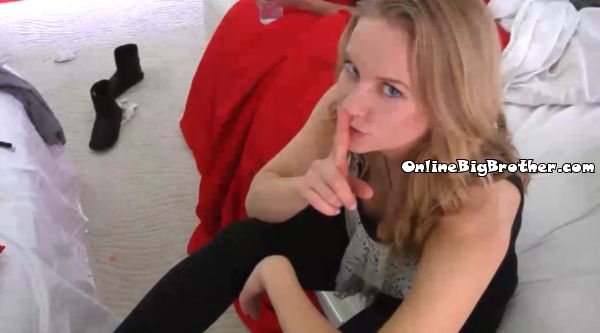 11:02pm Neda and planning a prank on Jon.
Neda's painting a tampon with red nail polish to put around his bed. Heather looks up at the camera and shushes us.
Once Jon leaves and Neda puts the tampons on the bed.. JOn get pissed because he thinks they are real. NEda laughs so hard she says she peed her pants. Jon has been threatening to put his "Yeaster Sheets" on Neda's bed he say now he's going to do it. (Jon has a yeast infection)
Jon is really pissed at first because he thought they were real..
Sabrina listens in on some of this conversation and runs downstairs to tell Kenny, Sarah and Rachelle.
11:30pm Bedroom Sl*ppy Seconds
Adel tries to light a fart on fire (It's in the video)
Arlie has a little container with him where he use to store his weed. He lets Allison have a smell, She can only slightly smell it.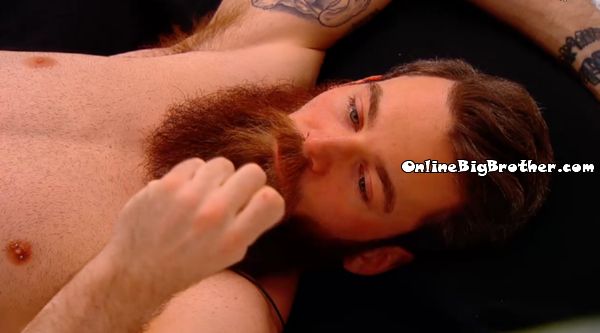 11:24pm HAve nots Kenny and Sabrina
Kenny says there's crack starting to appear in the other group, All they need to do is get power and they are back in the game.
Sarah and Racehlle join them and they start studying.
11:46pm Sabrina comes back down after trying to go to bed with the sl*ppy seconds. after spending a couple minutes she races down to the have nots to tell them that there's bickering going on with the other side. Racehlle says she just talked to Neda and she said everything was fine. Sabrain – Everything is fine they are just bickering back and forth. Sabrina calls the other side the gremlins.. she leaves (Sabrina ran down to the have nots twice to tell them about the giggling in the bedroom) .
Rachelle, Kenny and Sarah snuggle in for one last night.
The snuggling doesn't last long as Kenny and Sarah say they are overheating.
Rachelle – I wish I had a map that showed me what is happening in this game
Kenny – Thats not a map it's a itinerary
Kenny – I wish I Had a crystal ball
Rachelle says Jon is getting so annoying she hopes he goes soon. Sarah points out that Jon has gotten more annoying theses last few days.
Kenny – He's turned into tickle me elmo
Rachelle says Jon hasn't talked about his girlfriend in a couple days
Rachelle is starting to question how fair it is that Allison came in two weeks late.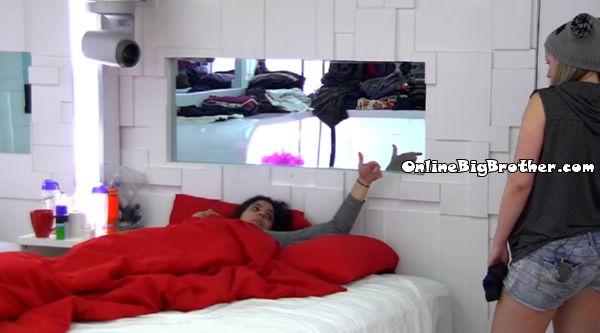 12:06AM Sabrina and Allison Bedroom whispers
Sabrina saying she got the short end of the stick.
She claims everything was blamed on her for the 1st5 alliance..
Allison – "People like to blame you"
Sabrina says sarcastically "No one else did anything wrong no one else lied no one else backstabbed.. "
Allison – "I don't' think that"
Sabrina – "But everyone else does"
Allison – "Well… I don't know what i'm supposed to do sabs"
Sabrina – "I can't wait until people see the episode"
Allison tells her there's nothing she can do she has to stay in the game and be loyal to the people that will keep her in the game, "I'm already in shit because I keep sticking up for you"
Sabrina asks her if it's the one person that Allison called King ping, "You have bosses do you like being treated that way"
Sabrina asks if they are still talking bad about her
Allison – "ya and I've been shutting it down"
Allison leaves..
12:08am Allison and Jon Bathroom
Allison is venting about Sabrina, saying she's using her emotions to f*** with her..
Jon says it doesn't matter if Allison talks to Sabrina and it won't bother anyone. .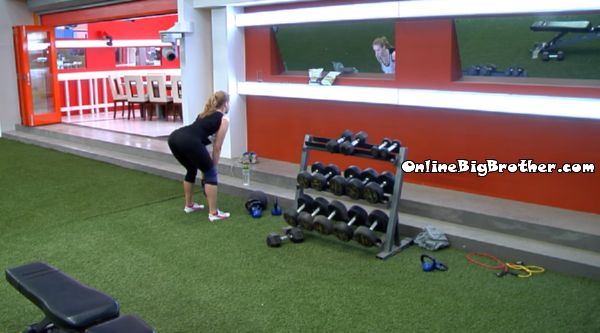 12:20AM Heather working out.. (Chocolate covered peanut butter ice cream shakes)
Heather's knee is bothering her while she does kettlebell squats, "F*** knee GAWD I hate you"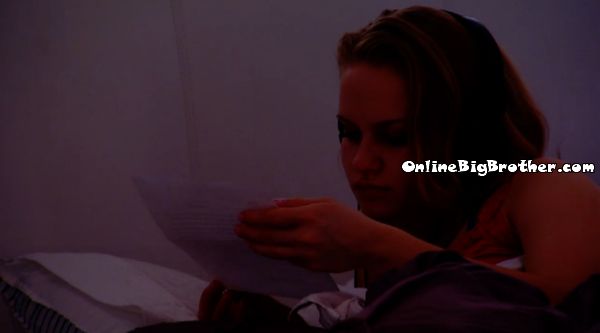 1:21AM Heather is the last one up she reads her HOH letter right before the lights go off.
Share it YO!!
Tweet