POV Holder:
Bridgette
POV Competition
July 9th
POV Used
NO
POV Ceremony
July 11th
HOH
Bridgette
Next HOH
July 14th
Roadkill Competition Winner:
Frank
Original Nominations:
Paul, Tiffany, Bronte
After POV Nominations:
Paul, Tiffany, Bronte
Have Nots
Nicole, Corey, TIffany
CBS All Access: Live feeds are only $5.99 per month – Try it FREE for 1 WEEK!
Big Brother 18 Alliances Help Guide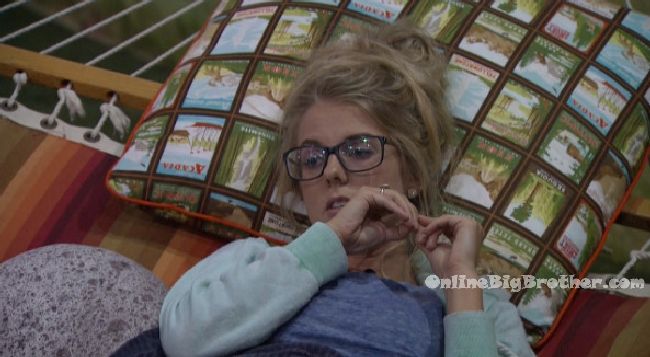 12am Hammock Nicole and Paul are talking. Nicole says I am 100% okay with her (Tiff) going. Don't get any ideas. But from a personal perspective I'm not even eligible for her to put me up on the block. We're not doing it to be selfish. We're doing what's best for everyone else, not what's best for us. As long as people see that later, like someone else takes a hit. Paul says I think everyone is okay .. I'm just worried about James and Natalie. I can tell Natalie is taking advantage of James. James is a good guy and I feel bad. Nicole asks yeah what do we do about that? Paul says maybe us guy approach him but he might take it the wrong way. Nicole says I don't know if it comes down to it, how he really thinks. I don't think its necessary to break his heart right now. Paul says Corey and I were speculating and in the best interests it would be best if him or I were HOH because homeboy has already said that I should put Natalie up. So if I do that he is going along with my plan. Then he will probably get in my ear and throw Corey and Paulie's name which is exactly what we want because we want a strong player. But to him it will just be like I'm following his orders. Then it will be me and Corey or Paulie playing POV. And who sucks at playing the pov would pick Natalie or even James which again is in our best interest. Nicole says it would work the same way with Corey like vice versa. Paul says Corey was saying the girls would be emotional. He meant that like that Paulie and I have done that before and wouldn't crack. Frank joins them.
In the Safari room – Tiffany and Paulie are talking. Tiffany talks about the coup d'etat. Paulie doesn't know what it is. Tiffany explains how the person that has it can take two people off the block and replace them with their own two people even if they're on the block.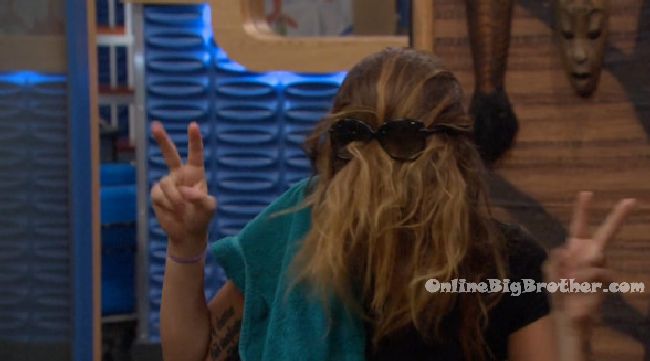 12:43am Backyard – Nicole and Frank. Frank says that Tiffany was talking to Paulie in the safari room and every time someone walked by she would look. She's so weird. Nicole says I get it but you got to be nice. Nicole says I don't like talking to her inside when she's wearing sunglasses. Frank says she's so weird. She's always talking about how things are normal with her sunglasses. Why you're not normal!? Nicole laughs and hides her head. I'm not Boogie out here with you Frank. Frank says me a Corey were sitting here and James was like throwing it this week. And he was like who do we want to win it? My team or his team. Then he asked who would take it on your team to Corey and Corey was like me I guess. What does that matter!? Nicole asks does he not trust Corey, I think that's what it is. Frank says I think James is interested in putting Corey or Paulie up. Nicole asks well can you stall that a little bit .. the Corey thing. Frank says yeah I can work on that. Nicole says I'm just saying if we want to move forward you can't go after him next week. Frank agrees. James would need to throw it so we can put Natalie and Bronte up.. so that we can Bronte out. We just need to tell him Natalie won't go home and even if Bronte comes off Paul goes up and goes home. Corey already talked to Paul about throwing the HOH.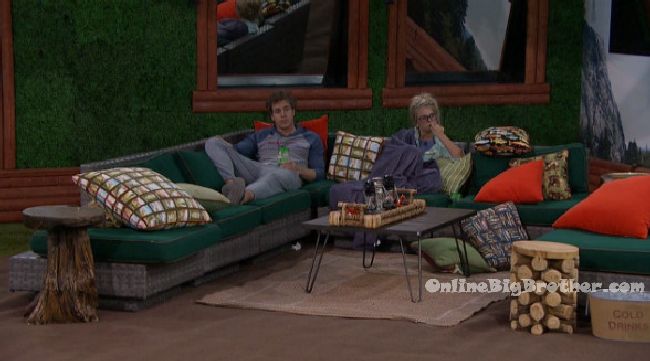 12:45am Bedroom – Paulie, DaVonne and Michelle. Paulie says it doesn't matter either your team (DaVonne) or Nicole's team are going to win it (HOH) and he's (Frank) going to go home. He has to win the RaodKill for that to happen. Natalie will definitely go up as one of them and then if we want to make it obvious to him we put Bridgette up. And if we don't then we put me or Corey up. Next week either him (Frank) or Bridgette are getting tagged. DaVonne says I want to win that to be the one to do it.
1:10am Safari room.
DaVonne, Nicole and Zakiyah. DaVonne says the only people I that should throw it are Michelle and Paulie. Nicole says I don't want James winning HOH. DaVonne says if Frank wins the roadkill he would put me up. Nicole says even if you went up, you wouldn't go home. Even if I was up there I'm confident.. DaVonne says that the third person would go home. Corey joins them. DaVonne tells Corey he (Frank) wants you to win HOH and he wants to win roadkill and put me up. Corey says that guy is something else .. he is just making it too easy. James, Paul and Bronte join them.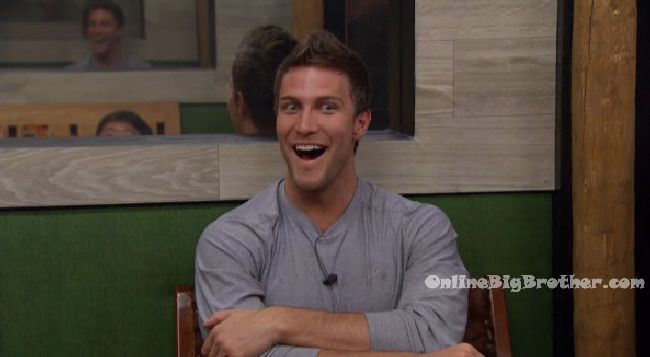 2:05pm – 3:25am Frank, Michelle and Bridgette. Frank suggests we toss it to Corey or Nicole and then we win the Roadkill and toss Paulie up. Michelle says I always try to read him. Like is he playing Corey's game. Bridgette says Zakiyah's f**king him up. I'm confused like what is he doing. I don't think he knows what he's doing. Frank says he plays a more of a emotional game. You can tell when he gets rattled. Michelle says he always says here to observe. Frank says food for thought, she might be the bigger target this week. Bridgette says she tried to pull some sh*t with you earlier this week. She went out first or second her season. Michelle says because she's drama. Frank says she (DaVonne) will want to make a big move and try and get me out… so I want to beat her to the punch. Michelle says I wouldn't mind winning to make a big move and get my name out there to the fans. Bridgette says if she goes up she is going to raise some sh*t.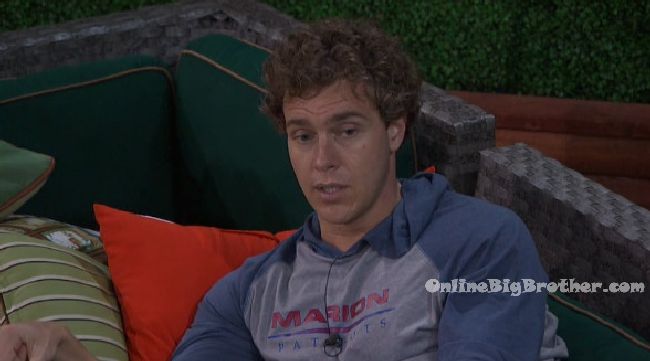 3:15am DaVonne, Michelle. Nichelle tells Davonne about how she had a long conversation with Frank and Bridgette about them wanting to get DaVonne out. Nicole joins. Michelle tells Nicole that they (Frank & Bridgette) said you know about it. Nicole looks at DaVonne and says I honestly have no idea about it. Michelle says Frank said that you were in on it and how you told him not to tell Michelle. Nicole asks what's his deal with this one!? Michelle says to get out Day. Nicole says no pulling my name into it. DaVonne says apparently Bridgette said Day can't find out she's going on the block because she'll go crazy! Nicole says I'm so annoyed right now. Michelle says oh I thought you knew and just didn't say anything. Nicole says he would not mention her name to me and I be okay with it. Michelle says he said Corey and Nicole are on board. Nicole says I hate him, he needs to go. I don't want you to .. this is what happened on my season. Michelle says he thinks if you win HOH you're going to put up Corey and Paulie. DaVonne says I told her that he was going to get into Paul's head and convince him to throw it. So I need to get to Paul. Michelle says he's planning on doing it tomorrow so you might want to do it tonight. He's going to him he wants Big Sister to throw it. He said you were going to be sh*tting it if its a mental comp. DaVonne says if we're going to cross Frank we might was well keep Tiffany. Nicole says I'm game.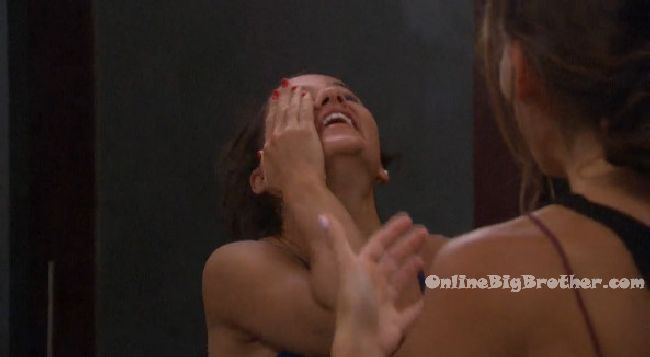 FLASHBACK and watch everything you missed: CBS All Access FREE Trial!
4:20am Bronte and Natalie HOH room – Bronte tells Natalie that I think because of the Victor thing and how he was so physically fit… Paul brought up how maybe your thing with James is strictly for game. And I squashed it. James asked me do you think Natalie really wants me to cuddle with her? I told him Natalie full on has a crush on you. Trust me that girl loves when you cuddle her. Bronte says that Paul asked you don't think Natalie is shallow? I said no. Natalie says what the!??! I'm the least shallow human being. OH MY GOD!!! He is the dumbest idiot! Bronte says Paul thought that when Jozea went home and people flipped .. I knew automatically it was Zakiyah and Day.. He thought it was you. Natalie says he's the dumbest idiot!! I'm going to drop kick him in the head! Is he that dumb!? Paul needs to shut the f**K up. Bronte says I told him that you like the sweet boys. Natalie says he needs to keep my name out of his mouth and shut the f**k up or I'm going to drop kick him in the face. Why is he questioning me and what I'm doing?! That's offensive that he thinks I'm shallow! If he keeps talking about me I will pour slop on his face. I will make slop balls and throw them at him. I like James. Victor was a tool. I don't date guys with long hair and 6 packs. I've dated people that my family are like that's a joke right!? And I was like nope that's my boyfriend ..take it or leave it. James is a nice guy with a great personality. Am I going to marry him? I don't know, maybe not its a freaking show. Paul is just an idiot that hasn't observed one thing because he's been up Victor and Jozea's butth*le. It pisses me off that he's pretending to be my friend and throwing my name out there. He needs to watch his back… I could get him on the block. I can campaign against him if he doesn't shut the f**K up!