POV Holder:
Bridgette
POV Competition
July 9th
POV Used
NO
POV Ceremony
July 11th
HOH
Bridgette
Next HOH
July 14th
Roadkill Competition Winner:
Frank
Original Nominations:
Paul, Tiffany, Bronte
After POV Nominations:
Paul, Tiffany, Bronte
Have Nots
Nicole, Corey, TIffany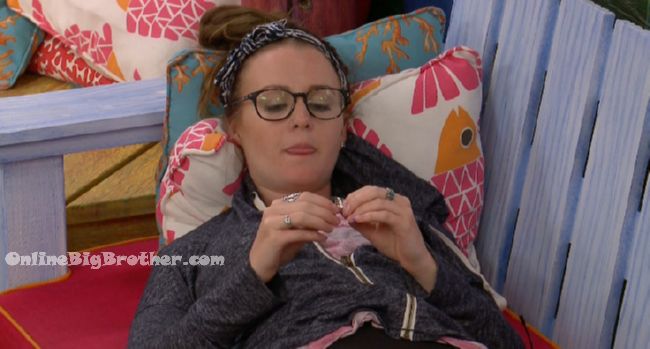 7:58pm Bathroom PAulie and Michelle
Paulie is talking about how important it is to get rid of Tiffany. Talking about how Tiffany "Stresses"
Michelle – I just can't deal with her right now..
Paulie – she's (Tiffany) making deals all over..
Paulie – Paul is on our side
Paulie is in overdrive giving out worst case scenarios if they keep Tiffany.
Paulie says Frank told him and Corey he wants Da'Vonne backdoored..
Paulie brings up Frank saying he liked Michelle "she's a little gamer"
Paulie points out that Frank is so full of sh1t he just told them he wanted Da'Vonne then Michelle out. He's telling Da'Vonne to take out Corey and PAulie and he's telling Paulie and Corey to take out Da'Vonne and MIchelle.
Paulie – he's playing too hard..
Paulie adds Frank thinks he has Natalie and Bronte but he doesn't all he has is Bridgette. Next week they get Frank out if they can't they take out Bridgette.
Paulie – Bronte and Natalie won't know what the f*** to do and neither will Paul.. it's me you James Nicole, Corey then Da
Michelle – I like it.. Let the best person win HOH
Paulie – we got to trust in each other..
Tiffany comes in, "You ok"
Paulie – I'm fine
She lingers around and leaves.. Michelle says she hates it when people ask "You OK" asks Paulie why Tiffany wears her sunglasses inside the house.
Paulie – She doesn't want people to see her eyes
Michelle – Thats creepy
Paulie – She doesn't want people to know where she's looking
Michelle – Don't they know how obvious it is
8:22pm indoor lockdown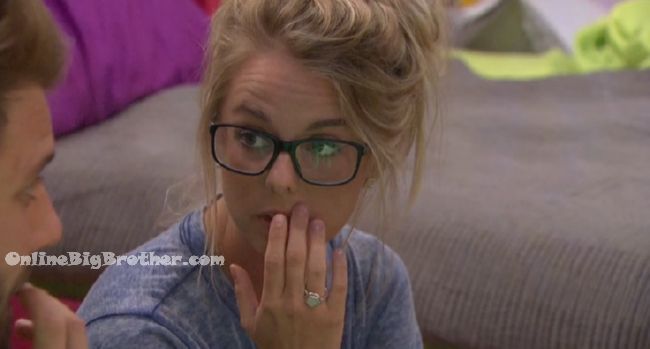 8:23pm Nicole and Paulie
Nicole asks if Da'Vonne is trying to talk him into keeping Tiffany. PAulie says no
Nicole says Da'Vonne is trying to talk her into keeping Tiffany but she doesn't want to
Corey joins them.
Paulie talked to Da in the hammock told her Tiffany has got to go.
Paulie – when I talked to her Bronte was never an option
Nicole – she convinced me to keep her.. She just wants to make Frank mad.. I don't want to make Frank Mad
Nicole – be careful.. I trust you, Corey and Z
Paulie warns them about the chance of a PAul, James, NAtalie, Bridgette, Bronte, Da alliance.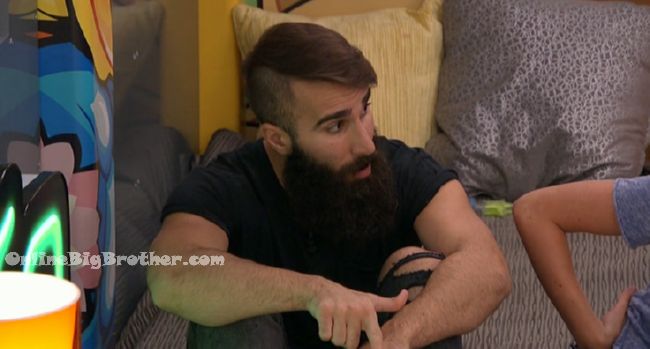 8:32pm Paul and Nicole
Paul asks if Tiffany is getting into people's head. Nicole says he's fine, "I'm voting her out and she's on my team"
They go over the plan next week. Paul is talking about who he needs to put up to so they can backdoor Frank, he would put Bridgette up and one of their own.
Paul – IF Bridgette picks a player she'll pick Frank..
Nicole suggests putting Natalie up.
Paul – I'll do what I ahve to do.. but I have to do it in a way that works
PAul explains if he puts Bridgette and Natalie up Frank will be like what the f**.
Frank walks by Paul asks if he's "Hundo" on eviction night.
Frank – don't worry one bit hommie.. you're 100% for the next few weeks easy
Frank tells them they are doing Tiffany a favor she's a nervous wreck inside the house.
Paul leaves…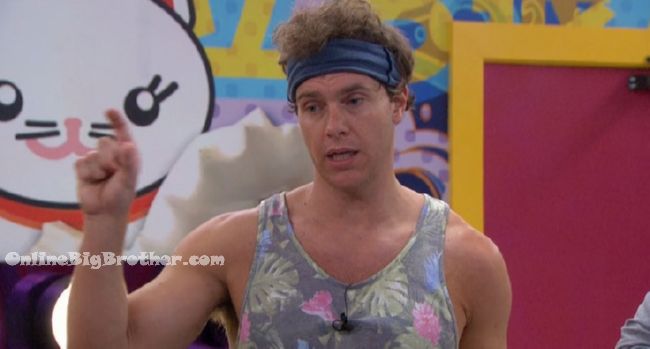 8:43pm Frank, Corey and Nicole
Nicole is worried that Paul is really gung ho on winning the HOH, "HE's like I'm going hard"
Frank says they'll guarantee to Paul he won't go up and they'll put up "Those two girls"
Frank – I gotta talk to James tomorrow..
Nicole tells Frank that James and Da'Vonne are very tight, "I didn't know until recently"
Corey confirms.
Frank didn't think so.
Frank says ideally they put Da'Vonne up as a roadkill nomination if they don't get roadkill they backdoor her.
Nicole asks her if Frank is willing to be the one to take out Da'Vonne
Frank says he would nominated Da'Vonne if he has to.
Frank – the three of us and Bridgette one of us will win the roadkill..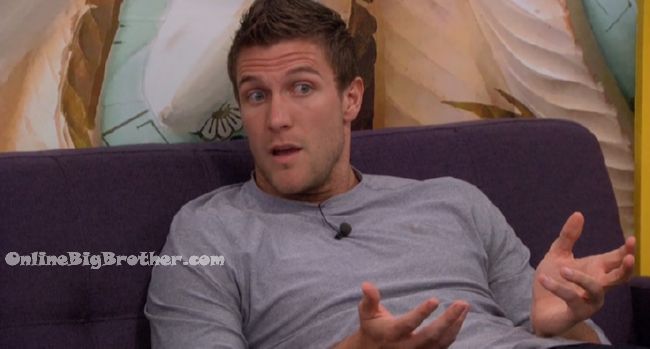 8:54pm Corey and PAul
Paul – Dude there's going to be 4 dude and that's not good..
Paul is saying he can't put Bridgette up because she'll pick Frank to play in teh veto. Paul explains the best scenario is for him to nominate Paulie and Natalie. Paul adds Natalie will pick Bronte to play in the POV so it'll be PAul and PAulie against Bronte and Natalie. They'll win the POV and put up Frank.
Corey thinks that's a good plan.
Paul – Paulie can't win HOH because then Frank is safe.
Corey says Zakiyah really trusts DA'Vonne.
Corey – I like Bronte and Natalie… but Natalie is bad news..
Corey says Tiffany is so sketch
Tiffany joins them, she asks if she's good.
Corey – yeah.. everything should be good..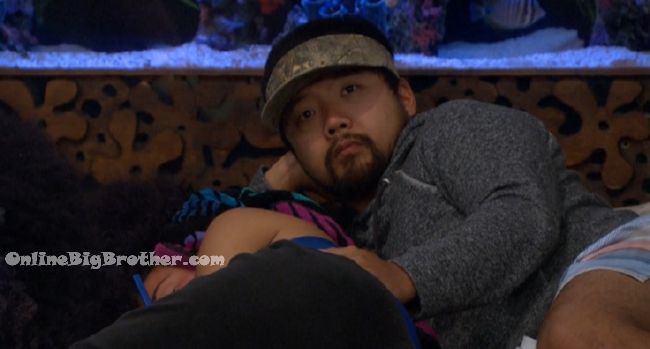 9:15pm HOH Natalie, Bronte, James, Bridgette and Frank (James is rubbing Natalie's back)
Natalie asks Frank and JAmes if when they came out after their seasons were they "Normal"
Frank jokes says he had PTSD
They mentions Da'Vonne didn't wake up until 5pm today
At first I thought gizmo was in there.. #BB18 @DawgsBigBrother pic.twitter.com/ADL42omWd7

— OnlineBigBrother.com (@bigbspoilers) July 13, 2016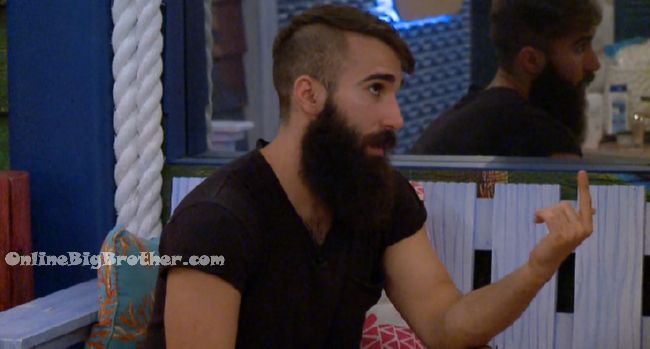 9:23pm Bathroom PAul, Paulie and Zakiyah
Paul telling them about Frank saying "you're safe for a few weeks"
Paul – oh thank you god
Paulie – next week is going to be fun
Paul tells them about his idea of putting up Natalie and a strong guy from their pool. HInts that it's PAulie and Natalie. They can get Natalie to pick James as POV player.
PAul – that would be clutch
Paul leaves, Nicole joins.. Paulie says Paul is going over next week stuff saying he's thinking of putting Natalie and me or COrey.
Paulie – I would be like f** it put BRidgette up.. if she picks Frank he still has to win.
Nicole leaves..
Paulie is suggesting to Zakiyah and Nicole need to stay close to Da'Vonne
Paulie – I know her and James talk..
Paulie says she needs to convince Da that Zakiyah will choose Da over Paulie.
Paulie says their final 5 is "Me, You, Corey, Nicole and Michelle
Nicole comes back.. says she went up to the HOH and felt like she had to spend 5 minutes up there. It was really hard to be around them all. Nicole likes Bronte the most because she doesn't giggle a lot the other girls "giggle at everything"
Zakiyah leaves..
Nicole – IS Z voting out Tiff this week
Paulie – Yeah.. James it too
Nicole – Me too
Paulie – me too
9:43pm Kitchen Frank and Bridgette
Frank says she needs her to try extra hard in the roadkill.
Frank says they might start working with Corey and Nicole.
Bridgette likes Nicole.
9:50pm in the bathroom Zakiyah, Nicole, Michelle and James.
Talking about voting out Tiffany. (Sounds like that's the plan as of now)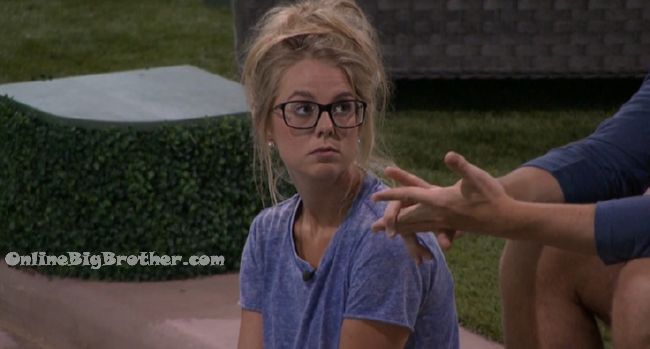 10:00pm Poolside Frank and Nicole
Frank – I really do think Bridgette's good for us
Nicole – do you think she wants to work with me
Frank thinks she will the only problem is she said she didn't know Corey.
They talk about getting rid of Da'Vonne next week. Frank says it's ideal they do it with the road kill but if not they'll backdoor her and pull in Michelle.
Nicole says they can't tell Michelle anything about this plan until they are just about to pull the trigger.
Frank is confident he can get the votes to evict Da. Thinks he can get Michelle and Paulie's vote but not James.
Nicole doesn't get the vibe she gets from Da'Vonne.. Nicole always gets a feeling DA is lying to her.
Frank wonder if Da and James have a final 2
Nicole – for sure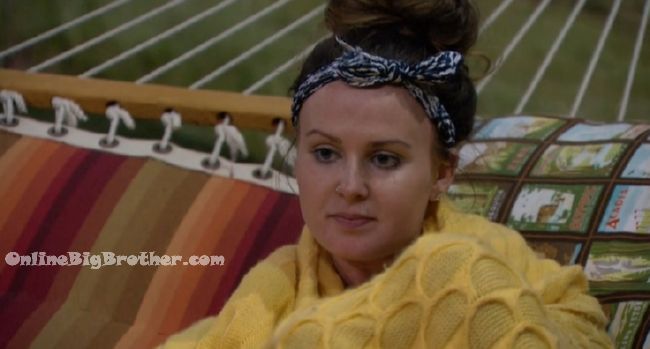 10:07pm Hammock Michelle and Zakiyah
Michelle says she can't be around Tiffany it's too hard.
Zakiyah says she tried to keep Tiffany but it didn't work.
Zakiyah sounds upset about Paulie telling her they need to stop spending so much time together. Frank is being blamed for saying something that brings the showmance to light.
Zakiyah "I didn't come here with no dude.. but whatever.. "
Michelle thinks nobody cares about the showmance.
10:42pm JAmes and Da'Vonne London room
They've figured out that Frank is coming after Da'Vonne next week.
Da – that's why I need to win this HOH
James – that would be cool
Da – Little bastard..
THey're worried PAulie and Frank are going to try and "Beast it" to win the HOH.
Da – he wants to get one of us next week.. Me or you it won't work we got the votes for both of us..
James- ya
James points out Frank and Nicole are always talking. They agree they don't have the votes to keep Tiffany.
Da – everyone is so chicken sh1t
James says Paulie was dead set against keeping Tiffany.
James brings up Nicole was arguing them to keep Tiffany.
Da'Vonne thinks PAulie wants Frank and Tiffany out so bad because then he would be running the house.
James- Paulie is starting to be a diator like he's calling the shots.. Which is not bad. If like he's .. a team player about it.. But if he's up they're doing what Frank does he's got to go to
James- I win HOH i'll put Paulie and Corey up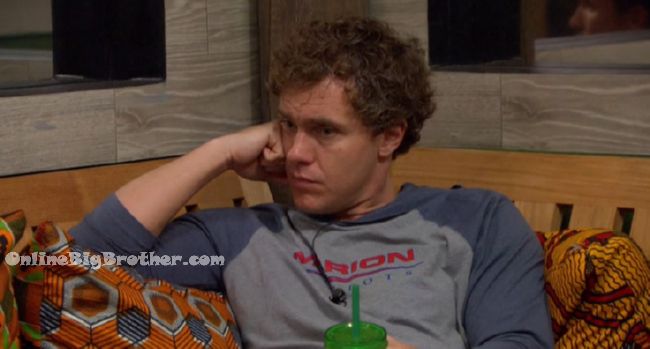 10:46 Corey and Frank
Corey is worried Natalie is going to pull James away, "She's playing him bad dude.. "
Corey says he likes James doesn't want to hurt him but feels he should know the truth.
Frank says the boot order should be Da, Bronte, Natalie in that order.
COrey says Paul is good he's with them they can get him to do whatever you want for weeks.
Corey brings if Paul gunning for the HOH. If Paul wins HOH he won't put Bridgette or Bronte up he would put up Natalie. Frank says he'll talk to Paul that he doesn't have to win the HOH Corey does because in order to get Natalie out they need to put BRonte and Natalie up.
Bridgette joins them
11:27pm Hammock Zakiyah and Nicole
talking about showmances. Zakiyah says her and Paulie cuddled she thought it was nice.
Nicole talk about her and Hayden how she cuddled Cody more than Hayden because they wanted to hide the showmace, "We kissed but nobody knew"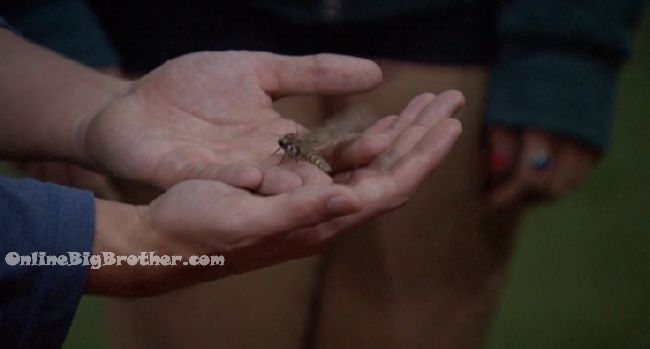 11:41pm backyard Frank finds a giant moth
Bridgette – I think he's my new best friend..
On the Hammock Nicole and Zakiyah are talking about their shwomances. Nicole brings up Corey telling her she would make a "Good breeder"
Nicole says she's not cute enough for Corey.
Zakiyah is pissed at her for saying this "Nicole i'm about to shake you.. "
Nicole – he's a solid 10 he's the cutest thing ever .. he's too intimidating
Zakiyah says she's crazy
Nicole – he's the cutest guy i've seen in my life..
Zakiyah says they will make the cutest couple.
Nicole says she didn't thin Corey was cute at first then she got to know him and realized he's a good F***G dude
Nicole mentions that Corey wants to have athletic children he's not going to get that with a girl whose 5′ 2″
11:55pm In the safari room Tiffany and Paulie are talking about movies..
[polldaddy poll=9464831]
[polldaddy poll=9464369]
[polldaddy poll=9465176]