POV Holder:
Bridgette
POV Competition
July 9th
POV Used
NO
POV Ceremony
July 11th
HOH
Bridgette
Next HOH
July 14th
Roadkill Competition Winner:
Frank
Original Nominations:
Paul, Tiffany, Bronte
After POV Nominations:
Paul, Tiffany, Bronte
Have Nots
Nicole, Corey, TIffany
(Very few of them if any were up before 12)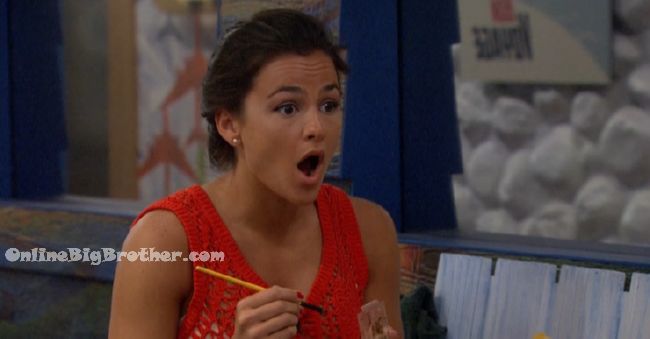 12:06pm Main Bathroom Michelle and Natalie in the bathroom doing hair
Michele – I heard stuff that Paul and Bridgette said about me.. They said I wish I died
Natalie – that's a lie.. (See image above)
Michelle adds Bridgette was saying she would resuscitate her and then shave off her eyebrows (When she had passed out off feeds)
Natalie – that's f***ed up..
Michelle talked to Paul about it and he said he never said that so she's not sure.. She's not hung up on it, "Jozea brings out the worst in people"
Natalie says this is a game people shouldn't talk bad about people, "I'm not going to be here and make fun of someone.. Why would I do that I wouldn't want someone to do that to me"
Michelle – ya.. Someone can be a target but you don't have to talk bad about them .. (side eye)
Natalie – I can't believe they said that are you sure Bridgette said that
Michelle didn't hear it, "I love you I love Paul I love Bridgette"
Michelle thinks they're was a lot of things said were exaggerated
Natalie tells her she loves being in the house with Michelle, she's one of her favorite players, "You're funny"
Michelle says James is always bringing up how much Natalie likes her.
MEECH – I would like to see James go far
Natalie – He's a good guy
Big MEECH – a good guy
Natalie – he's so much fun he's got a great personality
Michelle – he's like my brother we get into fights all the time..
Natalie says it's nice to have someone like james in the house makes it less stressful
Natalie – "He's teaching me to trust a guy in a untrustworthy situation"
Michelle – he'll protect you.. He has protect you why do you think Bronte is always on the block
Natalie – I don't want him to ruin the game for me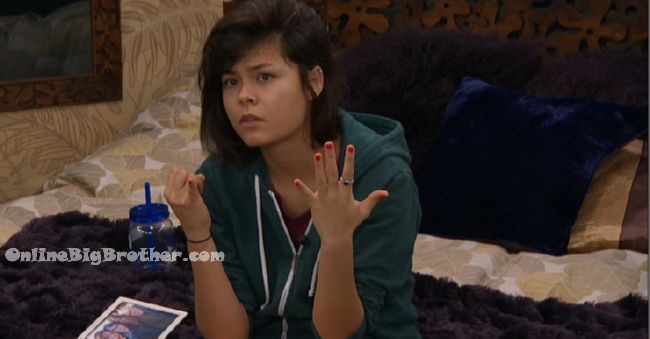 1:23pm Bridgette in the HOH
Bridgette's – I think it should go Paulie, Da'Vonne, James, Natalie.. Then we're in Jury
Bridgette – that leaves… Me, Frank, Bronte, Paul, Nicole, Zakiyah, who would go next.. Michelle .. who am I missing… corey (wow what a nightmare scenario.. )
Bridgette – does Nicole even like Corey… that's soooooo silly..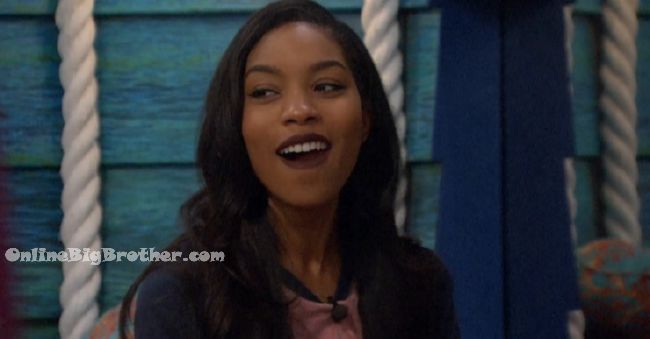 2:55pm Paulie, Nicole and Zakiyah
Paulie doesn't like Paul's plan to backdoor Frank by putting up him and Bridgette. PAulie thinks they should put Bridgette and Frank up and just beat Frank in the competitions.
Nicole and Zakiyah agree.. (Let Paul take all the risk)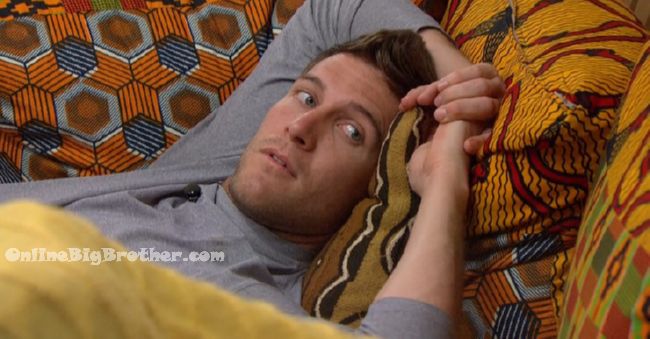 2:57pm Corey and Nicole
Corey saying he would put Frank up against Bridgette.
Nicole – I would be scared.. I'm a little girl.. But that's the only way to guarantee one of them goes home…
Nicole now saying putting them both up wouldn't be smart.. Corey now saying the best thing to do would be win the roadkill.
Nicole – you want him gone
Corey – If he genuinely trusts us than no..
Nicole – working with him is so hard..
Corey – he doesn't care he'll throw us under the bus in a heartbeat
Nicole – he'll save us if he needed to
Corey – especially if we told him the whole house wanted him out..
Nicole – me you and Zakiyah we're solid and then we would have Frank, Bridgette .. that's a solid group..
Nicole – but then he goes and runs his mouth
Nicole is surprised how close Michelle and Da are..
Nicole – Her number 1 is da.. She ran right to Da and didn't even consider..
Nicole says Frank legitimately trusts them it would be stupid to throw that away.
Nicole – I think you Me, Bridgette, Frank would be the strongest alliance in the house.. Those two are gold to work with but if he's bringing Michelle in the mix it's not going to look good..
They agree if Natalie goes James will be so much more loyal to them and more focused.
Nicole says to her showmance if James being with Natalie is more important than winning the game then he can go do that, "Love of his freaking live go for it.. I can't rag on him for it.. whatever I think it's just silly" (Good work Nicole)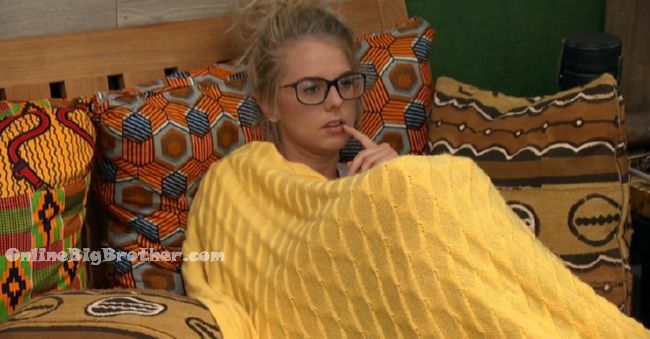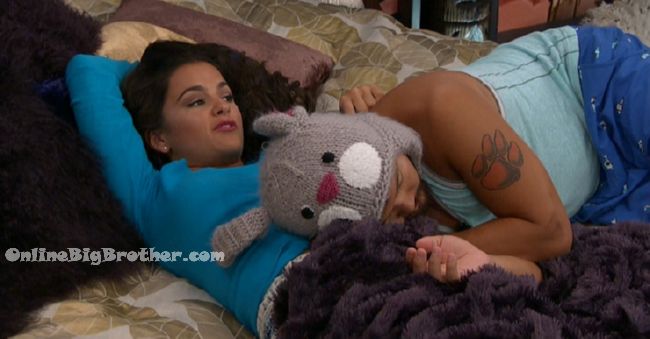 3:20pm James, Bronte and Natalie HOH
James says he's been going around trying to figure out what is going on with the house. He's getting them information.
Bronte – is everyone still voting Tiff out
James – well…. That's why I came up here..
Bronte – oh my god..
James laughs says he's joking.. The girls laugh back.. "JAMZEEEE"
Natalie starts talking about her work back home, She works for an entertainment company, it's seasonal and only on weekends.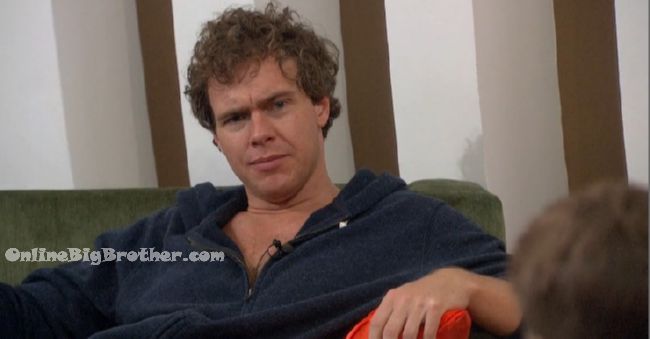 3:48pm Frank and Paulie
Frank says he's got to talk to James about the HOH tomorrow. They need James to throw it, he's too worried about Natalie going home.
Paulie doesn't think Natalie is in any danger there's plenty of other people to send out.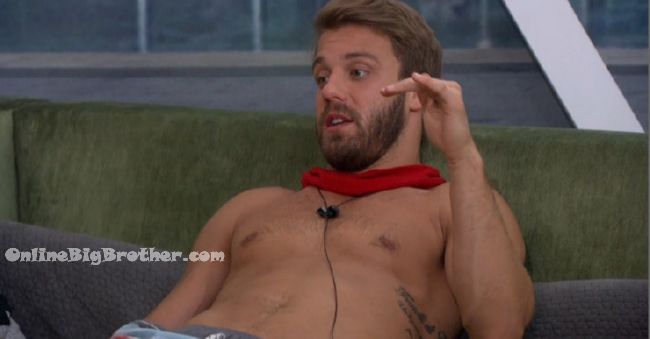 3:53pm Chit chat in the LIving room, Frank, Da'Vonne, Bronte, Zakiyah and Paulie
Paulie says he gets a manicure once a month and a pedicure once every 2 months
Zakiyah gets a pedicure every 2 weeks
Bronte get's a manicure every 2-3 weeks
Da gets and Manicure and pedicure every 2 weeks
3:59pm Da'Vonne and TIffany
Da says that Frank is coming after her he's hoping to get roadkill to put her up.
They complain about Bridgette walking around like she runs the place.
Da'Vonne- his a$$ has got to go and she's got to be right after
Zakiyah says she's not going to make Bridgette a cake on her birthday.
Nicole joins them says she won't either because she was 'Yelled at" for not making it the right way when she made Zakiyah's cake.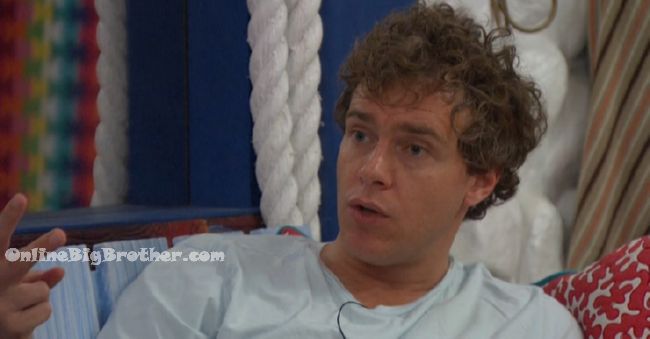 4:08pm Frank and Nicole
Frank says Bronte and Natalie are going to put PAulie up if they win HOH. Bronte is going to try hard.
Frank – they can't beat us.. we just got to talk to James.. we need to make him realize that Natalie won't go home it'll be either be Bronte or Paul
Nicole – he doesn't want her to go up
Frank – well f*** it… I won 2 road kills to keep his a$$ safe
Nicole – he's not even good with her being a pawn
Frank – who f***g cares..
Nicole – I think he's going to sacrifice himself..
Frank – I need to talk to him one on one
Nicole – yesterday he said he's just doing it for fun…
Frank says the girls mindset are so juvenile they just want to send boys home, "There stupid little girls.. I hate to say that but they annoy me.. Paul is annoying me.. I'm getting tired of pissed and friendship every 5 minutes.. I told him to put pants on.. I tood him the reason Jozea went home was because he walked around with is underwear all the time.. "
Frank says it's disgusting he wants more than one piece of fabric between the house and Paul's ball sweat.
Frank blows a giant fart and the conversation is over..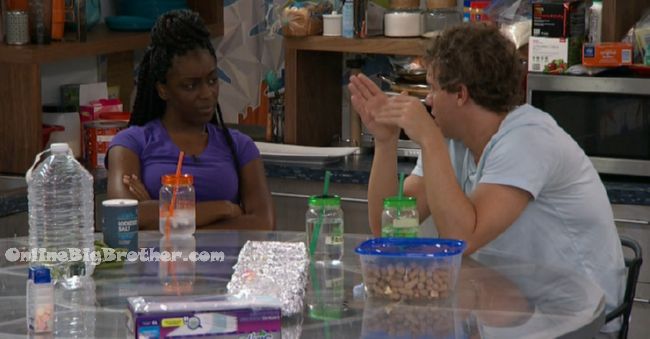 4:28pm Frank and Da'Vonne
Chatting game knowing they are targeting each other.
Frank says Bridgette is trustworthy
Da'Vonne – she's never rubbed me the wrong way..
Frank wants Paulie gone before Corey because he'll do better in the endurance competitions.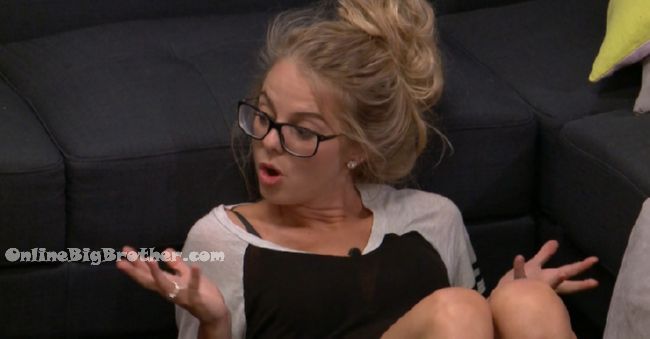 4:43pm Nicole and Da'Vonne
They talk about Frank trying to get them on the BRidgette train. Da'Vonne says if James wins the HOH he'll put up Paulie and Corey.
Nicole says she only trusts 3 people, DA, Zakiyah and Michelle
Da'Vonne says Tiffany keeps rubbing people the wrong way she would rather Tiffany in the house over Bronte. Nicole thinks Tiffany is a vote thats it.
Nicole – Corey is hiding from her..
Da'Vonne says Frank is making dumb moves it's almost like he's given himself up he wants to go home.
Da'Vonne – to be honest i'm excited to send him home but more excited to see how she (Bridgette) reacts
(LOL it's like Bridgette is the devil)
Nicole says she loves Paul but he'll have to go soon.
Da'Vonne asks "What are we doing for us.. You guys and me or are we doing me ,you, Zakiyah and Michelle " (Nicole didn't answer because she wants to showmance it to the end)
Da'Vonne points out that Tiffany's feelings will be really hurt and she doesn't want to send bitter people to the jury.
Corey joins them.. Da'Vonne fill him in that Frank is trying to get Corey out. Frank wants Bronte to win to nominate COrey, Frank wants this so they can "Pull in" Nicole.
Corey doesn't understand why Frank is trying to get everyone to target everyone else.
Da'Vonne mentions again that he's making stupid moves and it's almost like he wants to go home. (to be fair Da is also overplaying but maybe not as much 😉 )
[polldaddy poll=9464831]
[polldaddy poll=9464369]
[polldaddy poll=9465176]