Head of Household Winner – Tyler
Have nots – Bayleigh, Janelle, Enzo yo
Nominations –
Power of Veto Players are –
POV Host:
Power of Veto holder –
Power of Veto Ceremony –
Safety Suite – Enzo wins picks Chritmas
Live feeds —-> Grab your Live feeds here. Try it free.
Rank the houseguests —-> Big Brother 22 Ranking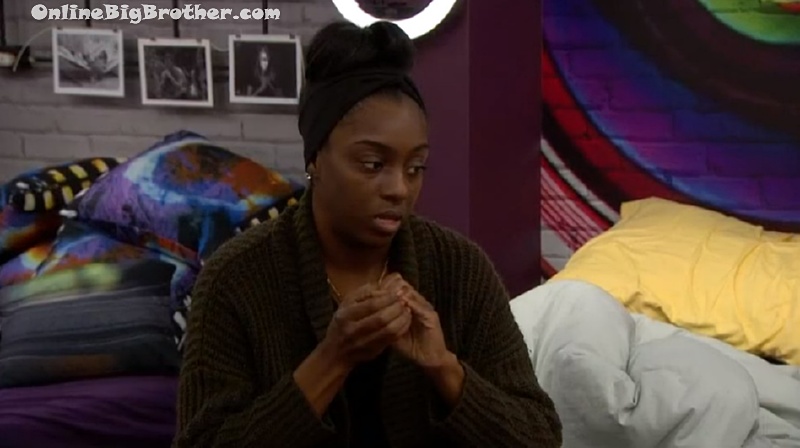 1:55 pm Dani and Da
Dani about Enzo using the safety suite on Christmas "Maybe just to throw people off"
Da – it's really random
Dani – did you ask to make it you
Da – yeh I talked to him .. he was blah blah blah I wanted to do it.. I guess it's a good thing though
Dani – she didn't even seem happy.. wasn't that weird.. it was really weird..
Dani – that one caught me by surpsie to
Da – you were so close
Dani – he [Enzo] was so good oh my god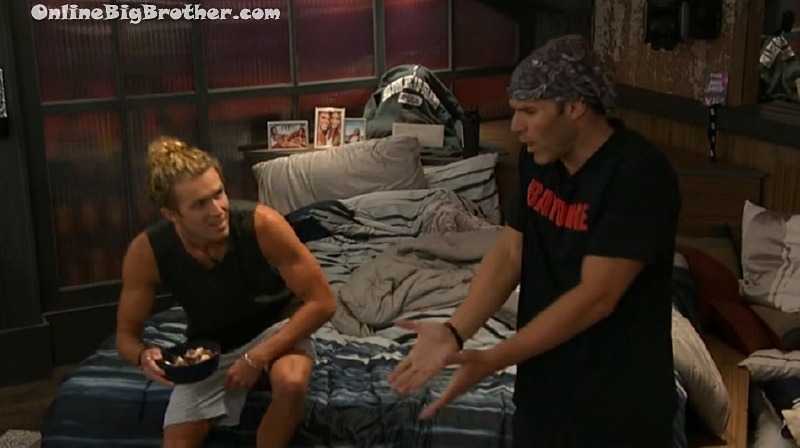 1:55 pm Enzo and Tyler
They're talking about a Da'Vonne being pissed he didn't pick her for safety suite. Enzo explains he told them it was going to be either Da or Christmas. He told her why is she so worried she's in an alliance with them.
Enzo – why are you worried yo.. you're safe.
Enzo – Christmas is going to win sh1t she's a beast
Tyler mentions tell her you didn't want to out the alliance.
Enzo – stop blabbing your mouth and win sh1t yo.. I'm telling you, you, me, Cody, and dave .. that's it.
Enzo – I like Bayleigh. . . She opens up.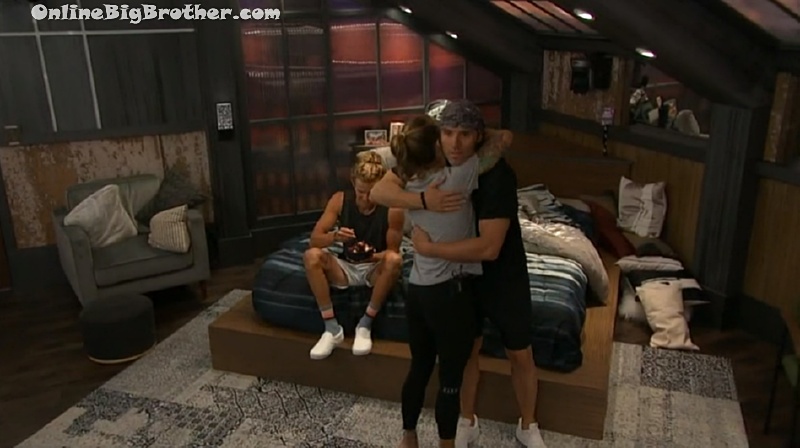 Christmas comes in .. They chat about the competition.
After Christmas leaves.. Enzo yo's right out..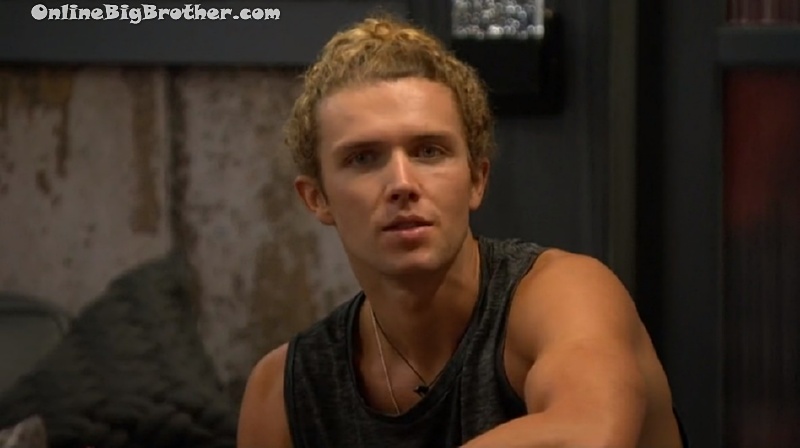 They talk about Da'vonne being paranoid.
Enzo – that's what they say Da always gets paranoid and she blows everything up
Tyler – yeah yeah
Enzo says She said there was a guys alliance when there wasn't and now there is "you forced it"
Tyler – this week is so straight forward people are going to try and play two three four weeks ahead
Enzo – I got your back yo..
Enzo says whoever survives this week he's putting them up next week
Tyler – if Da keeps talking and trying to stir sh1t up and blow us up then that's what's up
Enzo – yo yo yo yo .. dave's a solid guy yo yo yo yo
Enzo brings up that Memphis is a good guy YO.. Tyler agrees says that they need to keep Memphis in the house for a while because that is the type of player that sooner or later someone else is going to evict them just because It's Memphis (AKA he's an a$$)
Enzo – we're good yo yo yo yo you killed that sh1t to YO
They talk about the HOH
Enzo says during the HOH Da'Vonne was going crazy cheering for Janelle.
Enzo – you know what I mean.. like, stop… yo.. that's a sign you're playing the whole house right now.
Enzo says he was cheering for anyone..
Enzo – Ian with his little dance to… chillax chillax yo
Tyler- Janelle got 11 if I didn't get that 12 they would have won
Tyler says Kaysar came up like a guilty dog.. He owned that he talked a lot of sh1t and Janelle didn't
Enzo warns that Janelle would come back in if there was a battle back.
Tyler brings up what if Kaysar leaves and next week there's a power vote to her..
Tyler – we can't play around with twists.. we can't play beign scared of twists..
Enzo – just stay loyal yo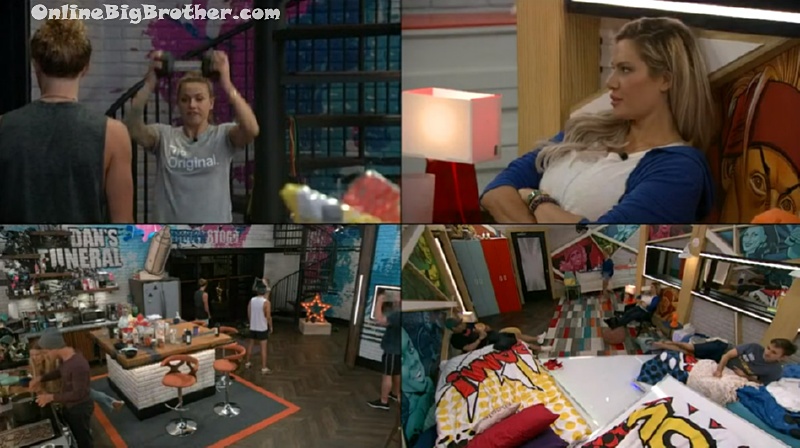 2:30 pm working out.. Chit chatting about past season.. Plenty of cuts to stars.
Nominations are later today. Janelle and Kaysar going up. I assume Janelle is Tyler's target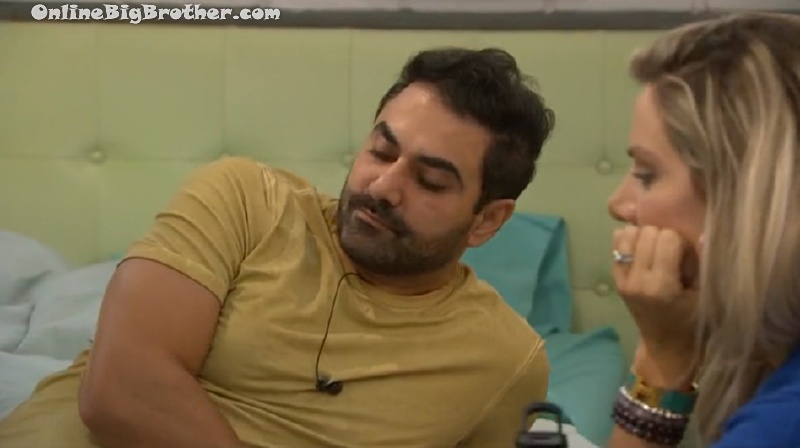 2:37 pm Kaysar and Janelle
Kaysar says always being on is exhausting for him "I need to self reflect and collect myself. have to come to terms that everything happens for a reason and go with it.. Such is life"
Kaysar – you good
Janelle – I talked to Tyler and he's super nice he said he has to do what the house wants
Kaysar – we'll see what happens.. the house wants what the house wants.. the hard part is really people just kinda avoiding you like you have some sort of disease.
Janelle – are they avoiding you
Kaysar – yeah
Janelle – that's sad
Kaysar – people do that because they don't want to be associated.. everybody knows we're going up.. they don't want to be associated when we're safe how about when we're not
Janelle – about to do on the block together again
Kaysar – together again
"it's what the house wants"
they laugh..
Kaysar – I don't buy it for one second they were not coming after us
Janelle – I don't thin Tyler and dani was
Kaysar – don't you think the subject would come up.. I think Cody was and Cody was in power and they were associated. How do you play that Cody's in power and wants to take us out.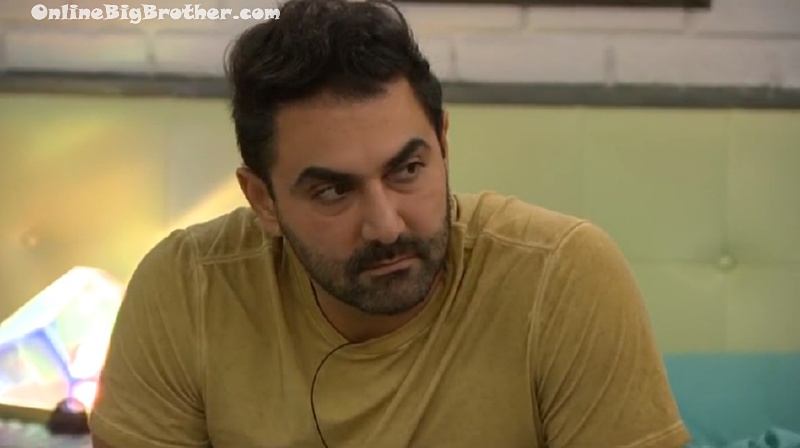 Kaysar brings up Tyler telling him that they played safety suite the first week and made themselves targets
Kaysar says there's a 10% chance Jaenlel and Memphis will go up
Janelle – it's me and you.. the whole house said to put me and you up
Kaysar – he mentioned us
Janelle – yeah
Kaysar – Okay.. cool
Janelle – don't let it get you down we've been nominated before
Kaysar – it's hard if it really is the entire house you got to figure out how you can fig yourself out ofg this hole
Janelle mentions the good side of this the person that stays will be in a much better position.
Kaysar – they can't stand the fact the two of us are in a house toether.. it never works.. the whole thing about picking Christmas was to send a message.
Janelle said she knew Christmas was going to be picked.
Kaysar – they found out that we told her that they were coming after her. They called us liars and pulled her.
Ian comes in .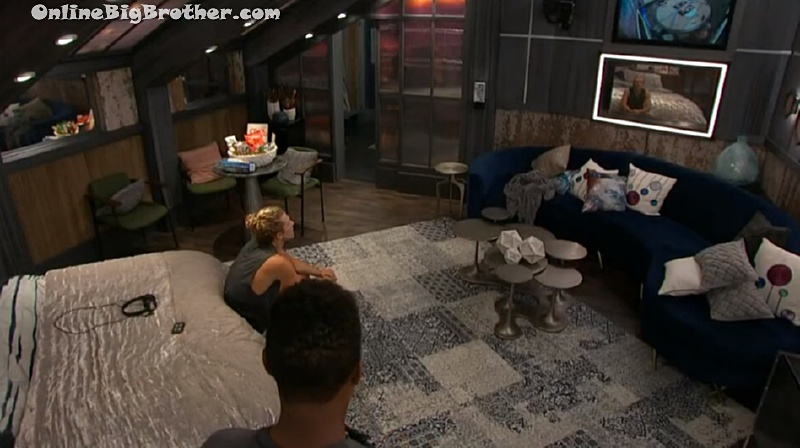 3:10 pm Tyler and David
Tyler says he let J/K know they're going up. He points out that Kaysar "owned it" but Janelle didn't.
They talk about how close they are and nobody knows.
3:11 pm Enzo and Cody
Enzo – this is allstars season you better win yo
Cody – I don't like the whole thing with her running around paranoid..
Enzo – why not make an ally with someone with this power. I'm in good graces with Christmas.
Enzo – you're making an alliance with Janelle who's days are numbers in this house.
Enzo – Even Tyler was like what is her problem.
Enzo – do you think I care if you blow up my alliances? I'm in four of them blow one up I don't care.
Cody says this is what Da'vonne does she gets paranoid and blows up and her alliance cuts her.
Enzo brings up that Dani is saying that Da is paranoid as all yell, "Bay she's cool"
Enzo says Dani doesn't trust Da
Enzo – if da wins HOH can we trust her
Cody – that's the problem.. I know if you win I don't gotta worry.. if Dani wins I don't gotta worry
Enzo – I never thought I would be beefing with people in my alliance this early (you said it yourself you are in 4 alliances you're with everyone)
Cody says if Janelle goes Da'Vonne will put up Memphis and Kaysar.
Enzo – we need to have a meeting with Tyler tonight
Cody warns they have to get J/K out first. This week one goes the next week the other, He stresses the nominations have to stay this week.
Enzo talks about the competition today and how his trick was to squish the ball so it would go into tight places.
Enzo says last season he threw everything, "I'm in alliances with Women, I'm winning shit.. I've changed my whole game up"
Enzo – Two Italian kids from jersey winning the whole thing..
3:30 pm David and Cody
David says he just had his first HOH shower.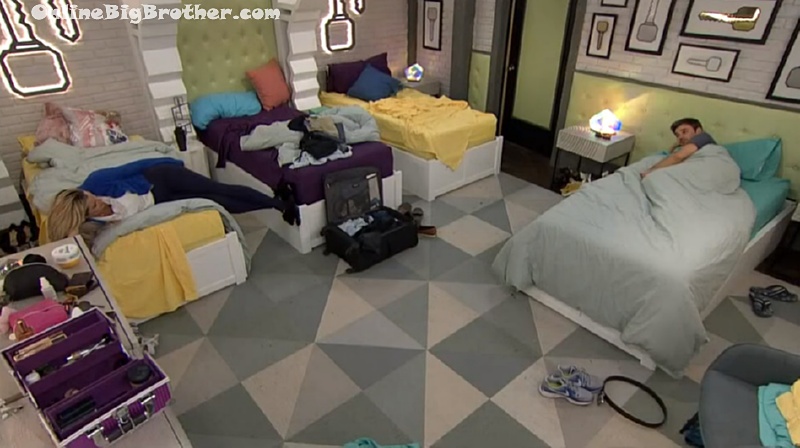 3:35 pm JAenlle and Ian
Janelle apologizes for saying that Dan should have won.. She knows it upset him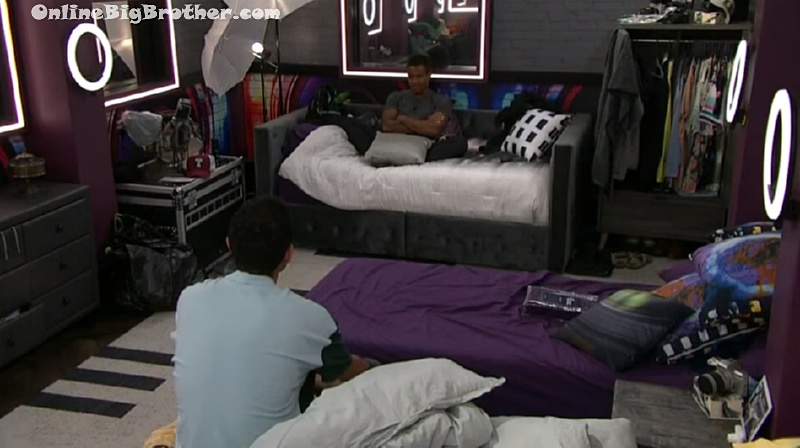 3:43 pm Kevin and David
David says he's close to Da and Bayleigh but he feels like he's the third wheel.
Kevin says it's better to be 3rd than 7th.
Kevin saying that many of the people in the house know each other outside. Either their friends, they played in a previous BB season or they played in some other reality show together
Kevin says the newer generation players have connections and they are deep. The older players have moved on with their lives. "it falls off quick"
Feeds cut..
4:47 pm feeds down.
(Nomination Results will be Janelle and Kaysar )