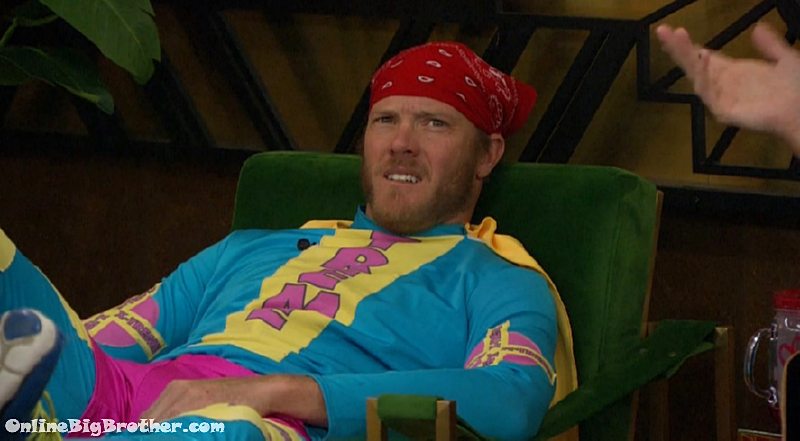 1:46pm HOH Jason and Alex
Alex – matt and raven they were up here I tried not top listen to them
Jason – Matt sucks so bad
Alex – they're annoying.. Matt was up here while I was praying
Alex says they all don't like mark that is who Matt, Raven and Paul are going for
Jason – I'm just going to tell you right now, If I win HOH on Thursday I'm putting Matt and Mark up. It'll be perfect
Jason – what I'm going to say is Matt, uhh.. I needed to pull myself off the block for the veto because that was the plan you took the veto from me and then gave it back to me..
Jason – I felt like you were trying to make it look like you did me a giant solid when I had the Veto to begin with. It' wasn't a big move. You were trying to make me think you had my back so I'm putting you on the block so you know I see what you did.
Alex – You're going to draw a line with him already
Jason – why not Al .. I can't f*ing stand those two
Alex – there's a process we still need their numbers.
Jason – why
Alex – we don't want them to win on the off chance they put one of us up
Jason – if I win Thursday one of them will go
Alex – which one
Jason – matt or Mark I don't care.. Then you have Raven, Matt and Elena. You think those three can do anything
Alex – they could put us up and backdoor one of us
Alex – Matt and raven aren't stupid the will back door one of us
Jason – then get rid of those mother f*er
Alex – we have to wait until there's nobody left then operate
Alex says they have to wait until final 8 put up matt/Raven with Kevin and take out Matt/Raven. The following week take out the other one and Kevin.
Alex – we can't mess up
Jason says nobody in the house annoys him more than raven and matt
Jason – Raven is a f*ing mess.. She's literally a ginormous pain in the f*ing a$$ times 10 more than anybody else..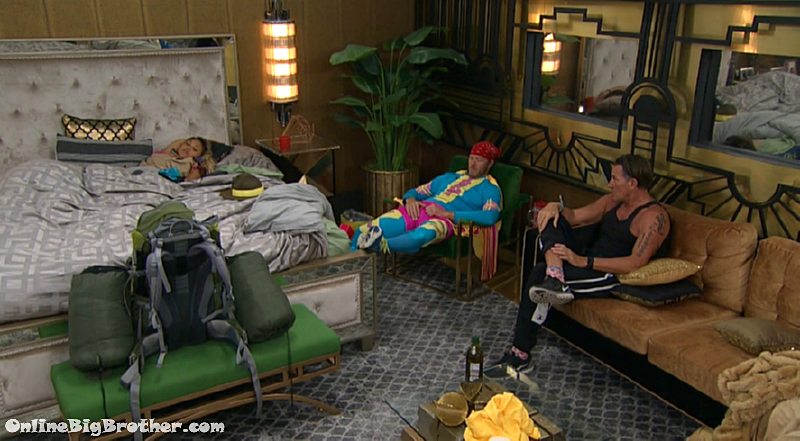 2:00pm Kevin, Jason and Alex
Alex is warning them that Cody is going to spread a lot of sh1t in the jury house.
They bring up the fight yesterday with the cereal.
Alex says Cody is a a$$hole.
Kevin says he wishes he was there he would have taken the cereal away from him.
Alex – we didn't know he was joking.. We were confused..
Jason – maybe he's trying to get government assistance for PTSD and he's using this show to backup his argument
Alex – YA
Jason – how can he say he hates you he doesn't even know you
Alex – we're all nice to him I cooked him dinner before
Kevin – Hate is a harsh word
Jason – I would rather hang out with Cody than Matt and raven.. I f*ing hate those two
Jason – Matt and raven have literally not done a f*ing thing
Kevin – absolutely
Paul joins them along with Christmas..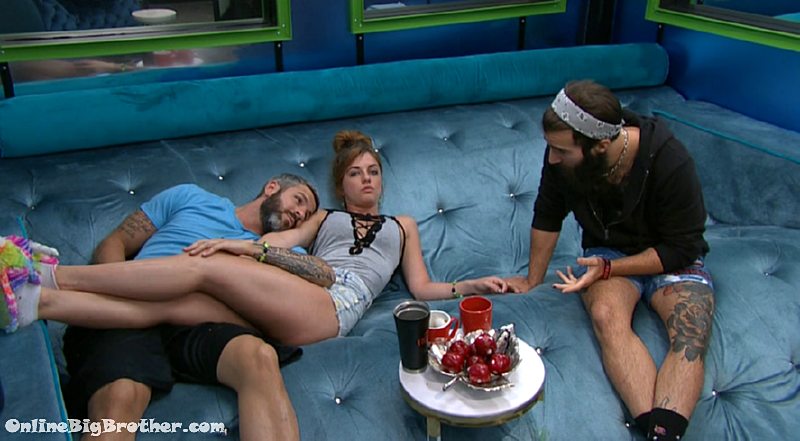 2:07pm Paul, Matt and Raven
Paul – I feel pretty good.. I'm going to try my hardest and it's not a bullshit magic show (HOH comp)
Paul – Elena is going to be nervous as sh1t and Josh is going drop a bomb on Mark as well.. He's going to say something to him.. I don't know he's going to sh1t on him
Paul – JOsh is going to sh1t on both of them..
Paul – if you can say something to him just to freak him out I think we'll be fine
Paul – after mark and Elena they want Kevin so that puts us far-ish.. We have Josh and Christmas
Paul – just be careful with Mark and Elena dude they're f* a$$es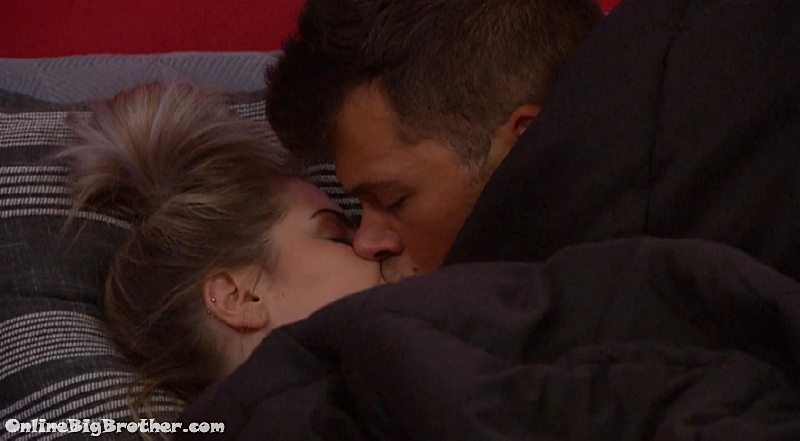 2:10pm The New Cody and Jessica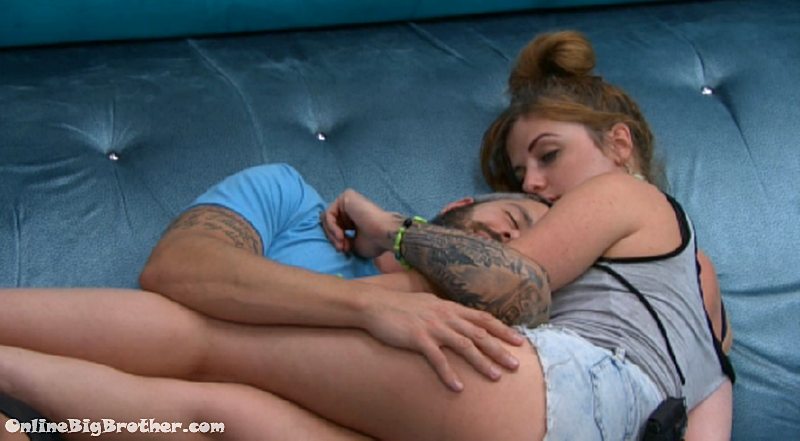 2:10pm The new Mark and Elena
2:18pm Jason, Paul and Josh
Jason telling them he's putting up Matt and Mark if he wins HOH. He tells them his speech..
Josh says Mark tried out 4 times to be on the show. Paul says last year was his first time.
Paul – I've seen one season and I've played one season that's it .. I don't have time to watch TV
Josh – I've seen episode and clips here and there..
Jason didn't even know what the show was about until his buddy dragged them to a casting call.
Josh – Cody's been watching since season 1
Paul – damn he sucks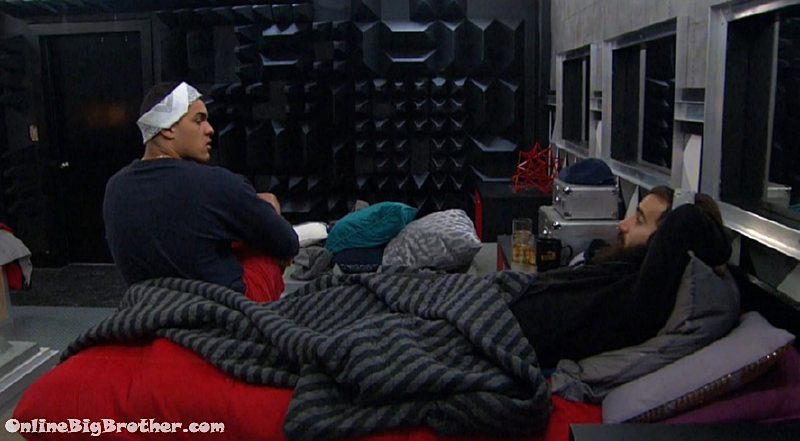 2:30pm have nots Paul and Josh
talking about how sketchy Kevin is.
Paul – I'm going to keep f*ing with this full until he goes crazy..
Paul – now he's a b1tch.. if he's not a cool guy or a centre of attention he gets pissed.. I see that.
Paul – he likes to be the centre of attention.. he's going to lose his lid.. you need to make him just paranoid
Josh – I feel bad
Paul – fool you stupid.. he's trying to get you out of this f*ing game
Josh – for me I wouldn't touch him until the end
Paul – next time I win, not this time but next time, I'm putting him up 100%
Josh – before Matt and raven
Paul – depends
Josh – him, Matt and Raven haven't done sh1t all game
Paul matt and raven haven't done shady sht1 to me .. you cant be mad they're protecting their own game but him he's protecting People
Paul says Kevin was plotting with Mark and Cody to get him out
Josh – who told you that
Paul – Alex and Jason .. Cody talk to him about getting me out of the game and he (Kevin) denies it
Josh – he's (kevin) a coward..
Paul – watch that fool watch him..
Paul says he's going to go f* around with Kevin "watch this"
Paul heads to the ASPR to tell Raven and Matt about how Sketchy Kevin is.
(If Paul riles them all up to "rattle" Kevin like he's done with everybody else I think the fandom will riot the studio)
2:40pm Mark, Elena and Cody
Mark – it's crazy how things went
Elena – true that
Cody – night time can't come soon enough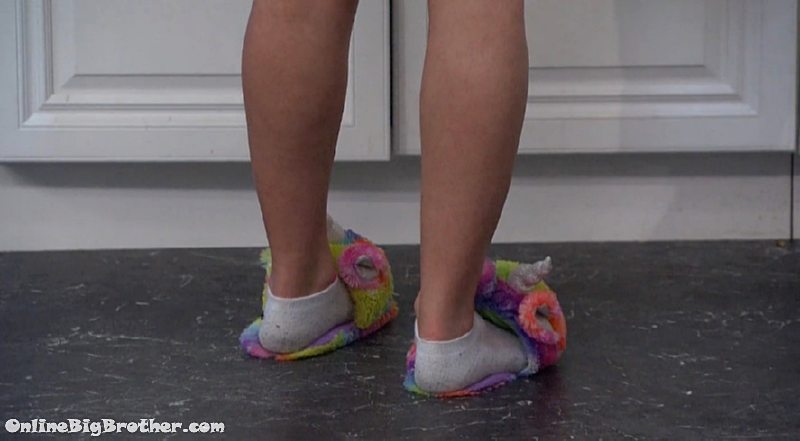 3:30 Chit chat..
For all you Matt C rag watchers …
Paul eats a hot dog #BB19 @DawgsBigBrother pic.twitter.com/yGoWQxT0Hn

— OnlineBigBrother.com (@bigbspoilers) August 16, 2017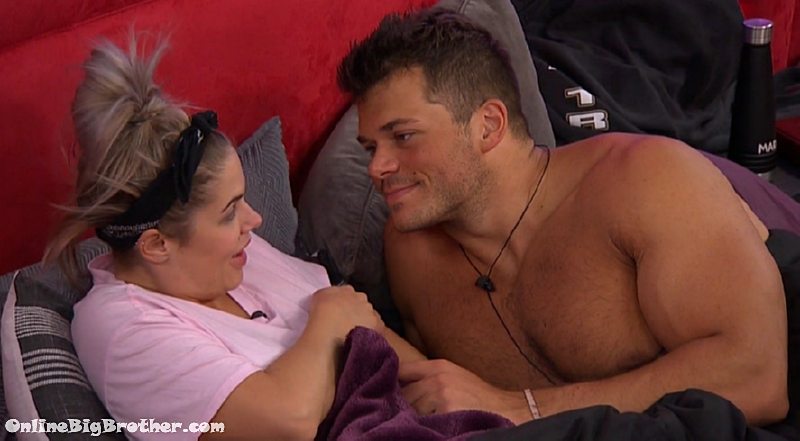 3:48pm Mark and Elena
Mark – I see you nipples on a daily basis
Elena – OH my god you just did that..
Mark -It's just right there
Elena – get in your space
Josh – go to the diary room
Elena – if he gets Americas favorite i'm going to slit my wrists this way..
(here's the gif if you want to watch it it's funny)