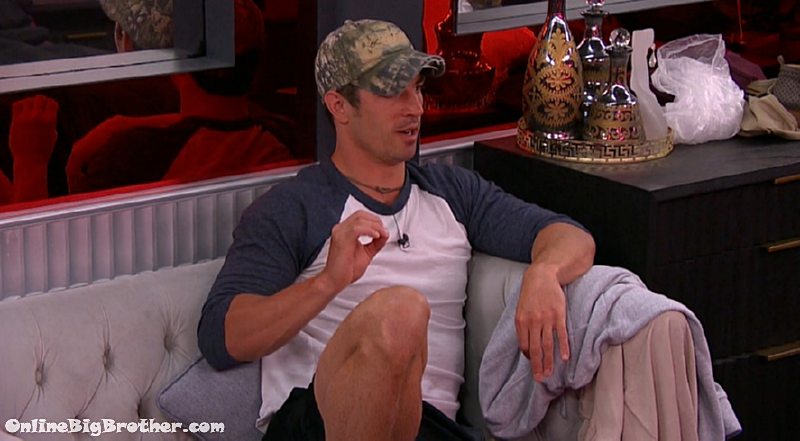 PROMO CODE – BB19SALE
4:15pm Mark, Elena and Cody
Cody – started Big Brother 19 with a bang
Mark – I know I get reminded every day
Mark leaves to get more food. Elena and Cody make plans to hang out in Dallas. Cody says he'll be in LA for awhile.
Elena – I don't know why he (Mark) likes me so much
Cody – maybe because you're not giving him anything.. if you threw yourself at him…
Elena – some people operate that way I don't… I wonder if that's why the intrigue is there..
Cody mentions Mark and Her might want to experience "what is out there" (the parties the attention?)
Elena – I tell him I don't know why you like me so much.. You can any girl outside after this.. I just don't date I do relationships
Cody – not even a shred of me wants to know what's out there..
Elena – who is going to be final 2
Cody – Paul, Kevin or Paul and Josh.. Paul or Christmas
Elena – who would you vote for
Cody – Paul.. Bravo dude.. all those idiots kept you so take the money
Cody – I don't give a hit.. unless it's one of you guys up there.. honestly I might flip a coin
Elena hopes it is her or Mark
Cody says he wouldn't bet on it..
Cody says his daughter only lives a 1/2 mile down the road from his families place in Iowa.
Cody says Paisley's mom "is such a cool lady.. we kinda got together before dating"
Cody adds they tried to make a go with it after but it didn't work out. The relationship with them is good.
Cody describing Paisley's mom – she's beautiful.. I wish she would find someone because she deserves happiness like that.. the last one.. Feeds cut
Cody says his daughter is blonde haired blue eyes. The mom is brown hair brown eyes. he's the same. They had a DNA test she's their kid.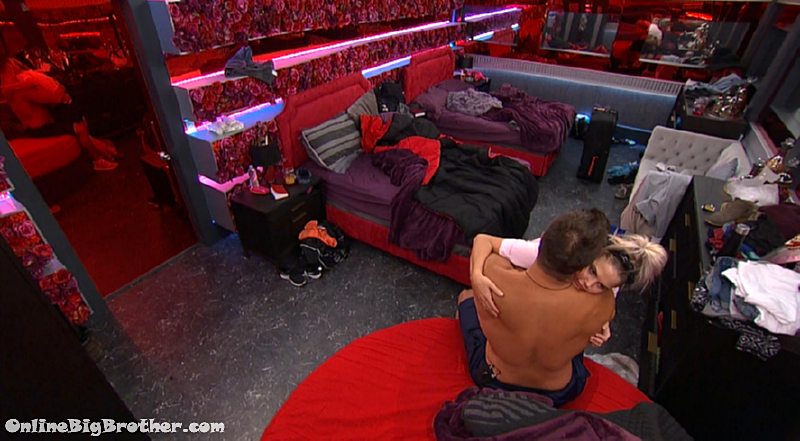 Mark comes back asks Elena for a hug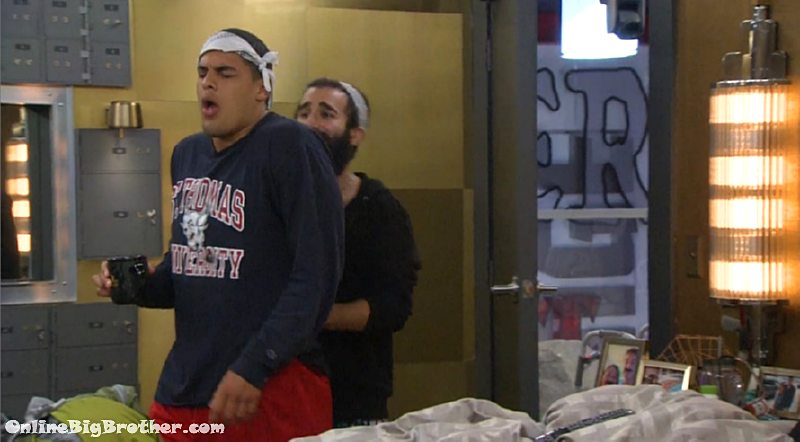 4:21pm Paul Trashing Mark for Kevin, Alex and Jason
Josh comes in and Paul tickles him.. (LOL)
Paul says Mark is useless..
Josh – he's been slobering on melons for protections
Josh says it'll be awesome to get Cody and Mark out back to back
Kevin leaves and they start talking about how sketchy Kevin is. (Everyone but Jason)
Alex says he f*ed with her today.. "he wants to f* around with me I'm going to f* around with him"
Paul – lets f* with him
JOsh – oh f* guys
Paul and Alex starts snickering.. (here we go again)
Kevin comes back having brought up the gold pillows from Alex's HOH bed.
Chit chat with some trashing of Jessica, Cody, mark
Paul gives Josh a little tickle #BB19 @DawgsBigBrother pic.twitter.com/XpEbPhIQcU

— OnlineBigBrother.com (@bigbspoilers) August 17, 2017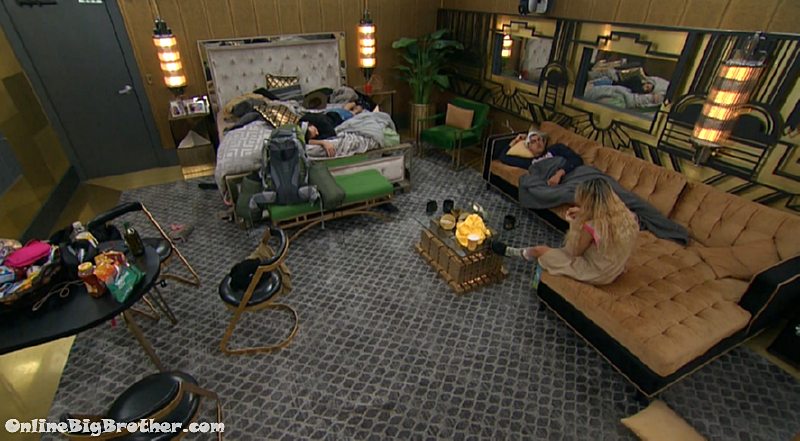 5:00pm HOH Paul, Josh and Alex
Alex says Kevin is Sketchy.. "Don't promise him anything"
Josh – me and Kevin never spoke game (he means in the beginning) .. I never thought I wanted Kevin out at any point of this game until now..
Josh – the way he's been acting
Alex – shady .. close with Mark
Josh – super close with Mark.. I had your back you don't have none of our backs you've been hanging with the enemies..
Alex – you see how nervous he gets..
Josh – I feel good with us 5 but .. are we going to get rid of Kevin or top 6
Alex – we'll do it week by week
They go on and on how suspicious, shady and Sketchy Kevin is acting.
Paul – I'm just going to drive him nuts
Alex – I'm going to take back everyone single one of your headbands
Josh – wait guys…. wait
Josh – why are you doing this now
Paul – it's a slow build, for him to blow up (the cycle continues..)
Alex – because he wants to act like a old man I'm going to make him think he's losing his mind
Paul – lets go storm in ..
Josh – no
Paul – he can't stand it he wants Alone time with Jason so he can secure it..
Alex laughs
Josh – I just had a good DR… I just had a good dream.. Home boy is pissing me the f* off..
Alex – who?
Josh – Matt
Paul – time and a place Josh
Paul leaves..
Alex – Josh, you have to play the game. Right now we're doing what I do best.. Mental warfare.. he keeps pretending to be a fragile old man he's younger than my parents by like 10 years..
(the die is cast)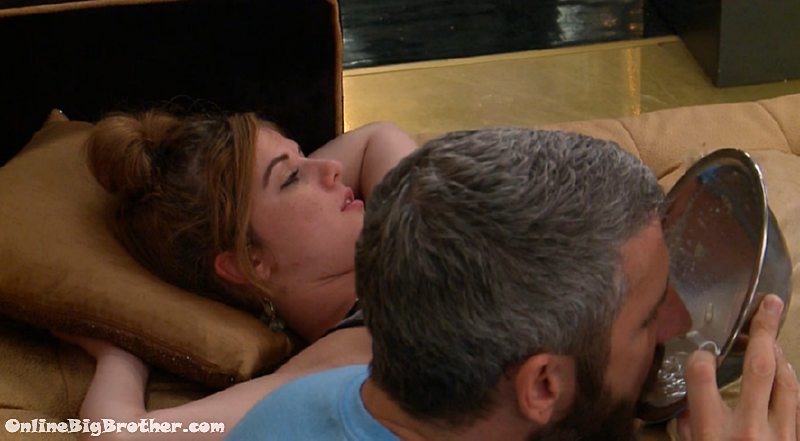 5:14pm Raven and Matt
They want to try and get Mark out next.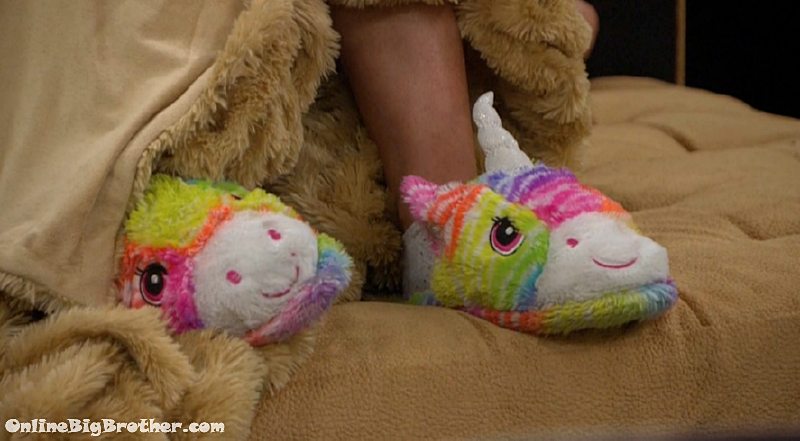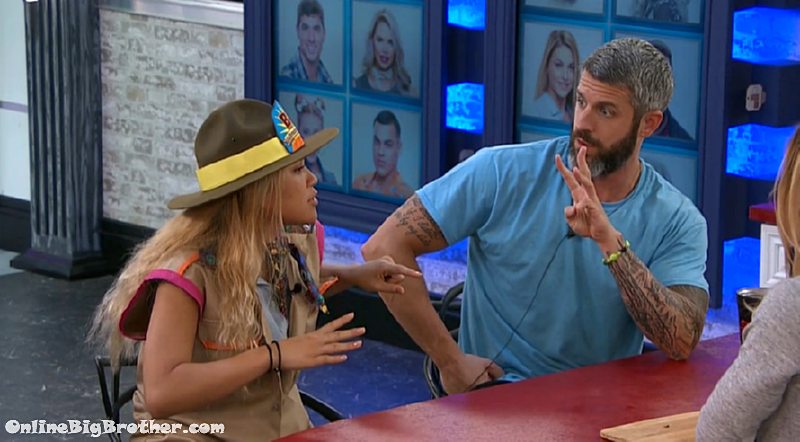 6:04pm Alex, Xmas, Matt
Trashing Mark and Cody.. (it's pretty much all these people are doing now)
Xmas says she wishes she was more clear headed earlier in the game because she would have called "all this sh1t" out
Alex says Cody accused him of ruining his game.
Alex – I was like you ruined your own game
Alex – we're sending you to Jury
Alex – argh like that's a BIG THING (Alex is pretending Cody was acting aggressive and pissed.. and he was the key difference is Alex framed it to him more like this – Don't be such a grump At least you're going to Jury were you can lay around all summer and get paid the stipend. That was the comment that elicited Cody's response)
Alex says no one would vote for COdy in the final 2
Xmas and MAtt agree..
Xmas says thank god theirs no jury coming back
Alex says if it's Cody they'll just choke him
Matt shits on Mark for not backing Elena up during the fight yesterday when it was "everybody on Elena"
Matt said mark used everyone going after Elena as a way to get back in with them
Matt – you can't on national television let your girl take that heat..
Matt – it all y'all came at Raven like that I would be like Eat it (WOW they would be f*ed)
B2MEN- that man is b1tch made.. top to bottom (ZOMG)
Xmas – b1tch made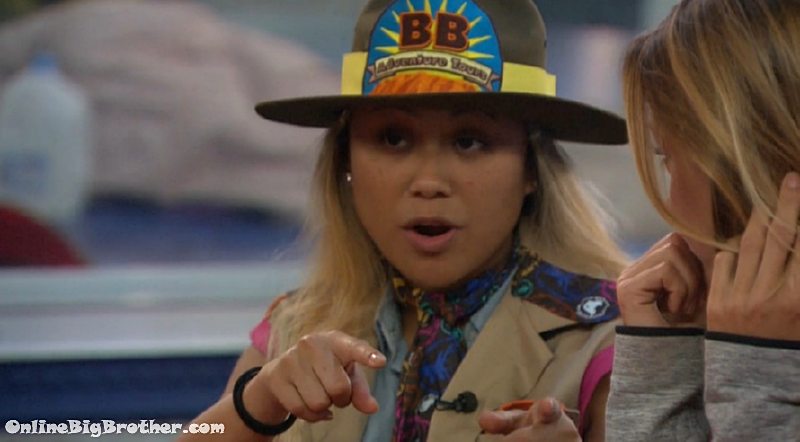 7:11pm Alex and Christmas
Alex – he's f*ing talking to mark he's f*ing talking to Elena .. if he's going home why are you talking game to him
Alex goes on about Cody wanting to make a deal with Kevin, Jason and Alex that he wouldn't go after them if they didn't go after him. Kevin wanted to make it but Jason didn't unless Alex/Paul were there.
Alex – it was me, Paul, Kevin and Jason
Alex – they f*ing cornered JAson out there.. F*ing Kevin and F*ing Cody
Alex – then he goes and tells you and Josh that you're protected.. F* him
Alex – I want to go upstairs but tweedle dee and tweedle dumb are up there (Matt Raven)
Xmas – I'm getting really pissed off at their inability to take a stand .. they instigate so much sh1t and then they f*ing disappear
Alex – he said eventually someone will put them up together and he would just go home and let her play (Matt)
Xmas – why the f* it you come here.. You've done nothing
Alex – he's such a dud in the game.. Even mark played a bigger part.. Even Elena
Alex – he wants all of us to carry him
Alex tells Christmas she deserve to be here more than most of the people left.
Xmas – thanks
Alex says Mark and Elena have been too happy something is up.. (well they haven't had 4 people scream at them for a hour)
8:00pm Cody reading the bible the rest doing the hot dog thing talking about movies.
8:11pm Cody and Mark reading bibles
Alex come sin to give them a hot dog.
Mark – no thanks..
Alex – I would like you to know I've done lots of good things for you in the game I've made you dinner multiple times, I've never once lied to your face i've told you everything upfront, I've always talked to you even when people have been being mean to you
Alex – I've always been nice to you, I've always given you food, i've always helped you out..
Alex – What have you done for me? You made me a target, you put me on the block and blindsided me, you tried to get me evicted with Jessica.
Alex – I've never done anything mean to you for you to be so hurtful and to read the bible like that's f*ed up (ZOMG, he's not allowed to read the bible)
Cody – i'm not doing this for you I'm doing this because I'm bored
Alex – I know..
Cody – I'm not doing this for you
Alex – What have I done for you in this game I've done a lot of things so you don't have to be a a$$hole to me.
Alex – there's lots of people you could've been an a$$hole to not me and JAson we've always been nice top you, Agree or Disagree
Cody – I'm sorry
Alex leaves..
8:31pm Skybridge Christmas, Alex, Paul, Jason, Kevin, MAtt.
Sh!tting on Cody and Mark..
Alex – he says he's reading the bible because he's board
Paul – Going to win HOH and make a statement
They all laugh that if Mark wins HOH and is going to make a statement they'll all make farting sounds.. (LOL these guys are going to drive the fans into blind rage)
Paul says that Josh is going to drop a bomb on Mark.
Paul – we need to f* with them..
Kevin changes the subject to the Floyd Mayweather Jr. vs. Conor McGregor fight
8:49pm all feeds on Cody reading the bible
Paul and his inner circle continue to plummet in the rankings #BB19https://t.co/S663KKldQF pic.twitter.com/Wy0KUqXoU9

— OnlineBigBrother.com (@bigbspoilers) August 17, 2017
If you plan on buying anything from Amazon. Use this link Amazon home
Doesn't cost you anything and we get a small cut.
Links to the ranking system
Rank your house guests here
For those of you that like Statistics here are some expanded reports.