If you like this site and want to help us keep it running please consider donating, Your donations go directly to paying the server and bandwidth fees. Donate Link
5:30pm HOH Kalia, porsche and Dani They start chatting about Lawon acting so strange. They wonder why he still acts like he has no clue he was going up. Kalia thinks is funny how he's telling them that he never though he would go up even though he was the one that volunteered to kalia.
Kalia talks about how annoying Rachel is and how she so wants her out of the house. Kalia wishes that the twist was next week. (LOL you could of taken Rachel out you were so close now you're laying around wishing she was out of the house…man) POrsche brings up how rachel told her she's the prime suspect for taking the chess pieces, "Why the BLANK would I take the pieces I like playing chess… life sucks in this house without the chess game". Kalia mentions her and Porsche were pretty much the only 2 people that played. Dani sys that Brendon stole the chess pieces.. Kalia agrees (DK stole them because there game is so tight). Porsche: "Why do I feel like all I want to do in this house is eat"
Porsche leaves..
Kalia says she was talking to Shelly and shelly told her that she's going to vote out Lawon if he really means he's going to put Kalia and dani up. kalia adds that Shelly will not vote out Lawon otherwise. kalia trust Shelly thinks she's really looking out for DK.
Dani: "have you actually found out who Shelly will put up next week.. we need to ask her none of this running around the bush crap" (Yes please someone find out what straight shooter is doing maybe kalia should of done this before she threw the game)
Dani says Shelly promise Porsche she would not put her up.. Dani wonders whose left in the house out of the the "Floaters"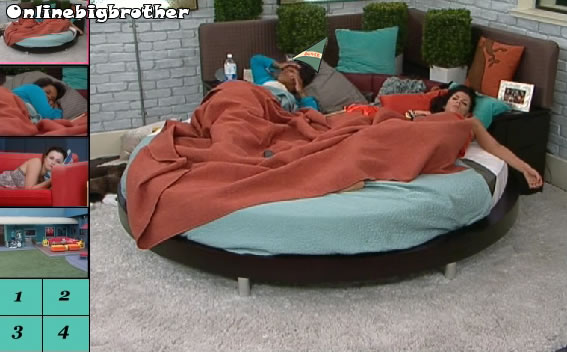 Kalia is thinking they try to cut that deal with rachel she cannot come after us next week and we won't send her home this week.. Dani: "Well i'll still come after her" Kalia knows she says the deal will only be for one week and only includes me. Kalia asks if dani thinks rachel will still come after them, dani doesn't know assumes that Rachel will if she wins the HOH.
Kalia: "If lawon leaves and doesn't come back i'll be so piseed… "
Dani: "If Lawon leaves and nobody puts rachel up next week i'll be pissed"
Kalia mentions that this this whole thing with porsche and shelly is getting on my nerves. Kalia trust Shelly and Dani trust Porsche and she needs to figure it out. Dani acts surprised, "when did you start trusting shelly?"
Kalia says she sort of trusts Shelly but when kalia asks shelly a question and she shoots a straight answer kalia beleives her. dani: "Well you should go find out who Shelly will put up"
Dani has had enough of shelly she needs kalia to find out who she will put up it's time for shelly to pick a side, "We need names and commitments..for all they know it's porsche and lawon. and what good does that do for us".
Dani is getting a little pissed because it's starting to look like people are not targeting the big players.. (LOL well you alliances just put up their own and the weakest player in the game WTF yo WTF) dani leaves..
(The funny thing is Kalia/dani talks about how badly they want Rachel gone..)
6:00pm Boy George putting on his face
6:05pm Havenots Jeff and Jordan briefly talk about lawon acting strange. Jeff is sure something is up because there's no way he was that surprised. Jordan thinks it's acting cause it doesn't look very sincere..
6:28pm Kitchen Kalia, Dani and POrsche before POrsche comes in Dani and Kalia are talking about catfish. Kalia is thinking that this week was suppose to be so perfect they would of had Brendon and rachel both out right after the other. POrsche joins says that she's talked to lawon and he told her how he thinks he's nailed it.. They all looked puzzled, Porsche adds that Lawon sys he's had a revelation but won't tell them what it is yet. More puzzled looks.
Follow @BigBspoilers and @Dawgsbigbrother on Twitter for recent crazed out spoilers. There is also a Facebook page.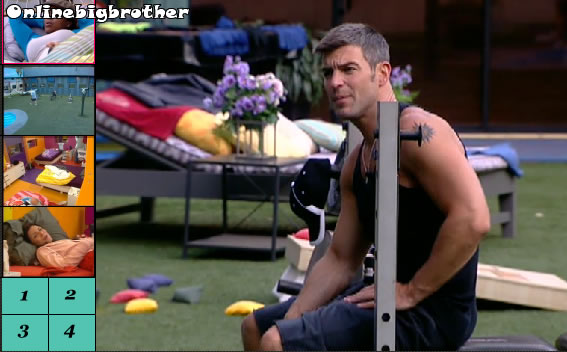 6:50pm Jeff and Adam working out Kalia on the hammock and Shelly, lawon and Jordan on the couch chit chatting

Big Brother 13 Spoilers POLL CAST your VOTE!

Big Brother 13 Live Feed Image Gallery
Follow: @BigBspoilers and @Dawgsbigbrother on Twitter for recent crazed out spoilers. Theres also our Facebook page.
Share it YO!!
Tweet