If you like this site and want to help us keep it running please consider donating, Your donations go directly to paying the server and bandwidth fees. Donate Link
7:35pm Bedroom Adam, Porsche and Dani chit chat costume party
Big Brother 13 Live Feed Image Gallery
7:45pm Bedroom Lawon, Porsche and lawon
Lawon telling them that Adam and Shelly are talking and Adam is with JJ. Dani and Porsche do not believe him they tell him their confused . Lawon gets a but annoyed "Your confused… confused". He goes on to explain that everyone in the house is talking about him volunteering and coming back into the house. Lawon doesn't understand how they know that. dani says shelly was in the room when he volunteered. Lawon knows that by whay does everyone else know. Porsche and Dani say their still confused .. Porsche for a second pulls out some sense saying "I think Shelly is working with JJ" Lawon doesn't think so he thinks it's Adam.
Lawon getting a little bit pissed says "You confused… you confused… well I'm sorry for confusing you"…"Something fishy going on my gutfeeling is saying Adam is with them (JJ) ". Lawon asks them why is JJ and Adam coming up to him saying they hope he didn't volunteer cause that was a stupid move.. "How do they know I volunteered" Dani says it wasn't a stupid move you're a pawn. Lawon knows that but why is Jordan slipping up ask him why he volunteered then saying "Ohh don't worry your coming back". Prosche asks him what his big revelation is. lawon said that is it…. Dani says he should go talk to Kalia. Lawon asks them what is wrong "Confused". Dani says she's hurting pretty bad from her period..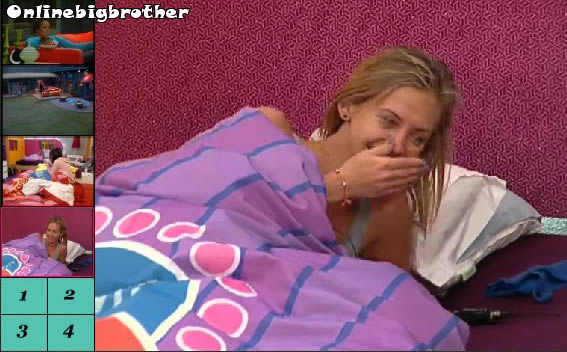 Lawon leaves Dani and Porsche start laughing
Dani: "Lawon is on Crack…." (if them mash up lawon's and Porsche ideas about who to trust they would know were the house sites..)
8:08pm Porsche is wondering if this entire week has been a giant cluster BLANK.. Dani: "were is Kalia" Porsche: "Outside making friends"
8:12pm kalia and Shelly Kalia saying that Rachel thinks she's staying. Shelly: "I absolutely don't' want her in this game.. I told JJ they're tied to a train-wreck". Kalia doesn't think anyone really wants to keep Rachel she thinks that Rachel's confidence is based on the fact she has JJ and Kalia is certain JJ want her gone.
Kalia is saying that Brendon cheated on rachel with multiple girls and they were only apart for 2 days. kalia adds that Brendon got in front of Rachel's car and went down on one knee begged her for forgivness.. Shelly doesn't think he had real sex.. thinks Brendon was playing with himself infront of another person on the internets and the person on the other side recorded it.
Follow @BigBspoilers and @Dawgsbigbrother on Twitter for recent crazed out spoilers. There is also a Facebook page.
8:30pm Kalia and Dani Dani is saying that lawon has gone crazy he's telling everyone that Adam is sayign lawon volunteered to go up and now lawon thinks Adam is with JJ and Adam told Shelly. Kalia: "Huh i'm Confused shelly was in the room when Lawon volunteered" Dani knows but Lawon thinks Adam is telling everyone that and he he's wondering were Adam got it from.
They both Laugh, dani: "Maybe it's better if Lawon does go home" they continue to laugh..
Kalia brings up talking to Shelly saying that Shelly doesn't think anyone would be scared to put her up next week. Kalia asked her why hasn't anyone "stepped up" to claim they would. Dani asks who would porsche put up Kalia says Shelly will put up Rachel and POrsche. Dani: "Who would be the alternate.. we're really running out of people adam, jeff or jordan which one" Kalia doesn't know, Dani says she better go find out. They both agree that the other side needs to be weaken (man these 2 keep sayign that)
Dani gets called into the DR
(dani is very close to getting a dunce cap)
8:48pm Food prep
Big Brother 13 Live Feeds Can be watched on your iPhone and Android Mobile devices sign up -> Watch Big Brother 13 on Your iPhone or Andriod Phone
Big Brother 13 Spoilers POLL CAST your VOTE!

Big Brother 13 Live Feed Image Gallery
Follow: @BigBspoilers and @Dawgsbigbrother on Twitter for recent crazed out spoilers. Theres also our Facebook page.
Share it YO!!
Tweet