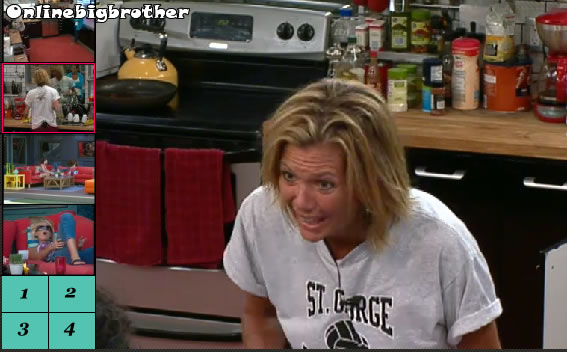 If you like this site and want to help us keep it running please consider donating, Your donations go directly to paying the server and bandwidth fees. Donate Link
3:48pm Shelly and Kalia in the kitchen Shelly throwing Lawon under the bus saying he's a idiot running his mouth off like he has been. Shelly asks Kalia if she told him to act this way because right now he's doing some major acting, "He stormed out of the DR saying they had to re shoot his piece 8 times because of all the cussing"
Shelly: "right now he was totally stupidfied himself to a level I have never seen in this game". Kalia agress says she'll need to talk to him before he takes it too far. Shelly thinks Lawon is america's player that he is making money by acting so crazy, she really doesn't see any other reason why he would be doing this. Shelly adds that Lawon has been running around saying he's going after Kalia and Dani next week. Shelly adds that it's really coming across as acting
Shelly tells Kalia how good of a position she is in right now because rachel and JJ are happy a floater went up and Dani is happy because Porsche didn't go up. Shelly thinks Kalia has made a great move and has ensured her safety for a long time. Shelly plans to vote out Lawon because she's sure that lawon is not playing the game to win he's playing the game to lay around the house and stir up BLANK. Shelly is convnce that Lawon is getting paid to cause drama and he's not doing a very good job. Kalia tells her to not tell anyone that Lawon is going to probably go home she wants to sit back and see what he does. Shelly shoots straight says she'll not say a word. Kalia is a bit worried they won't be able to vote Lawon out (OMG Kalia really is the dumbest player in BB right now) Shelly thinks after today it'll be easy for her.
4:13pm Kalia, Shelly, Jordan and rachel Kalia getting what she wanted all the "popular" girls are talkign to her about the movie Legally blonde. (Next week she's on the block.. Dani is in the bedroom resting.. She better start thinking about reshuffling the deck)
4:30pm Porsche and dani HOH They're talking about Lawon running around like a fool.. saying he volunteered to go up then saying he's pissed that he's on the block. Dani: "These people"
they are going over the nomination ceremony and how everyone looked so surprised. Porsche comments on how Shelly's face looked during the POV, "Girl you like like that dog.. it was weird"
POsche brings up that it's going to be Dani and her up on the block Kalia is outside chilling with Shelly, rachel and Jrodan outside. Porsche: "we have to win HOH" dani agrees. They are both shocked that Kalia told Shelly their entire plan. Dani thinks they might have to start watching each others back. Dani also adds that Kalia didn't tell Shelly everything but she said enough to possibly BLANK them. Porsche: "If I win HOH jordan or shelly is my target.. ahh BLANK rachel is still here".
Porsche points out that Rachel and Shelly are friends again.. Dani: "yes I know.. shelly does say some really mean things to rachel though" Porsche knows but she thinks they have something going on. Dani says that both Jordan and Shelly said some very mean things about Rachel last week but now they are all friends..
Porsche asks who she thinks will put up Rachel if they win HOH, Porsche thinks it would be her and Dani. Dani thinks Adam might but Porsche disagrees.
They wonder who Shelly will put up, Porsche thinks it'll be her and Adam. Dani doesn't know (Shelly has Porsche 100% fooled.. but at least DP know Shelly is a snake)
Porsche mentions how Kalia is getting through her HOH unscathed and now they are left if their 2 major targets still in the house. POrsche that side has Jeff and Rachel as their strong players and they have jordan whose attached to Jeff by default. (feeds keep cut in and out)
Porsche says Shelly has been going around trying to "get the girls together", dani hasn't heard that before. (Feeds keep cutting out because dunce, Jordan, rachel and Shelly conversation)
Dani: "rachel has to go next week if she stays" Porsche agrees… she thinks Adam will keep Lawon if they don't tell him. Dani agrees.
Dani doesn't trust shelly, she trust adam but doesn't want to give him a reason to not trust her. dani asks if she will backdoor rachel. Porche says she won't but she's feeling like if Rachel wins HOH Prosche might get put up as a replacement nomination.
Follow @BigBspoilers and @Dawgsbigbrother on Twitter for recent crazed out spoilers. There is also a Facebook page.

Big Brother 13 Spoilers POLL CAST your VOTE!

Big Brother 13 Live Feed Image Gallery
Follow: @BigBspoilers and @Dawgsbigbrother on Twitter for recent crazed out spoilers. Theres also our Facebook page.
Share it YO!!
Tweet