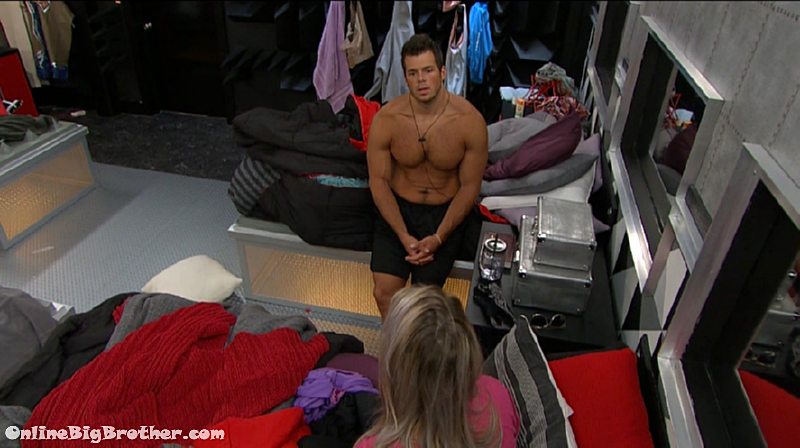 Check out our BB19 Ranking Grid. . rank your houseguests here
1:45pm Mark and Elena Have nots
Mark says Cody and Kevin were talking and Kevin told him if Cody takes out Mark he'll get 5 weeks of safety.
Mark – I don't know if Cody is trying to scare me or not.. I don't trust Paul at all.. "
Elena – Jess told me the other day that there's something from the other side of the house that has been talking to her and telling her stuff, keeping her informed. when Dom was on the block they came to her and offered to work with us..
Elena – she was like no and Paul made an agreement with that side of the house that.. he's guaranteed safety either way.. and so like if power shifts over there he's safe
Mark – I see it
Elena – Umm.. xmas told her that she doesn't like me at all.. and the other person on that side of the house has heard Christmas say my name a couple times too.
They agree is Kevin. Elena thinks it might be Jason.
They mention how Kevin plays stupid. Elena shares a story where Kevin came downstairs where he was with everyone he didn't see her she changed rooms. When he entered the room she was in he said.. "Where is everyone"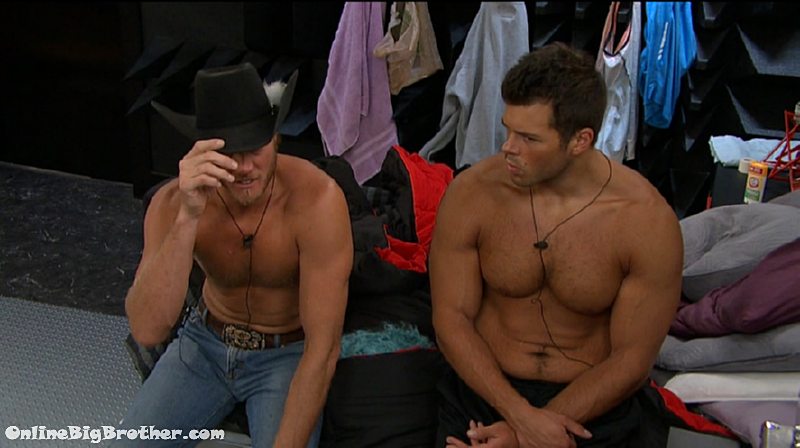 Jason joins them..
Elena – what did you say about the votes when we were upstairs
Mark – I want you to know if the votes come out it's not me
Jason – it's fine i'm not worried about the votes i'm just trying to figure uhh you know what I mean like.. .so it doesn't get f*ed up.. like.. if we all spread them.. the wrong way then.. then it's stupid…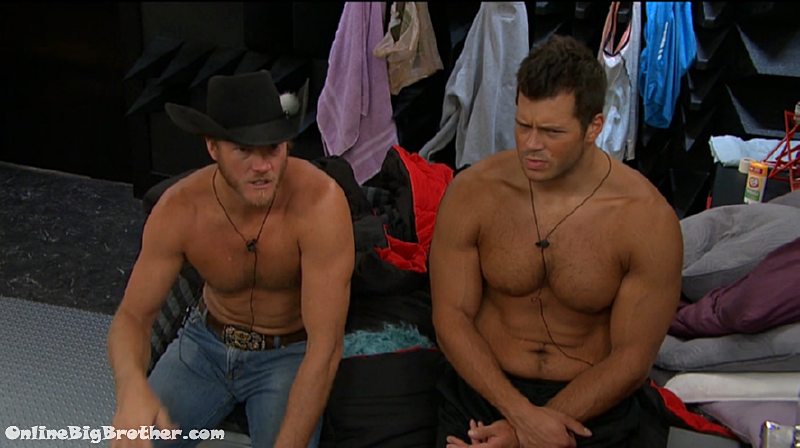 Elena – why would we spread them..
Matt – spread what..
Elena – Jason, why are we spreading votes.. .
Elena – Ok Good talk ..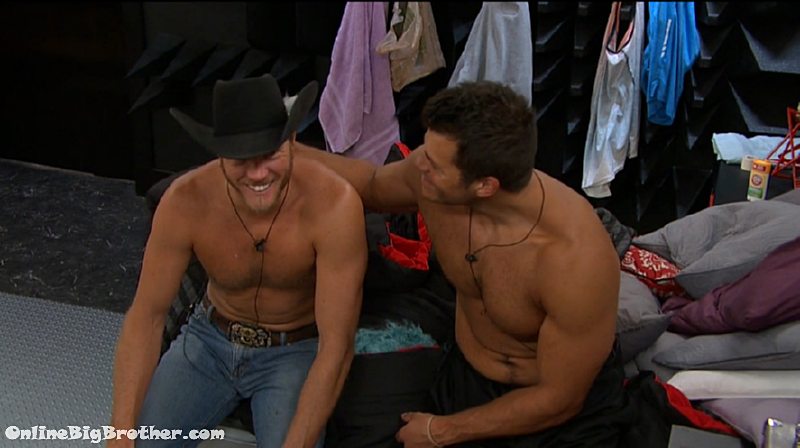 Matt – what are you talking about spreading..
Jason – is it hot in here.. (LOL Jason is the best)
Mark – don't laugh.. why would we spread votes..
Jason – we're not spreading votes..
Mark – Oh my Gosh..
Elena – so we're spreading votes..
Jason – we're not spreading votes..
Elena – I'm not going to lie to you I know whats going on..
Jason – you're voting out Jess right
Mark – ya
Jason – and Matt's voting off Jess right
Mark – Ya
Jason – then we're good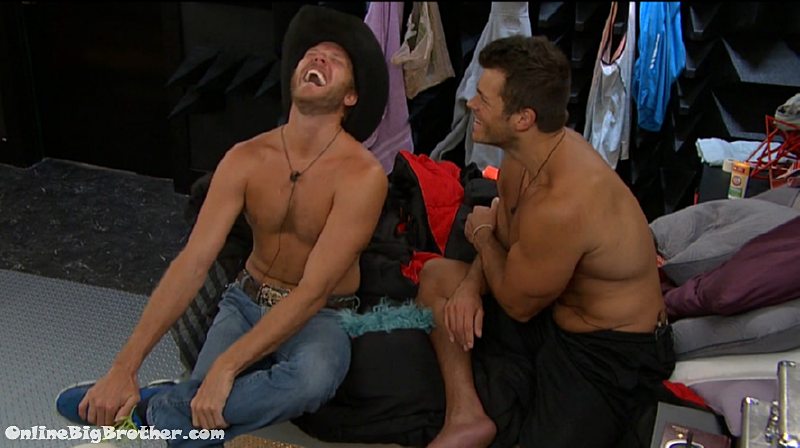 Elena – should I just pack my sh1t..
Elena – sh1t is happening.. someone is going ot vote me out
Jason – that's the problem.. if we get to f*ing around too much.. that's the problem..
Mark – F*ing around..
Jason – I dunno.. I want to retract it all.. I'm just going to evict Jessica
Mark – why are you JUST going to evict Jessica that's the plan
Jason – I thought it was your idea
Elena – to spread votes.. do I need to pack my sh1t JASON
Jason – Jessica is going home..
Mark – what Idea did I say
Jason – see this is why I shouldn't play the game..
Mark – why would I want to spread votes if she's on teh block
Jason I dunno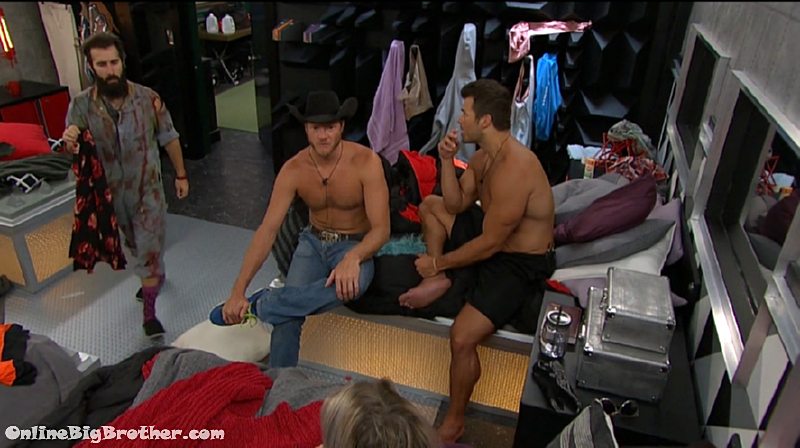 Paul comes in tells them everyone but Cody is voting out Jessica today.
Paul leaves..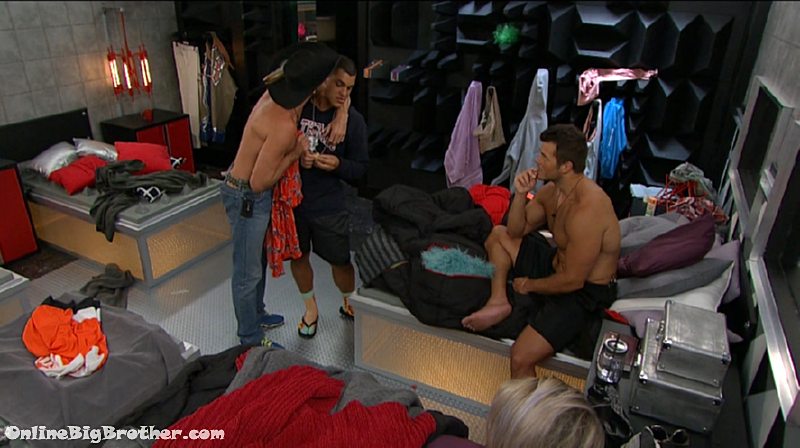 Josh comes in and asks what is up.
Jason – we're voting to evict Raven
Josh – MAN Shut the f* up.. MAn.. pots and pans ain't sh1t.. (HAHAHAHAH)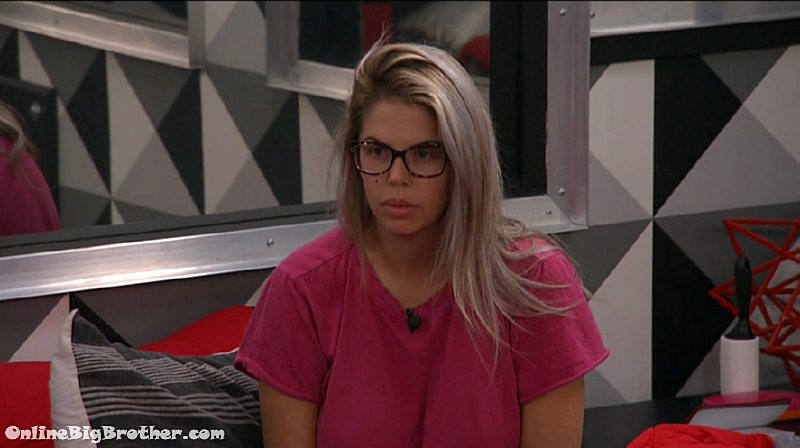 1:59pm Have Nots Elena and Mark
Elena – Something's up
Elena – the beautiful thing about the conversations we just had they can't use it.. they've already produced the show.. it's irrelevant production wise..
Mark says Paul is playing everyone in the house.
Elena knows that she's known that for awhile. Once she became a pawn she started doubting Paul.
Elena asks if Cody went with the deal Kevin proposed.
Mark says he doesn't know. Elena doubts it.
Mark – Should I vote Jessica out
Elena – YES VOTE JESSICA OUT
Paul joins them.. they share with Paul what the problem is with Jason .
jason comes in.. "7-1 right"
Paul laughs at Jason "You can't take this nut sack serious"
Jason leaves..
Paul- He's just a fucking spaz
Elena- He was saying stuff that didn't make sense.. to like cover it while walking up the stairs with me
Paul- Elena you are not going home.. in no parallel universe are you going home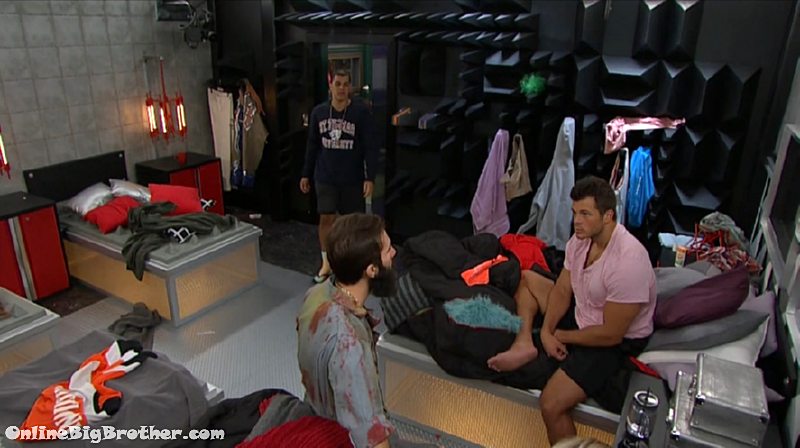 They clear up that Jason was saying "Spreading the votes… uhh uhh is it hot in here"
Paul – he said that today…
Paul – if I win HOH
Mark – are one of us going up as a pawn..
Paul – no … no. that ain't my agenda.. definitely not now..
Josh comes in
Josh – You guys have a minute
Paul – HOLD ON CAN I FINISH this real
Josh – YA YA YA YA
Paul – can you shut the door
Josh – YES YES YES
Paul – you 2 have never done me wrong.. I get it you're on the block.. I understand..
J- You guys have a minute
P- HOLD ON CAN I FINISH this real quick
J- YA YA YA
P- can you shut the door
J- YES YES YES pic.twitter.com/tquCJX4xfF

— OnlineBigBrother.com (@bigbspoilers) August 10, 2017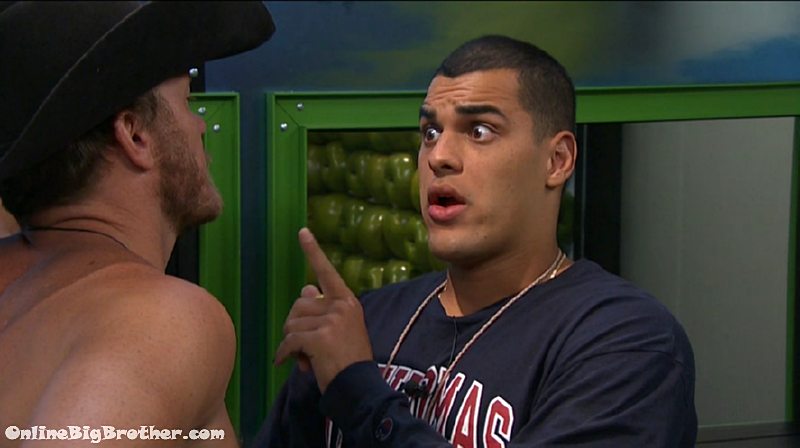 2:01pm APSR Josh and Jason
Laughing at how squirrely Mark and Elena are. Josh says it's becuase they played such a sneaky game.
They count the votes there's 7 to evict Jessica
Josh – I hope you open your eyes and see how shady those 2 are..
Josh – there shady as f* dude..
Jason says he thinks Kevin might throw a vote to Raven
Jason – it might be 6 to 2 I think
Josh – don't be fooled by Elena and mark you're a wise man
Jason – they bailed on Cody..
Josh says Elena threw everyone under the bus to stay off the block this week. Mark ran from Cody the second the house turned on him. JOsh stresses those are two shady players.

Alex scared Jason…
For the archives Alex Scares Jason again in the storage room. @DawgsBigBrother #BB19 pic.twitter.com/L01JffGohB

— OnlineBigBrother.com (@bigbspoilers) August 10, 2017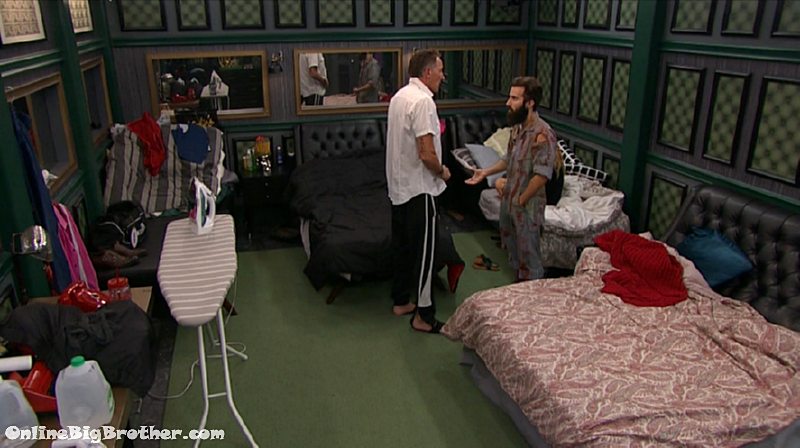 3:04pm Kevin and Paul (Alex doing makeup on the bed)
Paul – are you voting to keep Jessica
Kevin – whats that
Paul asks If Kevin made a deal with Cody if they didn't vote to Evict Jessica he would not come after them four.
Kevin – No
Paul – then why are you guys talking about a flip vote. .. I'm just trying to understand
Kevin – no no Jessica is gone.. there's nothing you can do that's not what it was
Kevin – if he won HOH he wouldn't put neither of us up
Pual – you shook on something
Kevin – that he would never put you guys up
Paul – right but what did he want in return
Kevin – that we wouldn't put him up
Paul – oh.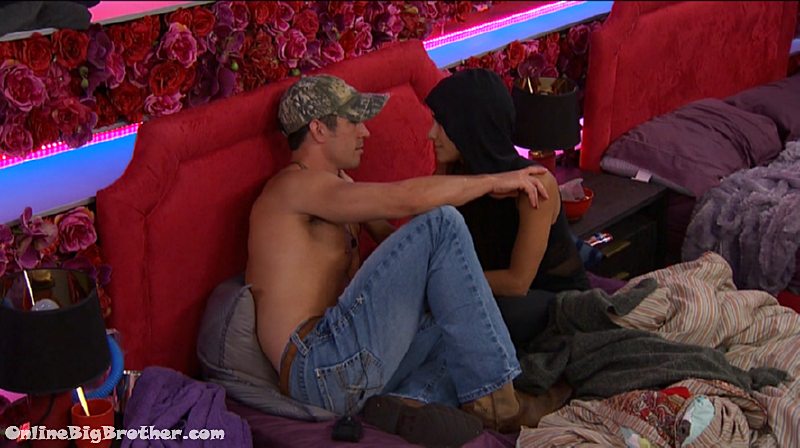 3:09pm Jessica and Cody
Jessica tells Cody to last as long as he cane she'll be waiting for him on the outside.
Cody – no matter what happens you always got me..
They're happy they found each other.
Jessica – is there a word bigger than love.. (LOL)
they laugh if COdy goes next on teh double and Josh comes right after him.. (HAHAH)
Jessica – holy shit that's bad
Cody – it's going to be Mark after me
Jessica – it'll be Alex after you
Links to the ranking system
Rank your house guests here
For those of you that like Statistics here are some expanded reports.