POV Holder:
?
Next POV
March 5th
POV Used
?
POV Ceremony
March 7th
HOH Winner:
Jared
Next HOH:
March 10th
Original Nominations:
?
Current Nominations:
Loveita and Sharry
Last Evicted Houseguest
Paige
Have Nots
Loveita, Sharry, Joel, Cassandra
Want to watch the Big Brother Canada 4 live feeds but live outside of Canada?
Bypass the geoblocking with HideMyAss VPN and be Canadian Anywhere: VPN Help Guide
ALLIANCES IN THE HOUSE
There will likely be a lot of alliances during the season – keep track with our alliance help guide.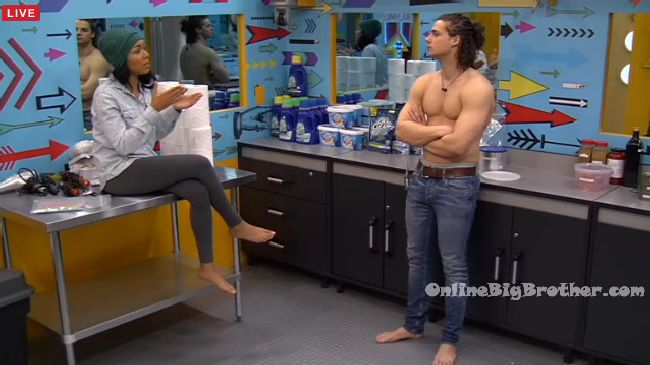 12:35pm Storage room – Loveita talks to Jared. I am talking to everybody. Before I went up I tried to make a deal with you but you didn't take it. Jared says no, I didn't realize how soon I had to nominate people. It was so quick. Loveita says I want you to know I respect your decision. I appreciate how you handled it. If I do win the veto I am not sure if I use it on myself or on Sharry. Jared says that's okay do what you want to do. Give your all out there, obviously I am going to do the same. Its your veto, it makes no difference to me. Loveita asks am I your target? Jared says if you can't take the head, take the arm. Loveita says part of me doesn't care if I go home. Jared says with a mentality like that you probably will go home. Loveita asks if I am here next week would I be a target for you guys? Jared says well I wouldn't be in power. Loveita asks what about Kelsey? Jared says that's a conversation you'd have to have with her. I don't know.
12:55pm – 1:20pm HOH room –
Kelsey, Mitch and Cassandra are talking. Jared tells them about his conversation with Loveita and says that he definitely wants to keep the nominations the same. He says he thinks its better for Sharry to go first. Jared leaves. Raul joins them. Cassandra says if I win HOH, Dallas is my number 1 target. Kelsey says if he wins HOH you would be his target. Cassandra says if Dallas won I think he would put me and Raul up. Kelsey agrees. Are we going with Sharry? Cassandra says she is. Kelsey says I think if the majority of the house is voting for her I think we should. Cassandra asks what if we backdoored Dallas? Kelsey says if we did and it didn't work .. he has the potential to do a lot more damage. Cassandra tells them that Dallas tried to gain her trust by saying he had a final four with, Maddy, Loveita and Sharry. They continue to talk about who its better to vote out. Mitch says he could go either way. They agree to wait and see what happens in the veto.
1:30pm Sharry tells Loveita that if I stay and win HOH next week, I am going after Kelsey and Jared. Loveita says if I win the veto I am going to use it on you. Sharry says I don't want you to just kamikaze like that. There's got to be a better way.
2:15pm Kitchen – Nick and Ramsey are having a rap battle about BB life.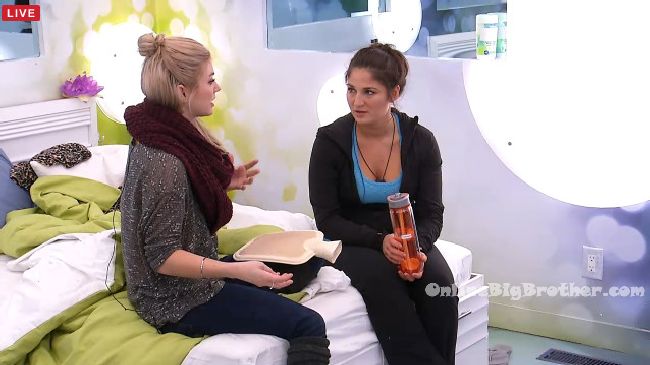 2:25pm – 2:35pm Bedroom –
Kelsey talks to Cassandra about whether or not to have a showmance with Jared. Kelsey says that she really doesn't know about having a showmance. Jared is a lot like the guys she hangs out with back home. Being on national tv makes her not want to do it. We have a real connection but I don't know if I want to cross that line. It would be nice to do something on my own. Do I really want to go there on TV with my parents and grandparents watching. What would you do? Cassandra says I don't think I could do it. You have to go with the flow of things. Don't stress yourself out about it. Kelsey says Canada wants to see it and its like I'm letting everyone down. Cassandra says once you do cross that line its out there and most likely it might not work out. Kelsey says I don't want to be reckless with anyone's heart and I don't want to hurt him. And I feel like if we make out it leads to other things. People were even calling us a showmance on day 2. Cassandra says that was Maddy after she found Jared attractive. It was a jealously thing.
2:50pm In the bedroom – Tim asks have you guys seen anyone lose their sh*t yet?! Cassandra and Christine say no but close. Christine says there's some people you can push their buttons quick and they'll lose their sh*t! Tim says tell me!! I'll push it!! Cassandra says I know, I know! She whispers Dallas and points to his bed. Tim says But they're feeling the heat. Cassandra says you should push his buttons. Tim says no because I like Dallas.

LIVE FEED LEAK:
Today's veto is the one where they have to recreate a home scene by the brick.
LIVE FEED LEAK – VETO Competition – Recreate the home scene by the @TheBrick #TheBrick @bigbspoilers #BBCAN4 pic.twitter.com/vD2Tz4CyOe

— Dawg (@DawgsBigBrother) March 5, 2016
4:10pm In the bathroom – Dallas gives Nikki a foot massage. "It's your Canadian welcome!" Nick comes through and asks if its rude to ask for a foot massage. Dallas says its not rude. I don't mind. Nikki gets Dallas to give Kelsey a foot massage after so that its not weird that she only got one.