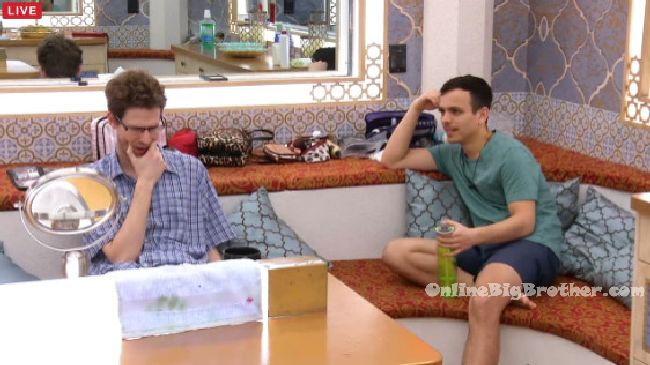 Mitch and Joel are talking in the bathroom. Joel says he thinks Sharr had more potential to turn on us than Love has. Sharr has a mind of her own. Mitch says and she's creative. She came to me asking me what I wanted for me to vote her way. Its dangerous that she's able to think outside the box like that.

5:20pm
Ramsey and Maddy convince Dallas to fart in a jar. Dallas takes it to the bathroom and farts in it then takes it to the kitchen and puts it in front of Tim and Cassandra. Dallas tells them it smells like dill pickles. Cassandra opens it and smells it. Everyone cracks up laughing and can't believe she fell for it.
5:40pm In the storage room – Raul suspects something is in the "Complaint" box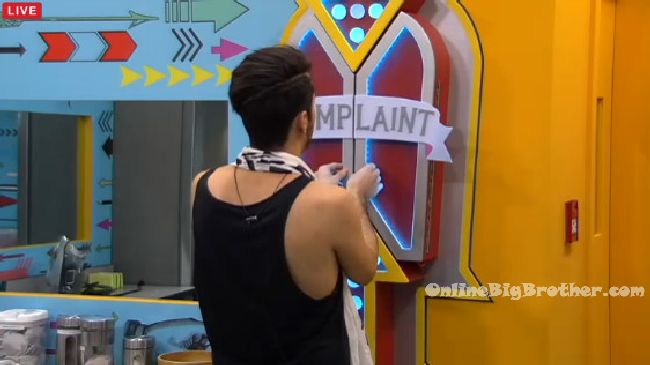 6pm – 6:30pm Cassandra says that Ramsey is in tight with Sharry. I want Sharry to go home. Everyone else wants Loveita to go. Christine says I think Sharry needs to go home. She's causes the most trouble. Christine wonders what will happen next week with Tim and Nikki once they don't have safety any more. Tim explains how you don't throw away a wildcard .. you use it.
6:50pm HOH room – Cassandra re-enacts to Tim how Loveita bullied her to vote out Kelsey last week.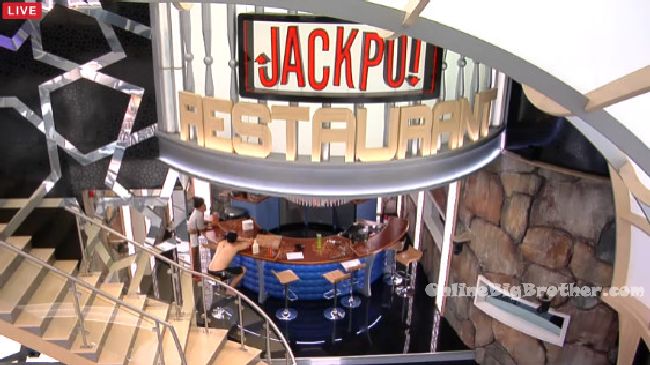 7:15pm
All of a sudden the Jackpot lights start flashing. It goes for a minute and then stops. The house guests have no idea why its happening. Cassandra talks with Loveita and thinks it has something to do with the "Complaint" box in the storage room and with the diary room (where you would put in a complaint.) Cassandra tells her what to try when it happens again. Loveita asks why are you helping me? Cassandra says because I like you.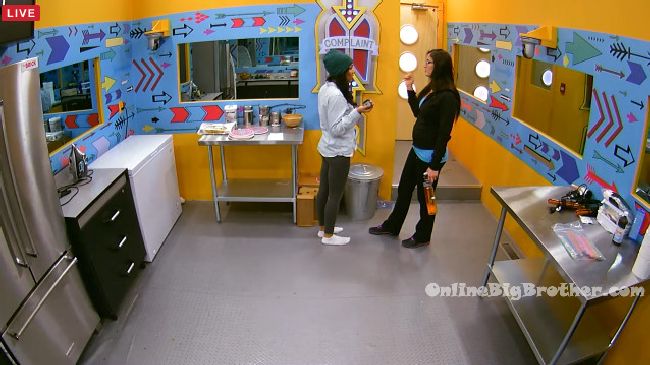 8:30pm Big Brother blocks the feeds..
9:20pm Still blocked… From the the live feed leak of the POV competition setup it looked like the comp is the recreate the home scene using furniture from the Brick .. so the feeds will likely be down for lots of hours.
Use the Hide My Ass VPN and watch the live feeds on your mobile phones and tablets. One subscription pays for all. It works on any device. Including internet enabled TVs and games consoles. You can even use it on two devices at the same time. HideMyAss VPN
If you're using an Adblocker, you're making a kitten cry! PLEASE consider disabling it for www.onlinebigbrother.com by adding us to your whitelist.
Share it YO!
Tweet