POV Holder:
?
Next POV
?
POV Used
?
POV Ceremony
?
HOH Winner:
Jared
Next HOH:
?
Original Nominations:
?
Current Nominations:
Loveita and Sharry
Last Evicted Houseguest
Paige
Have Nots
Loveita, Sharry, Joel, Cassandra
Want to watch the Big Brother Canada 4 live feeds but live outside of Canada?
Bypass the geoblocking with HideMyAss VPN and be Canadian Anywhere: VPN Help Guide
ALLIANCES IN THE HOUSE
There will likely be a lot of alliances during the season – keep track with our alliance help guide.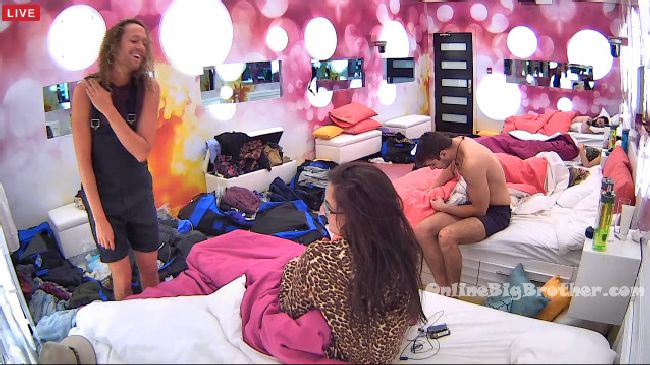 The Power Of Veto Competition is Today!
8:20am Big Brother wakes up the house guests. Tim complains about how all night he could hear talking and the building of the Power of veto competition in the backyard. In the bedroom – Christine says that the havenots thought there would be a secret veto in the havenot room and that's why they did it. They searched the room all night. Christine laughs that that happened last season but this is only day 9.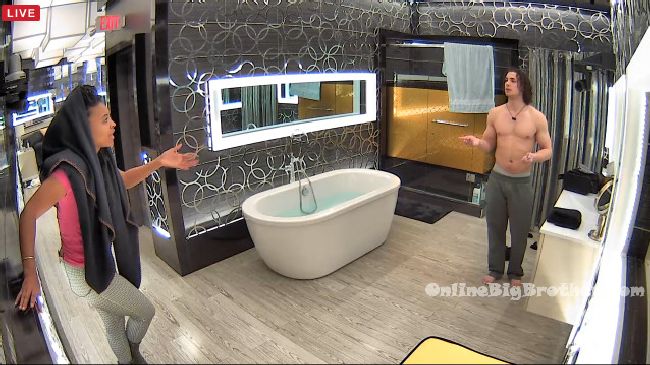 8:40am – 9am
Big Brother blocks the feeds. HOH room – Sharry is talking to Jared. She tells him that she appreciates how he gave her the heads up about going up. Jared says that we all have to compete in the power of veto today and if I win it there's still the possibility that I could use it on one of you. The idea has been tossed around. Sharry says she respects him for keeping his word. Sharry says it doesn't have to be personal. Jared says the only good thing about putting you guys up is that it was expected and it didn't rock the boat. Jared says even if I win the POV it doesn't mean I can't use it. Sharry says if I stay in the house at least I know I can trust you. You are one of the few that I actually trust.
9am – 10am The feeds were blocked for the picking of the Power of Veto players.
POV Players:
Jared, Loveita, Sharry, Christine, Philippe, Mitch
POV HOST:
NO Host (They think it might be a time trial POV)
10:15am – 10:30am Ramey, Sharry and Loveita are talking about the picks for the POV. Ramsey says I feel like anyone who wins it is just not going to do anything. Sharry says you have to remember these people are being influenced by people so.. Loveita says if people start standing up for.. Sharry says all these people that are pretty much in the draw with us are the floaters. And all they want to do is satisfy so like. Ramsey says so like they're not going to change. Sharry says they might, what I'm saying is they're the ones that are influenced, so if the majority of the house wants someone removed, they'll do it. They don't want to shake the boat. Christine doesn't care about anything in this house. And Phil and his brother I could try and talk to them. Ramsey says they're pretty much on board with the other side. Sharry says I don't know if its that. They're afraid to do something for themselves because that makes them more of a target.
11am Havenot room –
Loveita, Sharry and Joel talk about how if one of them comes off the block the other would need 6 votes. Sharry says we would need.. Mitch, Joel.. She stops and says its going to be hard. They want to try and get Christine put up if the veto is used. Sharry says she doesn't like how Christine says she doesn't care when she tries to talk game with her. Joel says if Christine makes it to the end I would want to shoot myself.
In the bedroom –
Maddy tells Dallas that she would rather vote out Sharry and so would Chistine. Maddy says that whoever wins veto as long as its not Loveita or Sharry .. Jared is going to campaign the sh*t out of to not use it. The head out of the bedroom to the couches by the front door. Dallas tells Maddy if she wins HOH she needs to put up Jared and get him out before he goes after them.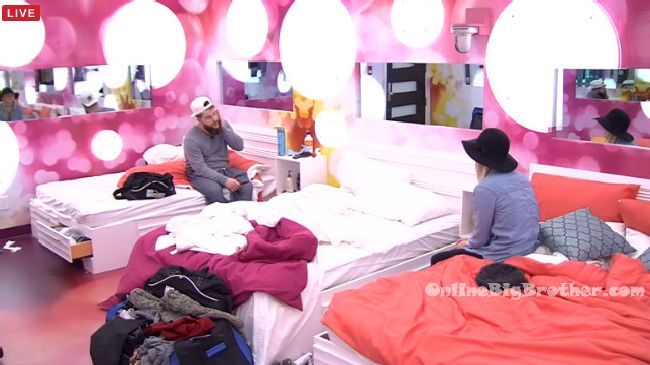 11:25am HOH room – Jared is talking to Raul. Jared says I would rather have someone do something wrong in front of my face like Loveita & Sharry than behind my back like what Dallas is doing. Jared says I kind of want to win this Veto so that I can say I won pretty much every competition I've been in. (Great strategy – I want to be seen as a big threat.)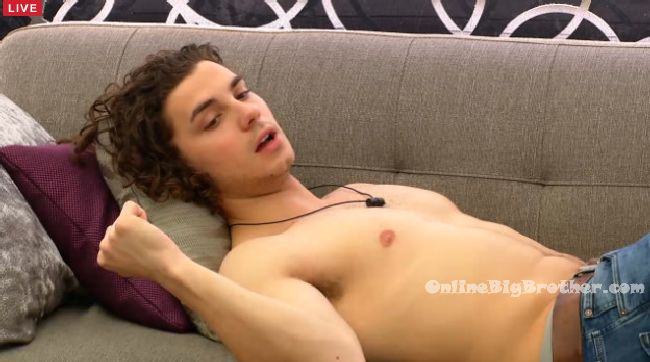 11:40am – 12:30pm Havenot Room – Loveita talks to Phil. Phil tells her "If I win the Veto, I don't think I would use it to save anybody. Loveita says if Sharry goes .. I don't know if I want to be here because I don't want to work with snakes. Phil says that Kelsey and Jared give each other s*x eyeballs. You had to know he was going to help her out. Loveita says she knew that. Loveita says if you did win the veto and gave some reason as to why you took me off the block I would be indebted to you. Phil says I don't want to do anything super crazy right now … so that like people would be like wow he's working with this side or that side. I don't want to be caught in any unnecessary stuff.
Want to watch the Big Brother Canada 4 live feeds but live outside of Canada?
Bypass the geoblocking with HideMyAss VPN and be Canadian Anywhere: VPN Help Guide
If you're using an Adblocker, you're making a kitten cry! PLEASE consider disabling it for www.onlinebigbrother.com by adding us to your whitelist.