| | | | |
| --- | --- | --- | --- |
| POV: | Tyler | Next POV: | Aug 11th |
| POV Used | ? | POV Ceremony | Aug 13th |
| HOH: | Haleigh | Next HOH: | Aug 16th |
| Noms: | Kaycee Rockstar and Angela | Have Nots | |
Big Brother Spoilers I don't see Tyler using the veto on rocks he's using it on Angela. Kaycee will probably be the the replacement nominations. At that point it's a battle for which side can capture Sam's and JC's vote.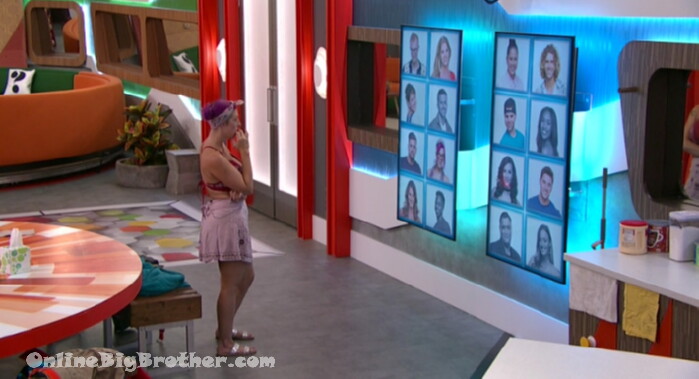 10:28am Rocks is the first one up….
10:51am Rocks wakes Sam up
Rocks – I didn't mean to wake you up I was digging through your shit for a lighter..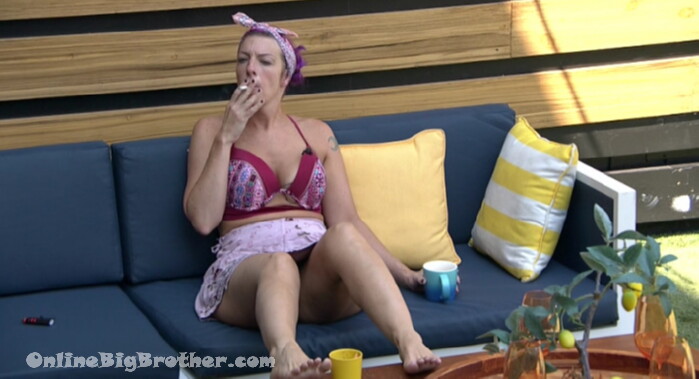 10:52am Rocks now with lighter and smoke heads outside… mumbling to herself counting votes…
Rocks – we get rid of Angela this week.. (LOL fat chance)
Rocks – the agreement is me Sam, Fes and Haleigh (rocks core alliance)
Rocks mumbles something about a battle back "I can keep my word in this game.. OK.. I fully trust Haleigh, Sam.. Fes I trust.. "
Rocks – Scottie and Tyler are working together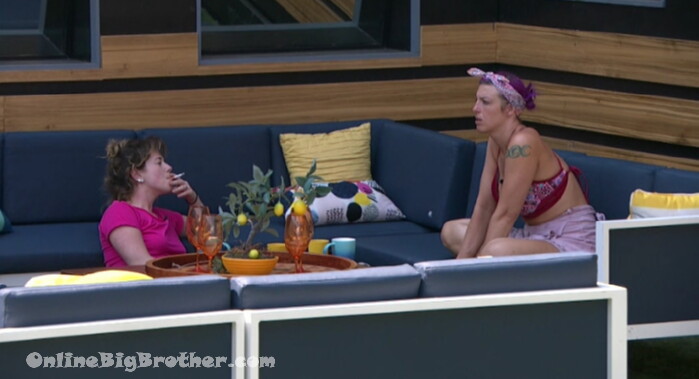 11:02am Sam comes out…
Sam asks her what she's thinking about.. Rocks has been working over the votes trying to figure out if she's staying and what she needs to do.
Sam – I think it's a done deal babe (you are staying)
Rocks – because he would be stupid not to take that deal
Sam – Tyler has alliances and teams whatever they are all shaken down now week to week.. yeah I think you are fine
Rocks – My ultimate goal is you me and haleigh Final three..
Sam – that would be amazing
Rocks – I'm working that out logistically. If Angela goes the next move would be to knock Kaycee out
Sam – I don't know if I can do that
Rocs – then it would be Brett and JC
Sam – I can't do that either
Rocks – you have to ..you have to get rid of everybody that's the whole thing..
Rocks says then they would have to take out Scottie and Tyler but Tyler first. followed by Scottie and Fes, "Then it would be us three"
Sam – I don't know
Rocks – it's ok
Sam – how about I just say I believe in you (LOL)
Rocks – OK
Sam – OK, and I'm here for you
Rocks – i'm doing different thing in my mind..
Sam -it's going to be a beautiful day
Rocks – we love everybody here we can't look at the people as who you love you have to look at them as pieces on a chess board..
Sam – ok.. I trust you dude..
Rocks – you want to keep your knights and you want to keep your pawns (thats you a pawn)
ROCKS – the queen is the most powerful the queen can move everywhere you want to keep your queens..
Sam – Yeah
Rocks – Kaycee's not necessarily a queen hasn't made any moves with anybody else except for her falling apart side (Hmm what have you done rocks?).. Kaycee view thins in sides and isn't adaptable to the idea of there not being sides.. She's said that from the very beginning.
Sam – I think she's nervous too.. maybe just try to talk to her..
Rocks – I've tried to talk to her a lot..
Rocks – I don't think she has a power this week because Bay's power expired this week (someone from their mastermind alliance was beating the war drums about Kaycee haveing the last power app but rocks thinks it's expired now)
Sam – I don't know
Rocks- Bay offered Angela bay the use of her power this week.. but Angela took Tyler off the block.. we said it's me Haleigh, Bayelgih we can work with you and kaycee we have 5 we have Sam and 6 we had the girls thing
ROcks goes on about the girls alliance..
ROcks says she can be honest with the promise she made to Tyler she could keep him here 3 more weeks.. (Wounded lamb)
Rocks – first bridge to cross we need to get me off the block because I don't want to be on the block.. I think I can make Angela a bigger target than me if he keeps the nomination's the same.
Rocks says that Brett is starting to figure out the numbers thing and she wouldn't put brett on the block because she doesn't think anyone should be on the block 3 time. "I don't like that"
Sam – I want to get some sun today as much as I don't want to be in a bikini
Rocks – I have one more day to stay in Tyler's ear… he's a smart kid but he doesn't want to be told what to do he wants to have option presented
Sam – just trust him.. he's here to win.. so just trust him.. tell him what you need to tell him then jsut trust him
Rocks – I kinda do
Sam – tell him what you need to tell him and believe what you need him to do and he probably will..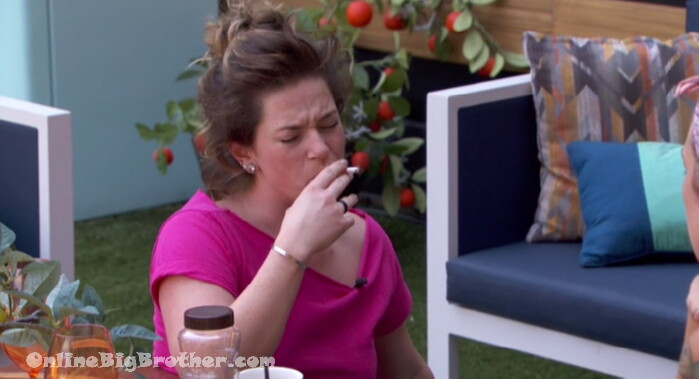 Sam saying that Scottie is special to her he never complains and he takes care of the house. "he's humble and kind"
Rocks – yes he's all of those things
Sam – I'm not rejecting the idea of an all girls ending .. I'm so.. I don't know I'm so attached to some of the guys in the house I feel like I don't know.. I feel like.. I don't know.. I'm the girliest girliest boy..
Rocks – I'm attached to many of these people to
Sam – Fes for sure..
Rs – that is why I am not saying they are next.. or in my agenda.. but eventually absolutely.. eventually everyone's gotta go that's the game..
RS – I love Scottie.. I would challenge you..
Sam – as you said we love them all we love all of them.
RS – I would challenge you to have a further real conversation with our little haleigh perhaps she would share with you things she wouldn't share with me.. Haleigh wants to let you know a little of her darkness.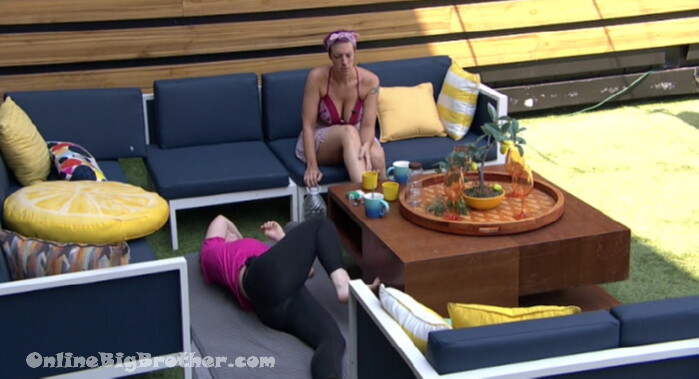 11:36am Sam and ROCK
Sam – I don't see haleigh as a stereotypical anything..
Sam – I know she's special..
Sam says she would be lying if she said she's wan't guilty of being jealous of Haleigh.. brings up her favorite artist Ani difranco..
Rocks goes on about how beautiful women don't intimidate her because as being someone that works at a gentleman's clubs.
Rocks talks about her staff of strippers and how gorgeous they were like Haleigh, Angela and Bayleigh
11:48am haleigh ZONKED.. 
NOON Angela is now up 
12:27pm a good portion of the house is up now.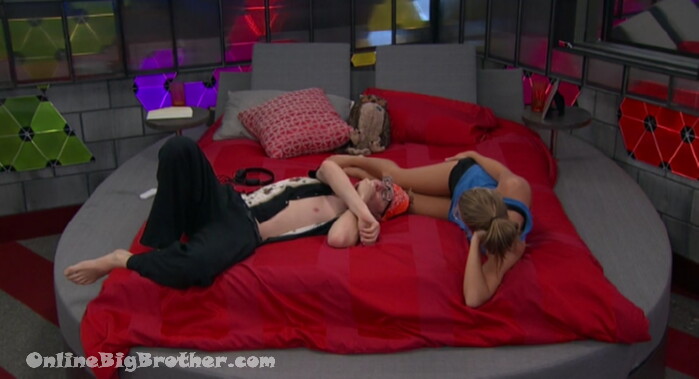 12:33pm HAlegih and Scottie
haleigh is talking about her awesome pitch to Tyler last night and how it was ROCKSTAR that pulled her up. She's goign to have another conversation with him today when she hasn't had any wine says she was drunk last night
Haleigh – I think it went well
Scotti e- I think it went well.. all the stories I've heard..
H – From me and Rockstar..
S – yes
Scottie wants to make sure they are on the same page with everything..
Scottie brings up Rockstar helping Tyler during the Power of Veto.
Scottie – literally want happened she looked at him .. said something and he literally started booking it down.. you could see the panic in his f*ing eyes..
Scottie- we were allowed to scream it at you
H – she keeps apologizing to me.. I'm like Rockstar I'm not on the block
they agree JC is putting things in Fes' head.
H – I didn't realize how big of a problem JC was
Scottie – a problem
Scottie says getting Fes out may be a problem
H – we have the opportunity to get him up this week.. but do we have the numbers
Scottie mumbles no
h – I just have this feeling.. the way Tyler was like.. you can always tell how a conversation went..
Haleigh says the conversation with Tyler ended with him saying he knows the numbers and nobody has offered him anything including Angela. haleigh goes on about how stupid that is for Angela.
H – Tyler I know Angela took you off because she is your friend but she was going after Bayleigh she wasn't like my good I want to take you off you can't be up there..
Haleigh makes it sounds like Tyler didn't think of that …
Ha – Listen you don't understand me..
SCottie – I think it went welll
Ha – we talked for a n hour..
Ha – I didn't like Rockstar offering .. Sam had said Tyler has safety
Scottie says Rockstar was offering Tyelr safety from Fers, her you
Ha – I can't speak for anybody else.. I can only speak for myself..
Haleigh's entire conversation with Tyler was her assuming that Angela just started working with Tyler last week it's super funny.. .
Ha – he ended the conversation with I'm glad we had this talk.
They are laughing at how when she drinks wine she's like Popeye instead of her forearms getting big with spinach it's her brain on wine.
Scottie says if he wins HOH he'll give her his bottle of wine and she can be around for all his one on ones
Scottie – I use to joke with Steve.. if I win HOH you are going to be in my HOH you are going to be my bouncer.
H – I wish Steve had more of a chance
H – lets say he doesn't do it and brings Angela down.. I put Kaycee up she uses her power takes herself off then what..
Scottie – I would cry.. I'll cry with you
Haleigh says the only option are JC or Sam and she's made a deal with Sam.. If it's JC she would just look her door "That's how I solve my problems"
Scottie – that's what I do on the inside.
Haleigh thinks JC will stay over Rockstar.
1:13pm Hot..
12:32pm Fes talking to haleigh likes he has a clue about what is going on in the house. Giving her talking points with Tyler.
Fes says that Tyler does everything the HOH wants. "I don't know if we should reassure him"
Fes lists off all the weeks where Tyler did what the HOH wanted (Cause maybe Tyler was running that HOH) Fes wants her to work the point where she's the HOH and she wants the POV used on ROCKS.
Fes also add that she needs to tell him if he doesn't use the veto on ROCKS, ROCKS will still stay so he's pissing more people off . (I can't anymore.. )
Fes – if he does us veto Rockstar is probably going to stay
ring ring
Ha – how it is..
Rock – Rockstar.. you guys making out
fes – I'm telling her what to say to Tyler (HAHAHHAHAHAHHAHAHAHAHAH you telling her)
Fes Fills rocks in on his theory that Tyler is only doing what the HOH wants.
Fes gos on abotu his pitch to Tyelr .. (It's very very funny)
FEs – you don't think Rockstar is going to stay this week.. when the HOH breaks the tie.
haleigh – maybe you shouldn't pitch him
Fes – this game is all about numbers if he uses the veto on you and Kaycee and Angela are up.. where does the other one go.. who does the other one have?
Rock – the other one goes out the door.. the next week
Fes – did you tell him that
Rock – not in so many words.. I have told him I have worked it out so that he.. I'm strategic.. I'm a delegator and a organizer of people (sure) and things that's my actual strength that's why I'm a manager of a big night club.. with a lot of F*ing people
Fes – ok
Rock – so yes I didn't tell him but that's the next logical target that's the target BAME another week we don't have to worry about
FEs – on double eviction night get that next person out
(OMFG I can't believe they are really entertaining this)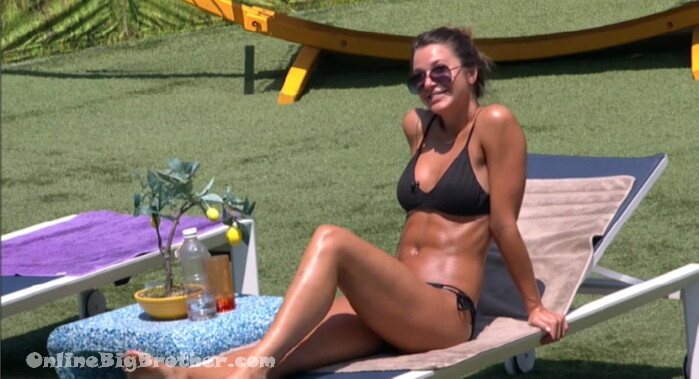 1:55pm Everyone out outside..
Donations Really do help keep this site keep running round the clock. If you like our content please consider supporting us
Rank the houseguests!
Easiest way to Rank the house guests use link below