| | | | |
| --- | --- | --- | --- |
| POV: | Tyler | Next POV: | Aug 11th |
| POV Used | ? | POV Ceremony | Aug 13th |
| HOH: | Haleigh | Next HOH: | Aug 16th |
| Noms: | Kaycee Rockstar and Angela | Have Nots | |
Big Brother Spoilers I don't see Tyler using the veto on rocks he's using it on Angela. Kaycee will probably be the the replacement nominations. At that point it's a battle for which side can capture Sam's and JC's vote.
A real easy way to support the site if you are an amazon shopper is to make your purchases through our link. You pay the exact same thing but we get a small % commission. It doesn't cost you anything and helps us out.
Amazon Canada
Amazon USA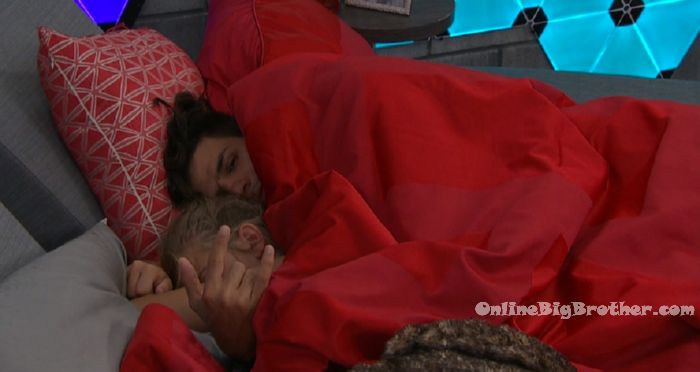 2:15pm HOH room Fes and Haleigh. Fes – as the numbers get smaller its better to win HOH. Heleigh – You, Rockstar, JC or Brett have to win HOH. Or Sam. Fes – I think Brett would put me up. Haleigh – he might. I would talk to him but I don't think he would listen to me. Fes – somehow Tyler uses the veto on Rockstar. Kaycee and Angela are sitting next to each other. One of them goes home. I win HOH. We put up the reminder one and who else? Haleigh – HHmmm. Fes – we put up Brett or Sam right? And if one of them takes themselves off we put up Tyler? Haleigh – no we put Tyler up.. we backdoor Tyler. Obviously! We tried to do that this week. Haleigh – I wonder what the new twist thing will be? Fes – another one!? Haleigh – they're not just going to do a two week twist. Fes – another twist could be the battle back. Fes – would you shave your head to save me from going home? Haleigh – no. Fes – what about half your eyebrow? Haleigh – no. Fes – so I am going home on a half eyebrow? Haleigh – Do you know how long I have been trying to grow these out and make them perfect? I was thinking about jury and it has to be a lot less stressful. Fes – it shouldn't be stressful. The only thing that would be stressful is if you act the same way in there as you do in here. Haleigh – what do you mean? Fes – Like the game is over so we shouldn't be hiding. Haleigh – no, I agree.
Fes & Haleigh kissing @bigbspoilers #BB20 pic.twitter.com/BDUymB2Mkw

— Dawg (@DawgsBigBrother) August 12, 2018
2:45pm Backyard – Sam is talking about everything including the meaning of life to Kaycee. She tells Kaycee that Rockstar is a grounding force for her like her friend Hollie Meanwhile the others are suntanning by the pool.
3:30pm – 4pm Backyard. Kaycee and JC playing corn hole.
4:10pm Hot Tub. Fes and Rockstar. Rockstar – Do you think I have a shot Fessie? Fes – what do you think? Rockstar – I think so. Fes – the numbers don't lie. What is going to help us move forward. And the fact that he has Angela and Kaitlyn playing him. Rockstar – if he uses it on my.. Fes – I will lose my damn mind! Rockstar – its the smartest move to make. He gets safety from me, you, Haleigh and Sam.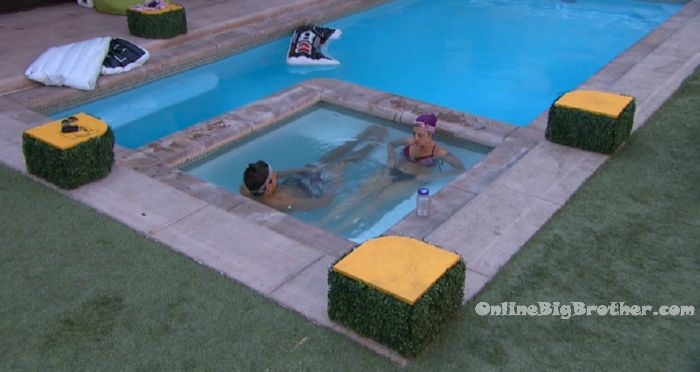 4:37pm Hot Tub. Fes and Rockstar. Rockstar – I need to talk to JC. what if Kaycee has a power? Fes – unless the power just expired. Rockstar – that would be great. Fes – I don't think she got it. Rockstar – but she's a professional football player. Fes – she's not. They don't have a following. They don't even get paid. Rockstar – that sucks. Fes – Think of the people who got powers.. Sam was a robot and Bayleigh's showmance got backdoored by her alliance member.
4:52pm Brett, Angela and Fes start running

5:20pm – 6pm Quiet evening in the BB house.. wait until Fes sees this: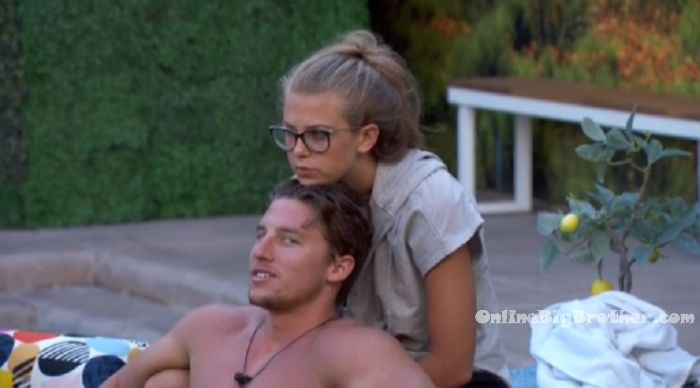 6:05pm – 6:15pm Havenot room. Tyler and Scottie. Scottie – people are stupid and they think we're stupid. Tyler – I know. I am trying to not piss anyone off. I am just trying to hear everyone out. Scottie – ever since the diabolical last week I've been spending all my time talking you up to Haleigh. Scottie – They proposed this to you before but I think they proposed it to you in this meeting. The final 6 .. I like the way they phrase it.. it would be Me, you, Rockstar, Fes, Haleigh and Sam. And to me I always things its funny that they do that because once we get to final 6 you and me are the first to go. Tyler – yeah that's what they said to me .. three weeks of safety. Tyler – I feel like someone has been pulling Sam away from me. Scottie – Rockstar. Tyler – yeah. Scottie – Haliegh chose to pick me over her last week. I don't think she understands that. Theoretically if Sam still has that pinky promise with us .. then we're good. Tyler – Rockstar has been saying how she's been reeling in Sam and sh*t. Sam is acting annoyed to me and I can tell its because Rockstar is in her head. Scottie – she told Rockstar and Haleigh that she has made no deals in this game. Which me and you know is f**king bullsh*t. She made two with us .. the pawn one and the three of us are good till the end. And then she made one with me .. where she said if Steve got evicted she would be with me till the end. That right there are three deals. Tyler – that whole mean everything she says.. Scottie – or she is just forgetting. That is just as bad. Tyler – Sam doesn't talk to me anymore. She won't even look me in the eye. I have no clue what I did. Scottie – now Sam made a deal with them. I hope ours overrides that. I think Haleigh genuinely likes me. Tyler – but where I am at is Angela used the veto on me and Haleigh put me up and then cancelled my vote. Haleigh joins them.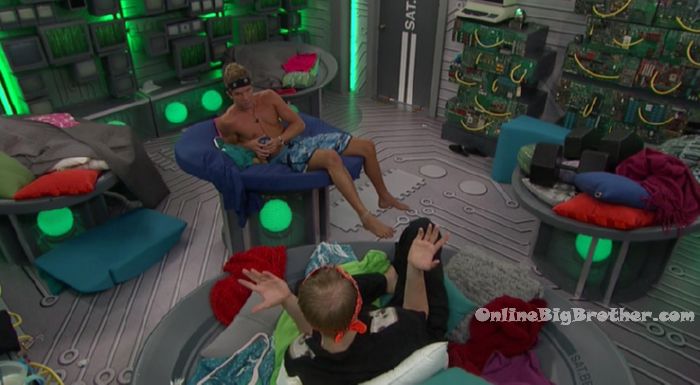 6:30pm – 6:40pm Scottie – if you don't take her off she will probably be really really pissed. Tyler – that goes for either of them. Scottie – I think the only people that would be pissed would be Kaycee, Angela and JC. Haleigh – JC tells everyone what they want to hear. Scottie – JC – wants as many big targets in front of him as possible. So he wants you to piss off as many people as possible because that puts you in front of them. And one of them is going home so that's only two mad at you. Scottie – JC usually says I have your back no matter what, shut up, you're an idiot. Haleigh – you're very naive, you're ignorant. Scottie – We were cross referencing. He says the exact same thing to me, Haleigh, Fes, probably you, .. he pretty much tells us all the same thing. He promised us all his vote. So we better not be on the block together. Haleigh – JC really isn't the problem. I just want you to .. Scottie – to do it. Tyler – can I say another quote of yours .. I am just going to hold you down and make you do whatever I want. Haleigh – I forgot I said that. Tyler leaves. Haleigh – so where's his head at. Scottie – I think he understands we support him.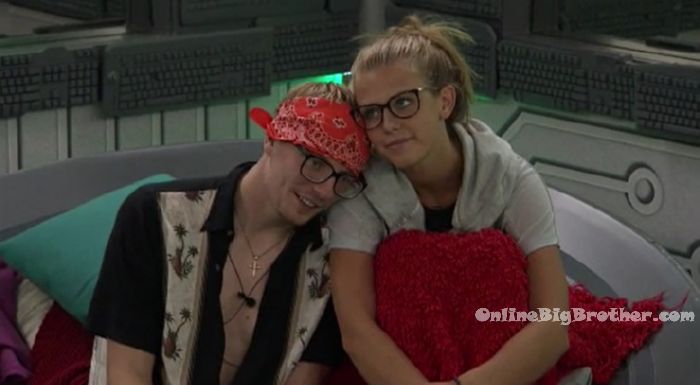 Mirror mirror on the wall.. #BB20 @bigbspoilers pic.twitter.com/zxn3H5mOUe

— Dawg (@DawgsBigBrother) August 13, 2018
Donations Really do help keep this site keep running round the clock. If you like our content please consider supporting us
Rank the houseguests!
Easiest way to Rank the house guests use link below