POV Holder:
?
Next POV
July 25th
POV Used
?
POV Ceremony
July 27th
HOH Winner Team 1:
Jackie
HOH Winner Team 2:
Vanessa
Nominations 1 :
James & LIz
Nominations 2:
Clay & Becky
Battle of the Block Winner
James and Liz
Next HOH/ Next BOB
July 30th / July 24th
Original Nominations:
Clay and Becky
Current Nominations:
?
Have Nots
?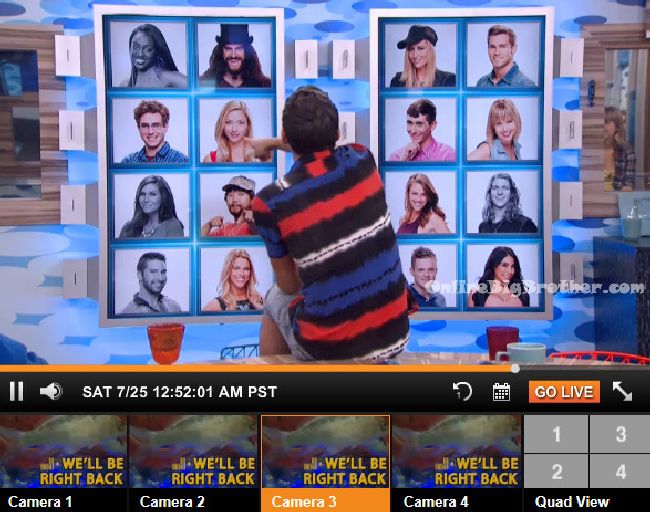 TRY the Big Brother 17 Live Feeds FREE for 1 WEEK:
Click here to ensure your live feed subscription supports OnlineBigBrother.com at no extra cost to you.
12:35am Austin, Clay, James, Meg, Jason. Liz and Johnny Mac are all in th kitchen eating cookies and ice cream. Shelli says I just looked up and noticed that Clay's key is gone and I wanted to vomit! Jason says trust me its worse when you see your's gone. Jason, James, Johnny Mac, Shelli and Meg come up alternate names for everyone based off their memory wall photos.
DaVonne = Erica
Austin = Dave
Steve = Keith
Liz = Courtney
Audrey = Jessica
James = George
Jeff = Brent
Shelli = Caroline
Vanessa = Kira
Clay = Chad
Jason = Petri
Meg = Krissi
Becky = Samantha
Jace = Aj
Johnny = Scott
Jackie = Nikki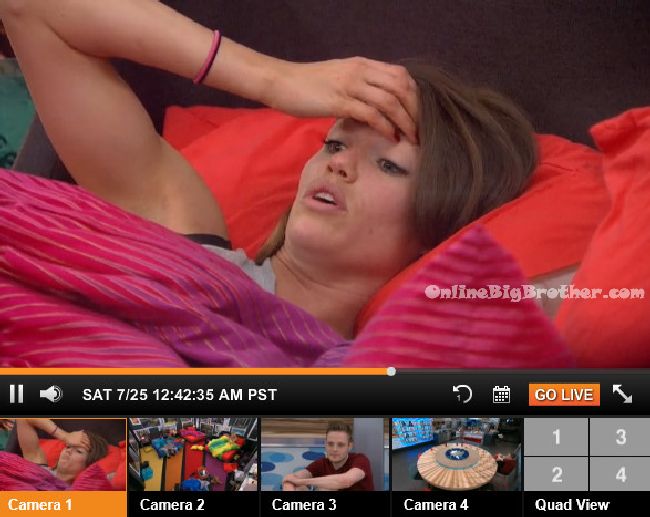 12:40am – 1am Comic bedroom – Liz, Austin, James and Becky are talking about the battle of the block competition. Liz asks so lets get to the bottom of this the clothes were nothing right!? Bekcy says they were supposed to be something but. Liz says it didn't work! James says yeah because we slung paint on each other and we didn't see sh*t. Becky says they.. bombed the comp.. Like Production. Liz says that side wall was a disaster. James would put more paint and then nothing would come up still. Becky says the "b" soaked up the paint but the "Q" didn't. By the time we replaced Cody with Christine you guys had buzzed in. Becky says we were off my seconds. Steve says so you guys were off by like 10 seconds roughly. Becky says the fairies are going to buzz me. We weren't allowed to even describe the competition because we f**ked up so badly. It will not be shown on tv. They will walk us to the middle of it because they messed up so badly .. it will not be shown. Austin asks what won't be shown? Becky says the middle of the comp because they f**ked up the comp. Austin says oh when they walked you through it? Becky says yup because we couldn't walk through the center. When we walked through they asked how did you figure it out and we said we didn't. And they said what about the letters and we said the V soaked up paint and the q .. Big Brother blocks the feeds. When the feeds come back – Liz says I hope she (Becky) doesn't raise hell about it and then they have to re-do it or something. Austin says there's no way, accidents happen. Janelle in season 7 ran over James in a competition and they tried to call that she physically interrupted him and they didn't.. Liz asks re-do it? Austin says nope, and she won. Liz says that she (Jackie) didn't think she was going to get overthrown either .. like get the hell out of the HOH room.
1:20am Jason, Becky and Shelli are talking about the BOB comp in the bathroom. Becky says that Liz for got the "i" in Christine and James told her. Its just hard knowing that we asked James to volunteer for the spot (to throw the BOB comp). It just sucks. If I'm the one to win veto I am going to do everything .. Clay is not going home. Even if I send myself, Clay is not going home. Jason says there's no way. All we need is 5 votes this week and we have at least 6! Even if America's Player was in here .. we would still have enough. He would have me, Meg, Shelli, Jackie, and whoever comes down. And plus Johnny Mac seems like he's heading that way too. James is the only one that still has a relationship with Austin. I don't think he would but.. people in this house hear one thing and change their mind. We have no reason to be worried and I don't even think James would do that. Big Brother blocks the feeds.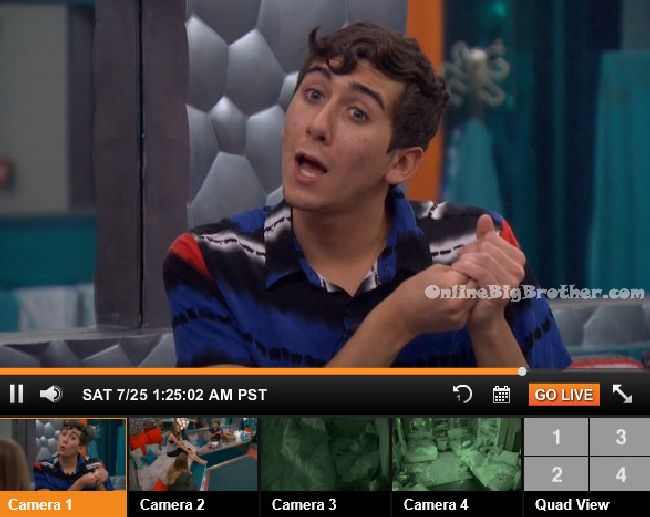 1:30am – 2:15am When the feeds return – Becky says you know when we were sitting on your bed and you asked I don't know who to put up what would you do? When I start talking about him (Steve) I notice the camera's zoom in. The camera's really react to him when I brought up his name to you. I noticed it but didn't know if I was just being paranoid. I got called right to the DR right after I talked to you. They wanted to know what our conversation was. I was going over the basis and they kept asking what else, what else, what else. Shelli says interesting .. he's next. Becky says its a situation like this where it could be a swing vote if Clay and I are on the block. Its a swing vote, like we have a strong competitor. Steve is not going to go with the house. He was sh*tting bricks that day when Audrey walked out the door. When I went through the list and I've been thinking its him (America's Player). I haven't been thinking its Audrey.. I've been thinking its Steve. Shelli says when I was HOH he came in and he was so awkward. He pointed out to me that he was getting blamed for everything. Becky says he was so stressed out when Audrey let. I've never seen him so stressed out. Jason joins them and says that Steve is a magnet to anyone he sees is talking. Jason says that Steve said we've all been able to hide behind Audrey and now that she's gone, new targets are going to arise. Shelli says if anything you say to him (Steve) .. loose lips. When he walks into a room I stop talking. They talk about how James goes with who ever talks with him last.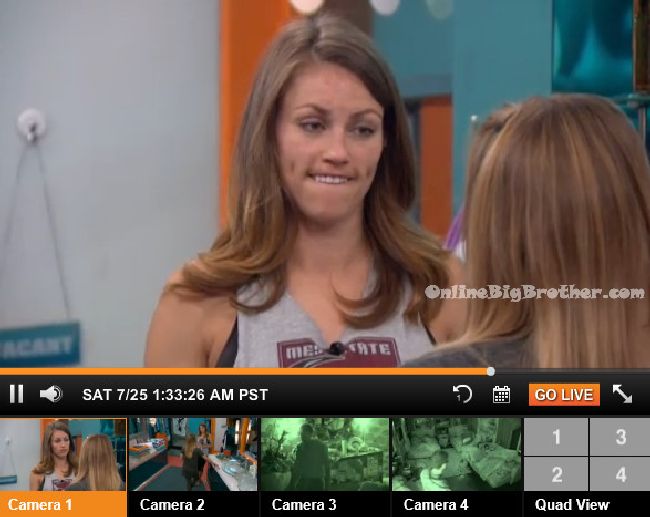 2am
Austin and Liz are laying in bed. He's rubbing her face and she's rubbing his arm. He then goes in for a kiss. She says I hate you and pushes him away. Liz tells Austin you make me all flustered to go to sleep. Austin says hey now.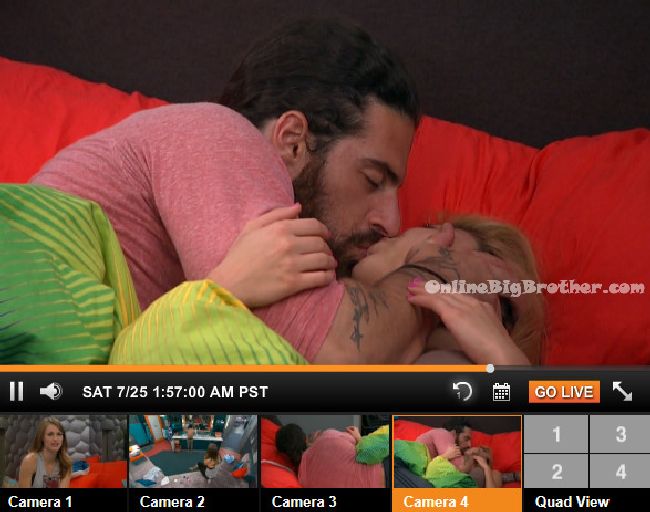 Austin kisses Liz https://t.co/auisvSHA0M @bigbspoilers #bb17 pic.twitter.com/pTS7WB9KB7

— Dawg (@DawgsBigBrother) July 25, 2015
2:15am – 2:25am Steve asks Clay how he's doing. Clay says as good as I can feel. Steve says I know how you feel. Freaking out is never a good idea and neither is campaigning before the veto. Clay says I volunteered to go up on the block and .. Steve asks you did? Can I ask what the plan is this week. Clay says I am close to Vanessa and she was freaking out about who to put up so I told her I would go up. I asked to go up next to someone strong so she put up Becky. Steve asks did Becky volunteer? Clay says yes. Clay says from my talks up there you were never a target. I don't want to say who was. Clay asks if you get drawn to play (in the veto) can I count on you being on my side? Steve says if Vanessa's okay with it then yes. Steve asks if you get house guest choice are you going to pick me? Clay says if you want me to .. you or Shelli.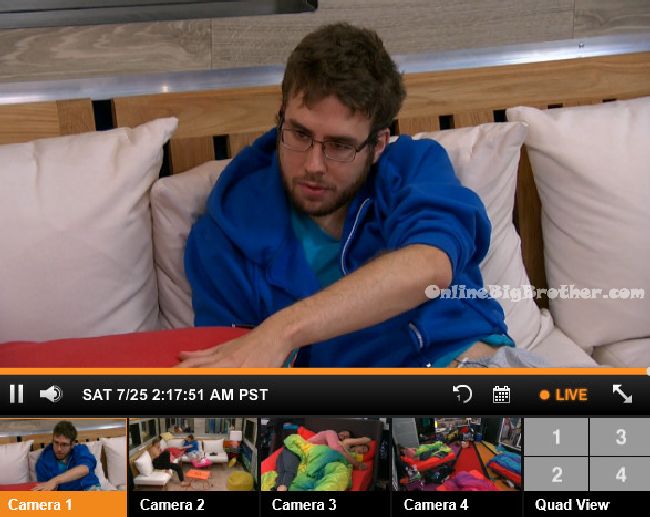 2:25am Austin tells Clay he got one (kiss) under the covers with Liz. She's still denying me. Clay asks just before I came in there? Austin says yeah 10 minutes before you came in. We were fooling around and stuff and then I turned her face and kissed her on the lips for like 3 seconds. It was for like 3 seconds. She asked why I didn't do it under the covers. There will be more where that came from. It will totally be on tv, they got it. Now its open season! She liked it too!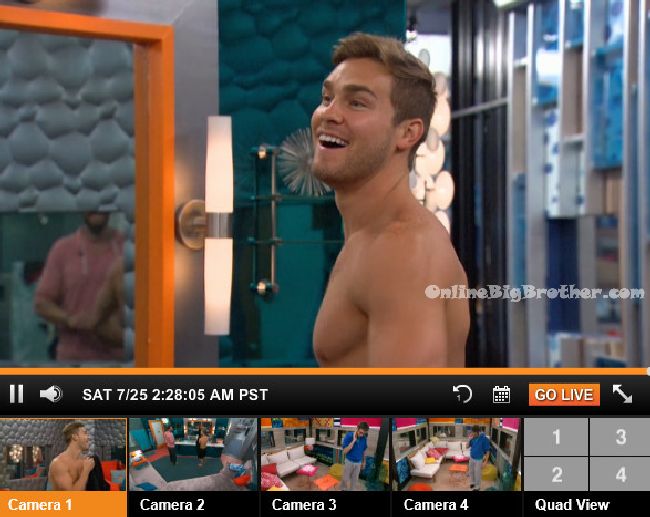 Austin tells Clay he kissed Liz @bigbspoilers #bb17 pic.twitter.com/J6zOY2egUK

— Dawg (@DawgsBigBrother) July 25, 2015
2:45am Steve is in the cabana room and tells the camera that he would like to officially apologize for what he said about the competition in the purple room. "I would like to officially apologize for any comments I made about the competition earlier. And I am now feeling bad about it. For what I said in the purple room. It was inappropriate. What I said about the competition was inappropriate and I will apologize again in the diary room the next time I'm in there but what I had said I think was uncalled for and I apologize. I am feeling bad about what I said about the competition and I shouldn't have told Becky what I thought about it. I threw the people I'm not allowed to talk about under the bus and that was not okay. I shouldn't have done that. I apologize for that statement.. well many statements that I had regarding the BOB today. That was not called for and highly inappropriate."
Steve says this game is not for me .. and I am not doing All-Stars. Season 17 is the only season for me ….so I might as well make it count.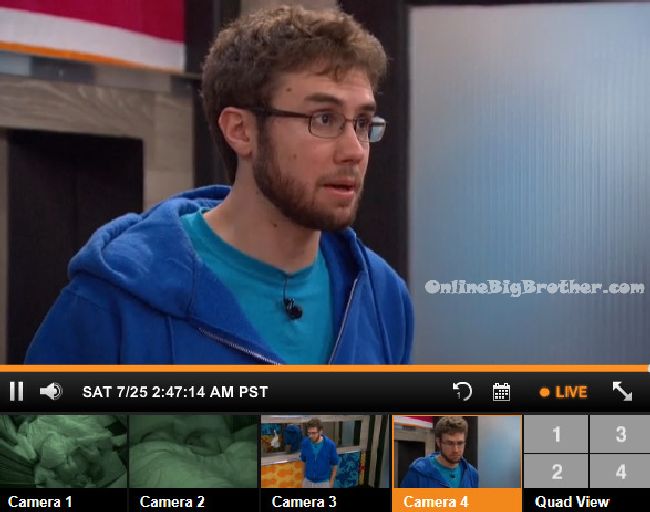 2:35am – 3:30am Shelli and Clay talk about how Austin and Liz kissed. Shelli says that Becky is worried that you might not use it. Do you think he (Steve) would use it on me? Then he can't be backdoored. Shelli says we can't tell Liz anything. Clay says we can't tell anyone anything till we find out who wins POV. If he wins he (Stve(will use it on me. If he doesn't find out anything. Shelli says if he didn't go up then you would have to target Austin again next week. It would be drama city! He could possibly win HOH. Clay says next week could possibly be double eviction. We have 2 chances to get them out. They have 3 chances to win. Shelli says if you're up on the block come Thursday I am going to throw up all over the place. Clay says I'll be fine. Clay says there isnt anyone really that we don't want to get drawn other than Austin. Clay tells SHelli that he is going to ask her something when this is all over. He tells her that last week he knew. And it has nothing to do with the L word so get that out of your mind. Shelli asks why can't you ask me now? Clay says because I want to know when you feel it .. it could be this week, next week. Its nothing serious.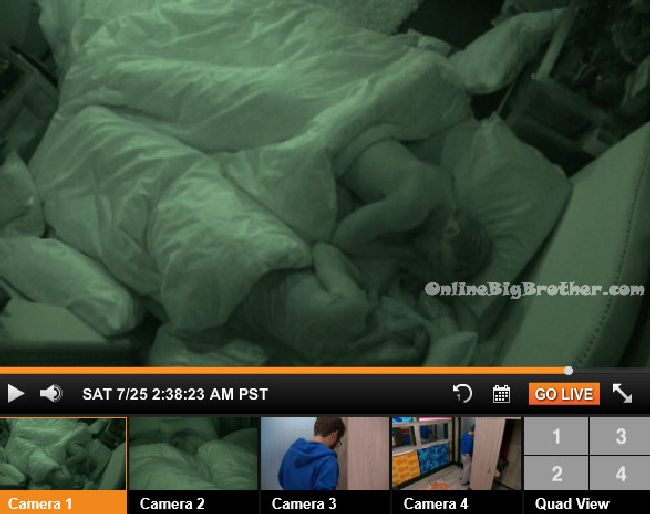 3:40am All the house guests are sleeping..
Live Feed subscription gives you CBS All Access thousands of archived shows. Live Shows like Big Brother, all the Big Brother Seasons, and 24/7 coverage of what is happening inside the Big Brother House. Plus there's flashback that lets you go back to any second of the feeds and rewatch what happened. Simon and Dawg will index the season just watch the parts worth watching. All this for $5.99 a month try it out 1 week free. Support our efforts and get your feeds via a link on this site. Live feed subscription Sign up
[polldaddy poll=8994045]
Share it YO!!
Tweet