POV Holder:
?
Next POV
July 25th
POV Used
?
POV Ceremony
July 27th
HOH Winner Team 1:
Jackie
HOH Winner Team 2:
Vanessa
Nominations 1 :
James & LIz
Nominations 2:
Clay & Becky
Battle of the Block Winner
James and Liz
Next HOH/ Next BOB
July 30th / July 24th
Original Nominations:
Clay and Becky
Current Nominations:
?
Have Nots
Shelli, Clay and Steve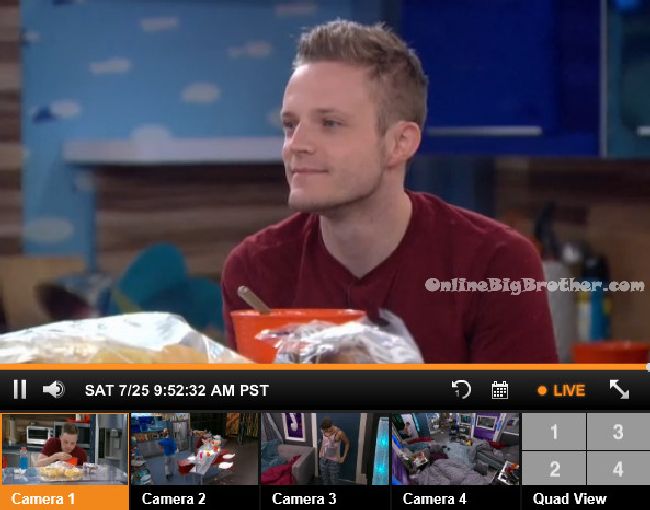 TRY the Big Brother 17 Live Feeds FREE for 1 WEEK:
Click here to ensure your live feed subscription supports OnlineBigBrother.com at no extra cost to you.
9:45am In the kitchen – Steve tells Johnny Mac that he thinks he is finally a sense of what happened this week. Johnny says I think I know. And something went wrong. Steve says and that's why everyone is scrambling. Austin and Jason join them in the kitchen. Austin starts making the omelette he promised to make Liz. The house guests are waking up and getting ready for the picking of the veto players / power of veto competition today. Steve jokes with Johnny and says I love how you could muster a vote for Audrey. Austin says yeah why did you do that? (It was Judas aka Austin) Johnny says I thought she deserved a second, third, fourth, fifth chance.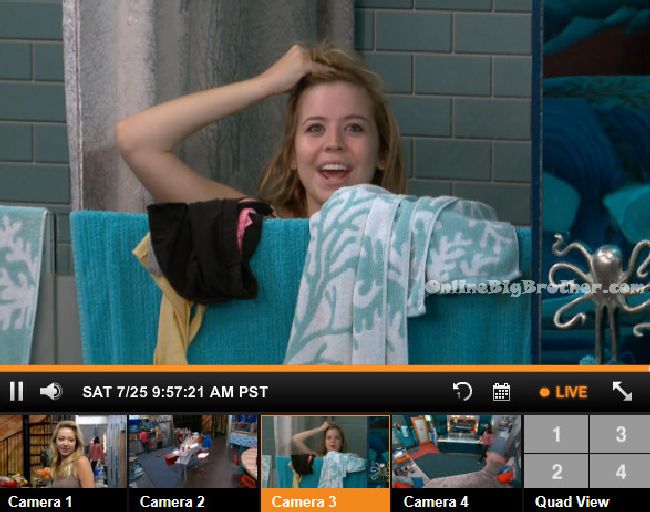 10:35am In the bathroom – Jason comments to Shelli and Clay that he heard smooching coming from their direction. Shelli says we weren't. Maybe on the cheer. I'm just being honest, we still haven't.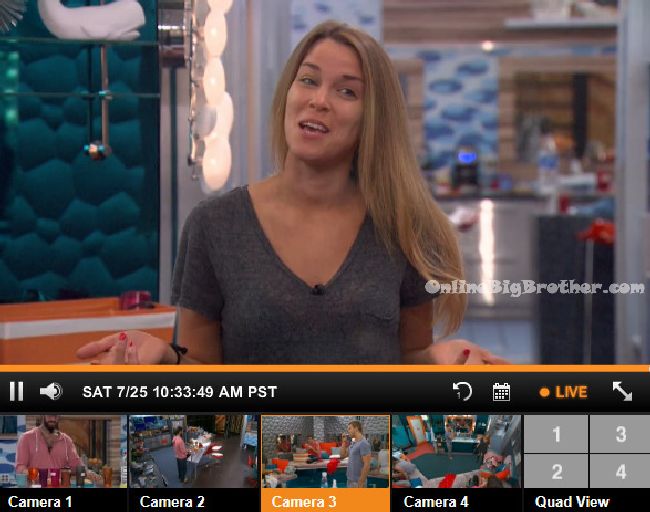 10:45am – 11:15am Kitchen – Liz says that she was talking to Steve and he told her to let the water roll off her back. She says he just mentioned Dan Gheeslings book. Austin says I know he's throwing the comps. Liz says I don't know why you're freaking out you have absolutely no reason to. Liz says that Steve flipped a table in the hammock room. Austin asks like angrily flipped it? Liz says no.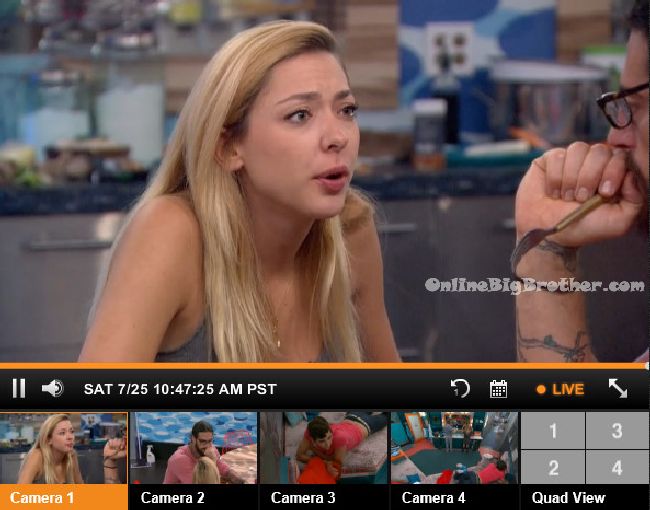 11:20am James, Austin, Liz and Johnny Mac are in the bathroom. James talks about his stories of being pulled over by cops and trying to pick up Jehovah witnesses. Liz wonders what they want? Money? Austin and James tell her they want you in with them. Liz says Jehovah witnesses can suck it! I would be a hot Jehovah witness. I don't like accosting people though. I would make more money being a stripper.
11:20pm Big Brother blocks the live feeds for the picking of the veto players.
11:50am The live feeds return.
Veto Players Picked:
Vanessa, Clay, Becky, Liz, Johnny, Shelli
Veto Host:
Jason
In the cabana room. Austin tells Liz we'll talk to Vanessa. They head out of the room. Johnny tells Meg you can't even get picked for the veto, what's wrong with you. Meg says I know, I wanted to play today. Jackie tells Johnny to go ahead and play for it. Clay joins them and says it was a good pick. In the bedroom – Johnny tells Steve I've heard people talking we either need to get the twins out or Austin. I think that's still the plan. Steve says it doesn't matter who wins it. Johnny says if Liz wins it… Steve says oh so she would use it to save Austin.
In the bathroom – Clay asks Austin if Liz wins it will she use it on me? Austin says yes.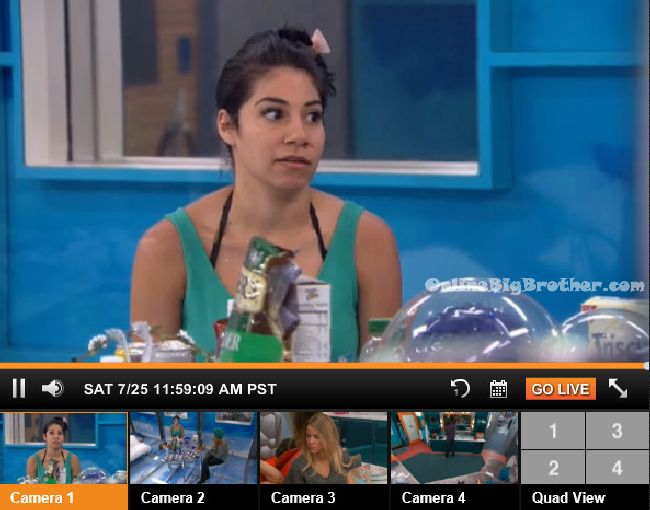 12pm – 12:15pm HOH room – Jackie tells Vanessa that Becky thinks the backdoor plan is Steve. If she wins it and uses it thinking Steve is going up and then you put up Austin she is going to freak out. Vanessa says we'll have to tell her before. I wouldn't do that to her. Vanessa says that she got house guest choice and had to pick Shelli or she would have killed her. Vanessa says that its not good for me to win it. Jackie says if you can see that Liz is going to win it you have to win it. You can't let her win. Vanessa says here's the problem I think I have to tell Liz what is happening… what if its picking people and I pick her? She is turning into two people. I am worried about putting her in a tough spot. Jackie says you can explain it later and get the points then. You can't risk her winning it. Vanessa asks what if you, me and Shelli do it so that she feels she has people. I know on a girl to girl level she will understand it. Vanessa says I bet my whole life the twins come in next week. They're good at comps. Mental and physical. Jackie says they switch before the veto comp. Vanessa says they just switched yesterday. Vanessa gets Jackie to go grab Shelli.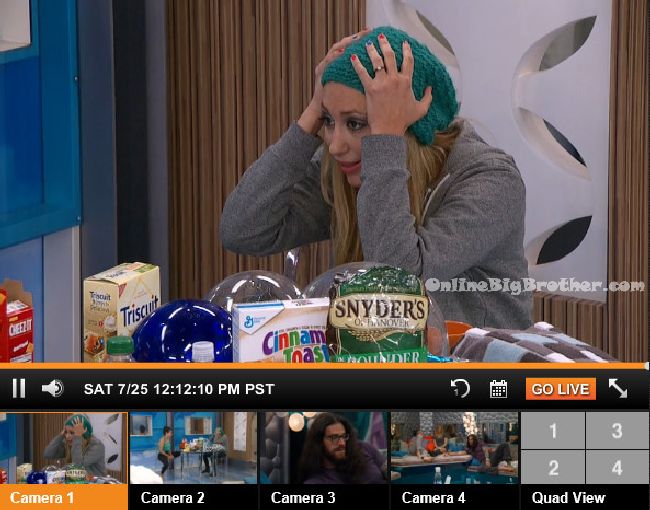 In the storage room – Liz asks Austin so if I win it I should use it on Clay. Austin says obviously we have to save him.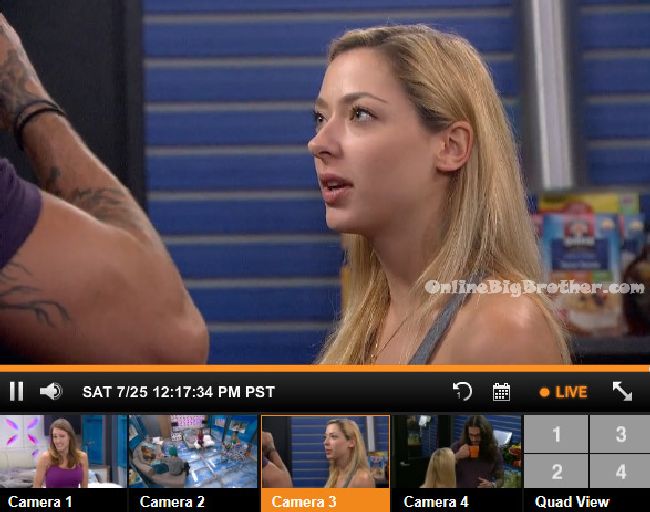 12:15pm – 12:25pm HOH room – Becky talks to Vanessa about being nervous. She says that house guest choice went to Shelli and now Clay has the advantage. Vanessa tells Becky that she is not going home. I had to picked her or she would have killed me. Jackie tells Becky that Johnny is playing for you. Shelli joins them. Vanessa says if Liz is about to win I will have to win but I would rather you win. This is Vanessa Rousso bathing in blood right now. I don't want to win it if I don't have to. Vanessa says its in our favour that Shelli is playing. I couldn't pick James, Jason or Meg because it would have spooked Austin and then Liz would not use it if she won. Vanessa wonders if they should tell Liz or not before the veto. I don't want to do her dirty. Shelli says their (Austin & Liz) connection is really strong .. she will tell him. If we tell her before hand she will tell him. She will either go to him and say what the hell you betrayed me or they are backdooring you. Shelli says its better to tell her after. Vanessa says I dont want to keep her in the dark and have her think she isn't part of the plan. Shelli says they telling each other everything.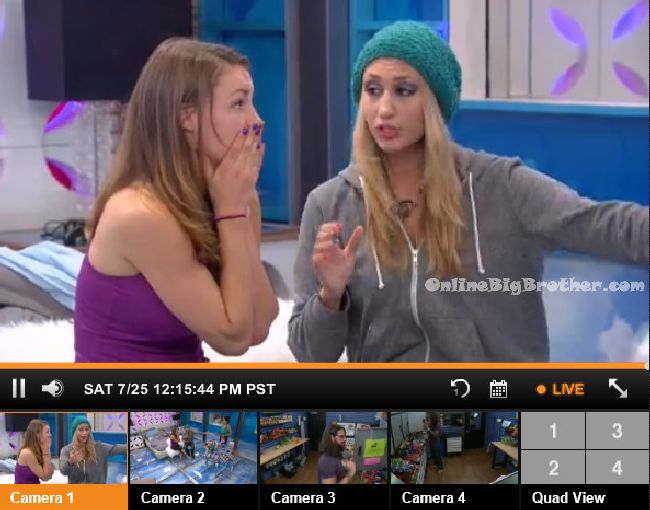 12:30pm Big Brother blocks the feeds and switches to the live feed highlights.
12:50pm The live feeds return to the house guests coming down from the HOH room. Its time to pick the havenots. This week there are only 3 havenots. Vanessa tells Shelli and Clay its their turn to be havenots and then Steve volunteers to be the 3rd havenot. Vanessa said she didn't want to make Liz a havenot because she was already on the block. The havenot extra food is "Slopcorn".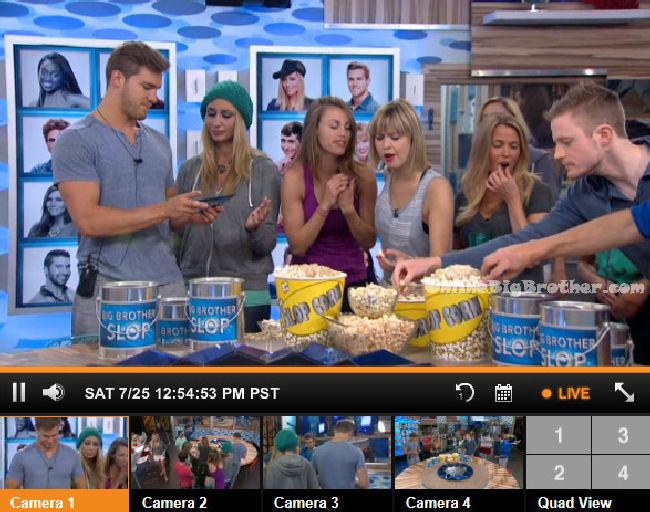 1pm Havenot room – Clay and Shelli check out the havenot dentist beds. James says not too shabby. Clay says yeah at least we have Steve.
1pm – 1:35pm HOH room – Vanessa tells Meg and Jason I had to pick Shelli as house guest choice. Meg says that Becky has just as equal chance as Clay to win with Johnny Mac going to use it on her. Vanessa says that we have a girl that is about to sprout into two chicks. I am worried about pissing them off. Shelli comes up and says thanks a lot for havenoting me with Steve! Becky joins them. They tell Vanessa that Liz is down there saying she's going to take the money or the vacation if its the prize one. Vanessa asks isn't it weird that Austin hasn't come up here. They talk about how Liz and Austin are in a full blow romance. They talk about the twins and how its so noticeable now. Liz joins them. She says she kind of wanted to be a havenot to get it over with but I do have that Outback Steak House to look forward to .. tonight or tomorrow.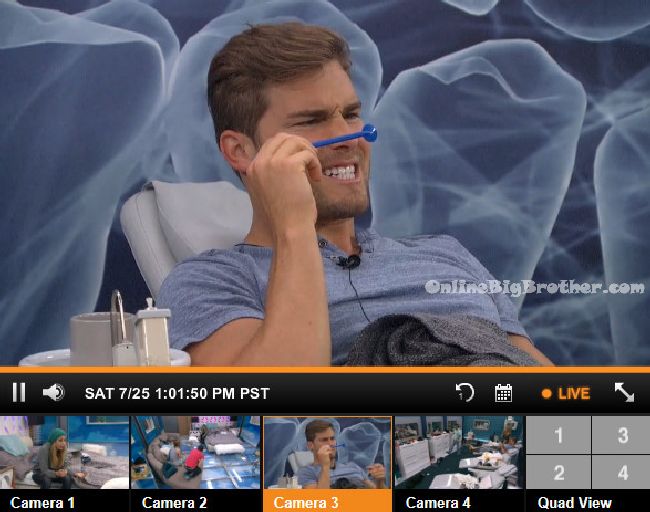 1:25pm – 1:30pm Comic bedroom. Austin tells Clay that he doesn't trust having Clay up there even if it is with Steve. We need to get you down. We need to talk to Vanessa. It doesn't make sense the way they're all acting and how they're all up there now. The lines are being drawn. Austin says me and you are going to be the main targets. Austin says we just have to get the numbers. Clay agrees. Austin says I'm going to tell Liz even if there is a vacation she has to get that veto. Austin says we have to get the pov. Austin says that Becky has been acting weird ever since they lost the BOB. She was talking about how the competition wasn't fair and how she went into the diary room to tell them it wasn't fair. Clay tells Austin that he and Liz should take their bed in the other room now because James, Jason and Meg sleep out there. Austin says he was thinking about it.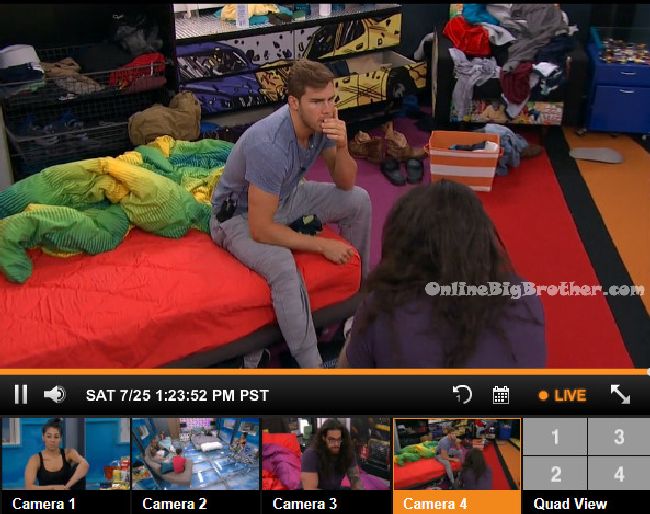 1:50pm Johnny says that he think he knows whats going on. What I've gained from being on the block there is always one that is more expendable. Becky says yup and I'm the expendable one. Johnny says everyone has hid this plan from you except for 2 people and you being one of them. And that ticks me off. Becky says that Vanessa picked Shelli for the comp .. meaning she wants Clay to win. I asked her if she won the veto would she use it on me to give me the advantage that Clay has. She says that Vanessa went off about not wanting more blood on her hands. If Liz, Clay, Shelli, Vanessa win they will use it on Clay and not me. I know I'm not the target but I can't trust them. Its 4 against 2. Johnny says you can't let them know you're on to them ..ever. If Liz doesn't win then I think we're good for the week.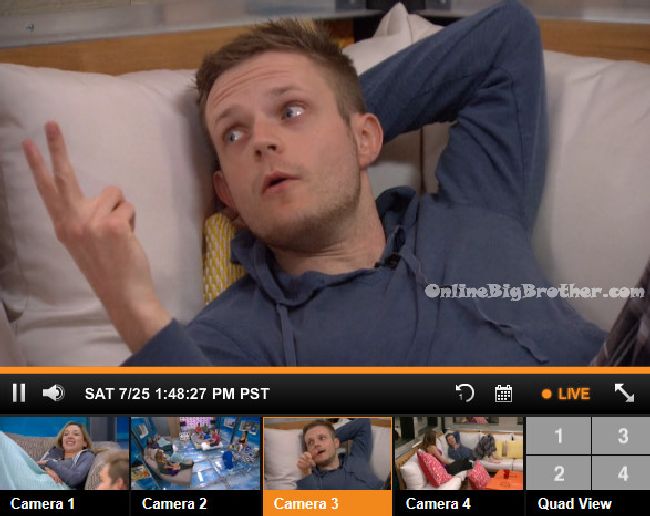 1:53pm
Big Brother calls Jason the POV host to the diary room and then switches the feeds to the live feed highlights. The veto competition is likely happening now.
3:24pm Feeds still down
[polldaddy poll=8994045]
Share it YO!!
Tweet