POV Holder:
?
Next POV
July 25th
POV Used
?
POV Ceremony
July 27th
HOH Winner Team 1:
Jackie
HOH Winner Team 2:
Vanessa
Nominations 1 :
James & LIz
Nominations 2:
Clay & Becky
Battle of the Block Winner
James and Liz
Next HOH/ Next BOB
July 30th / July 24th
Original Nominations:
Clay and Becky
Current Nominations:
?
Have Nots
?
9:55pm
Clay saying he got flustered during the BOB competition.
Shelli mention getting in trouble by production for trying to help clay
Shelli tells him it's going to be a good week for Clay, Lots of episode featuring him.
9:59pm Austin and Liz
Austin says they will never know for sure who the target was this week Liz or Steve.
Austin – Steve sucks at everything. but he's not against us
Austin says Vanessa is really stressed and she's Breaking out so she's really upset about that.
Liz thinks Jackie was targeting her this week
Austin – there are so adamant to get Steve out
Liz – Thats a trucking decoy
Liz is very pissed at James she's going after him with a vengeance
Austin keep repeating they have to win the veto and save Clay. .
Austin says it was obvious they were all rooting for Clay.
Austin – You beat them by 10 second they were struggling they're meat head.
Austin says he's trying to do everything he can to keep her and her sister save. Mentions Julia was in on the plan to tell Jason.
Austin – like steve says he fu***g knows..
Austin says Jason told him he's not targeting the twins or him he thinks Jason is targeting clay and Shelli.
Austin brings up Jason saying he connects with Liz a lot not as much with the other girl, "He's not a bad guy"
Austin stressing they need to keep steve he's not going to put them up.
Austin – taking Audrey out last week was risky it opened you up as the target
Austin – I don't know what she's doing in here she's standoffish with me
Liz – she says you were being weird to her
Austin – I tell her everything I'm thinking
Austin – I'm done trying to make move on own I tried to make things last week to help you.. now we can work together not hide anything Julia's coming in it's all good
[envira-gallery id="123869″]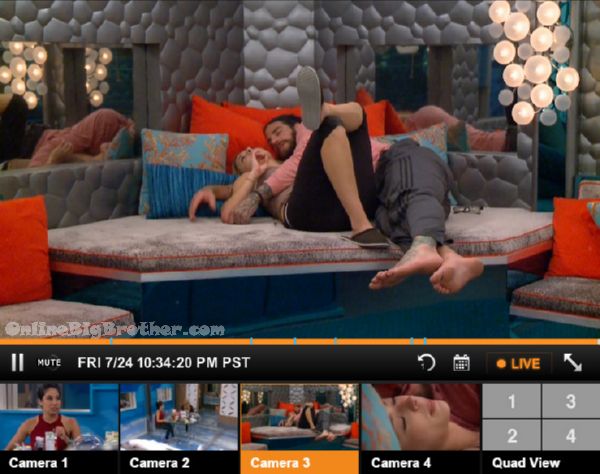 10:33pm HOH Vanessa and Jackie
Talking about how horrible Becky and Clay did in the BOB
Vanessa – becky's smart I don't know what happened.
Jackie – Shelli is so mad
Vanessa – shey is she so mad.. ow don't want to see her on the block
Jackie says after Austin leaves they have to get the twins out. It'll be easy two weeks. Jackie says the twins have no connections in the house they only Austin.
Clay joins them. They go over the BOB competition.
Clay – I talked to Austin in the Hammock room
Jackie points out that Liz was never the target she'll tell her that later.
They agree to wait until the POV players are picked before they talk to Steve.
Vanessa- I have direct evidence that AUstin was targeting Steve..
Jackie says it's fine if Austin wins the POV they'll put up Steve that was always the option
They asks VAnessa what she would say when putting up Steve.
Clay starts listing off all these reason to put up Steve, Strong player, I'm threatened by you, etc etc..
Jackie calls the twins floaters says they only try to win when their necks on the line, "They have no game they have nothing especially with Austin gone" ( Jackie you are a Big Brother super heavyweight game master)
Clay points out the twins only get 1/2 the conversations
Jackie – they have no alliance they have nothing they have Austin when he's gone what are they going to do
Vanessa tells them she's had 2 hours sleep last night she did a DR from 4:30 to 5:30 in the morning. Start complaining about her face breaking out "I straight up need sleep"
Vanessa thinks it might be bug bites, She doesn't want the people downstairs to worry she won't follow through with the plan to get Austin out. Her stress right now is not because of that.
Jackie suggest Vanessa tell Austin to throw the POV. Clay say no he'll know something's up.
Vanessa says they should pick Shelli and Jackie if they get Houseguests choice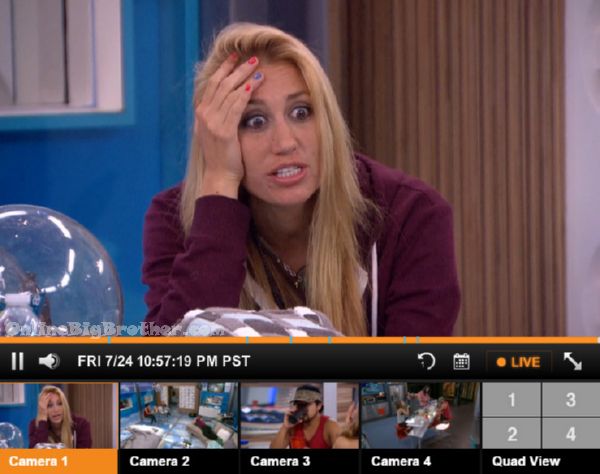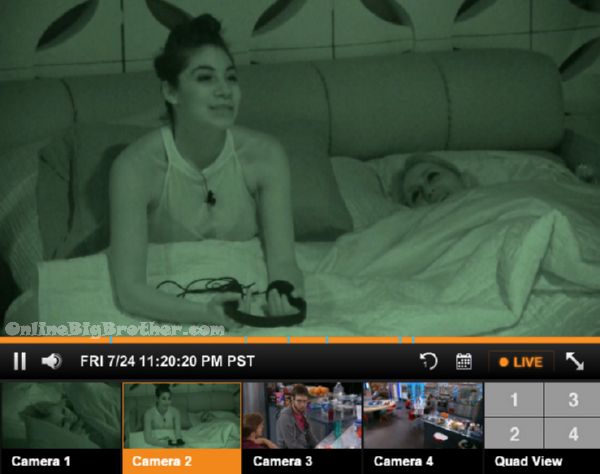 11:19pm Vanessa and Jackie
Jackie hasn't stopped talking. Just motor mouthing
Vanessa gets called into the Diary room pissed off because of her face breaking out.
Vanessa says Austin is a douche and Liz has not idea.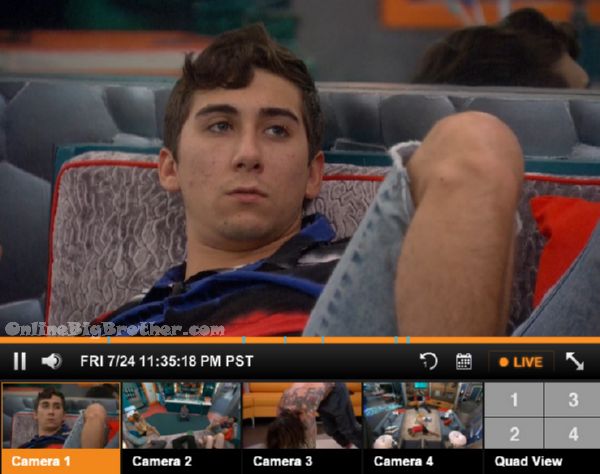 11:28pm Clay, Meg, JOHNNYMAC, Jason, Steve
Meg says she's going to bed early tonight
Jason – says the b1tch that's up all night
Meg brings up a conversation she was having with James then she turned around and Steve was there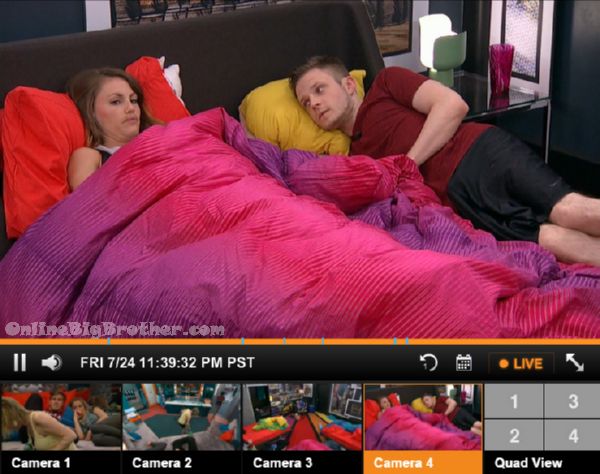 11:40pm JOhnnymac and Becky
Becky is pissed that she's being called the "Comp queen"
Johnnymac points out that SHelli and Clay are worried to they need to lay back and relax let other players blow themselves up. BEcky says she's going to pick Jackie if she gets houseguest choice.
Johnnymac – things get better after you pick the names.. as far as I can tell there's two people in this house that can't win the veto.
Becky says now that Asurey is gone theres no obvious Bully
Becky goes on and on about her reputation as a competition beast when she really is not.
Johnnymac says Vanessa is putting a lot of targets on herself this week.
Becky is worried about being on the block.
Johnnymac – You survived a train you'll be alright.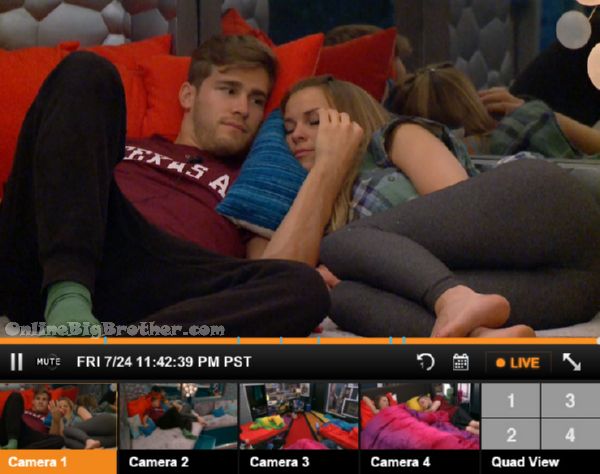 11:43pm Clay Shelli
11:58pm HOH Vanessa and Jackie sleeping. Vanessa says they are going to call her at 4am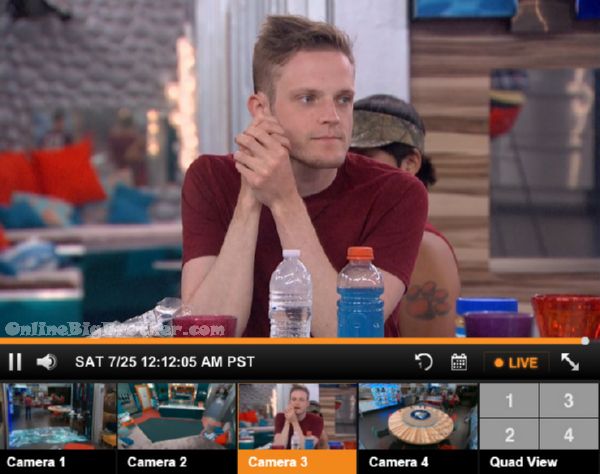 12:12am Kitchen everyone being goofy or in bed sleeping
Jmac – Did we drink alcohol tonight
Meg – Does it feel like it
Jmac – kinda REawwearr awrawdtradrwd
Live Feed subscription gives you CBS All Access thousands of archived shows. Live Shows like Big Brother, all the Big Brother Seasons, and 24/7 coverage of what is happening inside the Big Brother House. Plus there's flashback that lets you go back to any second of the feeds and rewatch what happened. Simon and Dawg will index the season just watch the parts worth watching. All this for $5.99 a month try it out 1 week free. Support our efforts and get your feeds via a link on this site. Live feed subscription Sign up
[polldaddy poll=8994045]
Share it YO!!
Tweet