POV Holder:
Shane
Next POV:
July 14 (Friday)
POV Used
?
POV Ceremony
July ???
HOH Winner:
Willie
Next HOH:
July 19 (Thurs)
Original Nominations:
??? and ???
Current Nominations:
Frank and Kara
Have Nots /Slop
Danielle, Shane, Ashley
Coach Competition Winner
Boogie
2:58pm HOH Willie, Shane, Britney, Joe, JOJO and Janelle. Britney is saying that Frank is going to be very week with Skill competitions, She's trying to convince them that Kara will be the tougher competitor. They start chatting about the POV how they had to run around collecting coins. The general conclusion of the bunch is that Danielle and Kara are very stupid.
Britney: "Dan has those girls brainwashed"
Willie: "Danielle is a WAY better player than Kara though"
Britney starts to impesonate DAN saying how he told Danielle to sabatoge the other players during the POV so that Kara could win it. The group laughs at this, eveyone is calling Danuielle Brainwashed.
Britney: "Hey JOJO what would you do if I came up to you and told you to throw the POV competition"
JOJO: "I would be insulted"
Britney Calls Dan and Danielle a idiot for trying to get Kara to win the POV, Brit: "Didn't they know if Kara goes off the Block Danielle goes up"
Janelle and Joe leave. JOJO, Willie and Brit are explaining to Shane how if Kara leaves this week Dan will be over in the game. If they get rid of Frank then Boogie is coming after them.
Jenn walk in.. Willie quickly tells her they need a couple more minutes in private so Jenn leaves.
Britenay: "She is SO fricken annoying.. she's the biggest sneak"
Get The Live Feeds for your iPhone or Android Phone! Comes with a regular subscription to the Live Feeds Subscription Link
3:10pm Bedroom Dan and Kara
Kara is saying that as long as frank is up on the block they have a chance. Dan agrees says they do not hold any power right now and only one of them is on the block so they have a chance.
Dan: "Are you and Wil still tight"?
Kara: "Ya"
Dan: "He's the crack in their army out of those two teams that stay up there (HOH Room) all day long. he's the only one we can get information from… you talk to him right?"
Kara: "Ya"
Dan: "The long term goal is to put in a crack between those 2 teams"
Kara: "I wish I had won"
Dan: "You played hard and hoest you did great.. clearly they had the advatage but you had a very good chance to win.
Dan: "The thing about Janelle's team is none of them are threatening at all.. unless Wil threw the Power of Veto Competition.. you think he did?"
Kara: "no"
Janelle and Dan both agree that Willie and Janelle have a deal. Dan really stresses they need to think long term
3:13pm Living Room Frank and Boogie Frank fills Boogie in on his plan to go to Willie and tell him he's done with the Mentors and that they all need to play their own game. He briefly mentions how the Mentors have no real power in the game over the new players so he's going to try and make Willie believe that Frank is not close to Boogie. Boogie thinks it's a good plan. Jenn joins them and they start chatting about the POV competition. Boogie warns them that Willie is a sneaky liar he's got "Something BIG" to say it they pull Danielle off the block and pout up Jenn. Frank leaves.. Boogie starts telling her not to overplay it (?) He doesn't think if Jenn and Frank are up on the block that they will send Jenn home he's certain that Frank is the one in dangers. Frank comes back, Boogie tells them there is almost a whole week until the Eviction they have a lot of time. Boogie: "We need the votes thats all the votes" Boogie counts that they have 2 votes at the moment. (LOL)
Boogie tells them that Danielle is the most negative person in the house all she does is mope around the house. Boogie questions if Danielle is really a kindergarten teachers.
Boogie: "I know she's not a Doctor but I think she's something medical" He doesn't think she's really that smart and she's too young to be a Doctor. He brings up a conversation he had with her about the Calories in cereal, she was very scientific. Boogie adds that once she realized what she said to him she started trying to cover her tracks by saying she took nutrition in college.

3:42pm Arcade Room Ashely, Janelle and Brit. Same talk about how big of a jerk Boogie is. Brit points out that everyone knows that so it's to their advantage.
Janelle telling them that Boogie hates JOJO.. Says that every time JOJO talks he rolls his eyes. Britney agrees. Ashely doesn't understand why he hates her. Brit and Janelle answer that it's because of her personality she "rubs" him the wrong way. The girls leave..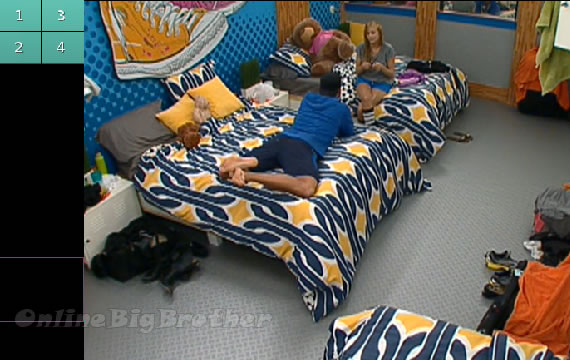 3:50pm Kara and Shane bedroom Kara is campaigning for Shane for votes. She telsl him that she knows him using the POV is best for her but if they can get the votes she'll not mind staying on the block. Kara: "I promise you that I won't Backdoor you ". Shane says he's not leaning towards getting rid iof Kara all the talk he's heard is that Frank doesn't have the votes. Kara reminds him about how string Frank is how nobody can beat him in physical competitions. She reiterates how she doesn't mind staying on the block if she knows she's safe.
He reassures her that they have the votes explains that if he takes her off the block he'll piss people off. He knows that dan and Frank will be breathing down his throat until the POV ceremony. Shane believes that at one point in the game the coaches will be able to vote. He's think they have to start playing the game for themselves becuase sooner or later he they will be competing against the mentors. Kara agrees she thinks the next Big Brother Twist will be that the mentors are in the game.
Shane: "Frank and Dan are coming after me if I don't use POV"
Kara: "No he's never mentioned that.. he wants to work with you"
Shance: "yes absolutely for now that is best.. things change weekly"
4:05pm bathroom Wil and Kara Wil telling Kara that Janelle's team whats to vote out Frank not Kara. He doesn't think the POV will be played
Share it YO!
Tweet