POV Holder:
Kenny
Next POV
?
POV Used
?
POV Ceremony
April 7
HOH Winner:
Heather
Next HOH:
Apr 10
Original Nominations:
Kenny & Allison
Current Nominations:
Sarah & Allison
Have Nots
Sarah, Kenny, Rachelle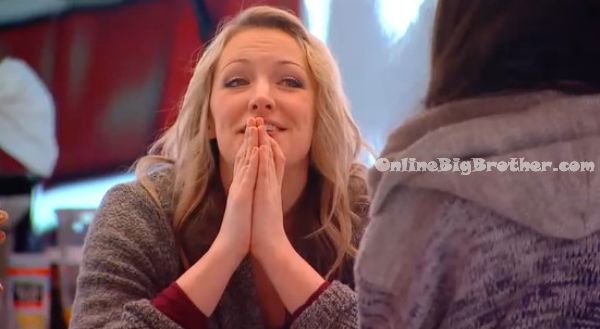 4pm – 4:20pm In the kitchen – Allison, Neda, Jon and Heather talk about what to do if they get HOH. They talk about whether or not to put up Kenny right away with one of the Gremlins or if its better to put up the Gremlins and back door Kenny. Jon says its way better to put up the Gremlins first. He says if you put him up you are giving him a 100% chance to play in the veto whereas if you don't put him up theres a chance he can't even play in the veto and he will go up no matter what. (If one of the Gremlins won the veto they would take themselves off and Kenny would go up. And If rlie, Jon, Neda, Allison, Adel or Heather won the veto they would use it to take a Gremlin off and they would put up Kenny in their place.) Jon says at least with us we have all of use to talk to and enjoy but there's only 4 of them .. that's got to suck. Heather talks about how much she hates Rachelle. Jon tells Heather that Rachelle was laughing at her when she got her HOH room and she was dancing. Neda tells Heather that they called her Chucky's Bride for like the whole season. Heather says that's fine. They're mean! Neda says I really want to win HOH this week. Heather, Neda, Allison and Jon head up to the HOH room.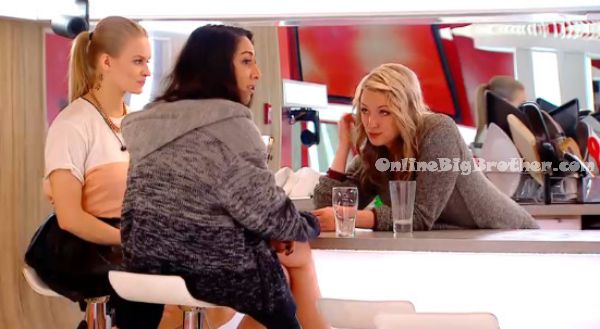 4:15pm – 4:55pm Adel comes up to the HOH and talks about how Kenny, Sarah and the Gremlins are huddled down in the kitchen by the coffee machine. Adel says that all he heard was Sabrina say "I'm trying!" Neda asks trying what? Allison says probably trying to be nice. Neda says oh yeah. Heather says I don't know she's an evil wh*re! Neda brings up how Sabrina lied but tried to justify it being okay because she didn't lie on her family or dog. Heather says I just want to call them the evil side and we're the good side. Allison says I just don't want confrontation. Heather says I don't mind confrontation. Jon joins them from being in the HOH bathroom and talks about how he just rubbed one out. Jon asks if they're not horny in the house. The girls say they thinks it just affects guys more than them. Heather says she's excited to see her boyfriend Will. Allison asks what else has Sabrina said about me. Stuff without Andrew because I don't want to think about. Neda says she doesn't want to say because it was really mean stuff. Heather tells her that Rachelle and Sabrina called you ugly. Neda says you're not though. It was Rachelle telling Sabrina that she was so much prettier than you are and couldn't understand why Andrew picked you over her. Allison laughs. Allison suggests they move sh*t around so that it messes with the others.


5pm – 5:20pm Arlie joins them up in the HOH room and says that he really doesn't think that Sarah told them about me turning on them. (Sarah did tell Kenny and the Gremlins but she also told them to pretend like they didn't know.) Arlie says that she came up to me in the bedroom and asked why I was openly hanging out with you guys because they're starting to question it. They talk about coming up with an alliance name. Arlie says I need to stop calling us my new alliance. Arlie says I am still thinking something like the rejects or misfits. Jon says the Sloppy Seconds! Neda says I actually love that name. Heather likes it too. Allison says she doesn't like it. They all stand up and cheers to naming their alliance the "Sloppy Seconds".. They say yeah we're all outcasts. Heather says we can call it the "SS" for short. Adel asks we won't get in trouble for the SS? Would we? Allison says why? Adel says because of the Nazi's were call the SS.. Jon, Allison and Heather all say oh yeah we can't say that. Adel says because they could pin it on the German for being racist. Heather says yeah I'm German.. They all agree not to use SS in short for their alliance name.
The "SLOPPY SECONDS" Alliance was born @bigbspoilers #BBCAN2 pic.twitter.com/tATY7CP0CD

— Dawg (@DawgsBigBrother) April 7, 2014
5:20pm – 5:30pm
Big Brother tells them they all have to go out into the backyard for a backyard lock down. All the house guests head over to the pool area to wait for the lock down to be over. They wonder if they'll get something when it opens back up but then figure that its just going to be another stupid cup.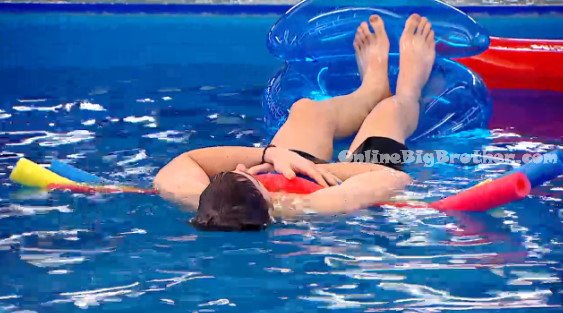 6pm Kenny and Rachelle are hangout on the balcony counting things in the house. Kenny gets called to the diary room and Sabrina joins Rachelle. Rachelle tells Sabrina that the flowers are missing. She thinks they need to count the flowers. Sabrina says no, I think its just something to do with the seasons. Sabrina and Rachelle head down to the living room. Sabrina and Kenny check on Sarah in the havenot room. Sarah says she just wants to be alone. Kenny talks to Sabrina about how this is all a game and we got played but you can't be too mad at Arlie because we were playing people too. Lets do whatever we can with what we can. Let's win this HOH! Kenny says I really want us to take the high road here .. I don't want that to be my legacy! Sabrina agrees. Meanwhile in the HOH room the "Sloppy Seconds" alliance talks about random things and past events that happened in the BB house. Jon comments on how he is just so unbelievably h*rny. Heather says but you just je*ked off! Heather comments on how she knows a lot of the same people in the Calgary in the same industry as Andrew. She says when they see him they will be like why the f**k were you mean to my girl Heather.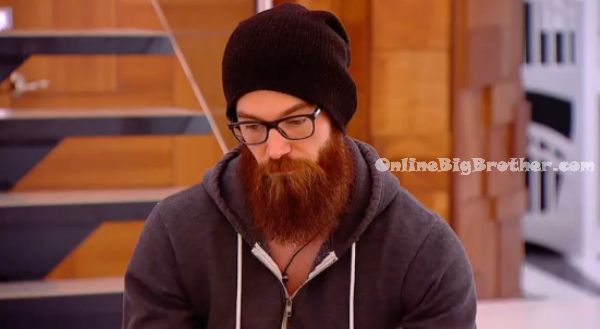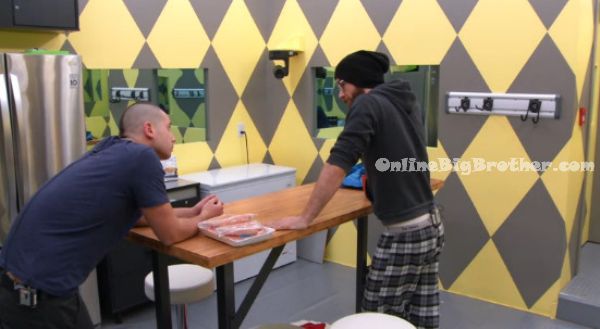 6:35pm Kenny goes into the storage room and talks to Arlie. He says I understand what you did and I know its a game. Kenny says that Sarah is taking it pretty hard. If it means anything I would appreciate it if you would talk to Sarah. Arlie says you may hate that I say this but I love her.. I will definitely have a talk to her. Kenny says thank you. I know its a game. Touché. Arlie says I appreciate this more than you know.


6:50pm Both Jon and Arlie try to talk separately to Sarah to tell her that they're there for her if she ever wants to talk. Jon tells her that he really does hope they can be friends outside of the house. Arlie tells her that his door is always open for her to talk to him. They leave her to cry in the bathroom. In the kitchen – Adel tells Jon and Arlie that because he didn't use his power big brother gave him an envelop with a card that said "Big Brother will get back to you". Adel says so I don't know if they will give it to me if I get evicted or if they're going to show it soon on an episode or something. Jon says Huh.. that's weird. Meanwhile out in the backyard by the pool – Sarah is crying and Kenny is consoling her.
7:15pm In the main bedroom – Rachelle asks Allison if she is with the other side. Allison says yes I have to be because they are keeping me here. From my perspective I was going home and this is keeping me here. Rachelle says she understands and says it just sucks because now I am going home in 3 weeks. Allison says not necessarily.
Stay connected and interact with other Big Brother Fans on our Facebook page.
And Follow: @BigBspoilers and @Dawgsbigbrother on Twitter for the most up to date spoilers.
If you're enjoying the live feed updates this season, please consider donating. Simon and I work 24/7 all season long to keep you updated on everything that happens inside the BBCAN house. Any amount is greatly appreciated! Your donations go directly to paying the server and bandwidth fees required to run this site.