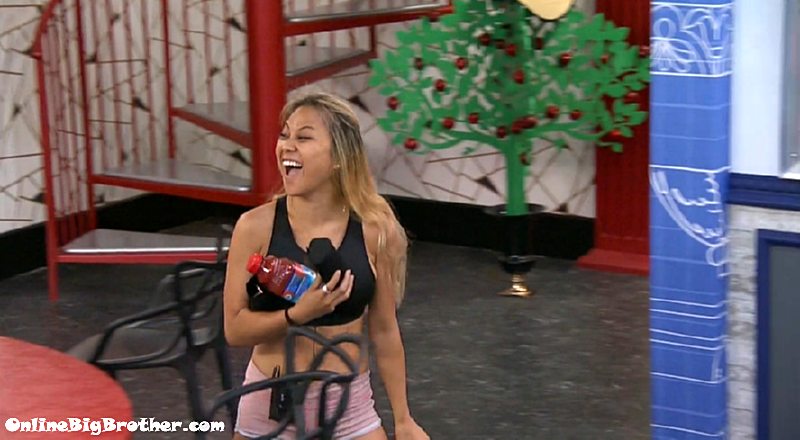 9:14am Paul and Alex Kitchen
Alex says she saw Jessica talking to Dom super late at night.
Paul – lets flip it and send Jessica home.. F* it
Paul – that would be funny as f*
Alex laughs.. "Please, like that hasn't happened before"
Paul – should we call a F*ing rogue.. like a switch a switcheroo
Alex – I would die I would die
Paul – I am honestly thinking about it
Paul – should we do it
Alex just laughs..
Alex wonders if Jessica has the temptation..
Feed subscription lets you go back and re-watch everything we post here CBS All Access Live Feeds with a FREE 7 DAY trial.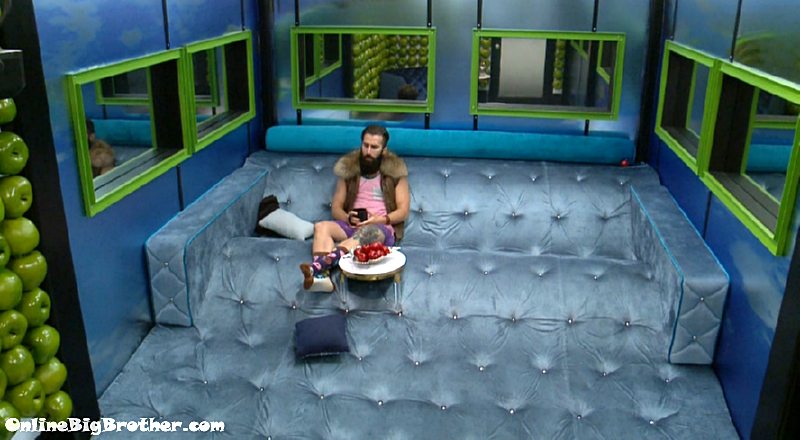 9:20am Friendship chat..
Paul – I say I trust Alex, Kevin and that's pretty much it.. those are the only people I really talk game with
Paul – the other ones I trust but not really they have alternate agendas
Paul – I made Dominique the target.. we;; she kinda made herself the target i didn't have to do anything. People did not like her
Paul – she thinks I betrayed her or backstabbed her, called me a snake to like 7 people in conversations.. I called her out on it and asked her why?
Paul – she didn't have any answers to why I betrayed her or why I'm a snake and she didn't give me any reasons in a room full of people
Paul – she's been rude all weekend secluding herself
Paul gets called into the Diary room.
Paul wants to win HOH but if he can't he wants Josh, Kevin or someone random so they can make a serious move enabling Paul to stir up more chaos.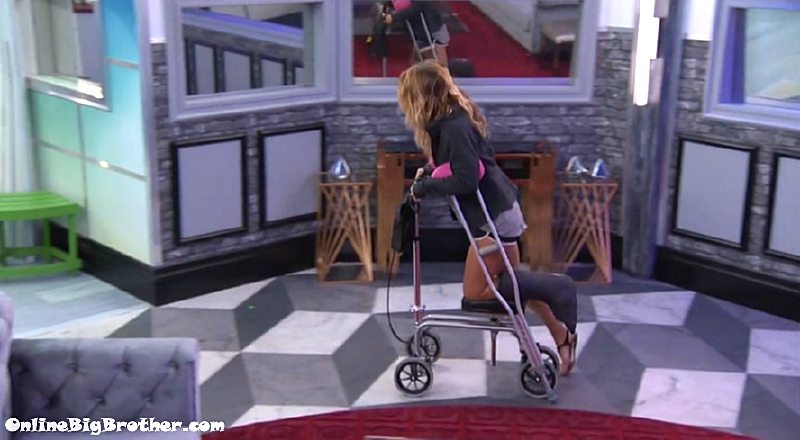 9:20am To help her get around Christmas has a scooter thingy..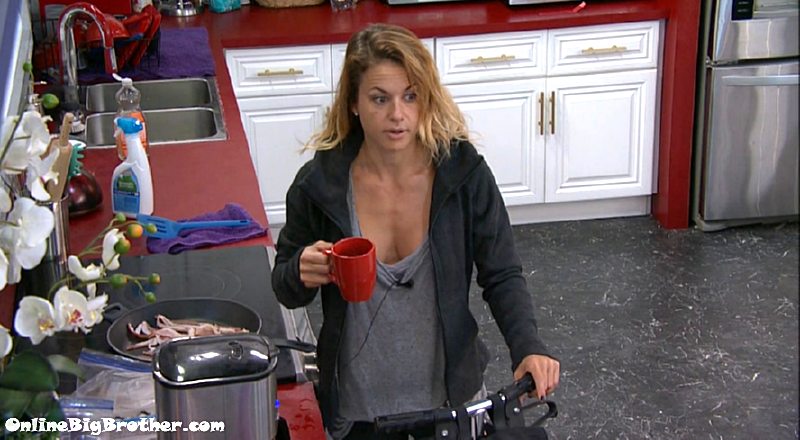 9:27am Christmas in the kitchen talking to the camera
Christmas is saying she might be able to compete in the HOH tonight.
Xmas – I have a new boot and scooter.. it doesn't hurt nearly as much
Xmas – this is going to be really interesting.. people want Jessica out, people want Dominique out, but I want HOH.
Xmas – I want to be able to send someone home
xmas – I am f*ing pissed that Dom threw me under the bus and she's thinking I betrayed her.. I don't understand
Xmas – I hope you understand why I did the vote, it was malicious towards Ramses. I like Ramses a lot, Don't know how I feel about his game but I like him personally.
xmas – Paul understands where my vote was coming from
xmas – The only way you know you are not going home this week is if you win HOH and I need at least 1 more week to get into jury
Xmas – I want to go as far as possible..
Xmas – More and more people are going to sacrifice and forfeit what they believe in
Xmas – I myself in my position don't believe that I've jeopardized or um.. sacrificed any of my core values.
Xmas – I'm continuing to be there for other people.
Xmas – I wanted to be there for Dominique.. I wanted to give her an opportunity in the game and personally
Xmas – There's only so many times you can cover for somebody
Xmas- I represented myself and I'm sad my name came up ans she (Dom) didn't defend it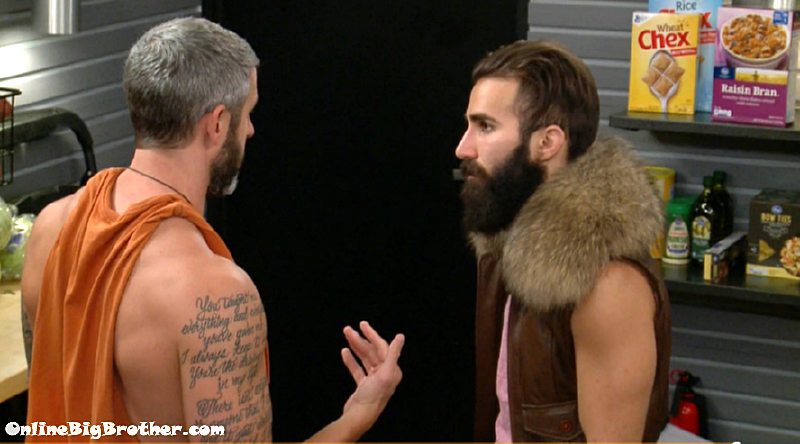 10:44am Matt and Paul Storage room
Paul- I tossed the idea to Alex.. should we just get rid of her (Jessica)
Matt – Dom isn't dangerous in this game..
Matt – either way we're good..
Paul – she does not like either of them..
Paul – I'm tired of being pentrated.. to be honest..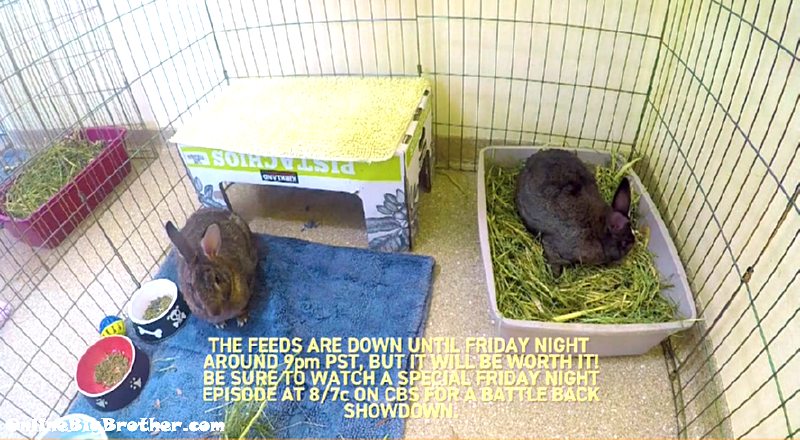 11:57am Feeds are showing rabbits! and contain a message saying that the feeds will be down until Friday at 9pm PST.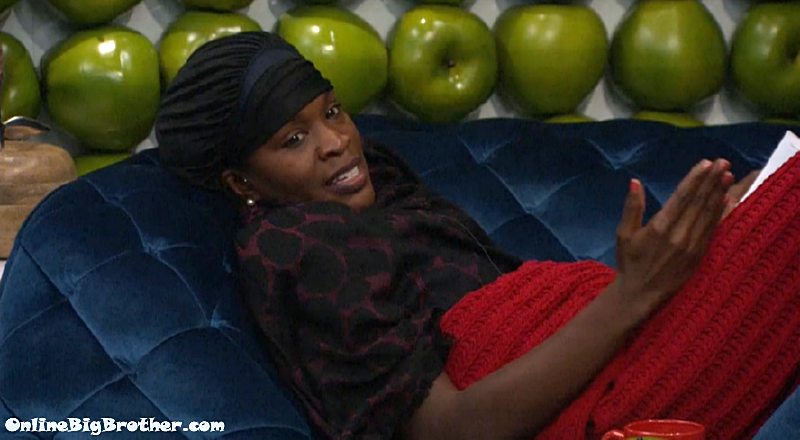 This conversation was missed last night it took place at 1:57am THU 7/20
Dom is talking about her arguments with Christmas.
Dom says she's said about getting backstabbed it hurt her but she's not sad about being on the block.
Dom says her and Christmas had something in common, She was a government contractor in Iraq, "I am the government… "
Dom – she went to Iraq in her early 20's she was over there for 4 years.. she came back 27/28 and started her life over
Dom – she was a heavy smoker and drank a lot, when she came back she changed her life..
Dom – you think you're going to get answers from me, Girl bye.. you're getting answers when I give them to you (xmas had a problem with Dom not answering her questions)
Dom – that's how I work, if it doesn't affect my salary or my friendship.. no.. I'm only being courteous if I give you answers
Jess – how do yo think this vote is going tomorrow
Dom – you're going to get it.. they will send me home.. my agenda is very clear.. it's the same a Cody..
Dom says she's a big threat for the "vet" because she can sense thing before they happen
Dom – they underestimated you when you got on that wall..
Dom says she doesn't have the temptation.
Jessica thinks Cody is coming back in that's the curse.
If you plan on buying anything from Amazon. Use this link Amazon home
Doesn't cost you anything and we get a small cut.
Links to the ranking system
Rank your house guests here
For those of you that like Statistics here are some expanded reports.