If you like this site and want to help us keep it running please consider donating, Your donations go directly to paying the server and bandwidth fees. Donate Link
9:30pm Backyard Random chit chat, dani says Dom will always be called as PT. Dom didn't want them to call him that but they all did, dani told DOm taht PT will be everywhere after the show. Dani adds that Production doesn't like the hosueguests to use nicknames for each other. (Brigade (yo) got in trouble for call Brendon NeedleD!ck)
Dani starts to tell them that she has a giant box of nail polish
9:35pm Shelly looking like Lawons Crack dealer (A couple hours ago Dani says Lawon is smoking crack because he suggested to her and Porsche that Adam is teamed with JJ)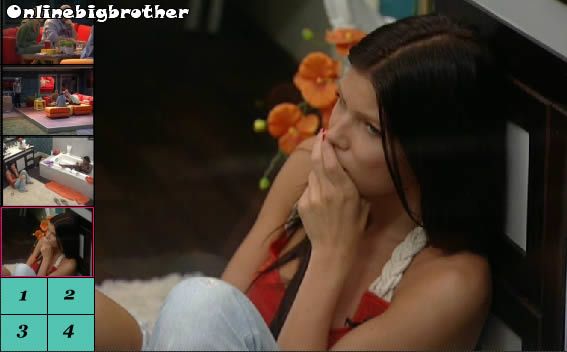 9:44pm HOH Dani and Kalia Dani says they really need to talk to rachel because she seems 100% convinced that she's staying, "I have no problem voting out Rachel". Dani asks if kalia thinks they do have the votes to vote rachel out. Kalia says they have Shelly, Adam, Porsche and Dani. kalia says she asked shelly who would adam put up and shelly said she had no idea. Dani thinks he would put up Rachel.
Dani says they should of talked to rachel before they put Lawon up, Kalia: "why" dani tries to explain Rachel's "supper duper" convinced and that should be worrying them. Kalia thinks they should offer Rachel Dani's vote as part of the deal for 2 weeks. (ohh shit thats priceless) dani isn't sure she'll go for the deal, they need to get rachel out next week. Kalia tells dani she's always duper thinking.. Dani: "I'm always thinking about the game"
Dani again says how odd it is that Rachel hasn't done anything she's just been in hiding.
Dani tells Kalia that she's going to listen to Julie's exact words then give Kalia a signal to send Rachel home. Dani says once they know if the evicted houseguest comes back she'll send Kalia the signal. *She will clap her hands
What have you told shelly so far you should never of told Shelly. Dani thinks there's something strange with all Shelly's conspiracy theories, Dani says all of Shelly's ideas about twists are complete bullshit but they're getting everyone nervous and keeps them thinking about it.
Kalia says in a perfect world they make this deal with rachel lawon goes home doesn't come back and POrsche wins HOH.. Kalia thinks Shelly will do anything to protect her and Dani.
Dani: "Are you sure about that… Shelly probabaly has the same deal with JJ that she has with us"
Kalia: "I woulnd't doubt it"
Dani: "I think shelly has final 3 with everbody in the house.. lets find out ask her"
kalia thinks they should make that deal with Rachel tonight. Kalia is sure Rachel will do she doesn't have anyone. Kalia adds that Shelly told her JJ are getting sick of Rachel.
Dani brings up that the JJ ship is sinking and they all seem content to just sit there and do nothing.. They need to reshuffle their deck let go of Rachel and swim to someone else.. (crap they are so close to figuring out they have screwed themselves.. Dani is making much more sense after her DR season but they are still way off with the Straight SHooter.. She's running the place and DK think she's Kathy 2.0 hilarious)

Big Brother 13 Live Feeds Can be watched on your iPhone and Android Mobile devices sign up -> Watch Big Brother 13 on Your iPhone or Android Phone
10:15pm Card games and food prep
10:48pm HOH Porsche, Kalia, Dani KAlia: "Why couldn't I get a pandora's box instead of this stupid twist that brings rachel in the friggin game"
Lots of Period talk… Porsche says she thinks that someone evicted from another week might come back into the house. Dani doesn't think so.
Everyone else is outside playing pool
10:55 They start talking about how rude Jordan was to them when she saw Kalia's boyfriend pics. Kalia says she never noticed. Porsche and Dani both agree that Kalia was too excited in ther HOH room to notice Jordan was saying Kalia's boyfriend is gorgeous he looks totally different than what she thought.
11:16pm Porsche and Dani Talking about how confused they are about Lawon saying that something fishy is going on. Dani: "Ohh my god i'm so confused" Porsche: "I'm soo confused"
This is the confused Alliance..
11:31pm Lawon and rachel having a dance off It's pretty funny
11:45pm HOH DK talking about things that annoy them and dogs. Backyard everyone else screwing around having a dance off.


Big Brother 13 Live Feeds Can be watched on your iPhone and Android Mobile devices sign up -> Watch Big Brother 13 on Your iPhone or Andriod Phone
Big Brother 13 Spoilers POLL CAST your VOTE!

Big Brother 13 Live Feed Image Gallery
Follow: @BigBspoilers and @Dawgsbigbrother on Twitter for recent crazed out spoilers. Theres also our Facebook page.