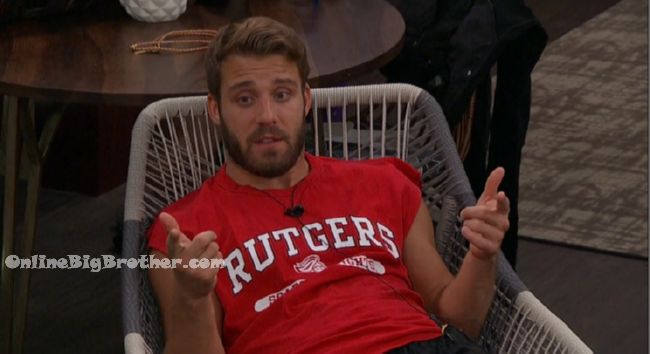 2:48am HOH Paulie, Michelle, Paul, Nicole, Corey,
Paulie tells them Bridgette was just fishing for information.. "fishing for the votes again"
PAulie – I said honestly Bridgette I don't know how I feel towards Frank.. I don't trust frank right now.. she said I trust Frank 100%
Paulie – I don't because I heard he's been trying to put me up and trying to tell you [bridgette] to put me up..
Bridgette denied this
Michelle calls BS
Paulie adds that he doesn't trust Frank after he links up with the girl he tried to get out after she blows up on the house..
Paulie – I was like you watch her season you know exactly what her sister did
Bridgette told PAulie Tiffany said she was in a room with Paulie before eviction telling her she was safe.
Paulie – She's a F***g liar
Bridgette also told him Tiffany's been saying he was in an alliance with Nicole, Corey and Z
PAulie – that's exactly what her sister Vanessa would do come up with things in her head . . and create paranoia.. home girl is a damn liar and she needs to go
Michelle goes on about how she'll cheer on Thursday when TIffany gets evicted she asks "HAs that ever been done.. will people hate me "
PAulie – I wantted to see her go last week
PAulie – she'll probably try and do another speech about me..
Michelle – Make up more stuff
Paulie – like if she tries to stay dictatorship.. I might cut her off and be like Actually.. when everybody agrees on something with votes it's called a democracy.. or … or .. .if you want to go back to roman times it was called a republic..
Michelle says everyone has come up here saying put up Tiffany..
Paulie – Except for Frank and Bridgette
Nicole says Tiffany doesn't talk to her and Corey anymore.
Michelle says Tiffany has spoken two words to her one of them was "BIGMEECH"
Paul – I'm just agreeing with Frank because he thinks i'm a idiot.
Michelle – what happened in the have not room..
Nicole – I raised my voice a little bit..
Nicole explains Frank was pissed that Corey won't stop on him about the roadkill Frank didn't win the roadkill he wants Corey off his back.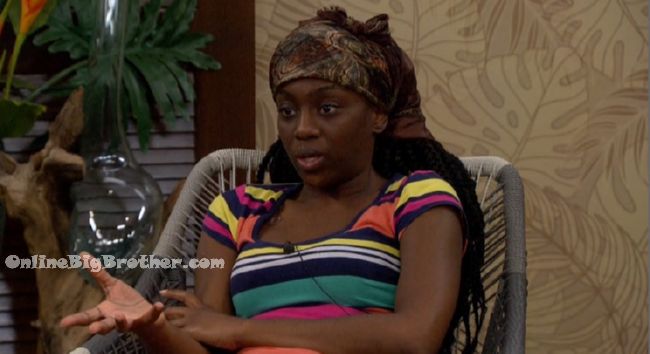 3:00am DA'Vonne has joined the HOH bunch.
Paulie says Frank is banking on Corey staying on the block. For some reason he thinks he's go the votes.
Da'Vonne is saying that Tiffany told her she has the numbers.
They don't understand what votes Frank thinks he has.
Paulie says natalie thinks she's going to win the comp tomorrow..
Zakiyah – she was like .. I'm a born competitor..
Paulie – she said that..
Zakiyah – ya.. I was like .. that's how you feel
Da'Vonne thinks Tiffany won the roadkill
Corey – w're taking her to Vegas after the show then.. Thats f*** lucky.. .
DA'Vonne explains to them that Tiffany's going all, her back is up against the wall, everybody has pissed her off.
Da'Vonne – she told me she was like my switch hit… she's like I'm no longer playing like I have friends in this house.. I'm glad this happened because it gave me a reality check now I can play this game like a new person.
Zakiyah – She did say that
Michelle – that's scary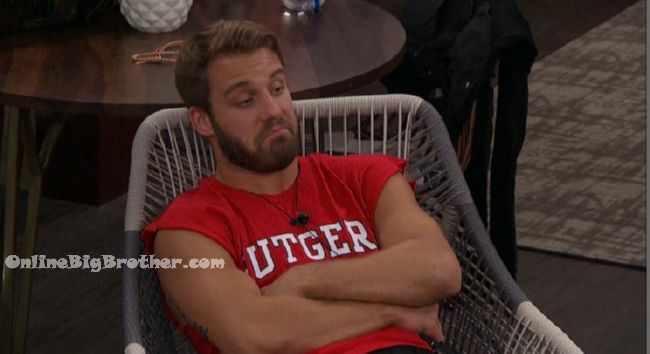 Paulie – I'll give her another reality check once she realizes that she's going to lose again.. and I'm going to let her know right afterwards.. i'll be like .. glad you're a new person now you be goin gout the door a new person
Michelle – do you really think she's a math teacher.. what would her kids think of her
Da'Vonne tells them Frank's been trying to set up a Mike Boogie relationship with COrey with Paulie and it worked with Bridgette.
Michelle – I told Frank.. I'm flat out coming for Bridgette still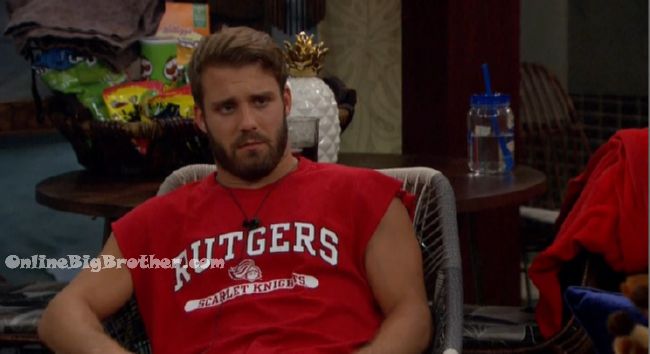 3:53am Paulie and Zakiyah HOH
Zakiyah saying she heard stuff from Da today "I was a little thrown off.. "
Paulie – she's talking about me
Zakiyah – no no she never mentions you, she's down for us
Zakiyah thinks Da told Tiffany about the showmances + Da allaince.
Paulie – That's Vanessa's play book.. she observes things then spreads lies
Zakiyah got spooked maybe Da is talking to Tiffany.
Zakiyah warns that Da and Frank were on the couch talking for a long time
PAulie – I keep going back and forth in my head.. I don't know where she's at
Zakiyah – I thought I did.. I dunno because after Michelle had said..
Da told Michelle about the showmance + Da (aka 5th wheel alliance)
Paulie – It has crossed my mind if TIffany pulls herself off I'll throw Da up there because she would be the only other person Frank would want to whisper to and Frnak tries to whipser to
Zakiyah – i'm going to continue being low key..
Paulie – people will feed you some information.. then pull out some comp wins..
Zakiyah whats to win says she's smart.. shes come close
Paulie – I've only won …. 3 competitions
Zakiyah doesn't want to be seen as a floater she's stuck to her side.
Zakiyah – I be thinkin I be plottin
Paulie – A floater stratgizes nothing and wins nothing.. there's one in the house
Zakiyah – Natalie
Paulie – yes
Zakiyah – I won't have it feel like I let Rachel REilly down..
Paul tells her there's still plenty of time of rher to find her inner 'Rachel Reilly or JAnelle" and "BEast out..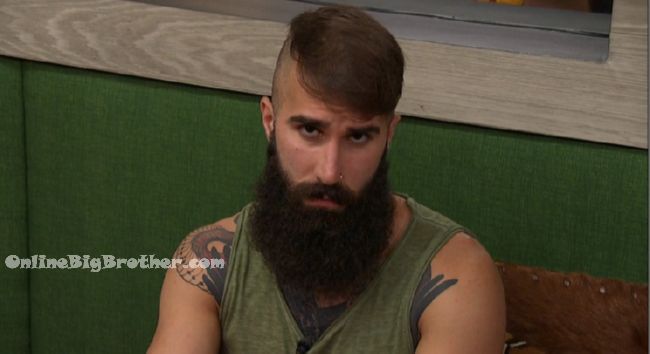 3:50pm Paul
About to give you guys some friendship…
Whats up friends
Your boy can't sleep.. one on one friendship time with Paul
People probably think i'm crazy for talking to myself.. never cared..
AS you can see by recent events, people can't hang.. so..
Your Boy is going to keep tossing a bunch of wrenches in the mix piss everybody off except for the people that count.. it's going to be hilarious.. everyone in here is messy as sh1t.. and umm.. give you guys some late night friendship..
Everybody up studying the dice game.. your boy never new dice..
my assumption is the POV will have nothing to do with Dice.. PISSED
If I win HOH next week it'll be hilarious your boy is coming fast every pun intended
I'll Shave my beard if I have to.. it'll be no more freindship.. you people won't like me without a beard… don't make me shave me beard
I got to go through ugly face to get to that point you probably will anyways so f** me I guess
My jay gets friendship
half my face is going to be olive to white.. pissed.. my jay hasn't seen the sun in 3 years..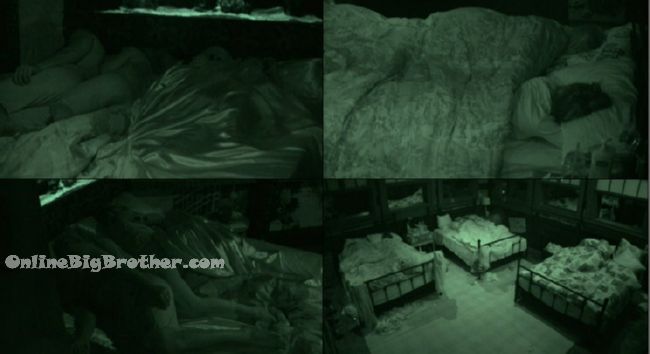 5:48am
8:18am Houseguests have been given a wake up but only Paulie is up eating oatmeal.
[polldaddy poll=9471428]
Share it YO!!
Tweet