POV Holder:
?
POV Competition
July 16th
POV Used
?
POV Ceremony
July 18th
HOH
Paulie
Next HOH
July 21st
Roadkill Competition Winner:
Tiffany
Original Nominations:
Tiffany, Natalie, Corey
After POV Nominations:
?, ?, ?
Have Nots
?, ?, ?
CBS All Access: Live feeds are only $5.99 per month – Try it FREE for 1 WEEK!
Big Brother 18 Alliances Help Guide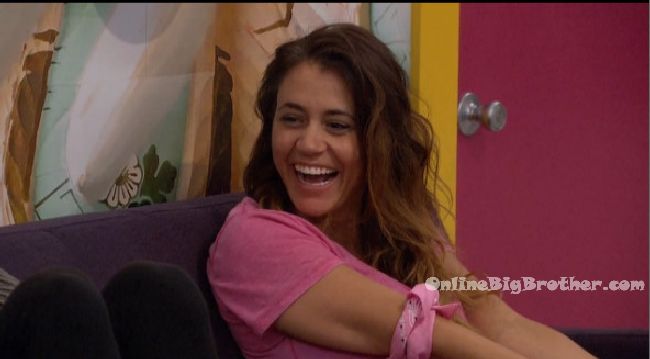 9:20pm Bridgette and Tiffany are talking. Bridgette These people are ruthless! I mean its big brother whatever. This game is crazy. Tiffany says I feel like I'm losing it. Bridgette heads to the kitchen. Davonne walks by and Tiffany tells her don't be one of the ones that treat me like I have leprosy. I saved your ass. Day says that she's falling asleep and will talk to her later.
In the bathroom – Paulie tells Natalie that she is safe this week and has nothing to worry about.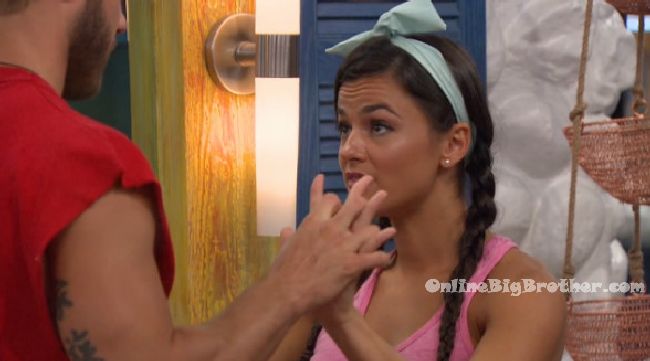 Storage room – Corey tells Natalie If I win… this might sound crazy but .. I just need to know that you would give me your vote. To vote Tiffany out. Natalie says I just already did! I just voted her out. You do know that I just voted Tiffany out. Corey says I know. The last thing I want to do is pull myself off and have someone that is playing .. that everyone likes go up. You know what I'm saying. That way if you come off and we put someone that might be with Frank and them. Put them up on the block and then just say they are 1 more vote down … vote Tiffany out. If I were to use it on you .. that would be crazy. I just know the person running the roach coach its going to be a number for that side. Nicole joins them. Corey tells her his crazy plan. She likes it and says its perfect.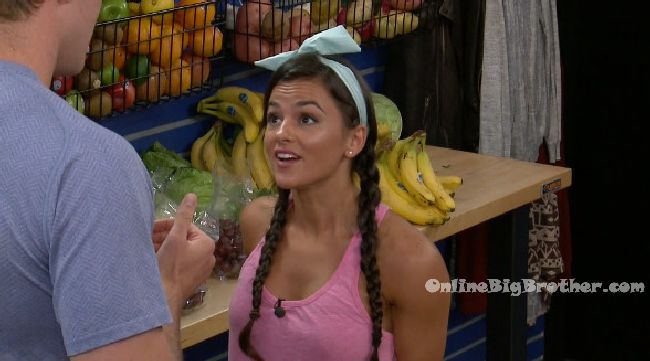 9:45pm Corey then goes to tell Zakiyah and Michelle his idea .. that if her wins veto he would pull Natalie off as long as she promises to vote how we want. That way Paulie decides who goes up. Paul joins them. Corey tells him. Paul says I wouldn't .. that's sketch! Natalie joins them. She tells them that she is not with Frank and them. I found out that he was the reason why Bronte went home. Natalie tells Corey again if he takes her off he has her vote to stay. Paul says if any of ya'lls names get pulled .. I AM PLAYING the veto for you. Natalie says she was going to pick James. Michelle says James is good at comps too. Paul says pick James or I. If anything I will just f**k her game up. If its one of the ones where you have to run .. I will block her and do shaddy sh*t to make sure she doesn't win. Natalie says I am being nice to her because I feel bad.
9:55pm Living room – Frank and Day are talking. Frank says its crazy how they didn't send her (Tiffany) home and now they all want her out.
10pm – 10:25pm Safari room – Corey and Frank are talking about who the roadkill winner could be. Frank asks who do you think? Corey says I don't know? Frank asks do you think it was a girl? Corey says I don't know, probably I guess. Frank says the only person I would think you would think it is would be James. And I don't think it would be him. Corey says no I don't think it was him. Frank says You think it was me don't you .. you son of a b***h! Corey says no I really don't. I just know it wasn't Tiffany. Frank says I think it was. Corey says you would have to be an idiot to think that… no one has that good of luck. If so we're taking her to Vegas. No way she gets her a$$ saved and then wins roadkill. Then puts me up because I had a fight with her last night. I'm not stupid. There's no way she won that sh*t. No way she got to 32. Its funny everyone thinks she won it. Frank says they're trying to pit you, me and Paulie against each other. Frank says I won the roadkill twice and I told you. If I wanted to get you out I would have done it. Corey says I know I trust you. Frank says I've got your back. Frank says Paulie going ham on her in the living room wasn't good. You know what people look at that as… bullying. Corey says I wanted to say something to her. You don't call people out like that on national television. Corey says I'm going to annoy the sh*t out of her and constantly ask her if I am good. If she is sleeping I will wake her up and ask her if I'm good. I hate her. She's got issues. Frank tells Corey he is due for winning the veto. Corey says I might pull Nat off if I win. Frank asks would you? Corey says I don't know, I might put Tiff off. Frank says no you wouldn't. Corey says no.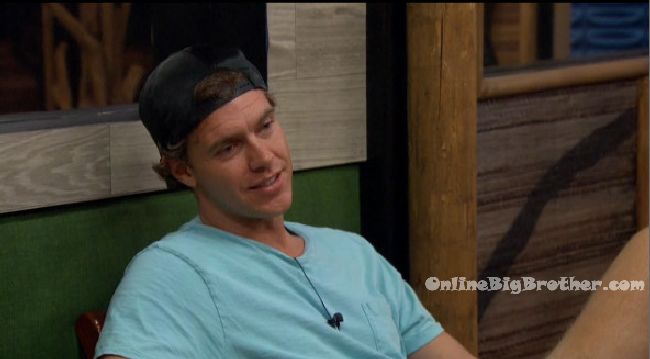 Frank talks to Michelle about how Paulie went off on Tiffany last night and how the people at home look at that as bullying. He literally said you can't beat me I bred for this. Frank says that t Bridgette got 24 in the roadkill comp. Michelle can't believe Bridgette with a sprained ankle did better than she did. Michelle then says that she was only wearing 1 contact. They talk about what the veto comp might be. Michelle says if its the cash or punishment I'll take the money. Frank says I want to play in it so I can finally win a veto.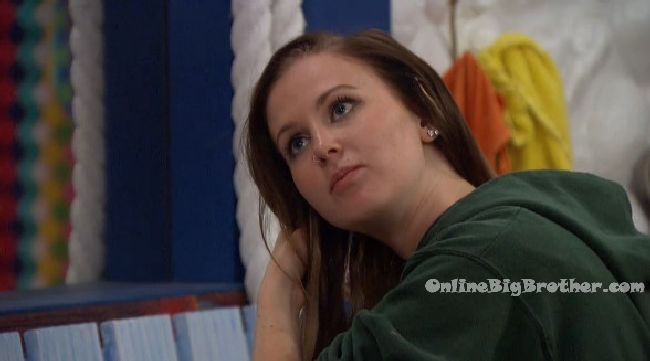 10:55pm – 11:40pm Bedroom – Frank, Paulie, Paul and Corey are talking. Paulie says I am picking you or Frank to play. Corey tells Paul he will pick him if he can. Paulie says I am so f**king pissed. Paul says she (Tiff) isn't going to win. If you have me, you, Frank and James playing. Croey ask Paul would you get me if I picked you? Paul says yeah. She can't beat all the F**k boys! Paulie asks Frank if you got picked would you keep it the same? Frank says if that's what you want me to do. You don't want me to take Corey off? Paulie says I don't think Corey would go over Tiff hut yeah you could use it on him. Just make sure there are extra votes. Corey says yeah just keep it the same. They could put up Z, Day, Paul, Nicole, James. Paulie says you say how she tried to get a rise out of me!? You think she is the first person to try and provoke me? Frank says we really only need 4 votes. Paulie says yeah because then it goes to a tie breaker for me and we all know how I'm voting. Corey and Frank are napping. Paulie and James are chatting about gambling.
In the kitchen – Paul and Bridgette are making french fries for when the havenots get off slop.
12am Paul, Nicole and Zakiyah continue to cook as the havenots count down till they're allowed to eat.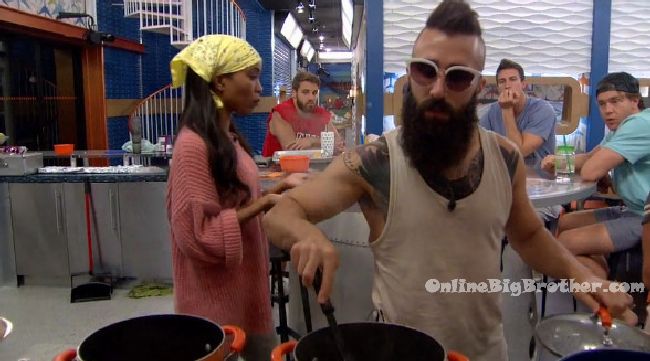 [polldaddy poll=9471428]