POV Holder:
Kevin
Next POV
May 1st
POV Used
?
POV Ceremony
May 3rd
HOH Winner
Kevin
Next HOH
May 6th
Nominations:
Bobby and Brittnee
Have Nots
Zach, Bobby, Willow (Season slop pass)
POV Players
Kevin, Bobby, Ashleigh, Brittnee, Sarah, Pili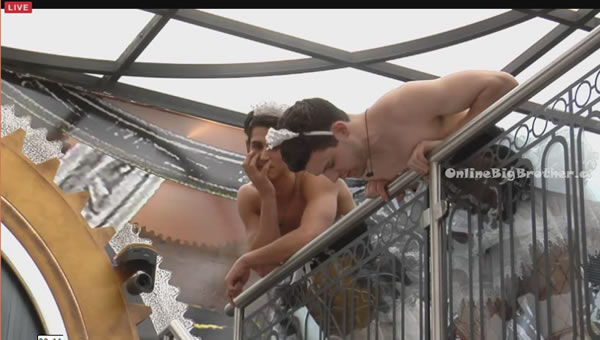 Feeds were block for while when they come back we see the last few seconds of this conversation where Kevin tells Zach he's not using the Power of Veto.
kevin – that's where my heads at I'm going to crush a good sleep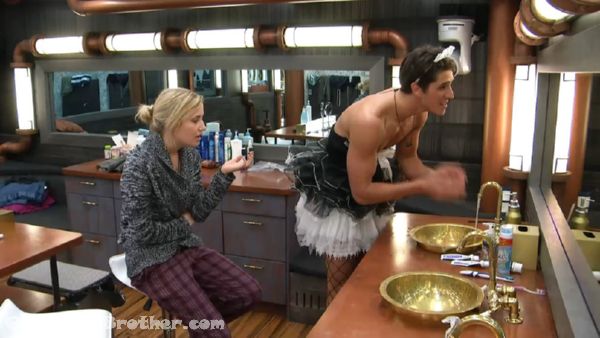 12:21 am Bathroom Zach and Ashleigh (Sounds like they think Bobby has the secret veto and Kevin isn't using the real veto)
Zach – He's going to keep them the same
Ash – I just told Pili it makes absolutely no sense to me.. You're not 100% one of those boys will come after you but you are 100% Godfrey is

Zach – He's really freaked Bobby/Bruno are coming after him.
Ash – We'll now one of the is.
Ashleigh – How is Godfrey escaping the damn thing again it makes no sense.
Ash – Godfrey wins HOH next week one of the four of us is going home.
They mention if Bobby uses the secret Veto Bruno is going up and he'll go home.
Ash – kev does not know Bobby/bru are coming after him yet and they are not
Zach – Yeah they're not
Ash – Bobby – bru are not going anywhere near them it's too damn early
Ashleigh says if Godfrey doesn't go up for sure he's going to feel like he owes kevin/Pili something and for sure if he wins HOH they are both going up and one of them are going home.
Ash – can you pass the vaseline.. i mean the petroleum jelly .. thanks
Zach – this puts us in a really tough spot
Ashleigh says Kevin is not going to change his mind "Pili says I'll talk to him i'll talk to him she won't talk to hm she'll do whatever he says"
Ash says some of thee things Pili is saying doesn't make sense. She thinks the remnants of the chop shop are coming after her and kev, "She keeps saying I'll talk to Kev I'll talk to Kev.. AKA ASh shut up"
Ashleigh says the only conversations Bobby/Bruno have had with Kevin is "Sketching out" Wonders why they are doing that.
Zach – Bobby's not acting paranoid at all
Ash – he's cool as a cucumber
Ash – I swear if they keep the thing the same and Godfrey wins HOH I'm so pissed.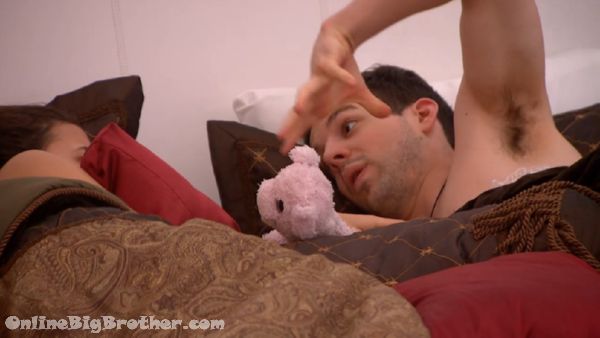 12:34am Kevin and Pilar (Sounds like Kevin is betting on Bobby using his secret veto)
Kev- F*** it's a big decision
Pilar is it a big decision but honestly
Kevin says Zach and Ash are not happy with his decision but they'll be OK
Kevin – Should I tell Bobby Bruno before.. I'm keeping the nominations the same.
Pilar says if Sarah wins she will be going after Bobby.
Kevin says he'll talk to every single person but Bobby and Bruno they are going to be pissed anyways it'll make good TV.
Kevin brings up that Bruno never give him any information just says "I gotcha I gotcha.,. I gotcha going forward I actually gotcha.. looking good kevin.. I gotcha.. He says the same line 30 times as if saying it over and over will convince me"
Pili says Sarah told her she does not trust Bobby or Bruno "They don't give any information.. They haven't done anything for us to trust them A and B they haven't showed anything "
Pili says Bruno has never talked game to her.
Kevin says Bobby and Bruno only talk game to Ashleigh and Zach that is why they don't want them to take a show at Bob/Bru they want them to take out Godfrey.
Pili – they (Bob/Bru) are so loyal to them (Ash/Zach) not to us.. we can't be loyal to someone through somebody else.
Kevin – we have to take the shot now we have to
Pili – Ash and Zach have great reasons as well they say they're (bob/bru) loyal but to them (Zach/Ash).
Pili says now is the perfect time for Bobby to come to them and say look I have Veto.
Kevin – I wish there was no (Secret) veto and I could pull B off and put Bruno up
Pili – If there isn't a veto I'll be pissed
Pili – if there is no stupid veto he's going home he's lost his chance that is what happens to liars.
Kevin – Absolutely
Kevin – so that's it it's game time they are going to be so pissed… Even 5 hours ago I Was like I'm pulling Bobby off and putting Godfrey up easy week
Kevin says he's been hugged by Bruno 400 times and heard "I gotcha" 375 times "I'm like this isn't how you grow a relationship"
Kevin – Leave the nominations the same and Bobby doesn't have the veto.. It's Bobby vs brittnee
They count the votes, Pili, Ashleigh, Zach, Sarah and Godfrey, Willow to evict Bobby
kevin – that's enough
Kevin – when Bobby uses the veto and I put Bruno up
Pili – let's see, Me ashleigh, Zach, Sarah and hopefully willow and Hopefully Godfrey
Kevin – We always have the three from the Diapers and Sarah
Pili – ya so that means worst comes to worst who is voting against Godfre.. Willow and that's it that doesn't make sense
Kev – Godfrey, willow and either Bobby or Bruno whoever isn't on the block
Pili – that's a tight one
Kevin – We really have to pull Godfrey in this week
Pilar – really push it.. we have to push it but not give him any information.. you know what I mean.. get him to trust us but information wise uhh uhh
Kevin – Next week he's not coming after us not after we save him
Pilar says if he did she would never forgive him
Kevin – There might be a blow up tomorrow
Kevin – Oh my god 5 hours ago I was like Bobby you're coming down.. Bruno is planning last week not I'm like I'm not using the veto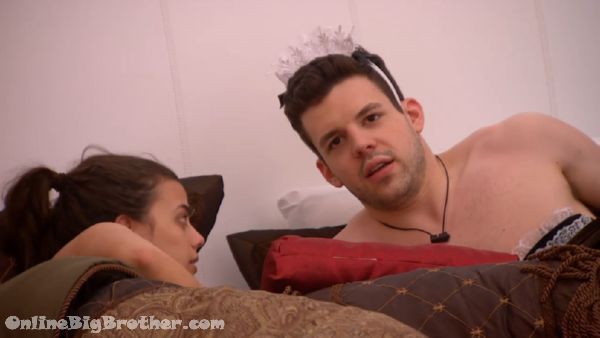 1:39am Everyone sleeping
ALLIANCES IN THE HOUSE
There are always a lot of Alliance but we've tried to make sense of it all.. Read our alliance help guide
If you are outside Canada and want to watch the FREE Big Brother Canada Live feeds sign up for a VPN service here https://www.hidemyass.com/vpn/r16399/. It's safe to use, easy to set up, and cheap. Need to know more check out this post explaining how to set it up.
[polldaddy poll=8834825]