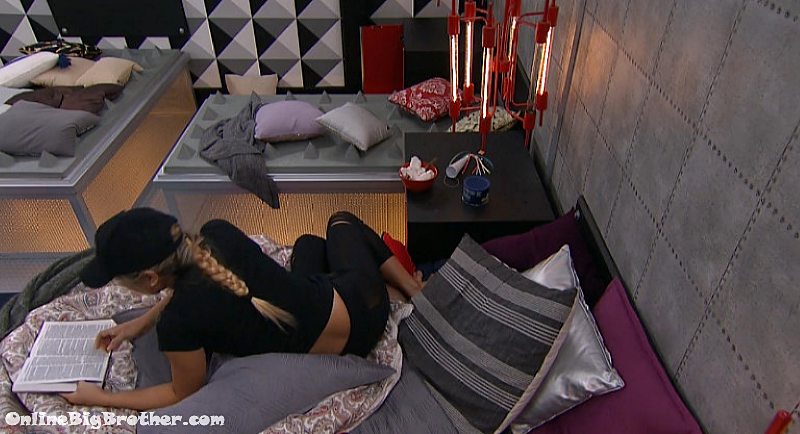 8:34pm Alex's been in the Have nots room for awhile reading the bible
Alex – the one thing I've learnt in this house is that they're all liars and I think Paul is still lying about stuff
Alex – I'll call him out later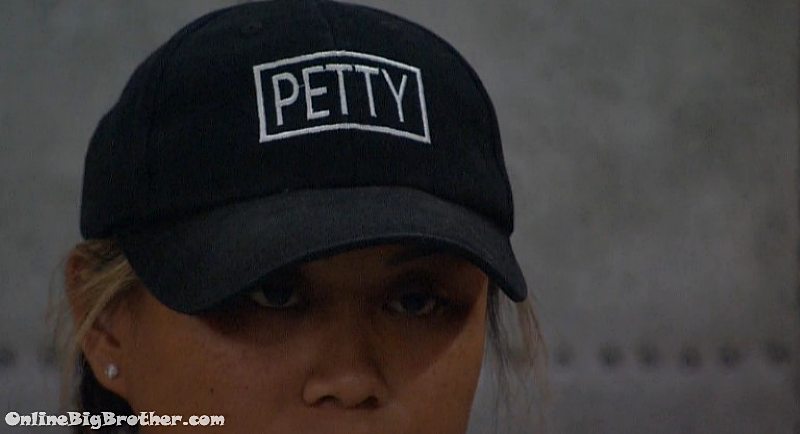 8:50pm the cameras flip back to Alex and we hear her mid sentence
Alex- everyone would be dead .. just saying.. if this was the hunger games I would have won that a long time ago (somehow I think Labour day with a working foot would win that)
Alex – I can't even with these people.. they are so fake
A – lied to my face and sent Jason home, Counterfeits
Alex looks at the camera – can you please tell me there's a switch or something and I can switch out with one of these brats.
A – they all don't deserve to be here.. they're all a bunch of counterfeits.. Friendship means nothing to them
Alex continues to read the bible "Jesus, Counterfeits"
Alex – is there some kinda revenge or something..
A – it's like titanic at the end when Leonardo lets Kate Winslet sleep on that door and he drowns.. he helped her get that far and she doesn't care she lets him die..
A – That's me and Paul, really really good friend
A – Jason wouldn't have done that
Alex impersonates Paul crying "I promised people I wouldn't do that boo hoo "
A – get over yourself.. you cost me my whole game
A – I actually prayed that Paul won that Veto because he could save both of us
A – I should have just done it like we planned smoked him, then he would be going home
A – ungrateful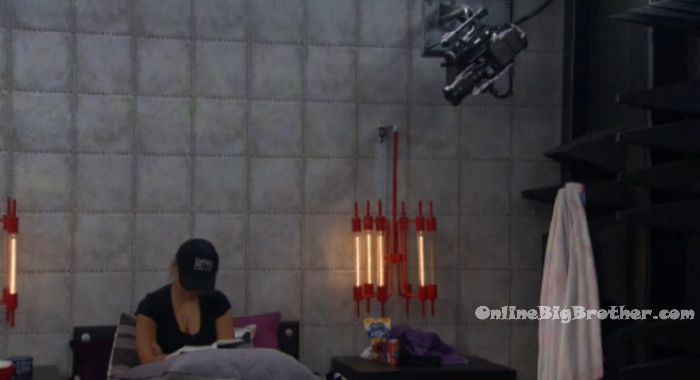 9pm Havenot room. Alex.
Alex – If you're just tuning in I'm over the salty mofos because they're all fake and counterfeit. So vote for me for America's favorite because now I'm not going to be able to compete for 500K because they're all scared of me which is pretty shady and lame. They don't want to fight me in a fair fight.. which sucks!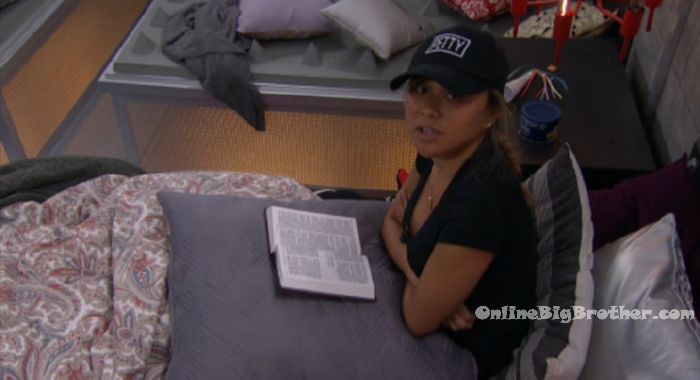 Watch the last week of the feeds for FREE! 1 Week Free Trial!
9:10pm Kevin is in the lounge room talking to his family / the live feeders.

Kevin – its really hard to navigate these waters man. The competitions are nothing. The best competitors are gone. The physical competitors are Cody, Jason, Jessica wasn't bad, Mark, Alex .. and basically all of them are gone. Josh, me and Alex haven't won any physical competitions. You can't call me no floater. I've been fighting my whole life. I have a lot of nice outfits and costumes for you to choose from. I can't wait to get home. These last 17 days have been the hardest days ever. I wasn't taken off the block today by the power of veto.. which is fine and we're going up for live eviction. I have no idea when. I love you guys. I obviously know what I'm doing. We'll see if I'm in the top four. Then you guys will say he must know what he's doing. Will you at least do that? After the top four I can't say I know what I'm doing.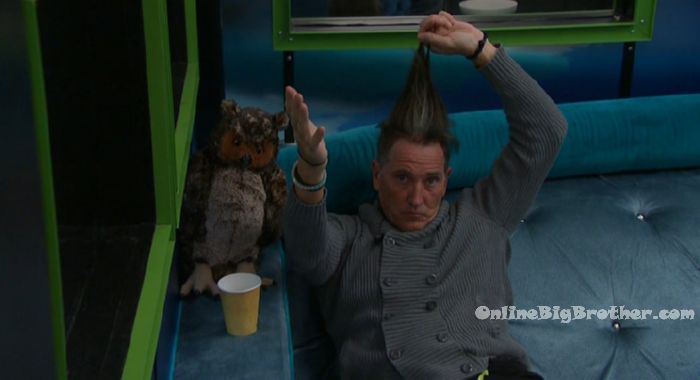 9:30pm Josh and Paul are still playing chess while Christmas watches.

Some of the better feeds today #BB19 @DawgsBigBrother pic.twitter.com/LBr6qT2oEL

— OnlineBigBrother.com (@bigbspoilers) September 12, 2017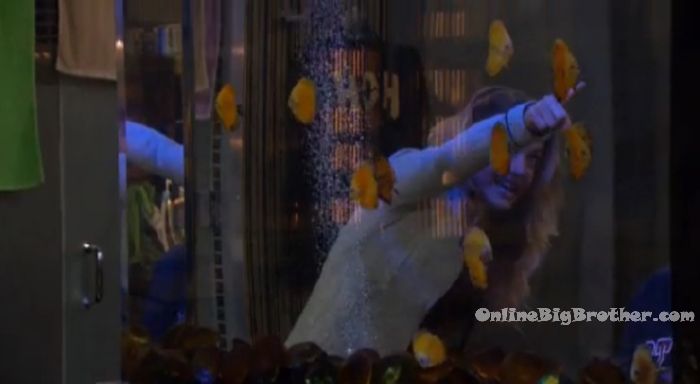 9:55pm – 10:30pm HOH room. Christmas, Josh and Paul realize the fish are dying.
Josh starts banging on the glass. Paul grabs his hand and says FOOL stop banging on the glass! You're scaring them! Josh – let me breath in his mouth!! Paul –
they don't breath oxygen you idiot! Josh keeps screaming. Christmas points at the fish and says Dead, dying .. your HOH! Josh – NO!!! Paul – this fool is dead, lets make sashimi. Josh – this is like Making a Murderer .. I look like I killed the fish but I'm innocent. Christmas – the guy got convicted. Josh – and he's innocent. You killed them and I got caught with them. Do you think the fish died in one day?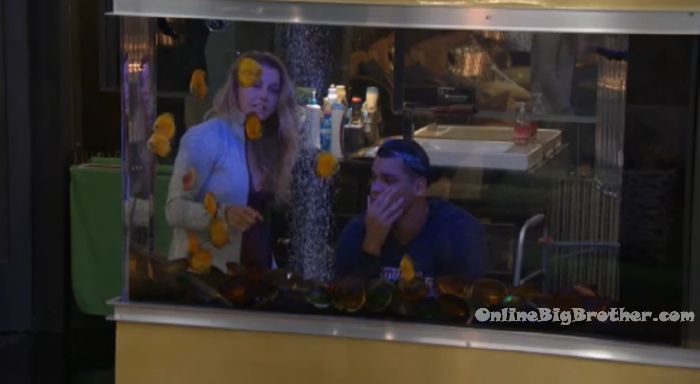 10:35pm Living room. Paul and Josh are working out.
Paul tells Josh
11:02pm HOH room Christmas and Paul.
Christmas – I am absolutely going to say something now if she (Alex) is talking to Kevin. Paul – what a b***h. Christmas – telling him to know dates?! Why does she all of a sudden support Kevin. Paul – out of spite. Christmas – they have hated each other. That's how strongly she… That's how petty she is. What a f**King C**t! Paul – yup! And you know Kevin, he will go pry and sh*t. Josh comes up the HOH room. Paul – why did you leave him.. we can't leave then (Alex and Kevin) alone. Go! Paul then turns to Christmas and asks her to go. Do you want to pull him into the APSR and talk about your life? Christmas – every time I talk to that man, I want to bash his face in. Paul – well you get to bash his face in tomorrow. Christmas – I'll go sit in his corner. I don't need to pull him anywhere.

11:07pm – 11:45pm Bedroom. Christmas and Kevin.
Christmas – I'm going to roll your arms out. Its not going to feel good.. its going to feel worse than it does now and then its going to feel better than it does now. I'm going to start soft. (She was just telling Paul she wanted to bash Kevin's face in and now she stroking his arm and rolling it out.)
Kevin tells Christmas – Cody, Jason, you, Jason and Alex are the top physical competitors. I'm not even in the top 10.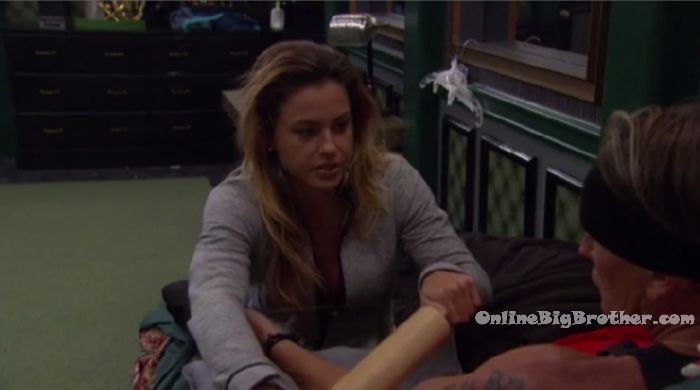 12:15am HOH room. Paul and Christmas.
Paul – fool you've got to stop saying that showmance stuff about Christmas. Josh – why? Paul – because fool, its not true. Stop saying it. Josh – okay. Paul – you said it in the DR, I get it, it was funny. But don't mention sh*t like that, I don't want my girl to think some sh*t bro. Josh – I get what you're saying yeah. Paul – I am not cuddling her because I need it. I am trying to console her. She is 11 years older than me. I don't want my girl to think something otherwise. Josh – its like we're brothers and sisters. Paul – exactly. I don't want my girl to trip out and think I am trying to get with Christmas. I am already tripping that she doesn't like me any more, I don't need her to think I am trying to get with Christmas.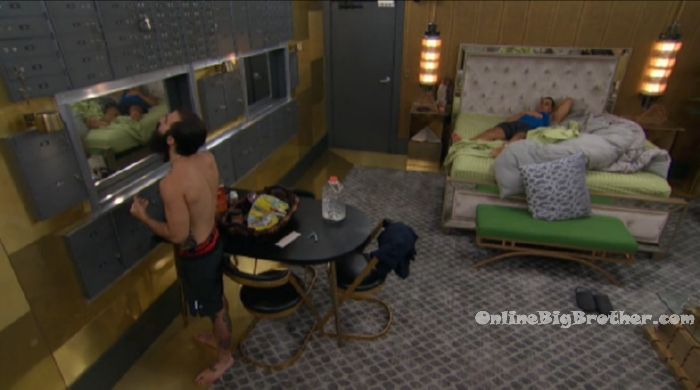 12:30am Kitchen. Paul and Christmas.
Paul – tomorrow I'm going to ask her (Alex) if its okay if I vote against her. He (Kevin) doesn't care if its a split vote. Christmas – I just want to be cautious of getting her hopes up. Paul – well me see what she says. If she says no it doesn't matter. Okay, then to protect my game I'm just going to vote against you so I don't stick out. But if she gets all horny .. then I don't know. But I still haven't asked her that. I didn't use the veto and she sh*t all over me so I'll just ask her and see what she says.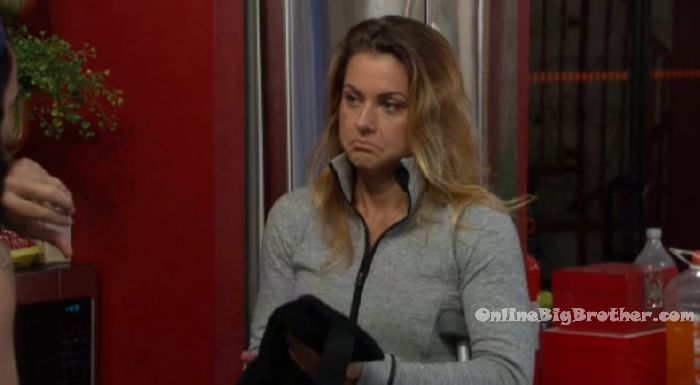 12:35am Bedroom. Kevin and Paul.
Paul – they must need something from you. Kevin – I know. Paul – I wonder what it is? Kevin – my word is my bond. There is no one I am more committed to than you. Paul – you think I'm f**King nervous. Kevin – I would never give you my word and then turn. Never! Paul – I know that. Its because you're the other one competing tomorrow and if you win they want you to take me out.. probably. They know they can't ask me sh*t. Kevin – Josh came to me and asked if I threw that comp. I'm like you dumb sh*t, I'm on the block you idiot. That comp went 45 minutes. I'm color blind. So, does that mean you didn't throw it? I'm like get the F**k out of here you idiot. Kevin – if by some grace of god I win tomorrow, I'm putting him (Josh) and her (Christmas) up. We'll be upstairs drinking beers. If she wins the POV… Paul – we'll win. Kevin – she came in here to roll my arms out. I asked her how did you know my arms hurt. She's like I saw you rubbing your arms. That was 12 hours ago.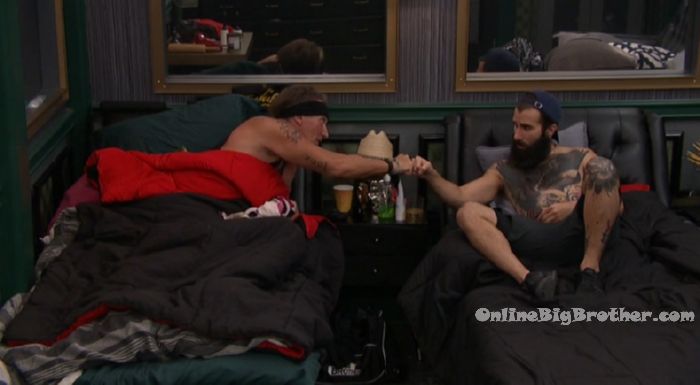 1am Bedroom. Paul, Josh and Christmas chatting about random things as they fall asleep.
2am
All the house guests are sleeping..
If you've enjoyed our live feed updates this season, please consider donating.
Simon and I work 24/7 all season long to keep you updated on everything that happens inside the house. Any amount is greatly appreciated! Your donations go directly to paying the fees required to run this site.
Links to the ranking system
Rank your house guests here
For those of you that like Statistics here are some expanded reports.
If you plan on buying anything from Amazon. Use this link Amazon home
Doesn't cost you anything and we get a small cut.