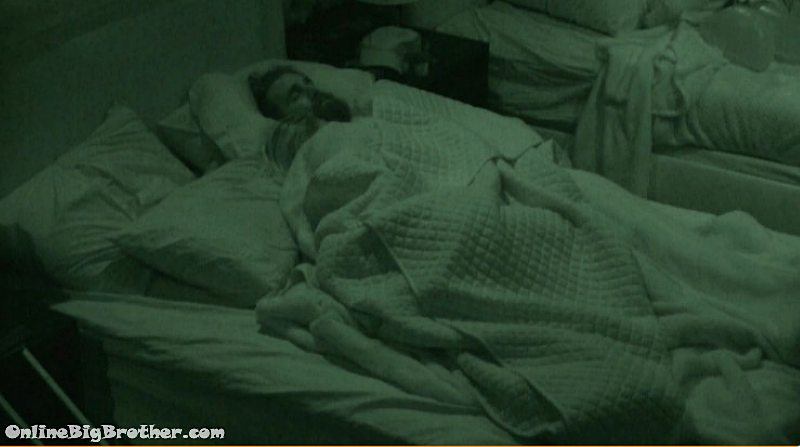 9:14am they've had a wake up call.. but are still in bed. shitmas and Paul appear to be closer than ever now..
(out of this late game grossmance who do you feel most sorry for? Xmas for being with Paul, Paul for being with shitmas or us the fans that have to watch this)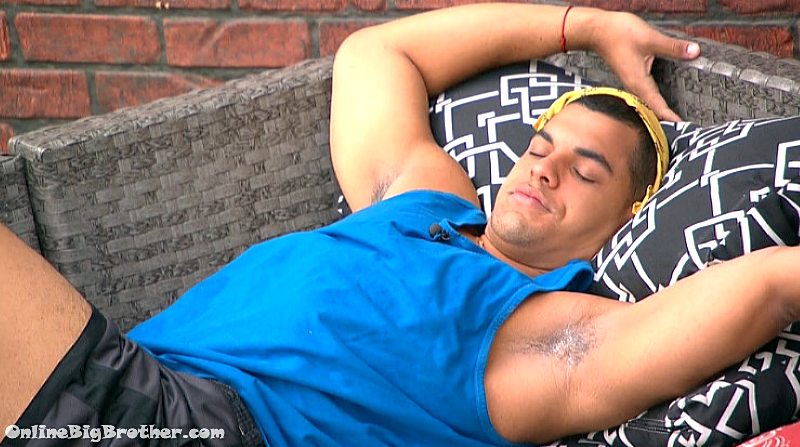 9:40am Josh and Paul backyard
Paul – almost done dude.. 8 days..
JOsh – I need to run at night to let go of all this junk.. all this energy..
Paul – I think I cried more yesterday than I have cried my entire life bro
Josh – I've cried more this season than I've cried my entire life..
Josh – I'm going to cry another 20 more times
JOsh – it's hard we're good people we have big hearts
Paul – how are you going to throw him off.. say he hasn't done sh1t (Kevin)
JOsh – I'm going to call him fat, I'm going to call him old, I'm going to f* say he f*ing floated to final 5 (Good people with big hearts?)
Paul – you don't have to call him fat and old
Josh – I don't give a f* (Good people with big hearts?)
Paul – that fool really gets under your skin
JOsh – we've been through so much.. I look back and see everything we've been through every one of us and he hasn't done sh1t Paul
JOsh – he hasn't pissed anybody off.. he's secured that everybody loved him that is going to Jury LIke he's been a shady fishy f* the whole time..
Josh – everybody f*ing loves him..
JOsh – I have dealt with adversary, first moment I walked in.. Paul dealt with adversary shitmas broke her foot..
Josh – and homeboy just sat in his f*ing corner and shut the f* up and got to final 5 (well you guys were attacking him round the clock so he had to put up with that)
JOsh – he just talked sh1t about everybody.. under the f*ing house.. under the roof.. I don't respect that
JOsh thinks Kevin will win the game if he goes to the end because everybody will hate their guts
JOsh – I'm upset about yesterday dude, JOy (xmas) told me some f* up sh1t
Paul – what she tell you
JOsh – she was just like Oh, you have a decision to make it's either me or her, either you choose her or you choose me
Josh – you take her off the block, paul uses the veto you put me on the block or you have three options.. make your choose.
Josh – I'm like dude where at the end, why even think like that it just hurts me i'm going to have a moment you know
Paul – I told you she trips when you trip.. then you both trip and i'm like f* jesus christ
JOsh – I'm like literally I've never crossed you two but know we're in the end and I'm in my feels because it's been a hard few days you're going to think some wild sh1t
Josh – oh yeah let me go with Alex and Kevin f* you
Paul – why would she think I was going to use the veto..
Josh – she was like You can continue to cry about it or you have 3 options make your choice
Josh – I was like what the f* then she stormed out the room
Paul- she's cut throat dude what Can I tell you
Josh – I'm just happy I stuck by you two..
Paul – me too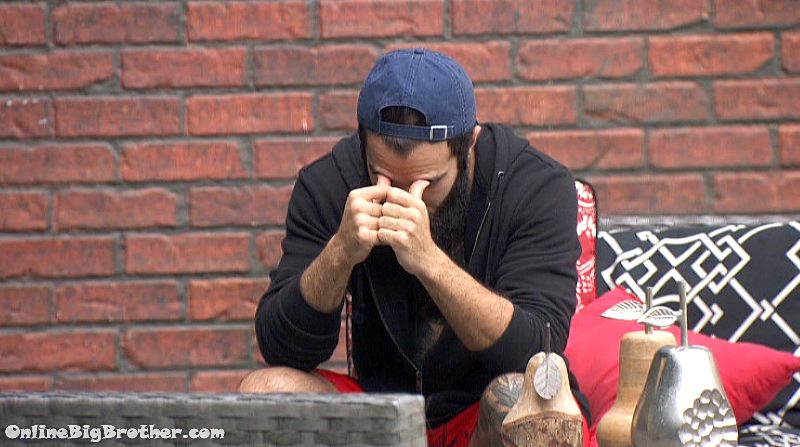 9:59am
Paul- I had to play a crazy a$$ aggressive game.. but if they portray me as some crazy as f*
Josh – there was moment Paul was going HAM.. but you had no choice.. (right you guys had no choice to play the game you did)
Josh – I thought you were going to burn the f* out
Josh – who give a f* how you are portrayed you've preached this the whole season.. you had no choice..
Josh – you're family loves you.. that girl if she's not there the right one will come into your life..
JOsh – it's a game you had no choice to play the game you played.. you wouldn't have been here, I wouldn't have been here, christmas wouldn't have been here if we didn't do what we had to do for each other and if we didn't play the game that we played.
JOsh – you had no choice and I'm 100% that they understand that (you people are delusional)
JOsh – to be honest to you, between me and you.. I haven't said this to anybody I see you taking it..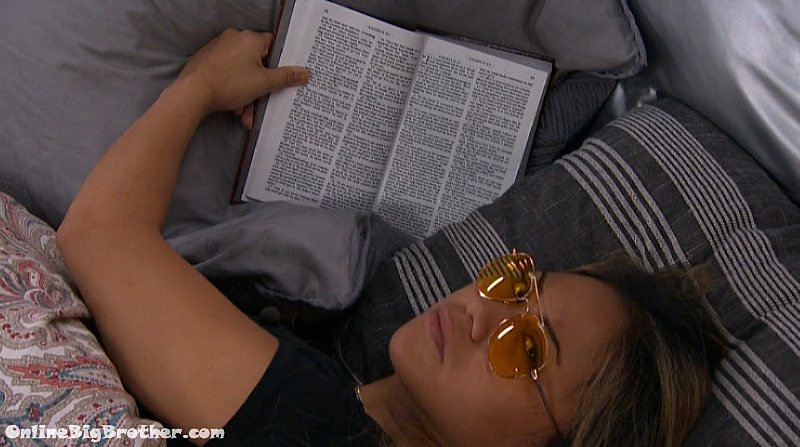 10:08am Feeds on pound puppies
11:00am Feeds are back.. Alex in the have nots reading the bible.
Paul – I can say something to you …
Alex – I don't want to talk.. leave..
Paul – alright..
Paul leaves..
Alex – Jason was right..
Alex – counterfeit sons of bitches..
11:06am
Alex – well let's pray for Fan favorite..
11:13am
Paul again tries to talk to Alex
Alex – I don't want to hear it..
Paul – I want to make two points
Alex- you're selfish and I don't care.. you made your choice to win that's fine..
Paul – you don't understand it..
Alex – yes I do, PAUL i don't want to hear it
Paul – ok i'll respect it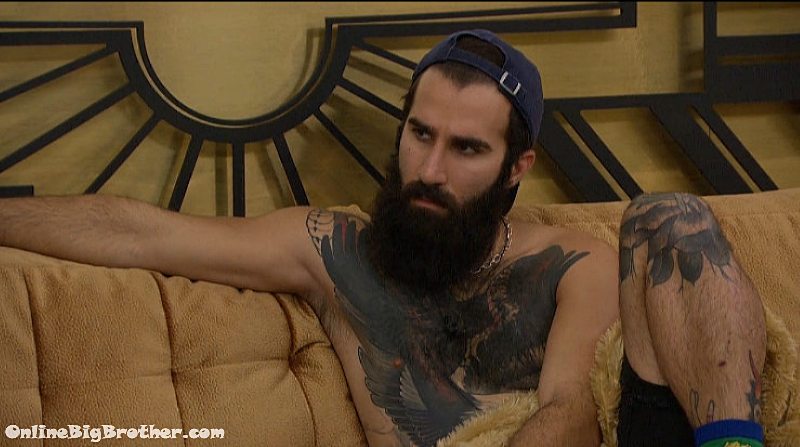 11:15am Paul and JOsh in the HOH
JOsh is complaining about Kevin says he's going to BLOW UP on him.
Paul is sad because Alex won't forgive him for player her all season
Josh says Xmas will come up here soon and yell at them for "Being in their feels"
Xmas comes up and the retell delusions begin…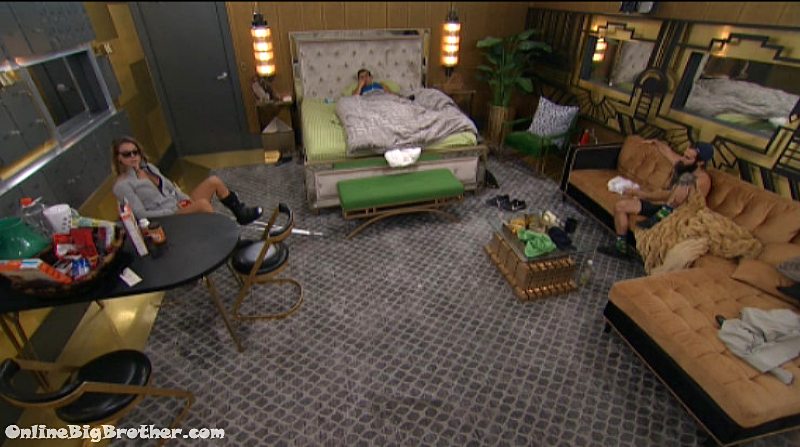 11:30am HOH Josh, Paul and Shitmas .. big hearts.
JOsh – I'm going to destroy him.. I am going to destroy your life (Kevin)
Josh – You're f*ing face look likes my wrinkled b@lls..
Josh – I have to let it out..
Paul says no one goes and watch the season right after the show is over.
Paul – I have not watched Big BRother 18, there's no point why?
Josh – if I get a call back it'll have to be in 2 years..
Josh says the only reason he would go back would be if shitmas and Paul also come back.. (I don't see that happening)
Paul says of course it makes sense for Alex to go with Paul to the end because she will win against him. paul goes on about taking Alex out because she's played such a good game and will have more jury votes. Adds that it's easy for Alex to say she would have used the veto because.
Josh – she told me not to call her ninja.. she said call me Alex from now on..
Xmas – what the f* ever..
Xmas says Alex was arrogant and cocky had she played a humble game this would have been different
Xmas – she came here to play and to win.. that was her only objective in this game.. Period
Paul brings up that Alex told him "I've had it with CBS" she won't do the "milkshake thing" with him
Feeds cut..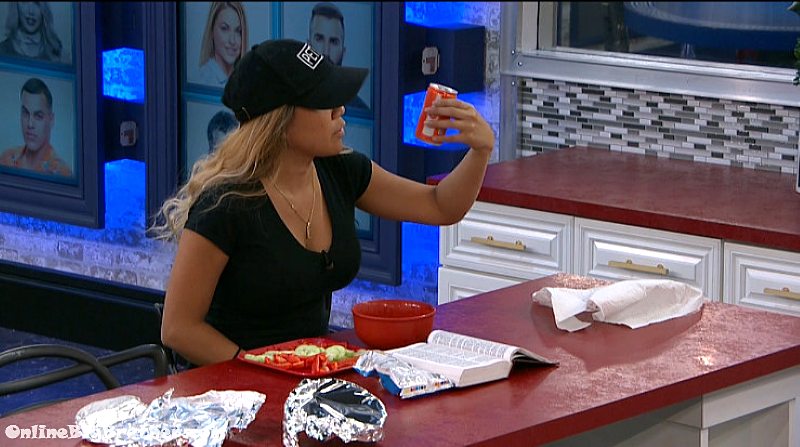 Cereal, Pop, Bible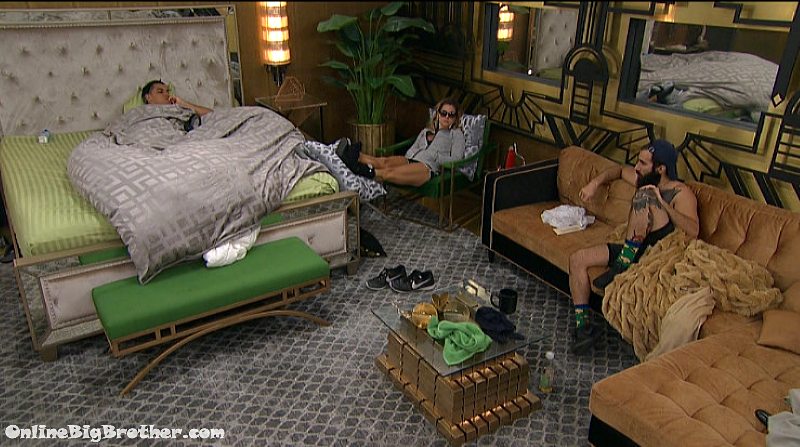 noon Xmas, Paul and Josh
bitching about Kevin lying about never leaving Mission Hill. Josh says he's been to cancun,
Paul sys Kevin's been to LA..
Xmas – he's washed up
Josh – no he's smart.. he's a intellectual human
Xmas- whatever entertainment career he had he's washed up.. (I know another person that's washed up this season)
Paul rubs xmas' head..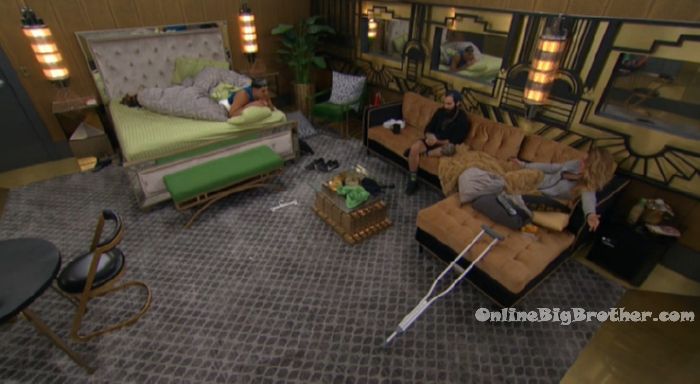 12:35pm – 1:55pm HOH room. Josh, Christmas and Paul.
They're studying the order of evictions and dates / events of the season.
Josh – the questions are easy but the way they word it is confusing as f**k. Paul – what's the total number of days added together for the double evictions. That's the kind of questions they're going to ask. Christmas – like the baseball comp. Paul – then explains the baseball comp to Josh. That was the hardest comp. I don't even know if they're going to do that one this year. Josh – I hope it's the black box. Christmas – no, why would you want that one? They're not going to let me compete. Paul – it might be the chicken coop., could by physical / mental, questions, it could be anything. Josh – they're building something. They never build on a Monday. Paul – they're building the HOH. Josh – I'm betting the eviction happens tonight. So we do the eviction and then go straight into the HOH? Paul – yup. Christmas – this dude (Kevin) was talking about banging me. Do you have any idea how hard it is to not call him out on that. He and Jason talked about banging me in the jury house. Not okay! Josh and Christmas go back to studying. Josh isn't getting into it. Christmas tells him to get into it. I don't know when this is going to happen and I don't want to be standing there with my d**k in my hands. Josh – okay. Josh goes to the diary room. When he comes back, Paul – did you see Alex? Josh – yeah. Paul – was she pissed? Josh – yeah, kind of. The conversation turns to talking about Raven and all the questionable things she potentially lied about. Christmas says that she really hopes Raven wasn't lying about her mom having cancer. You don't lie about stuff like that.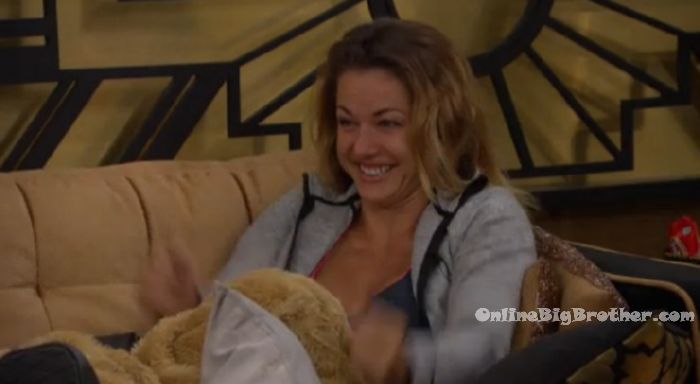 2:23pm Kevin joins them. Kevin comments on how after being in that room for so long you start going crazy. Paul – what are you up to? Kevin – 6'2" .. 6'3". Paul – I didn't know they stacked sh*t that high.
2:50pm – 3:15pm Living room. Paul and Kevin.
Kevin talks about how in the beginning of the season he thought it was bad luck to sit in the eviction chairs. He says now he's acclimated to sitting there. I prided myself on not being up here for 76 days. Paul comments on how it doesn't sound like they're doing much in the backyard anymore. Paul – I don't think I've ever been this bored in my life. Josh – I'm beyond bored. Don't think about. Go into battle mode.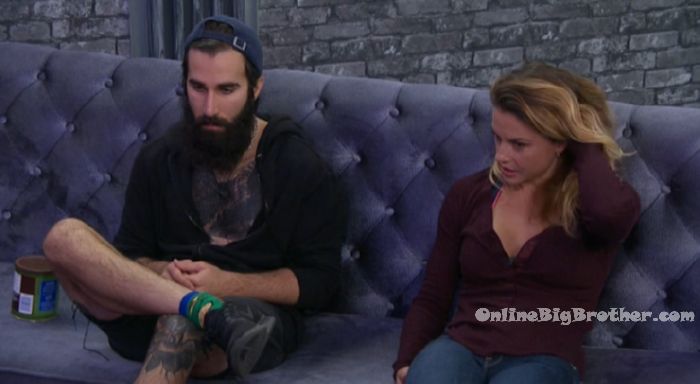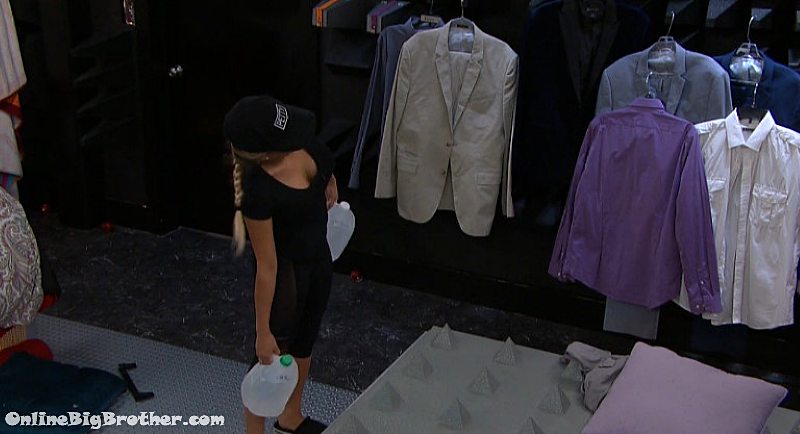 5:00pm Alex working out with whatever she can get her hands on in the Have nots room.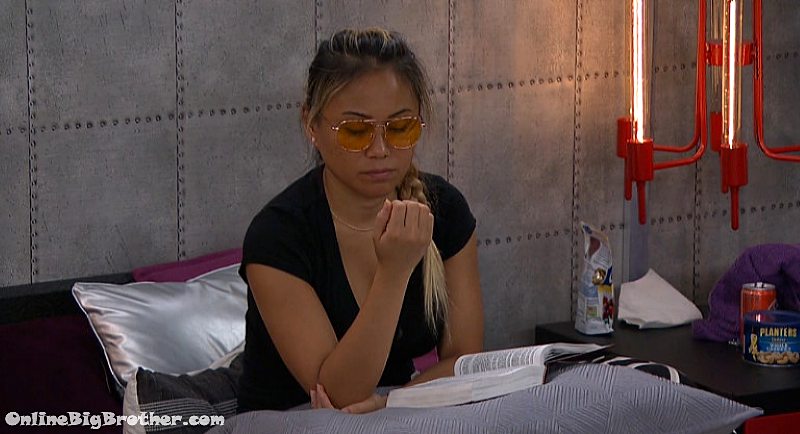 5:08pm Alex – Jason Dent is the hommie everyone else here is a counterfeit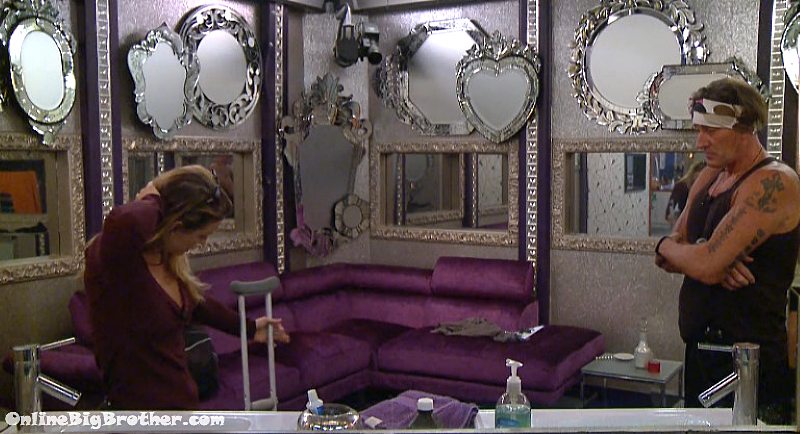 5:53pm Good Friday and Kevin
She tells him next week she'll be walking without the crutch
Kevin – good job
Valentine's day – I'm working on it
Kevin – those two are upstairs and she's in her room
Valentine's day – surprise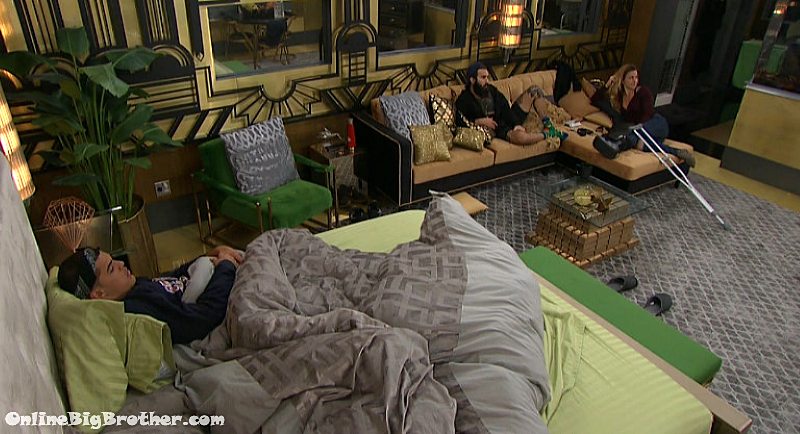 6:22pm HOH Halloween, JOsh and Paul
General chit chat about college.
JOsh – College was the best time of my life.. the opportunity.. go to college that's my message
Paul – not everyone can afford college
Paul – it's hard to be motivated like that when there's bills to be paid..
Josh starts going on about how much he worked at internships and got scholarships.
easter says she didn't have the money or opportunity after her first year of school her iraq opportunity came so she decided to roll with that. When she got back she started the fitness things.
Alex burps downstairs after finishing off a coke and they can hear it upstairs.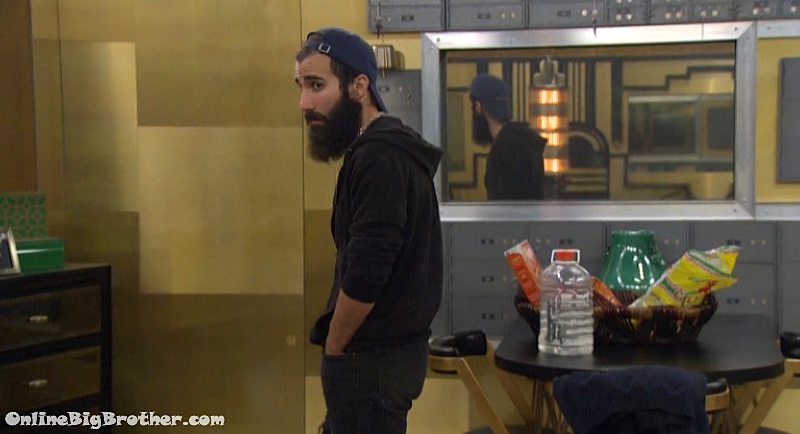 7:18pm Paul and Valentine's day talking about Cody.
Paul says he'll have a beer with COdy he wants to give Cody the benefit of the doubt
Paul – he's an extreme guy with an extreme personality the opposite side of the spectrum to me
Paul – I'm sure we'll get along.. he's an adrenaline junky, likes to surf..
Paul – he was just very.. he wanted to do what he wanted to do.. He didn't like me, he didn't give me a chance then he expected me to give him a chance when he came back
Paul – no homie that's not how I operate.
Paul says he's surprised they never did anything with the locks on the wall.
Near year's Day – Big lose Big Brother
Power of Veto Ceremony results
Paul did not use the Power of Veto. Alex and Kevin remain on the block.
WE have no idea yet how these next 3 days will play out. Wednesday there is a pre taped eviction where ALex will most likely be going to Jury. Thursday is a live eviction. So in the next 2 days they have to do an eviction, HOH, POV, and POV ceremony. There will be some sort of feed blockage during this. Chances are the feeds will be down tomorrow all day and back wednesday after the episode. WE'll post once we find out ourselves.
If you've enjoyed our live feed updates this season, please consider donating.
Simon and I work 24/7 all season long to keep you updated on everything that happens inside the house. Any amount is greatly appreciated! Your donations go directly to paying the fees required to run this site.
Links to the ranking system
Rank your house guests here
For those of you that like Statistics here are some expanded reports.