POV Holder:
Kevin
Next POV
April 3rd
POV Used
Yes
POV Ceremony
?
HOH Winner
Bobby
Next HOH
April 1st
Nominations:
Kevin Cindy and Brittnee
Have Nots
Jordan, Brittnee, Naeha, Godfrey
POV Players
Godfrey, Willow, Johnny, Britt, Kevin, Bobby.
Jordan is the VETO HOST!
If you are outside Canada and want to watch the FREE Big Brother Canada Live feeds sign up for a VPN service here https://www.hidemyass.com/vpn/r16399/. It's safe to use, easy to set up, and cheap. Need to know more check out this post explaining how to set it up.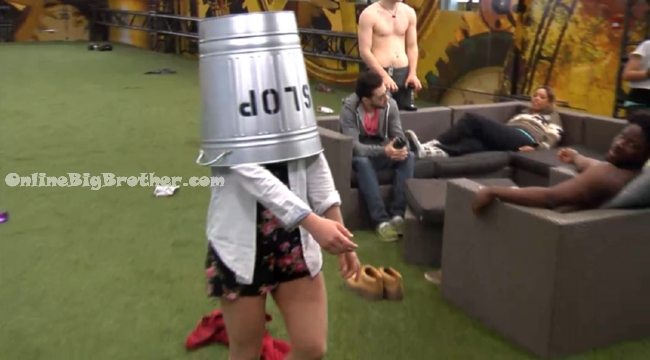 9:40 Willow as a zingbot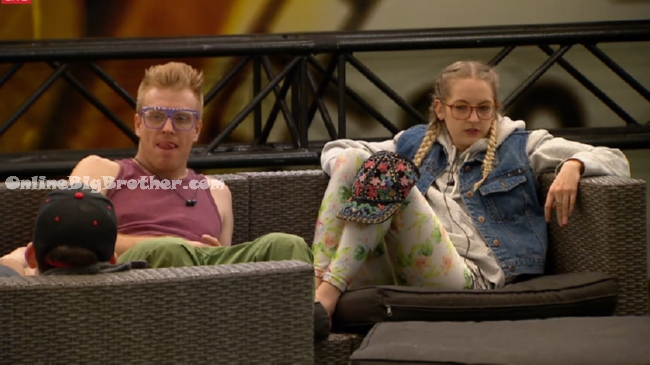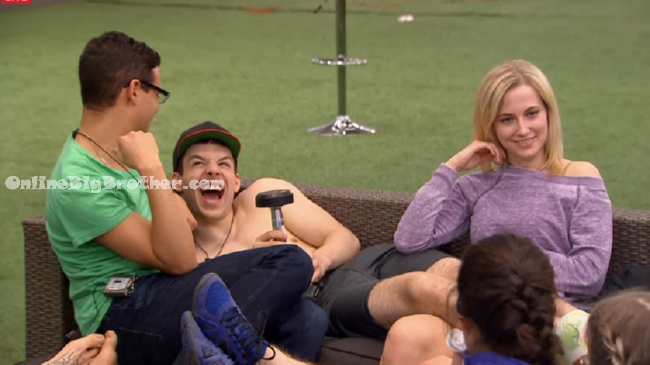 9:58pm Backyard Random chit chat..
Bobby – "I like bad vision everyone is prettier.. 6's are 10's"
Kevin jokes that his sister has the same facial structure as Pilar..
If you could change one thing in history what would you change, Sarah – prevented the assassination of Martin Luther King.
Bruno's is to have one of Hitler's assassination attempts be successful.
Willow gets upset telling a story about her boyfriend that was gay.
10:40PM two groups of houseguests Kitchen and backyard chit chat. Waiting for midnight so they can have Jonny's surprise party.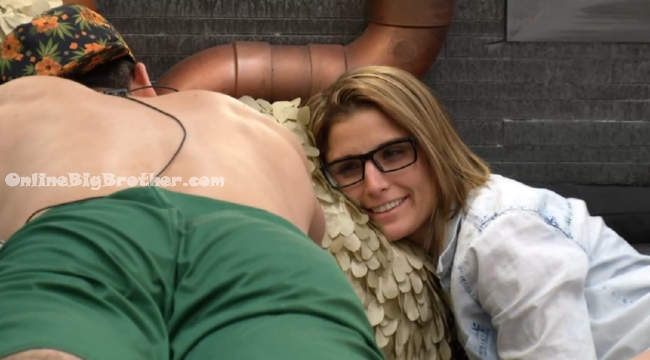 10:44pm Zach and Willow
Zach apologizes for hurting her feelings he was only trying to bug her in a joking way. "I love you I adore you you are the cutest thing ever.. you have a good heart"
Willow – I didn't have my break down cry I did OK
Willow tells him she thinks they are in a really good position she doesn't think they are targets.
Zach agrees says he's got her back.
Zach says he wants Naeha gone "She's super smart.. she's so strong.. I keep pulling her closer.. I want her close"
Willow agrees "She's so smart"
Zach thinks they can have Graig and Naeha "T-OFF" the problem is Bobby wants to save Graig.
Zach knows that Johnny and Kevin will team up once Naeha is gone, "He'll grab Sarah and Kev.. who potentially has Pilar.. he'll reach to Brinttee.. our side of the house can pick off a lot of them.. our alliance with the chop shop"
Zach hasn't had a chance to talk to Naeha much because she's too smart she knows he's digging for information, "She' so f****ing smart she knows how to word everything"
Zach says she (Naeha) is going after Graig first, "The whole house wants her house even kevin"
Zach adds that Naeha is scared of Willow because her social game is so strong.
They head to the Bedroom Talking about leaving a couple floaters in the game. Craig joins them. They tell him they'll target the "Two" and after that start picking off the floaters. (The two are Naeha and Johnny)
Godfrey joins them they start talking about Johnny's birthday party…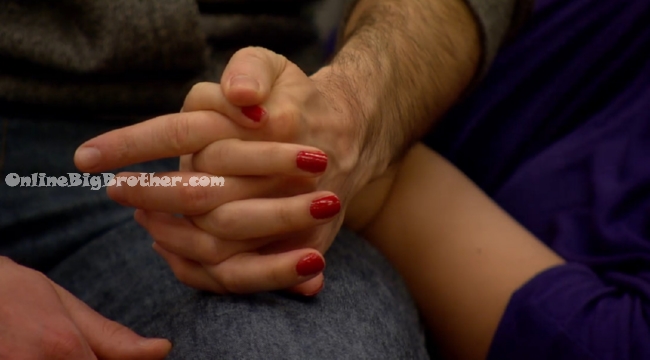 11:03pm Cindy and Jordan
Trivia.. who is on the 5 dollar bill.. etc etc..
Ashleigh and Cindy boogie down.

11:11pm someone is having fun with the feeds.. I call it a feed seizure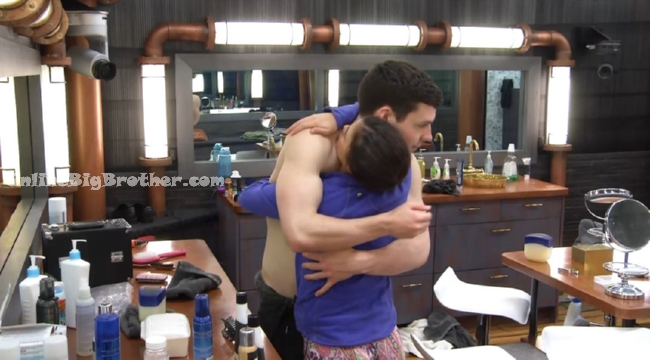 11:21pm Kevin and Pilar
Kevin complains about the little bit of fat on his belly says if that was gone he would have a 6pack. Pilar is shocked that he thinks he's fat. Kevin corrects her he doesn't think he's fat he loves his body he's just saying.. Kevin tells Pilar she's ripped has great abs. She thanks him and hugs. Pilar adds she just needs to cut out the nutella, "I love the smell"
Kevin – you like my body
Pilar – I love it.. I love it love it love it.. you have a nice bod.
Kevin – "I might have to cuddle with Johnny tonight it's his birthday"
Pilar – That's alright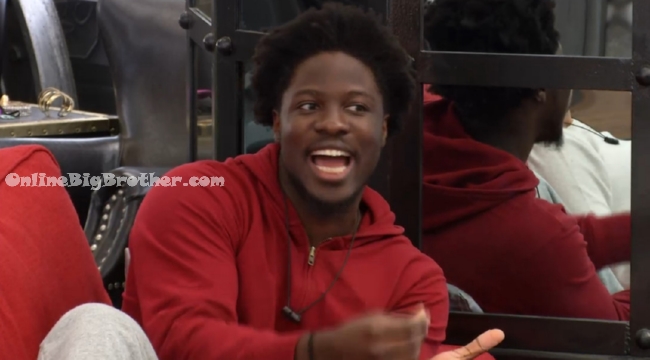 11:31pm Godfrey and Bruno
Godfrey doesn't want ; Sarah, Neha, Willow and Johnny to win HOH. Bruno feels the same way. They agree Naeha is Dangerous.
Bruno – "The way I see it it's Naeha out this week maybe Johnny next week"
Godfrey mentions on the US show the fans vote on what the have nots eat, says they got to eat Pig ears.
Godfrey – Any type of meat I would have eaten man.. Bull T$esticles I would take athat over slop.. Meat is meat man.. "
Godfrey – "Meat is meat man.. I would eat Bull t$stciles.. pig ears.. Donkey dick"
Bruno – You telling man you would eat Donkey d!ck over cockroaches
Godfrey – Cockroaches are disgusting bro at least with Donkey D1ck bro that's meat..
Godfrey goes on to say Cockroaches carry disease.. etc etc.. (LOL)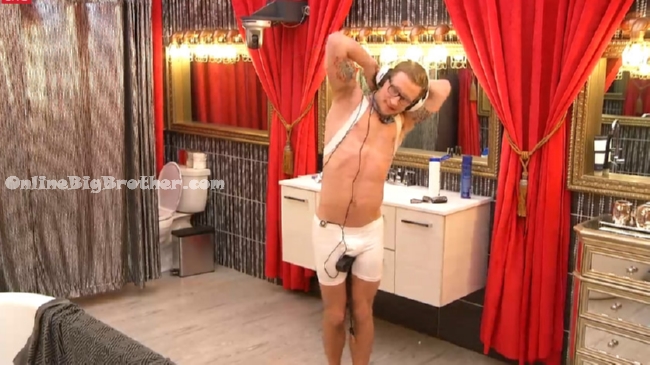 11:53pm Bobby gets ready to give Johnny a show
Support the site and purchase your Amazon goods through our link below. It doesn't cost you anything and we get a percentage of what you buy.
Amazon Canada
Amazon USA