POV Holder:
?
Next POV
?
POV Used
?
POV Ceremony
April 7
HOH Winner:
Heather
Next HOH:
Apr 10
Original Nominations:
?
Current Nominations:
?
Have Nots
Sarah (Slop Pass?), Kenny, Rachelle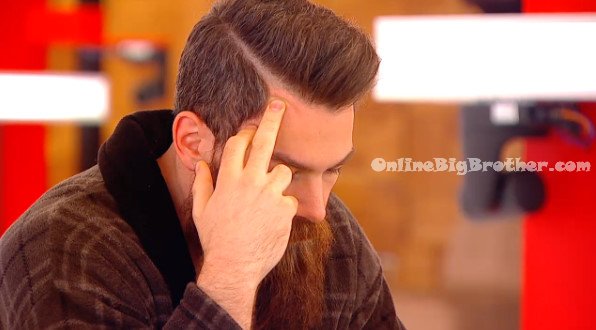 9:15am Big Brother wakes up the house guests. Kenny says that the slop is f**king terrible. I can't get over the texture of it. Sarah complains of her headache still being really bad. Jon asks her if she is going to use her slop pass this week? Sarah says she doesn't know. Sarah ask Kenny if he wants her to make the slop the other way ..because that way is literally like eating vomit! Kenny weighs himself and says he is 173 on the dot. Rachelle asks him if that's what he normally is? Kenny says yeah 173 – 175 usually. Kenny heads back to the kitchen. Sarah tells Kenny that bowl of slop you poured was ambitious. Sarah made him the other slop with sugar and syrup. She asks him if that's better. Kenny says yeah its better. Sarah says its not so much better, its just edible. Allison tells Kenny that Heather made it seem like I was safe but I don't know if she was just telling me that or what. Kenny says she made it sound like RoRo wasn't the target so I would probably be going up. Kenny thinks no matter what situation he goes home.. Allison says when you talk to Heather we should compare .. because she said she didn't want to back door anyone, she wanted to do it straight up.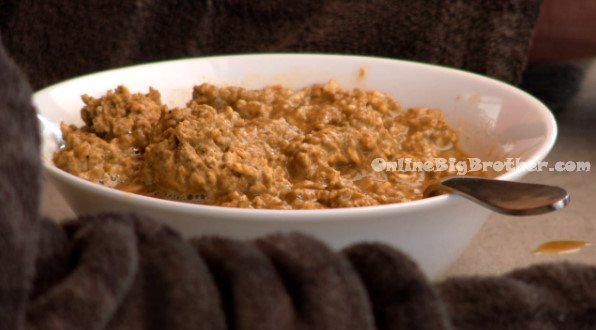 In the bathroom – Rachelle tells Sabrina that she talked to Heather and she said I might go up but that I'm not the target. In the bedroom – Neda tells Sabrina and Rachelle that she is getting dressed up today because she thinks something is happening today. Why else would Heather get her HOH last night. They talk about what might happen. Sabrina says unless I get threatened to vote her out. Neda asks by who? Sabrina says I promised that I would never vote her out but I think I am going to be threatened. If I don't I think I will be out next week. Rachelle keeps saying I am in a really sh*tty position. They head to the bathroom and Jon comments on how Kenny wont even look at him.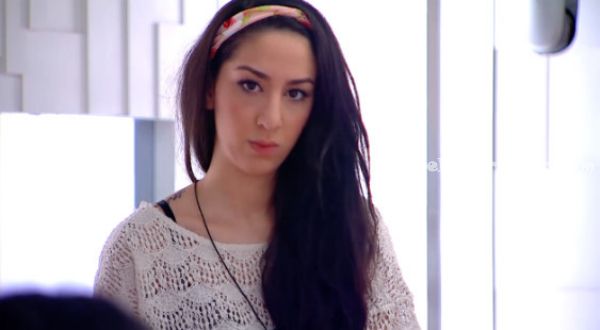 10am – 10:10am Out by the pool – Kenny and Sabrina talk about the possible nominates. They both agree that they think Heather will be putting up Kenny and Rachelle. Kenny says that he will talk to Heather and threaten her that next week she won't have the numbers if she stays on that side. Sabrina tells Kenny that if that happens she will vote to keep him. Sabrina says if that happens I will be going next week. She tells him that he needs to make sure that doesn't happen, you have to make sure you and Rachelle don't go up together. Kenny says well there are no nominations yet.. and hopefully its not an instant eviction. Sabrina tells Kenny to go talk to Heather now.

10:10am – 10:20am Kenny heads up to the HOH room to talk to Heather. Heather says right now I am so undecided. What do you think. Kenny says I know I have a target on my back. I have only won a veto. Kenny says I know you've been hanging out with the three of them (Adel, Jon and Neda). Heather says we I was because I got shunned last week. Kenny says you are in such a good position but for next week I can sway the numbers to keep you safe if you keep me safe. Heather says do you have anyone in mind? Kenny says well Jon has Neda and he has promised me the moon and back and gone back on it. Allison is still a question mark too.. I know she was with Gordo .. but now I see her talking to everyone when before she wasn't ..so is she switching sides? I don't know. I find it really hard that she came into the house for no reason. Heather says yeah I think she might get something if she makes it to jury. Kenny says I am really close to Sarah and I can guarantee you the votes next week and I can probably get you Arlie as well. Kenny says that Arlie is actually a really great guy. Kenny says if you jumped on board with us ..we could totally use you and we could do some damage in the next few weeks. Kenny tells Heather that I saved you once and I would really appreciate if you could do the same for me. Kenny says that's why Sabrina and Rachelle are freaking because they both f**ked you over. Kenny asks if she can just tell him if he is going up. Heather says of course I'll tell you.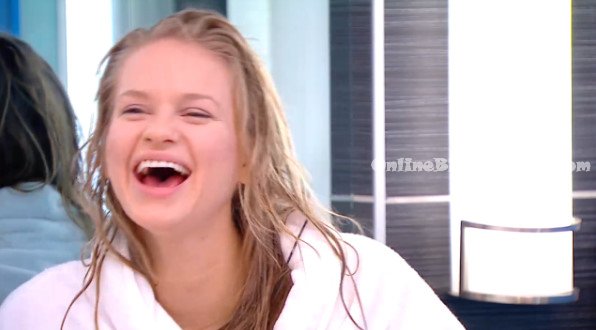 10:35am – 11am Up in the HOH room – Rachelle talks to Heather. Rachelle asks Heather if she knows what she's going to do. Heather says that she isn't sure yet but that she was shunned and isn't sure what's going on. Rachelle asks Heather to tell her if she is going up. Heather says she can do that. Jon joins them and Rachelle leaves. Heather tells Jon that Kenny was a jerk about you. He was so mean to you Jon. Jon says that's mind blowing. Adel comes up and asks what about this Heather? Allison & Kenny go up. Heather says no. Jon says RoRo and Kenny. Heather says yeah! Adel asks what if one of them comes off? Heather says then Sabrina goes home. Adel says okay. Jon says sounds good to me. Adel says that's a good idea because they are all going crazy right now. Heather agrees. Adel says 10 HUNDO! Neda joins them. Neda asks about what things Kenny was saying about Jon. Heather says that Kenny talked about all the lies Jon has said. They discuss the options of who should go up. Adel says if Kenny doesn't go home .. then we are back at square one! They talk about the possibility of Sarah going up and going home if Kenny wins the veto. Heather thinks Sarah is a strong smart player.
11:10am Heather tells Neda that Kenny said you are wrapped around Jon's finger. Neda says yeah.. I would almost prefer people say that so that I am not looked at as a threat. Jon comes back in to listen to music. Jon starts dancing. Neda says he is so weird. Jon jumps on her and holds her down on the couch. Neda tells Jon that Adel needs to shut up. I am like asking for her to put up Allison and then Adel is going off pushing so hard for her to go up which is just going to make Heather not want to do it. Jon says I am done with Sab's and Rachelle. Neda says I am so embarrassed by how half the people are playing this game!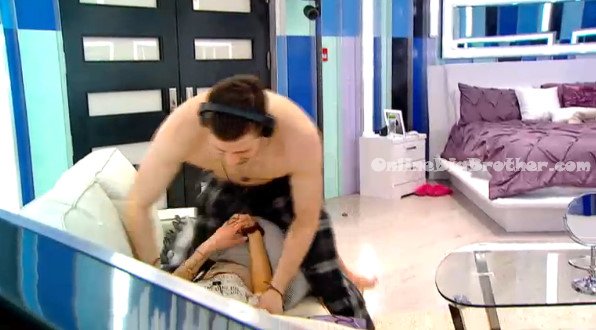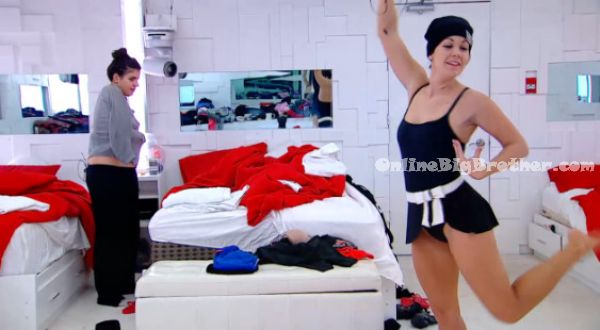 11:15am – 11:35am Most of the house guests are getting changed into their bathing suits to go in the hot tub in the rain.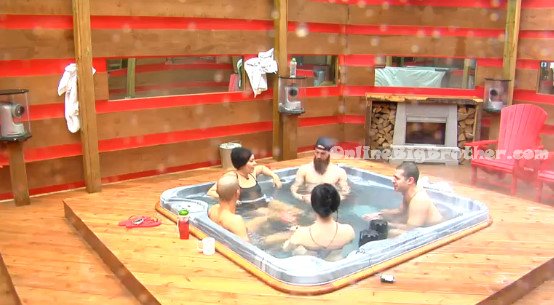 Stay connected and interact with other Big Brother Fans on our Facebook page.
And Follow: @BigBspoilers and @Dawgsbigbrother on Twitter for the most up to date spoilers.