POV Holder:
?
Next POV
?
POV Used
?
POV Ceremony
April 7
HOH Winner:
Heather
Next HOH:
Apr 10
Original Nominations:
?
Current Nominations:
?
Have Nots
Sarah (Slop Pass?), Kenny, Rachelle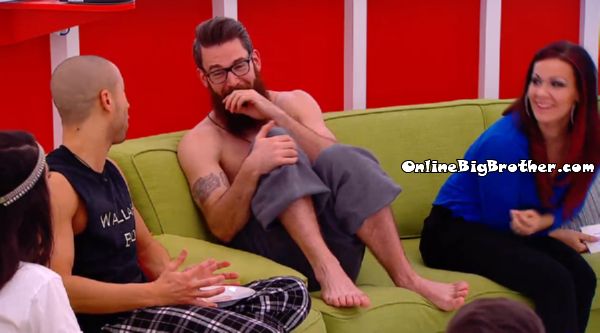 11:05pm Living room
Kenny, Sarah, Rachelle is a Have nots
Sarah is wondering if she should use her slop pass so she doesn't have to eat the slop but has to still sleep in the Have Nots room. Sarah adds that the slop pass is worth 2 weeks..
They start wondering if tomorrow is the instant eviction. Kenny doesn't think so why would they pick the have nots today just to evict one of them tomorrow.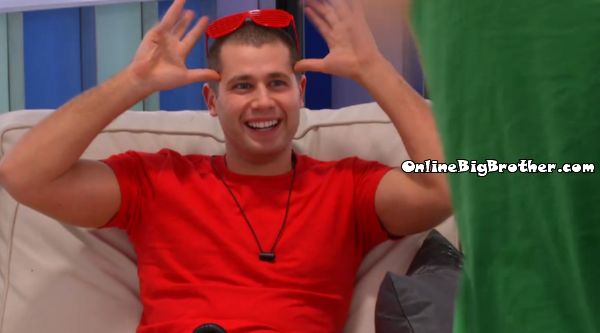 12:17am HOH Arlie and Jon
Arlie – I Can't you believe Momzi gave up her pass.. really stupid
Jon agrees, questions where Momzi's head is at.
Arlie thinks once Kenny is gone she's be with them and loyal.
Arlie points out that Sarah and Sabrina have such a broken relationship. All they have to do is make Sarah feel very welcome and be super duper nice to her.
Arlie – "Thats your biggest job.. Oh if she had put Sabrina on (Slop) I would have literally become er*ct right there"
Arlie – We have such a stacked side and you and I put it all together.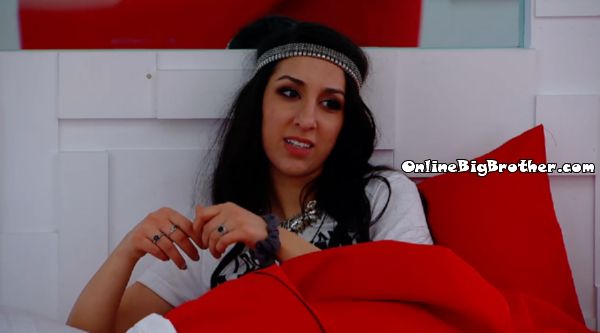 12:19am Bedroom Neda and Jon
Neda is saying it should be Sabrina and Kenny nominated.
Jon agrees.
Neda says if they put up Rachelle and Kenny up together and Sabrina wins POV.
Jon – She takes Rachelle down
Neda – I just want whatever causes the most drama to happen
Neda wants Allison gone but she doesn't think Alrie and Heather will want Allison next
Jon – he just told me he wants Allison gone next.
Jon says that whatever Alrie put together (Alliance) he wants to keep going as long as he can because he wants to say at the end look at what i've made.
Neda points out how obvious it was that Arlie threw the HOH.
Neda – I was so scared when KEnny won cause I thought he would take out you (Won the HOH comp question)
Jon was surprised to points out that Adel had no idea about the mug shots.
NEda thinks even if Rachelle had won she would have been disqualified for talking to her
NEda – We're in Jury 100%"
Jon says Allison came up to him and said she wants to work with her. Jon thinks if Kenny goes they might be able to use that.
Neda says it's obvious Kenny, Sarah, Sabrina and rachelle are working together.
Adel joins them and they all cannot believe Heather didn't pick Sabrina as a havenots.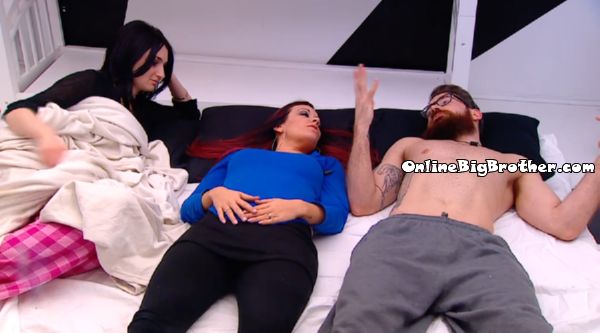 12:26am Have nots Rachelle KEnny and Sarah
12:29am Adel and Neda bathroom
Arlie is close to coming to their side
enda doesn't think he will she thinks they should work in secret. "I think what Arlie is doing it smart incase one of them win HOH they don't have a definitive number they don't know who to put up"
Adel asks her who out of the side is the most vulnerable. Neda says Allison
12:30AM Jon and Arlie HOH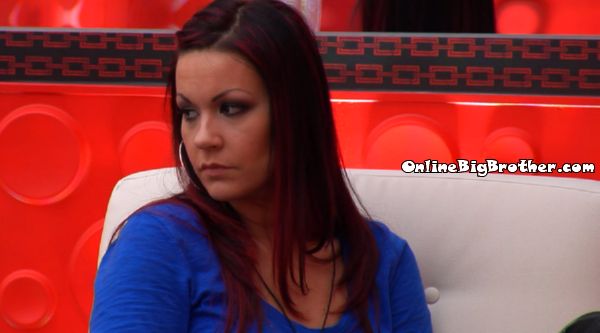 12:36am Jon and Sarah
Sarah says Sabrina is talking about taking out Jon next week. Sarah wants Sabrina gone this week. Sarah asks him if he's still open to have a discussion about the four of them (Kenny, Neda, Sarah and Jon)
Sarah says Alrie is lying to him because he's telling her he's not running the show he says Jon is.. Sarah wonder sif maybe both of them are lieing to her. She tells Jon she trust him more than Arlie.
Sarah goes..
12:46AM Heather and Rachelle
Rachelle wants to know what she is going to do.
Heather says she won't make her decision until she has talked to everyone. .
Heather- "the only thing I want you to know you are not my target.. if you go up as a pawn I will tell you first.. :"
12:44am Jon Adel and Neda
Jon says Sarah is already campaigning to keep KEnny. . NEda says JOn picking her in the competition shook her.
Heather joins them says her plan is to talk to everyone first.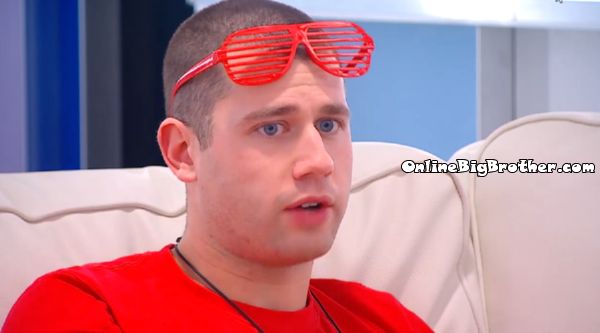 12:40AM Arlie and Sarah HOH
She says she doesn't trust JOn one bit. She says he's picking the other side over their side. Sarah wants Kenny in the house she says it's bad for them to get rig of Kenny right now because he trust them.
She's asking him for a favore to flip the side and keep Kenny in the game. She knows he runs the other side.
Sarah says that there is no way jon will pick her over Neda. Arlie doesn't think Jon has him over Neda that is why they have to get Neda out of the house when they are down to just them.
Arlie says there is no way he can do it without exposing everything. Arlie tells her they are sitting in the dream position we're between two sides fighting each other.
Arlie – We're sitting in the middle of two sides fighting thats a dream position"
Sabrina comes in for a minute and Sarah asks her to leave. Kenny comes up and says Sabrina is going around telling everyone..
Sabrian come sin "Are you mad at me"
Sarah "I have a f*** migraine"
Sarah says Andrew was campaigning against her for the last two days.. Sabrina leaves..
Sarah – "I need some Advil before i f*** up my game"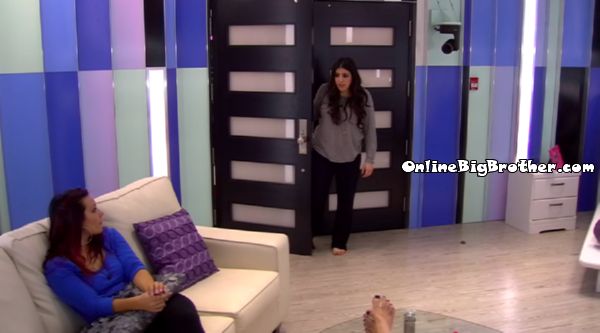 1:00AM Heather Neda and Jon
Heather says Sabrina is listening in on the conversation in the bedroom.
Neda and JOn say hi to Sabrina who is on the other side of the wall… Jon – "Whats up sabs"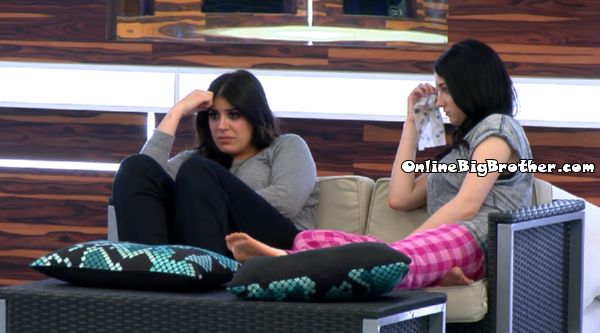 1:15AM Poolside Arlie, Sabrina and Racehlle
Arlie is trying to convince Sabrian that Sarah isn't mad at her she just has a migraine ans is stressed. He tries to reassure her he's still loyal. Arlie is certain one of their alliance member is going home this week theres nothing they can do about it. He feels just as bad as they do.
Arlie says Kenny is in the worst position of anyone on their side.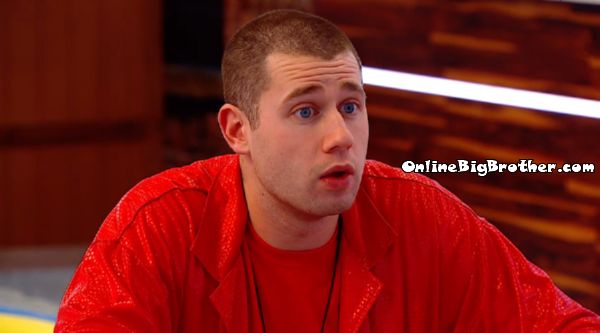 (Video coming… It's long)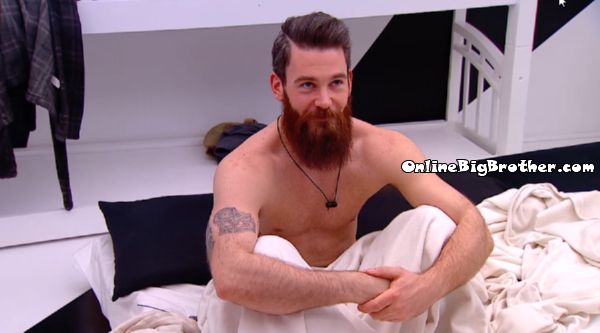 1:25AM Arlie and Kenny Havenots
Arlie mentions his conversation with Sabrina and Rachelle. He told Sabrina Kenny is in the worst position in the game this is when thye need to stick together. Kenny – 'Everything is about her"
Arlie – Oh my god"
Kenny is hoping for him and Sabrina going up then he has a chance to stay.
(Sorry about the 10 second mute :( tonight was crazy )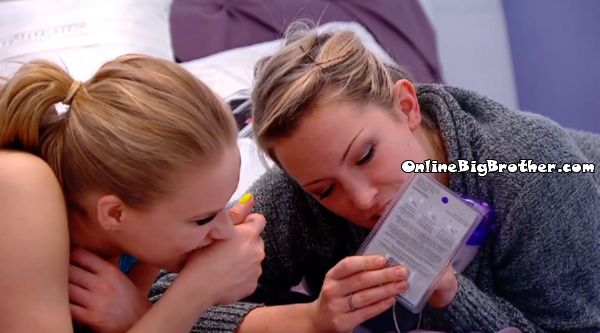 1:40AM HOH Heather and Allison
Allison says if she is put up against Kenny she will go home.
Allison says if Heather puts Jon up against Kenny JOn would go home, "You have to put two strong players up"
Allison now says – "Whoever your target is and arlie" Allison thinks if a girl goes up against Kenny the girl will go home.
Heather says she doesn't want to backd**r her target, "None of that beating around the bush bullsh1t"
Allison – "I know you are not stupid"
Heather – you are not the one i'm putting up at all you're not the one i'm considering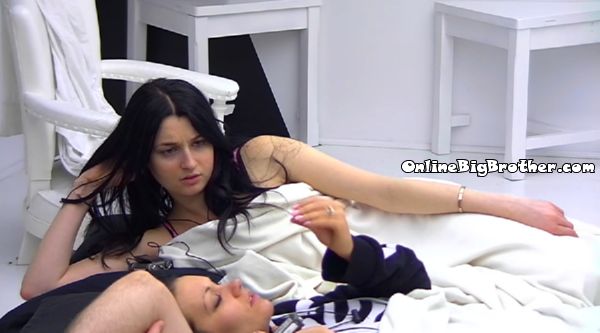 2:00am have nots
Rachelle is saying during the HOH she was pressing the button but it wasn't working
Sarah explains it was because Heather and Jon were pressing the button as soon as the question was asked they didn't waited until arisa stopped reading the questions.
Rachelle – "I was so mad.. the most mad i've been in the game"
Sarah says the competition they just did for HOH is set up for the strong to fail.
Rachelle- NEda pretends that she has my back right.. and that she's not with Heather and stuff"
2:10AM Water fight Sorry no audio Big brother always shuts the audio down for cams 1-2 at this hour.. they've been doing all season.
2:10AM Allison and Sabrina
Allison thinks Rachelle and Kenny are going up. Allison says she;'s good friends with Heather but you never know.
Sabrina and Allison start wondering that maybe Sarah is working both side.
Sabrina – "I don't think Kenny likes me to be honest"
Allison – "He just seems a little more grumpy towards you"
Sabrina – he's not nice to me at all
Sabrina thinks if Heather puts up Kenny and Rachelle Kenny will stay
they count the votes..
Jon, Adel, Neda keep Rachelle
Sarah, Arlie, Allison Keep Kenny
Sabrina – "I don't know what I would do.. She (Sarah) will f*** kill me.. I will be the deciding vote.. Allison you have to convince her to not put those two up"
Allison and Sabrina laugh say that Heather isn't very smart..
Allison says she will try to talk Allison out of putting up Kenny and Rachelle. Sabrina thinks Allison should try and talk Heather into putting two strong players maybe one of the boys.
Allison already explained this to Heather, "Whether the light ball went on I don't know"
Sabrina says she would evict Rachelle she will not turn on her agreement with KEnny.
If she does turn on Kenny she'll have Kenny, Sarah and Arlie after her if she turns on Rachelle the entire house will see how ruthless she is turning on IKa and now Rachele, "Omg i'm going to look like satan"
Allison – "Andrew come back and tell me what to do"
Sabrina says the other side is stupid for putting up KEnny and Rachelle. She thinks the only reason they are doing that is they assume She is going to vote out Kenny.
Sabrina says they need Sarah up with Kenny it's the only way.
Sabrina says if Rachelle goes up on the block she will be f***d she will go home next week and Allison will be alone.
Allison swears that she will not mention this conversation with Sarah or Kenny.
Allison talks about how the relationship started with Andrew / About the guy she left back home / And what future she sees with Andrew.

4:30am They finally go to bed..
[polldaddy poll=7935497]