POV Holder:
?
Next POV
?
POV Used
?
POV Ceremony
April 7
HOH Winner:
Heather
Next HOH:
Apr 10
Original Nominations:
?
Current Nominations:
?
Have Nots
Sarah (didn't use slop pass), Kenny, Rachelle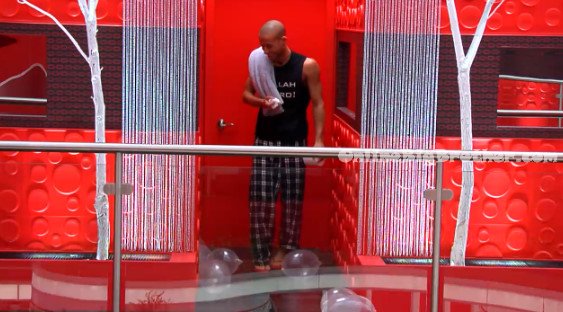 8:40am Big Brother wakes up the house guests. Kenny grabs the new batteries and passes them around to the other house guests. In the bathroom – Kenny goes up to Rachelle and asks her if they were literally blowing up balloons to celebrate last night? Rachelle says no. Meanwhile in the bedroom the others are laughing at how funny the condom balloon prank was. Adel complains of smelling like latex. Allison talks about a dream she had about Andrew. She says he was married and she and Heather were his mistresses. Heather says that she likes her but wouldn't do anything with Andrew. IN the bathroom – Jon, Adel, Sarah and Arlie are talking about Jon's yeast infection. Adel says he's never had an STD before. Sarah and Jon tell him its not an STD.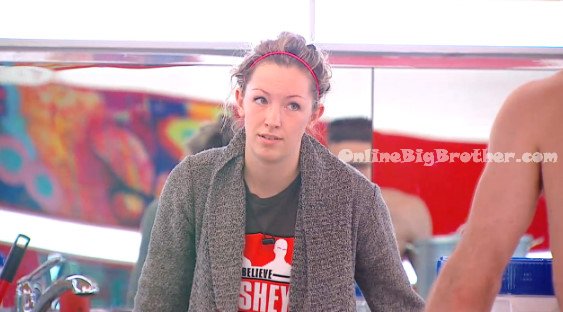 In the kitchen – Allison talks to Kenny about how Heather doesn't want her to use the veto on him if she won it. Kenny says she said I was her biggest threat, why because I won 1 veto? Kenny says that he talked to Heather and says that he can respect her putting him up if he is her biggest threat but not if it is the recommendation of the sh*t faces up there. Kenny says that Sabrina and Rachelle threw out our names.. which is fine because you have to say whatever to not go up but why not throw out names from the other side. Allison says that she is ready to walk out that door.. I am sick of the lies! I just wanted to pull my f**king key out of that thing. I am the only one that hasn't done that. I am in the same boat as you with Heather, I voted to keep her. Strong player, why? Because I was Gordo's girl? I won a veto because I was let a veto! Kenny says she is going on what people tell her to say, feel and think. She doesn't have her own thoughts. She is the puppy dog of f**k faces Jon and Adel. Allison says I don't want to go against you. Kenny says he doesn't either. Kenny says that Adel should stop fake praying! Allison asks do you really think its fake? Kenny says well you can't keep swearing on your Quran and lying. Kenny comments on how its snowing out right now.


9:15am Allison heads up to the HOH room to wash her hair. Neda tells her that she honestly doesn't think she is going to go. Everyone wants Kenny out. Heather says that everything will work out, I promise. Um well I can't promise but I think it will work out. Heather says well I shouldn't go up if you can't promise. Heather says that she is going to try her f**king hardest for the veto. And everyone I talked to said they would use it to take you off. Allsion says I just hope you guys aren't lying to me because I can't take it any more. Neda says we don't want you to go home.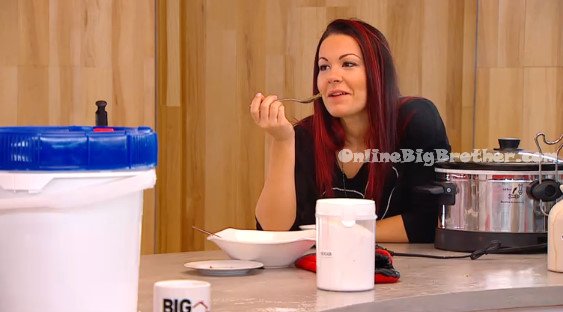 9:30am – 10am In the kitchen – Jon, Adel and Sarah are eating breakfast. Sarah calls him her pardy. She says you should pardy in me. Jon laughs. Sarah says I didn't mean it like that. Jon says I don't know how else you can mean it. Out in the backyard – Kenny talks to Sarah about how it is Allison definitely going up. Sarah says if they really wanted you out why wouldn't they put Rachelle up because that is there best bet to get Sabrina to flip. Sarah says I wish they were putting me up because I would use it on you any ways. I know they wouldn't send me out. They head back inside. Kenny comments on how they can't even look him in the eye.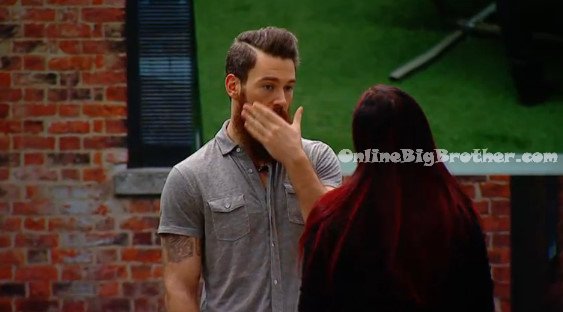 10:15am Big Brother locks all of the house guests out in the backyard while Heather goes into the diary room to prepare for the nomination ceremony. Big Brother then blocks the live feeds…
11:15am The Live Feeds are still blocked..
If you're enjoying the live feed updates this season, please consider donating. Simon and I work 24/7 all season long to keep you updated on everything that happens inside the BBCAN house. Any amount is greatly appreciated! Your donations go directly to paying the server and bandwidth fees required to run this site.
Stay connected and interact with other Big Brother Fans on our Facebook page.
And Follow: @BigBspoilers and @Dawgsbigbrother on Twitter for the most up to date spoilers.