POV Holder:
?
Next POV
?
POV Used
?
POV Ceremony
April 7
HOH Winner:
Heather
Next HOH:
Apr 10
Original Nominations:
Kenny & Allison
Current Nominations:
?
Have Nots
Sarah (didn't use slop pass), Kenny, Rachelle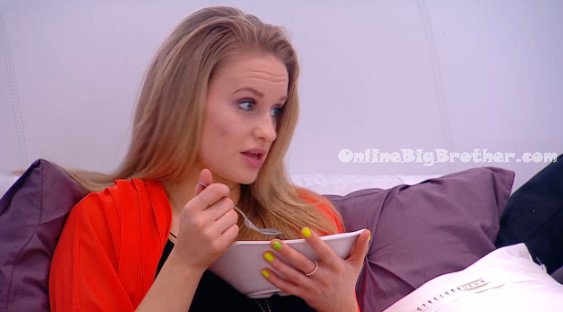 10:15am – 12pm Big Brother blocks the live feeds for the nomination ceremony. When the live feeds return – we learn that as Head Of Household Heather nominated Kenny Brain & Allison White for eviction. In the backyard by the pool – Sarah, Sabrina, Arlie, Rahcelle, and Kenny are talking. Sarah that if she really wanted Kenny gone she should have put me up with Kenny. Sabrina says that she thought it was going to be Kenny and Rachelle. Rachelle says they were scared I would go home over Kenny. Sabrina says they wanted to put up two strong players. Sarah says that she came into the bedroom and Neda said my name got thrown out there a lot. Kenny says scrawny little b***h.
In the bedroom – Neda is talking to Jon. Neda says the next targets in the house after Kenny goes home are Allison and him (Jon). Neda says and I would probably go up next to you. Neda says I think if Allison wins next week she would definitely put us up. Something about her sketches me the f**k out! Like what is she doing here! Jon agrees and says what is she here just for a laugh. Jon and Neda decide to head outside. Jon tells Neda she is so pretty. The camera switch to Heather and Allison up in the HOH room. Heather says I am a swimmer, I love to swim but don't tell anyone. Allison comments how the other day when their bags were out in the backyard she noticed hockey pucks in the pool that makes her think the veto competition will be grabbing pucks from the bottom of the pool. Allison tells Heather .. I want you to know that I am not apart of the original five. Heather guesses You, Kenny, Sarah and the Gremlins (Rachelle & Sabrina). Allison says no. Heather guesses again – You, Kenny, Sarah, Arlie, Sabrina? Rachelle's not even in it? Allison says I am not even apart of the five. Heather says what I don't understand is that they're in an alliance together and Sabrina has thrown out Kenny's name multiple times. Allison says I think their alliance is cracking. Heather says I don't like mean people .. they make me sad.
In the kitchen – Sabrina says that she feels being in here rips out your soul. Kenny and Arlie both comment on how they will be better people because of being in here. Sabrina disagrees.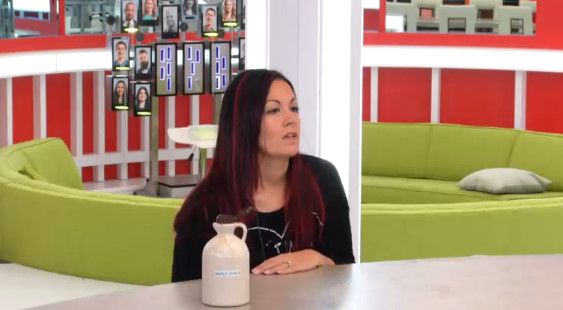 12:20pm Jon comes up to the HOH room and says if either of them gets House Guest Choice in the Heather and Allison talk about who could host the veto competition. Allison says that Sarah hasn't hosted one yet. Heather says she might pick Rachelle just because I made her feel like sh*t. Allison tells Heather that she thinks if Sabrina or Rachelle get picked and won the veto I don't think they would use it because they wouldn't want each other to go up. Adel comes up and says he thinks the veto will be hockey. Allison says she thinks they'll have to get the pucks from the bottom of the pool. Adel doesn't think so because the pool is so small. Heather and Allison say they think they would build a bigger pool. Adel thinks it will be shooting the pucks into the boats floating in the pool. Adel says if we win we're pulling you off. Allison says she thinks she is going home. Heather stops it and says we'll wait until after the POV and then talk about it. Adel says if you get Kenny out you will be the first person to make a big move. Canada did too but.. Adel says and you were on the block twice, you were shunned.. Heather says and my knee was messed up. Adel says I thought it was funny that everyone thought you were not smart and then you won that. That's like the biggest kiss my a$$.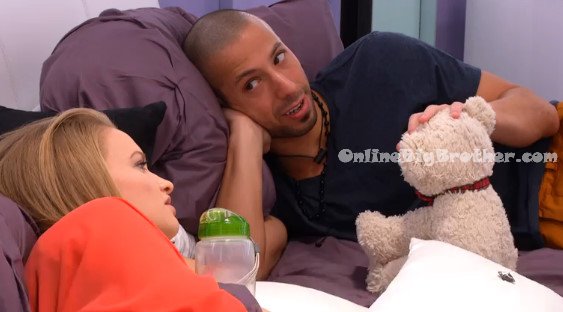 12:40pm In the bedroom – Rachelle jokes that she wishes she was up on the block so that she could play in the veto. Adel asks if you are picked and win it would you use it? Rachelle says no, I don't think so. Adel asks what about Sabrina? Rachelle says I don't know you should ask her. Rachelle leaves. Adel asks Neda and Jon if they think she would use it on Kenny. Jon says OH HUNDO! HUNDO! Neda says when you get questioned like that you just tell the person what they want to hear. You don't say probably not. Jon says if I win the veto I going to walk around and hang it on my dong! Adel says that Sabrina is like a 70's bush she is always in the way! Jon and Neda laugh and say they like that line.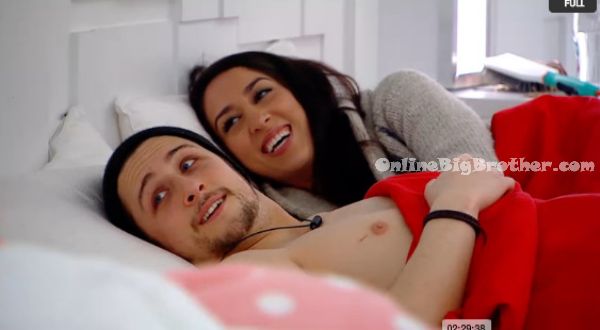 12:55pm Kenny says just please go after Jon. Sabrina asks why are you talking like that. Sabrina says I can't even be in the bedroom with them. It's bothering me. It's very hard for me to be fake. Arlie agrees. Allison says if I get House Guest choice which is very unlikely .. .I can't expect any of you to take me off. Sabrina asks who would you pick. Allison says maybe Jon because of his hate for Kenny. Aww.. but I don't want to use that against him. Arlie says just wait and see what happens.
1:30pm In the bedroom – Neda asks Heather if she knows when their alliance started. Heather says at the beginning of the game. Heather says that Allison took Andrews place. Neda comments on how they all hate Sabrina. Heather says that Sabrina is too stupid to realize it though. Neda says I think they are just using her for a number. Heather says I am really starting to get worried about Sarah. Neda agrees that she is too. Neda says maybe even next week we try and get rid of Sarah. Heather says I don't even know who she would put up. Neda says she thinks Sarah would put up me & Jon or Jon and Adel. Heather says that Sarah has no problem back dooring someone either. Neda says she has become more vicious too. Heather says she is getting crazy! Heather says its fine if its just game talk .. but they're making it personal. Heather says I want Kenny to go home. I would love for you to win. Neda says perfect scenario Kenny goes home and I win HOH. Adel joins them. Neda, Heather and Adel talk about using up all of the salsa, syrup and sugar that the havenots can eat so they don't have any. Neda says the whole point of punishing the whole house because Rachelle ate is to make the house hate Rachelle… but its not working. Adel says we're not going to jeopardize our game because someone ate. Heather says if one of us wins HOH next week can we put Rachelle back on slop? Adel says for sure. Adel says I was praying you would have put Sabrina on slop. Heather says I didn't to keep them close to us to use it to our advantage. Jon says one night when we're sleeping we should cut Kenny's beard off. Neda and Adel both say no don't say that!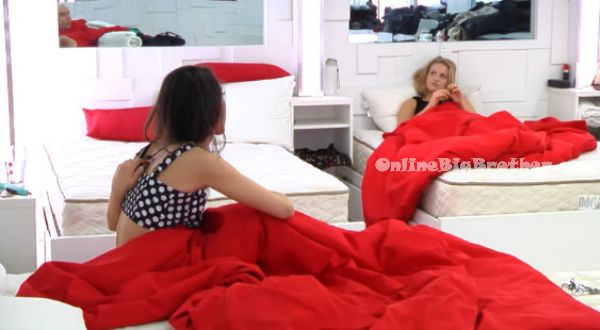 1:30pm – 2:15pm In the living room – Arlie, Kenny, Allison, Sabrina and Sarah are talking about the term "white trash". Arlie doesn't know exactly what it means. Sarah talks about having a white trash party. She comments on how wouldn't it be funny to show up to my own white trash party dress as a black person. Sabrina starts telling her stories about LA and other stories she thinks are hilarious. They talk about how many items in total were taken out of each of their bags and wonder if they need to remember how many from each for a competition. Sarah starts talking about trying to run over her sister because she was lipping off their mom. Sarah says I had a problem with impulse control.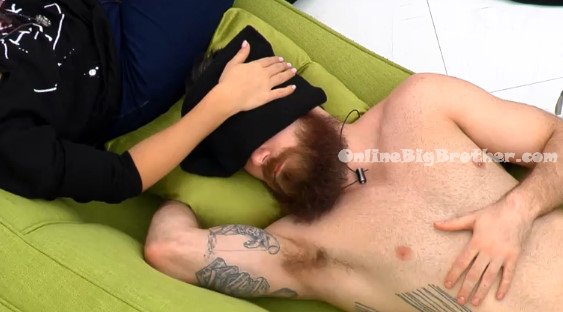 2:35pm In the bedroom – Heather tells Neda that she thinks it might be better to replace Allison with Sarah. Neda says she thinks it would be better to keep Allison on the block. Heather says that she really doesn't want Allison to go home on her HOH. Neda says it might be better to not take Allison off because then you piss off another person. Neda says because Allison probably holds a grudge. Heather says that she knows Allison would still hold a grudge but says I already told her a bunch of times that I would take her off. Heather says I know she would put me up as a pawn in a second. Jon and Adel join Neda and Heather and talk about what to name their alliance. Neda says we should call us the "Neda's". Adel says we should name it something to do with Canada because Canada helped us. He says like the "Canadian Come Backs". Jon says the "yeasty-V's". Heather asks what's strong and underestimated. Jon says that "Canadian An@l Beads". Adel says we should name each of us too like in the Ninja Turtles. Big Brother calls Heather to the diary room. Neda says that she thinks the POV picking for players will be happening soon.. Heather comes out of the diary room soon after with new batteries for them to change.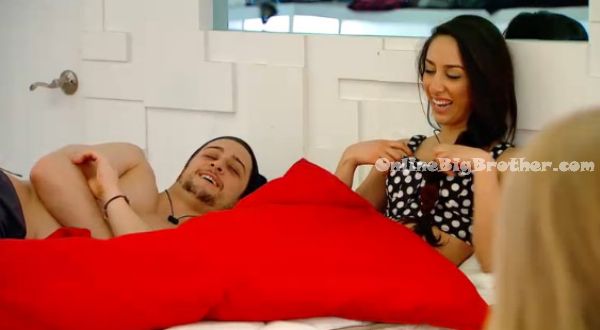 2:45pm Big Brother blocks the live feeds..
If you're enjoying the live feed updates this season, please consider donating. Simon and I work 24/7 all season long to keep you updated on everything that happens inside the BBCAN house. Any amount is greatly appreciated! Your donations go directly to paying the server and bandwidth fees required to run this site.
Stay connected and interact with other Big Brother Fans on our Facebook page.
And Follow: @BigBspoilers and @Dawgsbigbrother on Twitter for the most up to date spoilers.